Most people staying in the historical town of Clyde have one thing on their minds – cycling the 4-day Central Otago Rail Trail. And most of us start Clyde and finish in Middlemarch.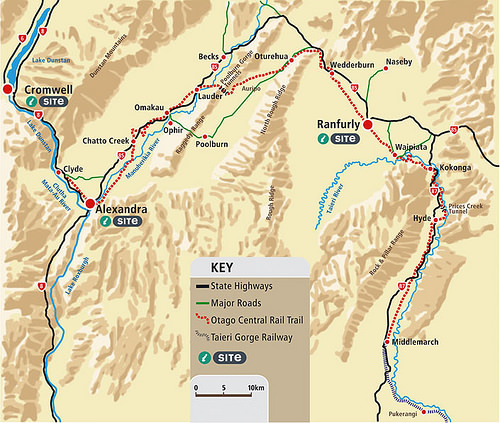 For a satisfying 'taster' we did the one-day cycle ride from Auripo to Chatto Creek (30kms). We had the Autumn sun on our backs for the whole way. I have to say, Autumn is the ideal time to visit a lot of New Zealand regions. Central Otago is one of them – the colours are awesome.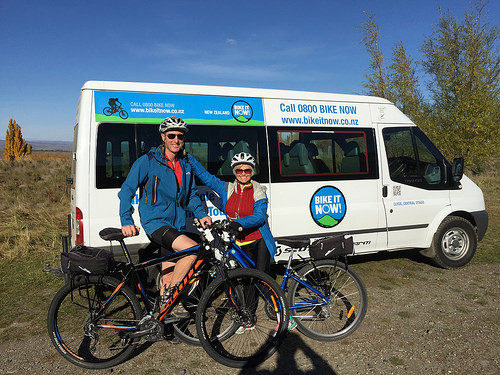 Big thumbs up to the boys at Bike it Now in Clyde. Duncan and his team operate a fantastic bike hire service and leave nothing to chance. Pete, one of the team, drove us 50kms to Auripo. We stopped on the way to take photos. Built in 1886, this building is the oldest operating Post Office in New Zealand. And I call tell you, this region is full of heritage buildings like this.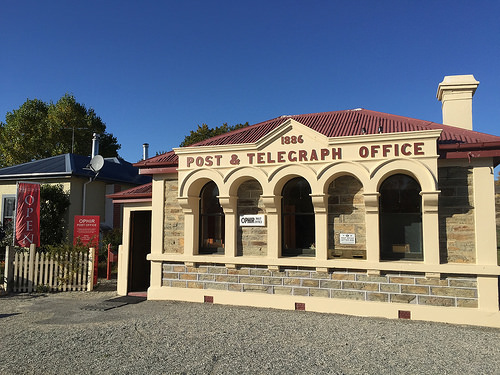 Pete dropped us off at Auripo and arranged to collect us at Chatto Creek. With Michael leading the way, we set off at a blistering pace. The scenery of the Central Otago Rail Trail demanded constant attention and it was impossile to resist taking photos. You'll really have to discipline yourself not to stop every 5 minutes.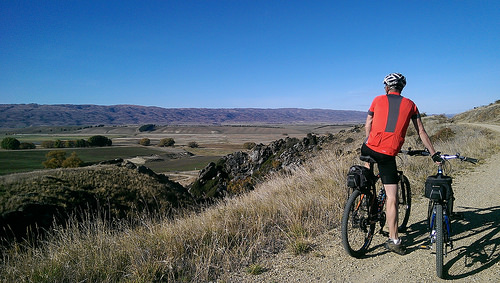 March, April and May are perfect months for cycling the Central Otago Rail Trail. (Clyde can be very hot in the summer!) The bridges on the trail may be old, but they're incredibly sturdy. Bit bumpy going over, but that's half the fun.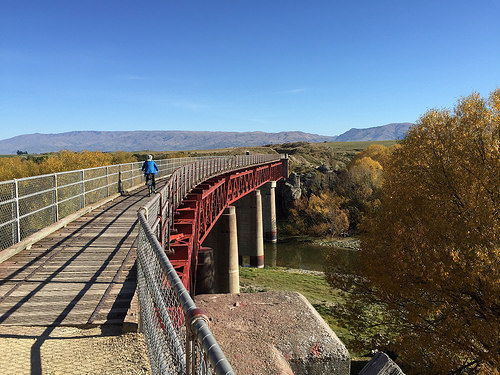 There are a few tunnels to go through.  Once you're third of the way in to these tunnels, you'll be pretty much plunged into total darkness. Cyclists on the Central Otago Rail Trail are advised to walk their bikes through the tunnels and to carry a torch. Luckily our bikes were equipped with torches. Problem solved.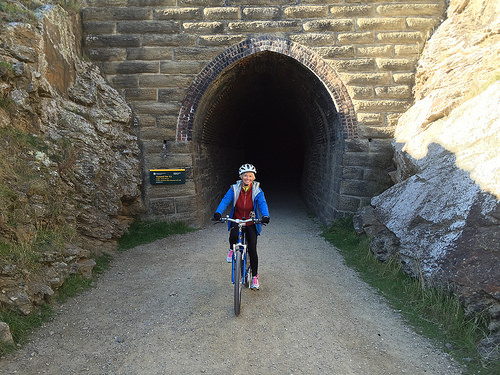 At this stage of the journey, I was having an absolute blast. Even though I hadn't biked for months, the seat was so comfy I didn't notice. The pure oxygen gives you energy to spare. Meanwhile, try to look up once in a while.  Your fellow companions can very quickly disappear over the horizon.  They're easy to find again – yet another stop to drink in the view.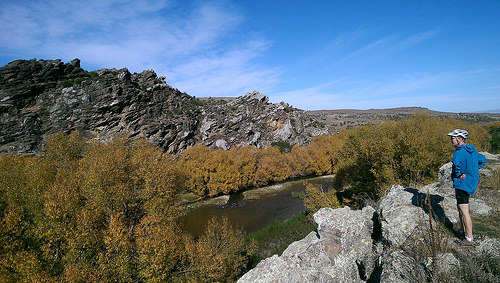 These are times and places where travellers can seek out a quiet moment.  The absence of people can be such a luxury. Makes you forget the advancing years.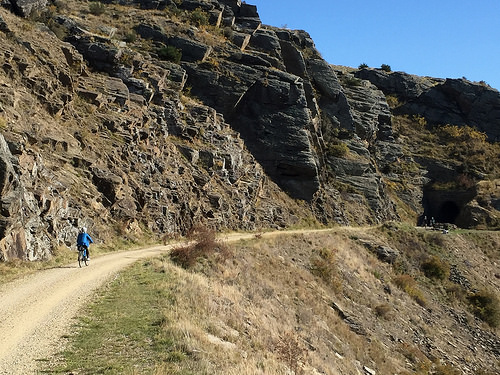 The trails are wide and pretty easy but in a couple of parts the gradient does become steeper and slightly more challenging. Having forgotten the golden rule about hydrating, I became very thirsty.  Keep hydrated folks. Take plenty of water with you. However there are a few cafe stops in sight if you get desperate. These are a great way to touch base with other like-minded cyclists.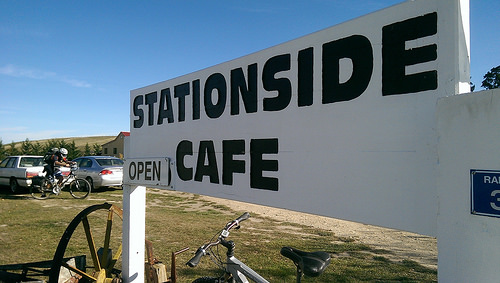 Beautiful scones, muffins and slices are sold at the Stationside Cafe. You really have to rest stop here for a while. As I said, there is a great camaraderie with other cyclists, strongly represented by the fit 50+ generation. Here's one of them.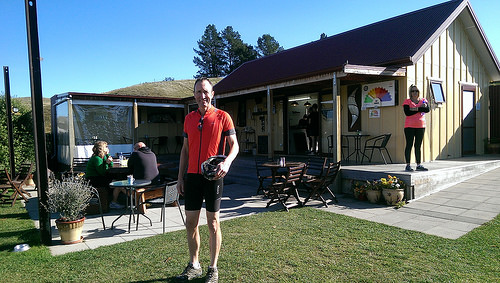 Now fully revived after the cafe stop, I scoffed at the very idea of being originally offered an E-bike. These are very handy for the less fit and so easy to operate.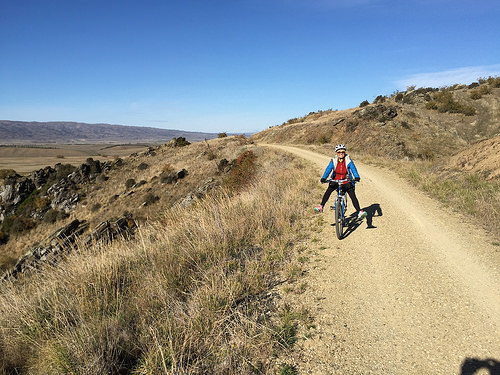 It's not just scenery you see on the way. Farmers and their working dogs are out tending to their stock. This is such a great way to see the real New Zealand 'heartland'.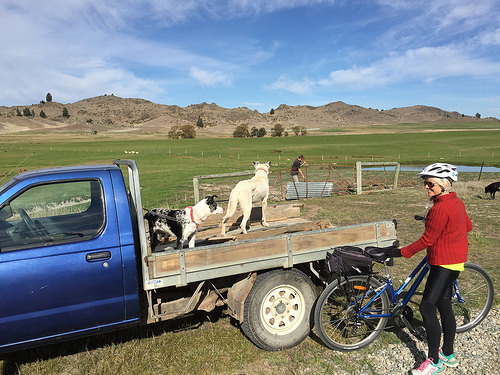 Can you believe this? –  a random apple tree growing on the trail. Back in the day, people would throw their apple cores out of the train as it was going through. Guess what, one took seed. Another refreshment stop. How good is my life getting!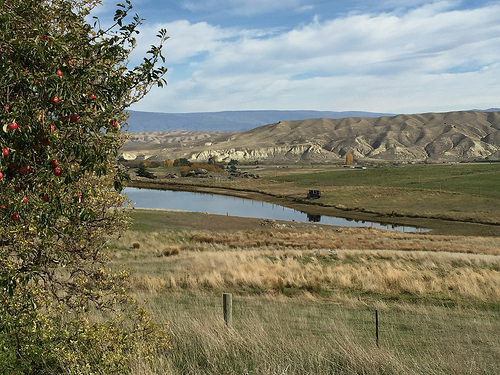 One newly made apple core later, I was back on the bike and peddling furiously onward to Chatto Creek. This is a great place to have a sit-down lunch or simply relax with a well earned drink.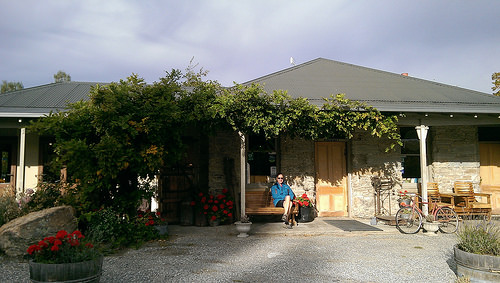 Duncan is right on time to collect us. It's over too soon but on the upside we'll be back for the full trail experience next year! In the short term, it's back to Clyde for our 2-night stay at the unique Olivers Lodge, a destination in itself. More on that later.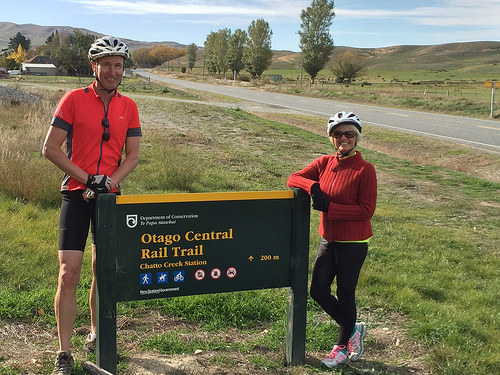 Happy travelling