We've arrived! It was raining, but Wanaka is one of those places that looks great even in 'yucky' weather. We're staying at the Edgewater Resort and the view is gorgeous. Our 1-bedroom apartment looks right out over Lake Wanaka and the welcome the staff gave us was so heartwarming. Walked into a warm apartment (heaters on – nice) soft music playing in the background, mood lighting and a lovely little gift basket. Did I immediately park my butt on the sofa? No, I did what I always do, I checked out the bathroom. It was spotless! And the Kitchen area is fully equipped with little extras.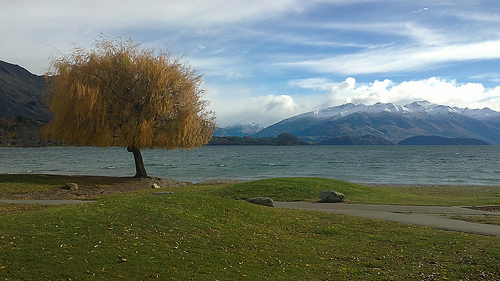 Woke up to crystal clear day and a glorious sunrise – no city pollution here folks. Had a very indulgent brekky at Cafe Gusto that Michael insisted we work off by taking the Mount Iron walk. This involves a steep walk all the way to the top of Mount Iron, then continuing the loop back, so it helps to be pretty fit. It's totally worth the huff and puff. The view at the top is amazing – special – just me and the bossman. Tussck country on one side – rolling green valleys and gem-coloured lakes on the other. I love this country!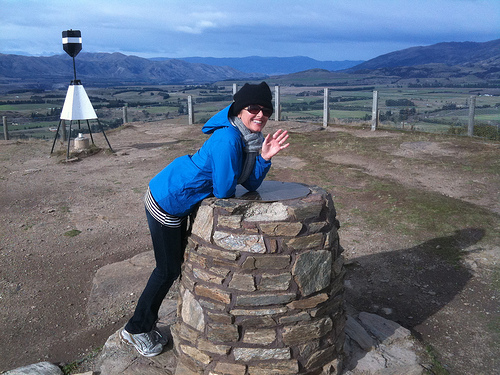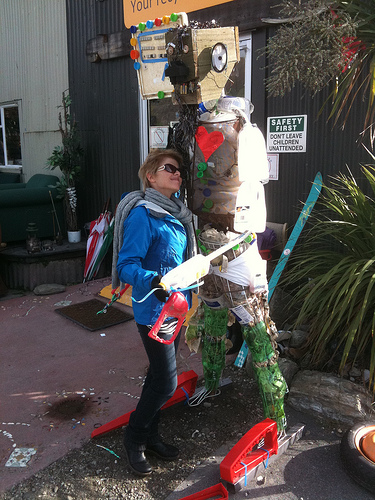 After our walk, time for something totally different. Had to check out 'Wastebusters', a recycling operation on the outskirts of Wanaka. Among all the rubbish, there are hidden treasures to be found and bought for a literally a 'song'. This is a very educational and buzzy place. Walking through all the bric a brac is an oddly comforting experience, like being in your old great-aunt's house. Remembered to take a photo of the educational corner too.(one of my many failings is being so overawed by something, my camera remains an inanimate object in my massive shoulder bag). Tomorrow, the vineyards!!