"Honey, we couldn't be getting better weather".  Like  most of our clients, Michael is overjoyed with our beautiful crisp blue-skied Central Otago Autumn.  We're staying in a very standard B & B, which Karen the owner, is planning to update later this year.  "It is what it is" Karen says.  For us, this  B & B is special, are two reasons. It's a few kms out of the Fox Glacier township and this is what the sight that greets you every morning: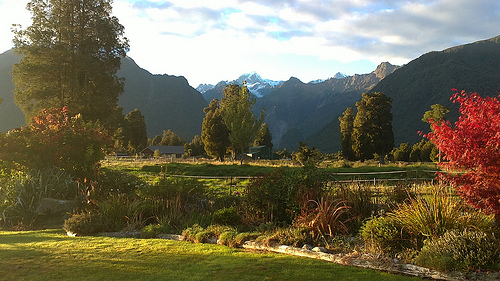 Looking towards the Fox Glacier Mountain View B & B: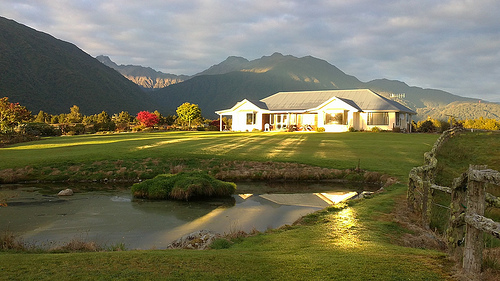 … the other reason is simply for the  for the kindness and friendliness of the owner/host Karen who has lived an exceptional and adventurous life – (driving 18-wheeler trucks across the USA takes courage) and she's the best of souls.  Her B & B is very clean and comfortable and she makes a hearty and wholesome cooked Kiwi  brekkie.  This lady has heart!
Franz Josef and Fox Glaciers have the most beautiful bush walks, a well set up Kiwi House where you can view our National symbol on their terms (they're nocturnal creature, so no flashlights or talking aloud).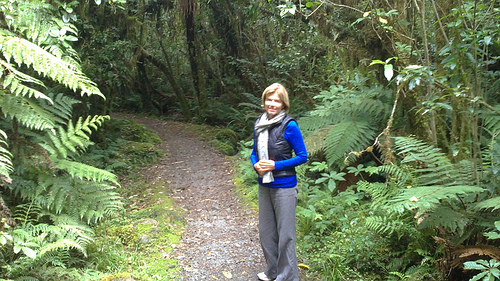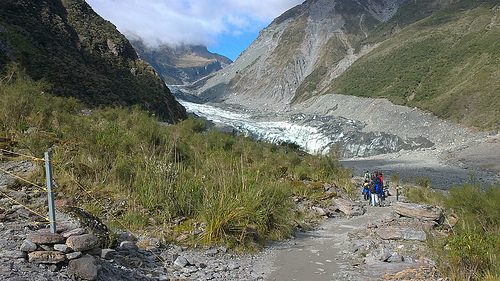 We leave Fox Glacier and head off to Arrowtown first stopping at Lake Peringa for a moody photo shot.  Here's Michael in a pensive pose, photographed by his drenched photographer wife screaming out for the car keys cos she's growing flippers!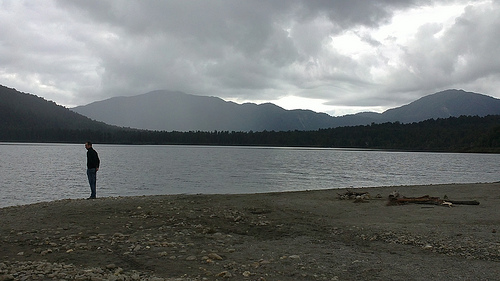 ..but of course the weather is changeable in New Zealand and that's not always a bad thing.  As we head off to Wanaka, I decide to be devilishly clever by taking a photo from the passenger seat.  Michael questions my cunning strategy…this coming from a man who photographs his wife in the most unflattering light possible! This drive is lovely and damn it, I think the photo works. Lake Wanaka is such a welcomed sight.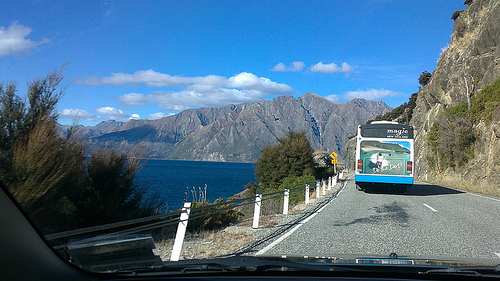 Brief stop in gorgeous Wanaka – it's ANZAC Day and busy.  We stop for a coffee and the most delicious carrot cake muffins At RITUALS CAFE off the main road.  These guys have great operational systems in place, ensuring the minimum wait  for your order.
Finally we reach our destination – 2 nights in the pictuesque little town of ARROWTOWN.  I've always loved this place – slower pace than frantic Queenstown. The  golden and red Autumn hues are breathtaking. April/early May- such a wonderful time to travel through central Otago – Look at what greeted us as we drove in: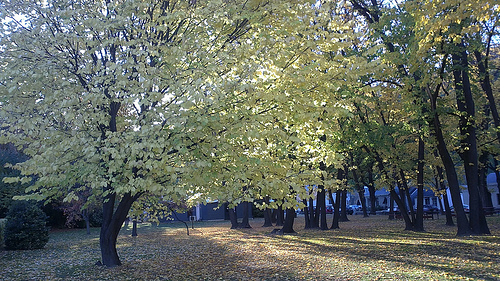 ..ok just one more: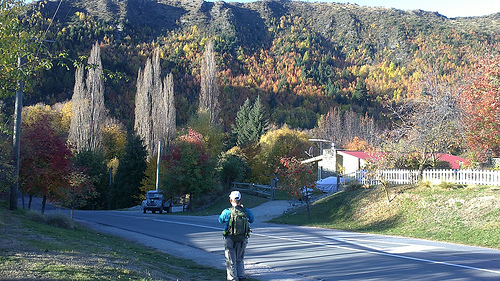 The Arrowtown Autumn Festival is in full swing at the moment…time to explore..