One of the marvellous facts about this country is that you're never more than 120km from a beach and a lot less from a toilet! I discovered this small but important fact yesterday on our daytrip to Wellington. We were here to visit the 'Unveiled' exhibition at Te Papa showing 200 years of wedding dresses. It wasn't until we arrived at Te Papa, that the first tendrills of alarm hit me and I was never more grateful that Wellington provides an abundance of modern bathroom facilities for people with unexpected 'issues'. More on that later (or perhaps not). Gorg day to take a helicopter tour over Wellington: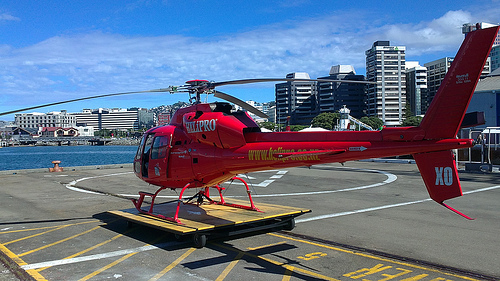 Hey people, you really have to see this exhibition and it's just not just for the ladies. The workmanship of these beautiful gowns is extraordinary and no, an engineering degree is NOT required to appreciate the complexities of the John Galliano gown. Seems women were much smaller in Victorian times with shoes to match the tiniest feet. Unfortunately, the only photo I have is of me and the advertising poster. Photographs are not permitted inside and there are stringent copyright rules on the Te Papa flickr site. The exhibition runs until 22 April 2012.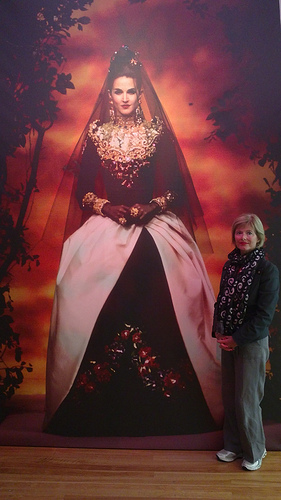 From here on, Michael will feature in the rest of the photos as I was frequently attending to the more personal issue mentioned earlier. Running off on a tangent here for a moment, isn't it gross when people using public facilities don't squash their paper towels into the bin after washing their hands, leaving them to overspill onto the floor.
Anyway stopped for lunch – yeah I know, it was a bit of risk but it paid off as I felt much better after afterwards. Was going to lunch at the excellent Martin Bosley's on the wharf but didn't feel it was appropriate on this particular occasion. Still it would have been nice to check out the bathroom facilities there as well. Instead had lunch at one of our fav cafes, Floraditas in Cuba Street. Here's the Boss, hard at work as ever: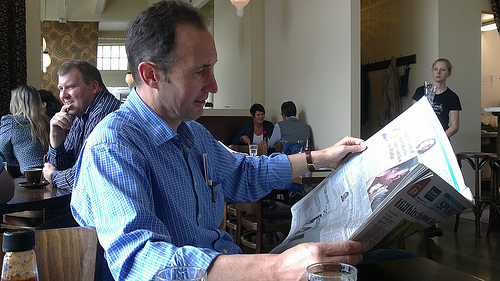 The walk down Cuba Street was eventful. Some very cute shops have opened since my last visit. Check out Iko Iko for something different: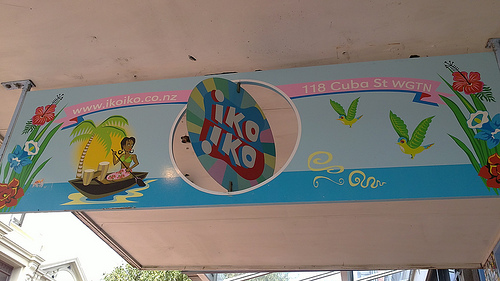 Take a look inside: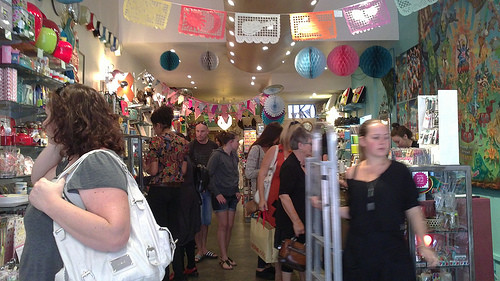 Some students are desperate for money and urged on by their mates (as this honey was) they'll do pretty much anything to fill the piggybank. Note the impressive cleavage – put mine to shame. By the time we left, this guy was doing pretty well with a growing and appreciative audience. Michael popped a couple of coins in the hat just for the sake of a photo opportunity…seriously folks, should I be worried?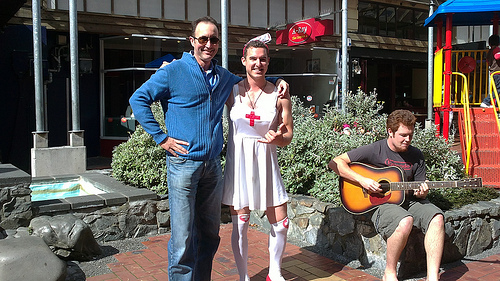 Had my third coffee in the Old Bank Building at Lambton Quay. Biga mistaka for Pammy, although I can report that the 'bathroom' facilities are on the second floor (thought you might like to know). Fabulous old building though and great shops – my personal fav – Wallace Cotton, if you're looking for quality linen. Mouthwatering Belguim Chocolates on the ground floor. Shopping in Wellington is extremely varied and you'll find something unique.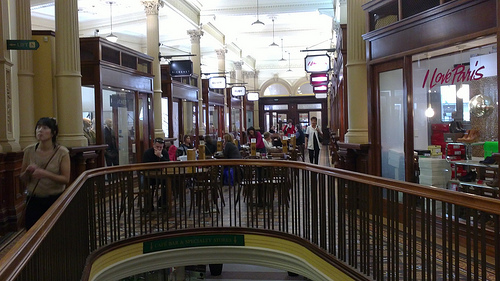 Onwards to the Kura Cultural & Art Gallery, a good place for buying something spectacular. Pleasantly fazzled, we settled down on some bean chairs in a cafe along the wharf – just me and the boss basking in the sun and watching the world go by. Fabulous 25 min plane trip home to Nelson. Great day out!