In recent years, tours of the film locations have become an excellent way to explore what New Zealand has to offer! The Dart River Journey to Paradise really does live up to the hype. This combo tour is a great option if you're based in or near Queenstown. It's based just 50 minutes away in the beautiful area of Glenorchy, which is at the northern end of Lake Whakaipu where the Dart River joins it. The 'paradise' destination isn't just an expression – here, there really is a small settlement called Paradise! The Dart River journey to Paradise has three parts – a bus tour, a short bush walk, and a thrilling jet boat ride.  This really is a great way to see the real Lord of the Rings country!
Let's be honest. When people think of New Zealand, they think of Lord of the Rings. It might sound a bit cliche, but there is a shooting location around practically every corner of this country! The reason New Zealand has been host to so many films is that it's home to such varied landscapes. In the space of a few hours you can go from stunning mountain vistas, to pristine native forest, to miles of rugged coastline. It's this diversity that has been attracting travellers for decades.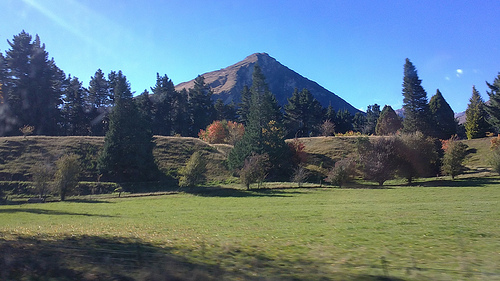 The stunning scenery of Glenorchy
There's so much drama in this environment – its awesome in every sense of the word. It's easy to understand why film crews come here to shoot their award-winning films. And it's not just the Lord of the Rings and Hobbit trilogies! Glenorchy has served as the scenery for the Chronicles of Narnia movies, X-Men Origins: Wolverine, and the acclaimed BBC series Top of the Lake. No doubt it will be home to many more in the coming years!
Queenstown is obviously the most well-known spot in the area for accommodation, but it tends to get pretty crowded in the peak summer months. You will need to book several months ahead of time to secure something at a reasonable price. But if you are someone wanting to spend a lot of time checking out nature and walking opportunities in the area, consider staying in Glenorchy. It's the departure point for many key tramps such as the Routeburn, as well as more laid-back and less 'touristy' than Queenstown.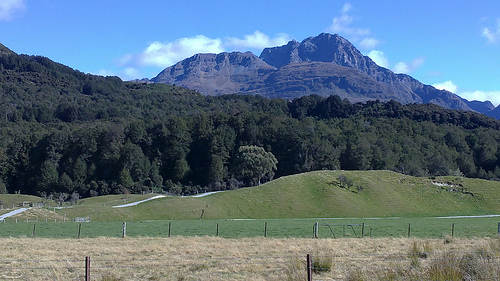 Dart River Adventures
Dart River Adventures has been operating in Glenorchy for over 25 years. There are many jet boat companies in New Zealand, but these guys really know their stuff. The company belongs to Ngai Tahu Tourism, the main iwi in the South Island. They specialise in teaching travellers about the area's indigenous history, and are also involved in conservation efforts to preserve the area for future generations. Spending your money with vendors like these ensure that you are supporting sustainable ventures who help keep New Zealand such an incredible place to visit.
The Dart River journey to Paradise bus tour – an interesting history
Having a great driver guide really enhances the whole experience of these tours. It's a real gift to be with someone who can tell an entertaining story. One of the first stops is at the Arcadia Homestead, and what a sad story this is! An idealistic young Englishman named Joseph Fenn built the homestead in the early 1900s, who left his fiancee in the care of his father back in England. He was so overwhelmed by the beauty of the area that he built the beautiful Arcadia Homestead. Then requested that his fiancee join him out in New Zealand.  The father replied by return mail saying that he had married the son's fiancee, so she was now effectively his son's stepmother! Today, they would probably turn a story like that into a TV show.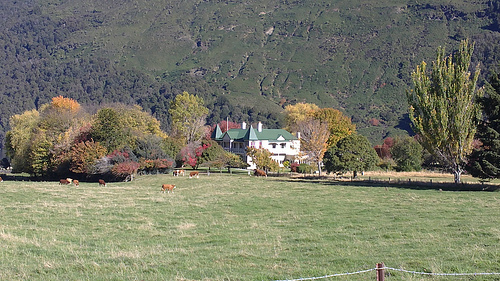 Dart River journey to Paradise -Bush Walk
The second part of this journey involves a short bush walk to the Dart River Safari jet boat.  Now a word of caution here – like a lot of the more rural parts of New Zealand, you won't find toilet facilities on every corner.  The next best thing is to discreetly disappear behind a bush.  Most people are okay with this, and people are usually pretty respectful towards others in the groups.
The bush walk is very interesting and you might think it's over too soon. Our guide was extremely funny, and told interesting stories along the way.
Dart River journey to Paradise – Jet Boat Ride
The bush walk takes you to the small wharf for the next part of the tour – the jet boat ride! You'll get fleecy-lined waterproof coats with zips and velcro to keep you warm. The fast-moving air gets pretty chilly!  Once aboard, they need to remove the gravel from the shallow water before full acceleration.  This requires passenger participation. You all have to stand and lean forward in a half bow – there's lots of laughter at this stage!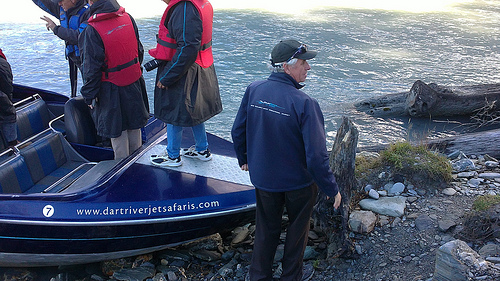 Now hang onto your hats folks – the adrenaline rush is about to begin!  The boat travels up and down the Dart River and with strategic stops in interesting places.  You'll find this part of the journey to be a total ' buzz'. The heated rails is a nice touch to keep your hands toasty warm!
These are some of the close and personal views from the boat: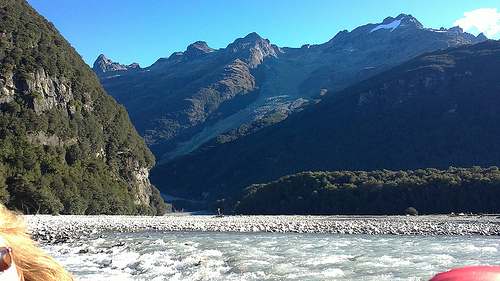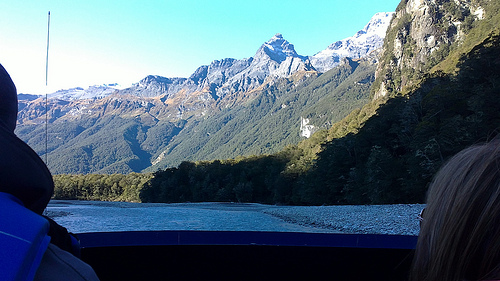 This tour is further enhanced by perfect weather and boy, we were very lucky on this one.  The Dart River journey to Paradise is great value for money and is full of variety – it's a great half-day tour!
For more activities of this nature (pun intended!) check out our dedicated nature and lifestyle itineraries.
Happy Travelling!