One thing that New Zealand does have in abundance is fantastic nature tours. No matter which part of the country you visit, there will be unique offerings within easy reach. That is the beauty of New Zealand; it's a small country which has a lot packed into it! There are none of the big travel distances that characterise other countries with such epic offerings. You can easily make these special excursions into a convenient side-trip. In this post, we are recapping our visit to the white heron sanctuary at the Waitangi Roto Nature Reserve – a must-do excursion for nature lovers!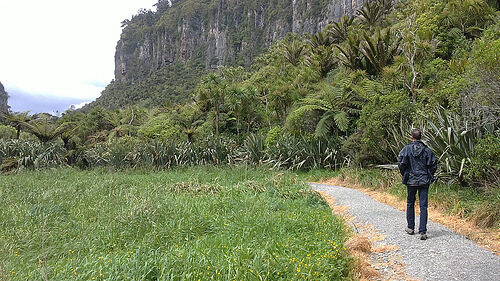 The Majestic West Coast
The Waitangi Roto Nature Reserve
is located
in Whataroa on the West Coast of the South Island, which is where the White Heron Tours run from. This small township is
just
inland on State Highway 6 between Ross and Franz Josef. This highway is one of the main routes down to Otago,
and so features in many itineraries
.
This makes Waitangi Roto an easy stop during your travels. It's an opportunity to soak up the 
truly
incredible scenery of the region
!
Unlike the very pastoral east coast, the West Coast is another world
just
a few hours away. It's a wilderness of picturesque mountains, temperate rainforests and rugged coastline.
It's also one of the country's most remote and sparsely-populated areas. It has a population of
just
32,000 people in an area of almost 9000 square miles
! How is that for low population density?
The lack of development has left huge tracts of the region completely untouched, and a haven for outdoor activities and nature conservation
. The West Coast
truly
is a must-explore for any traveller!

Waitangi Roto Nature Reserve 
The Waitangi Roto Nature Reserve is home to a truly unique tour – a chance to see white herons in their natural breeding colony! White Heron Tours is a family-owned small tour company with direct access to these beautiful winged birds. In fact, you can only get to see the White Herons by taking a guided tour. The Arnold family have worked tirelessly for almost 30 years for the welfare of these birds, living and working right on site. They operate their tours with a special concession from the Department of Conservation (DoC). They closely monitor the area for any adverse impact to the birds. Due to their environmentally responsible operation, White Heron Tours have been granted a 30-year permit. This is a great expression of their hard work and genuine love for wildlife.
The White Herons
The white heron, also known in Maori as the Kotuku, is a very scared bird to New Zealand's indigenous people. The Waitangi Roto Nature Reserve is home to New Zealand's only breeding site and the only place where you can see these birds up close.  In the 1930s, the colony was almost eradicated due to the popularity of the feathers for ladies hats. After becoming a protected area in 1949, the heron's population slowly recovered.
White Heron Tours
The Waitangi Roto Scenic Reserve tour starts from Whataroa, and takes about 2-3 hours.
If you're on the way to
Franz Josef Glacier
, you can
easily
include this highlight in your travel itinerary
! The breeding colony is only accessible by boat, so the actual tour has three parts. There is a short minibus ride to the river, and from here you'll board a jet boat.
If you're
really
lucky, you might have one of these majestic White Herons to escort you all the way into the Sanctuary
. If this happens, get your camera ready – they are
absolutely
breathtaking in flight!
The 20-minute boat ride transports you to a private jetty, and from here you'll take a short boardwalk through native bush to the viewing platform
.  At the viewing platform, you can sit in peace and quiet to observe the birds.
The guides are passionate about the protection of the White Herons, and
extremely
knowledgable
. The white Heron is an
incredibly
caring bird – the attention to their young is mesmerising.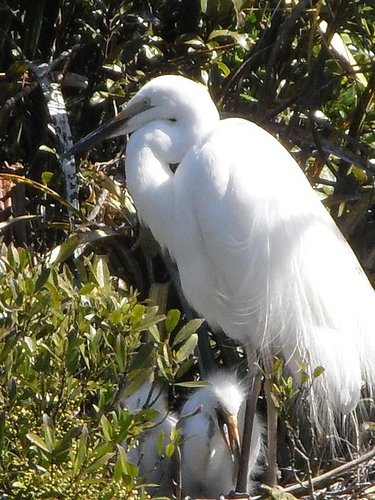 This is such a good value experience because visitors also get to view the stunning and unusual-looking Spoonbills (yes, their black beaks really are shaped like a spoon!)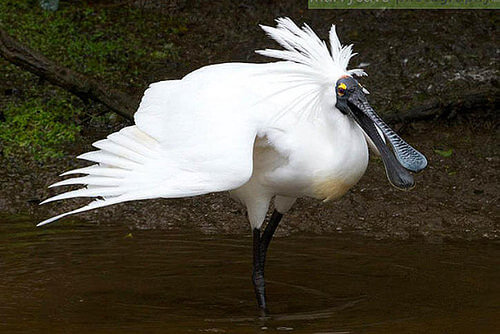 The pristine rainforest environment is an amazing way to refresh your spirit. I can pretty much guarantee the memory of this tour will stay with you forever – as it will for me!
White Heron tours at the Waitangi Roto Scenic Reserve operate from March to September each year. Outside of these months, they also offer a rainforest reserve tour. For more unique nature experiences in New Zealand, have a look at our specialist Nature and Lifestyle Itineraries. 
Happy Travelling!