Recently, we treated ourselves to a Central Otago Lodge accommodation at Olivers Lodge and Stables in Clyde. Only an hour's drive from Queenstown, and away from the masses, we enjoyed a special level of comfort after riding the Central Otago Rail Trail.
Olivers Central Otago Lodge accommodation
The new owners of Olivers have totally refurbished the lodge and have added a high-end restaurant, cafe, bar and brewery plus a bakery where fresh bread is baked daily.
We chose the Stable room located in the courtyard. Spending good money on a converted stable may sound strange, but if it's furnished in a luxurious rustic style with underfloor bathroom heating, who's complaining? Believe me, after riding the Rail Trail all day, that super-king bed looked pretty darn good.
The stable rooms are located in the courtyard of Olivers and seemed quieter and more intimate.  Our room was huge!
For a softer, plusher style, the lodge rooms are an excellent alternative to the stables and have a different type of wow factor.
Olivers dining, Central Otago Lodge accommodation
We shared this beautiful big breakfast table with happy travellers all keen to get out onto the cycle trails. The camaraderie was great. This type of communal dining works only works if you're prepared to converse with other seasoned travellers. And believe me, it has it's rewards. Many years ago, we formed a lifetime friendship with a great couple we met here.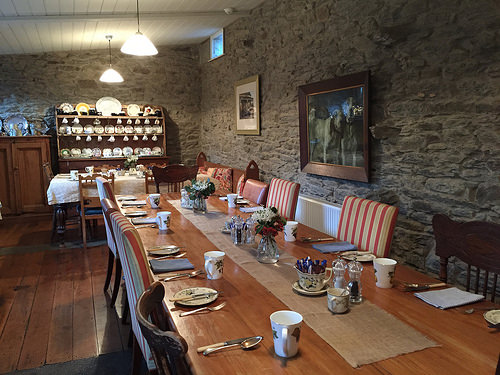 It's not hard to produce home-made cereals and at a certain price level, you should expect it. Michael wolfed down homemade muesli and my gluten-free muesli was delicious. Don't you just love it when people take a bit of trouble with presentation (yes, that fruit is all real).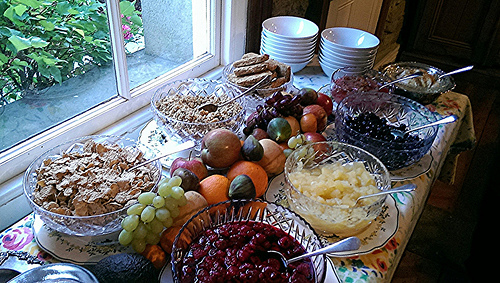 Throughout our Southland journey, we were often served by French or German wait staff and their service was excellent. The Olivers restaurant was no exception.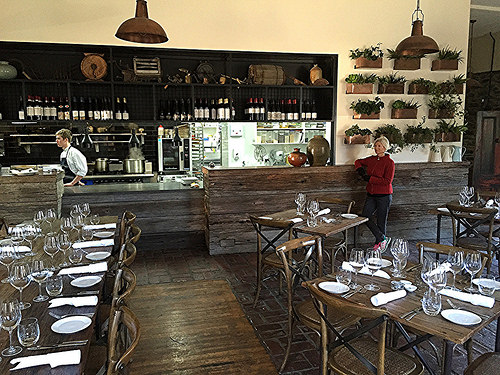 Although the chefs seemed rather tense, this did not detract from their culinary skill. The lamb was excellent.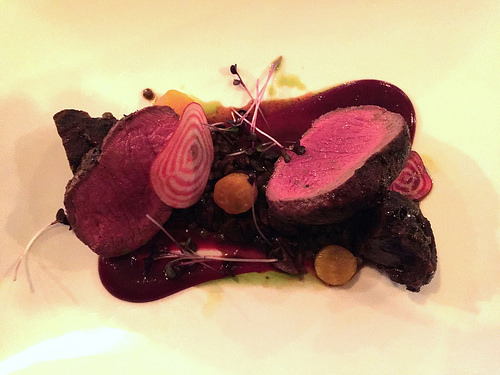 I think Olivers could best be summed up as a lifestyle experience in which the beautiful little historic town of Clyde should be proud. It's a unique oasis unlike any other in New Zealand.
Happy Travelling