Day 1 continued – New Plymouth – Boutique B & B. The lovely city of New Plymouth is a major draw card for us.  It is not always included in New Zealand itineraries. We think it should be.  In fact, over the last 10 years or so, New Plymouth has come along in leaps and bounds.  Being a coastal city, the sea views are beautiul.  There is a magnificent botanical gardens right smack bang in the middle of it.  The Festival of Lights is an annual event and a magic time.  The cafes and restaurants have doubled overnight and there's so much variety.
Mt Taranaki
I guarantee, you'll be totally awed when you first lay eyes on Mt Taranaki. You'll probably recognize its distinctive shape from brochures. It sits in a landscape of green rolling hills and lush meadows.  This mountain has a very special significance to the Maori people, yet most people report that they are deeply moved by it. A lot of the time, it is shrouded by cloud but sometimes it does look like this: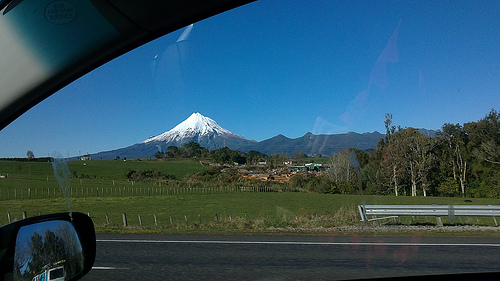 Paritutu Rock
At the eastern end of  New Plymouth's harbour you'll find Paritutu Rock. There's a track up the rock, beginning on the northern side where the views are astonishing. We made a valiant attempt to scale the top but were soon overtaken by a couple of impressively fit teenagers. Managed to get half-way.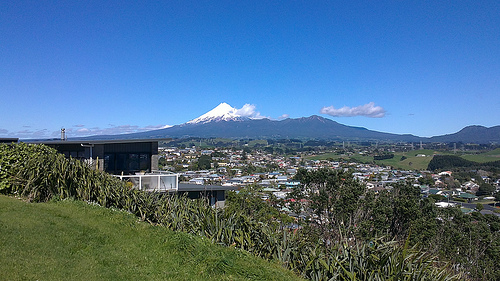 Day 1 continued – New Plymouth – Boutique B & B – Hosking House Bed & Breakfast
For us, a major highlight was our 2-night stay at Hosking House B & B .  If it's boutique accommodation you're after, this one really is a special little gem. Its just far enough to be out of the central hub, but close enough to walk into town. Hosking House is hosted by Rachel Church, a softly spoken sweetheart with the gentlest American accent.  The villa has a discrete atmosphere – and that's just the way we like it: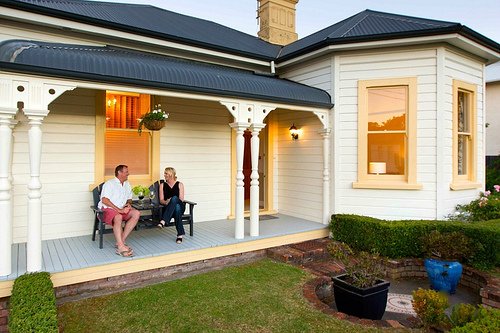 The professionals who helped renovate and decorate this villa need a medal for their efforts.  The original old wood has been retained. They've actually achieved the perfect blend of heritage and contemporary style – but keeping the character of the original building – no mean feat. You can really spread out and relax in the suites. Its lovely to see polished polished wooden floors and large windows: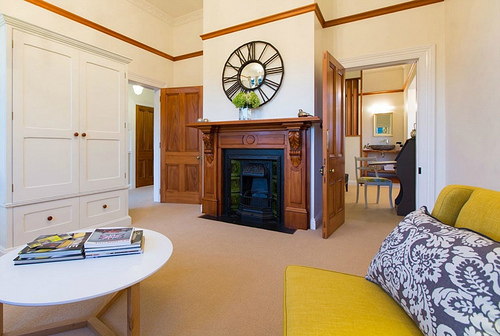 We love the idea of creating open 'louvers' to separate the bathrooms from the bedrooms. They've actually managed to do this and still retain the natural light. The sculpted stone basin adds a very stylish rustic touch.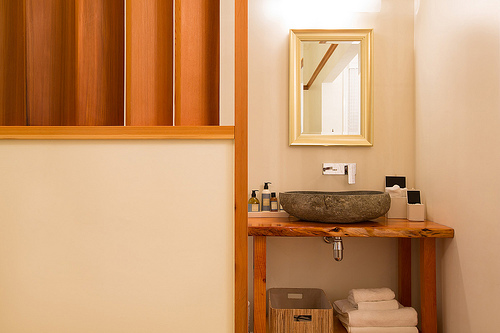 The original artwork is so much easier on the eye than the generic offerings.  If you're lucky enough to be here in Spring or Summer, you'll love the lovely garden at the back of the villa. Before we head off to eat, just a another little plug for the Nellie Tier toiletries in the ensuites. These NZ made products would hold their own with top world brands. Honestly this is first time I've ever seen Michael use body lotion!
We're loving our first night here. Looking forward to a relaxing day tomorrow of cafes, gardens and an unexpected fabulous Maori exhibition. Bring it on!