The Abel Tasman Region is a great place to hang about for a few days. There's no better location to enjoy some of the most beautiful golden beaches in the world, boutique vineyards and it's famous art trail. Dining in the Abel Tasman Region is taken very seriously by the well travelled locals who are usually excellent cooks themselves. The food here is nourishing, tasty, made with fresh produce (organic if poss) and not too pretentious. There is a close connection between food and art with cafes often attached to small art galleries. Here are just a few of many options.
Riverside Cafe – Upper Moutere
The Riverside Cafe is located in a 15- year old villa homestead. And it's so much more than a cafe. At the entrance lies a very interesting Cacti garden that Michael negotiates…carefully.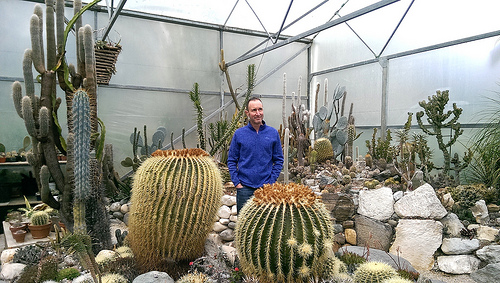 The Riverside Cafe is warm and inviting with interiors featuring beautiful handmade copper and crystal chandelier. On the day we visited, they'd almost sold out of their signature freshly baked Brioche.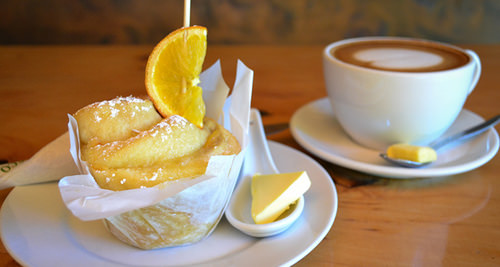 I ordered a passion cake with real passion fruit topping and although it was a smallish portion it was delicious. Like the Brioche, the service is warm and cheerful.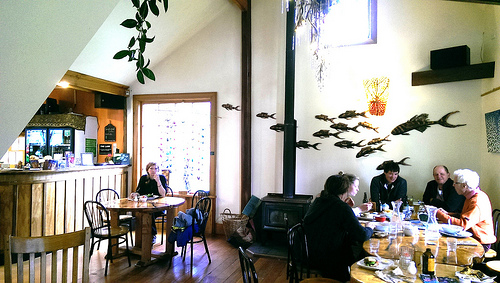 To the left of the cafe there is a special little art gallery. Don't be surprised when you find yourself totally benighted when you first walk in. There are light sensors and as you proceed further, your path is slowly lit up and the gallery comes to life. Magical.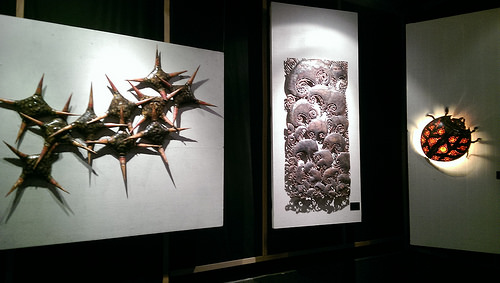 Jester House Cafe near Tasman Village
If you want to see a woman scoff a delicious gluten-free ginger slice in 10 secs flat, head down to the Jester House Cafe on a Wednesday, cos I'll be there. This property has been an on-going project of love for it's owners over 25 years and what I'd describe as a good all-rounder with equal appeal to adults and young families.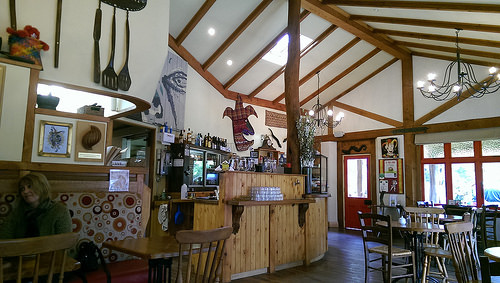 Saturdays and Sundays are always packed so it pays to book ahead. Everyone loves the nearby stream of wiggling eels, especially when it's feeding time and the unique playground equipment is sturdy but still no excuse for this sort of carry-on though!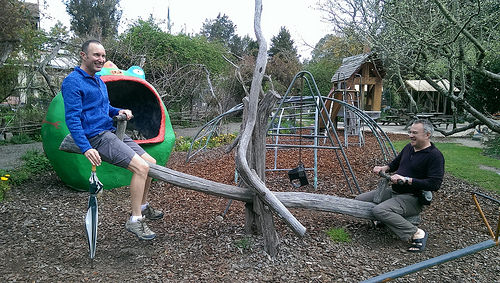 Tasman General Store – the heart of town
Are you old enough to remember those rural general stores General Stores where all the locals were greeted by name and it was so much more than a dairy? The Tasman General Store is such a place and  full of surprises. It's just down from Jester House in Aporo Road.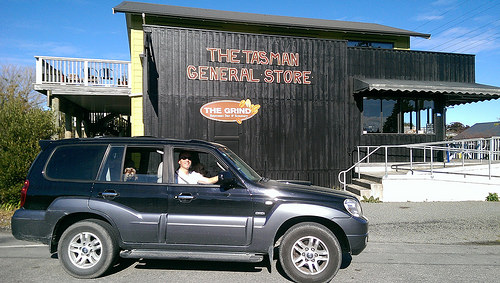 Co-owner Lance, is a champion coffee roaster and skilled barista.Toiling in the kitchen are skilled bakers who supply the front shop with, among other treats, the most delicious carrot cake you'll ever taste. In my opinion, nobody else can better them.  There are interesting places to sit and relax . We enjoy sitting at the massive wooden table at the front entrance to read the newspapers and chat with the locals.  The ice-creams are gigantic!
Jellyfish Cafe on Mapua wharf
Mapua is a fine little settlement that's expanding in population year by year. If you follow the road into town, you'll find the Jellyfish Cafe the very end on the Wharf. The Jellyfish Cafe is opened for Breakfast, lunch and dinner. The food is robust and nourishing and the service, friendly.
The Apple Shed Cafe & Bar sits right along side the Jellyfish Cafe. The Apple Shed has very comfortable booth seating inside but plenty of alfresco options as well and great views from the wharf.
Check out what is possibly the oldest pub in New Zealand, the Moutere Inn, which is in Upper Moutere – wholesome pub-cooked meals and relaxation in the gorgeous countryside. Kahurangi Estate Restaurant has the real deal with tasty wood-fired pizzas –  a great lunch option.
Good options in Motueka such as the ever-gracious service of the Chokdee Thai Restaurant. For something a bit special, head down to the Church Lane Restaurant to experience, among other delights, their amazing desserts, then visit the special shops nearby. Enjoy!
View other travel blogs on the Abel Tasman region:
Happy travelling!