As a country, New Zealand is home to some incredible diversity. In its people, its culture, and most of all its landscapes. No matter what kind of scenery you are the chasing, the chance is that you will find it here. Depending on your preference, you can ski on snowy mountains, hike through rainforest, or relax on pristine white beaches. For the latter, this will have you bound for Abel Tasman National Park. This gem at the top of the South Island is home to a landscape that looks more like the Pacific Islands than almost anywhere else in the world. Here, you can explore a variety of outdoor activities to your heart's content. Kayaking, boating, cycling, hiking…you'll find it all here.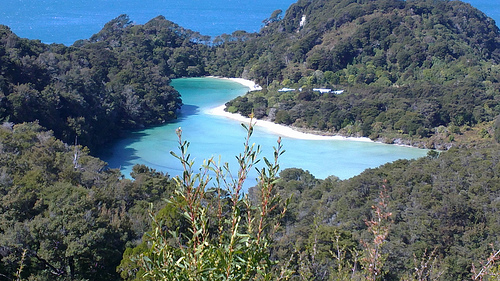 Abel Tasman National Park
Abel Tasman National Park is located in between Golden Bay and Tasman Bay on the South Island's northern coast, just over 60km north of Nelson. It's probably the best-known of New Zealand's national parks after Fiordland, mostly due to it being home to the world-famous Abel Tasman coast track. This incredible hike spans 60km along the coastline, taking 3-5 days in total. However, there are many day options available for those who are shorter on time or who just want a taster.
One of the best things about the Abel Tasman track is that it's easily accessible by water taxi for pick-up and drop-off at various points, allowing you to choose which part of track interests you the most. On this particular trip, we chose to do the Bark Bay to Torrents Bay section, which is 7.8km long and gives you the most spectacular ocean views, not to mention a swing bridge crossing!
Journey by water taxi
We've both had a crappy night's sleep, and yikes, we have to be at the Nelson Wharf at 7.45am! We face each other across the breakfast table with Panda Bear eyes, communicating only in monosyllables. But we are still excited; we're about to take what is arguably the most beautiful walk in the Abel Tasman National Park! To get there, we're using the Abel Tasman Sea Shuttle – a great option for people wanting to stay in Nelson City. Paul the Skipper not only pilots the shuttle, but as a former welder helped to build it and knows every inch of his vessel. In fact, he's already helping to build another one! Michael is fascinated by the mechanical boarding bridge unfolding from the front of the boat. Perhaps I'll buy him a mini version for Christmas.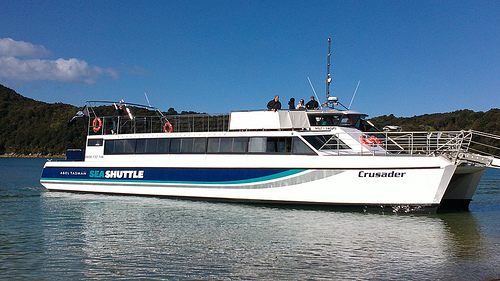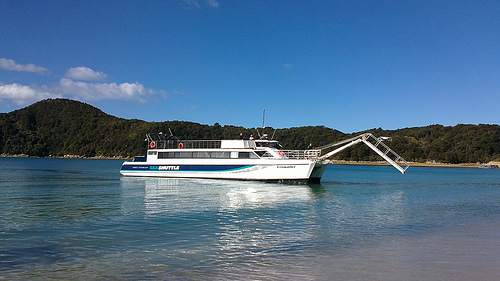 Great hospitality
Skipper, Paul, greets everyone boarding the Shuttle. I'm impressed with his genuine friendliness! Once onboard, we discover the true meaning of 'mingling with the crew' as we're handed over to Rory. Rory is an all-rounder and not only makes the tea any coffee, but finds the time to speak with passengers and gives everyone equal attention. Before taking to the track, we'll sail up to Kaiteriteri and back down to Totaranui, right on the edge of Abel Tasman. I squeal like a kid as we pass sunbathing seals, gliding past a group of shags having a quick team talk. As I clamber across the deck with other passengers to take a photo of Split Apple Rock, I have visions of my camera hurtling down to the murky depths! Finally, our moment has come. 'Lower the drawbridge me hearties', because we're here at Bark Bay to begin our walk!
Update: You can no longer get the water taxi directly from Nelson up to Totaranui. Instead, you will need to take the shuttle bus to Kaiterikeri and pick up the water taxi from there. You can check out the details here.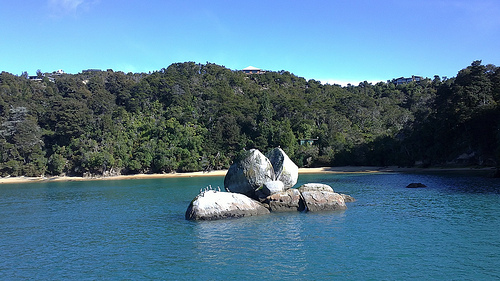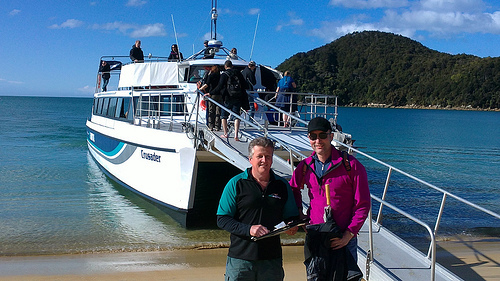 Be prepared
Like many of the more remote parts of New Zealand, you won't find any cellphone reception on the Abel Tasman track. In the 21st century, this often comes as an uneasy surprise to a lot of people. But try to see it as a chance to really disconnect from modern life and get into nature; it can be quite a wake-up call to realise how much these devices rule our lives! Who knows? It could be the start of some well-needed adjustments.
In any case, it really pays to be prepared. Be sure to pack some decent wet weather gear, food and plenty of water, because you just never know! As a small island nation, weather can change very quickly in New Zealand, especially in the coastal regions like Abel Tasman where rain fronts can blow in at a moments notice.
Off the beaten track
The Abel Tasman track isn't all downhill either. Some may find this track a little more challenging, depending on how far you want to go. It's technically classified as an 'intermediate' track, but for the most part it's fairly easygoing. It's here that you'll get to see the Park in all its glory. The bush is lush with growth from the previous night's rainfall, and we're breathing in pure oxygen. Much of the walk gives beautiful views of the coastline, where the whiteness of the sandy beach contrasts spectacularly with the green of the sea.
I'm frequently looking down on canopies of giant-size Punga Ferns, also known as nature's umbrellas. DOC staff have thoughtfully placed seating at strategic spots for walkers to rest and reflect. This exactly the scenery you see in Instagram shots of the region, and there is zero need for any filters!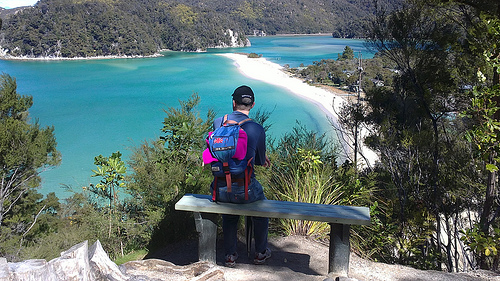 I'm totally focused on taking photos, and am halfway across the Falls River Swing Bridge before I realise that although it's built to sway slightly, I'm unprepared for it. But no worries, this beautiful swing bridge is an architectural masterpiece and it's incredibly safe. We arrive at Torrents Bay, and I still have a spring in my step. "Let's go on to Anchorage Bay and get picked up from there" suggests Michael. I stupidly agree.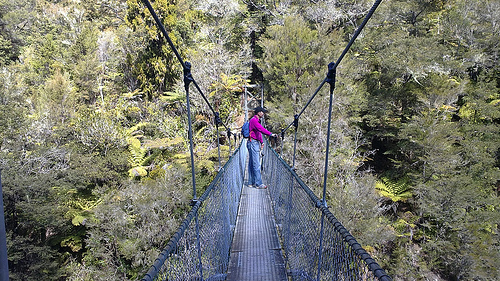 The verdict
By the time we reach Anchorage Bay, I feel as though a massive pin is the only thing keeping my hip from separating from the rest of me! I realise that if I stop now it'll be the fireman's lift the rest of the way, and Michael's back is not up to the job. Doggedly, I stride on. Finally, we reach the beautiful Anchorage Bay. As I stretch out on the warm sand, I see the Abel Tasman Sea Shuttle arriving onto the Beach, and there's Paul at the Helm eager to hear all about our day. I'm pleasantly tired. It's been a fabulous day.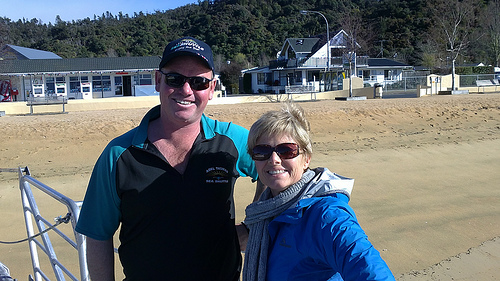 For more activities in Abel Tasman, see our specialist nature and lifestyle itineraries. 
Happy travelling!