We've both had a crappy night's sleep and yikes we have to be at the Nelson Wharf at 7.45am! We face each other across the breakfast table with Panda Bear eyes communicating only in monosyllables. We're about to take what is arguably the most beautiful walk in the Abel Tasman National Park. To get there, we're using the Abel Tasman Sea Shuttle, the only sea shuttle service picking up from the Nelson wharf – great option for people wanting to stay in Nelson City. Paul, the Skipper not only pilots the Abel Tasman Sea Shuttle, but as a former welder, has helped to build it and knows every inch of his vessel. In fact, he's already helping to build another one! I'm rather dubious about the weather. It's looking grey and overcast. Michael's fascinated by the mechanical boarding bridge unfolding from the front of the boat. Perhaps I'll buy him a mini version for Christmas.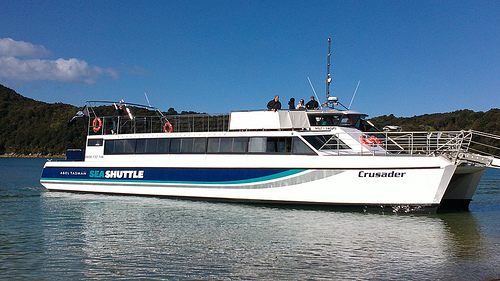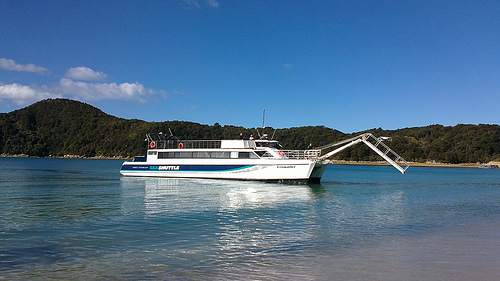 Skipper, Paul, greets everyone boarding the Shuttle. I'm impressed with his genuine friendliness and once onboard, we discover the true meaning of 'mingling with the crew' as we're handed over to Rory. Rory is an allrounder and not only makes the tea & coffee but also finds the time to speak with passengers and gives everyone equal attention. Before taking the Discoverer Day Walk, we'll sail up to Kaiteriteri then back down to Totaranui. I squeal like a kid as we pass sunbathing seals before gliding pass a group of shags having a quick team talk. As I clamber across deck with other passengers to take a photo of Split Apple Rock, I have visions of my camera hurtling down to the murky depths with me in quick succession. Down to Awaroa next as we drop of a couple of honeymooners spending a few idyllic days at Awaroa Lodge. Finally, our moment has come. 'Lower the drawbridge me hearties', cos we're here at Bark Bay to begin our 12.5km walk. Suddenly, I'm energised.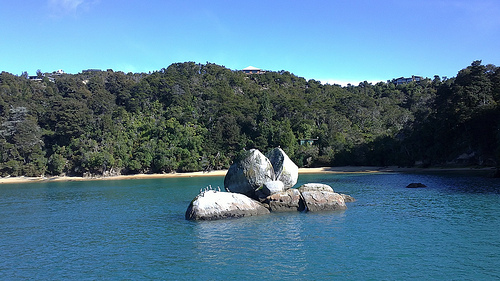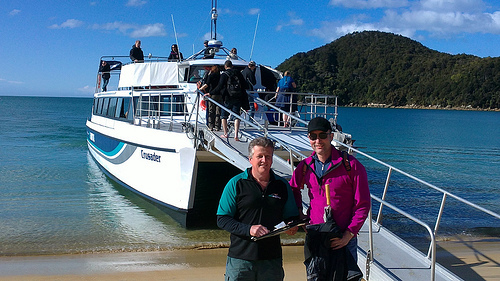 No cellphone reception here folks and it pays to pack wetweather gear, food and plenty of water, cos you just never know. It's not all downhill either. Some may find this track a little more challenging depending on how far you want to go. But it's here you'll get to see the Park and the spectacular coast. The bush is lush with growth from the previous night's rainfall and we're breathing pure oxygen. Much of the walk gives beautiful views of the coastline where the whiteness of the sandy beach contrasts spectacularly with the green of the sea. I'm frequently looking down on canopies of giant-size Punga Ferns, nature's umbrellas. DOC staff have thoughfully placed seating at strategic spots for walkers to rest and reflect, walkers like this interesting bloke.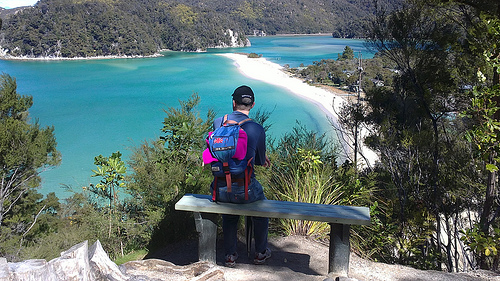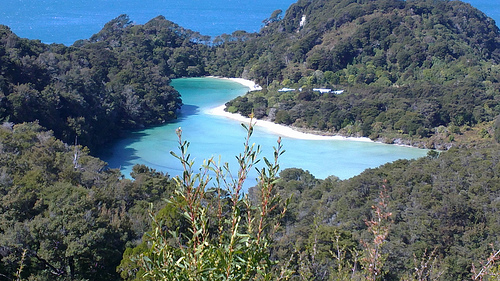 I'm totally focused on taking photos and am halfway across the Falls River Swing Bridge before I realise that although it's built to sway slightly, I'm unprepared for it- repeat visions of camera and woman hurtling to depths unknown. No worries, this beautiful swing bridge is an architectural masterpiece and it's incredibly safe. We arrive at Torrents Bay and I still have a spring in my step. "Let's go on to Anchorage Bay and get picked up from there" suggests Michael. I stupidly agree.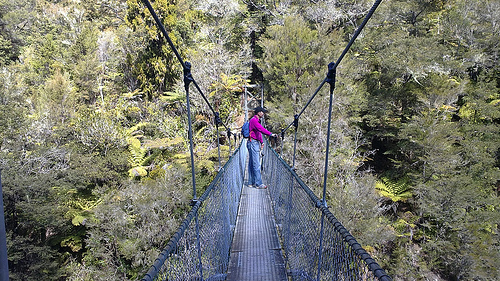 By the time we reach Anchorage Bay I feel as though a massive pin is the only thing keeping my hip from separating from the rest of me. No longer the Energiser Bunny, I realise that if I stop now, it'll be the fireman's lift for the rest of the way and Michael's back is not up to the job. Doggedly I stride on. Finally we reach the beautiful Anchorage Bay and as I stretch out on the warm sand, I see the Abel Tasman Sea Shuttle arriving onto the Beach and there's Paul at the Helm eager to hear all about our day. I'm pleasantly tired. It's been a fabulous day. There'll be sleep in the valley tonight.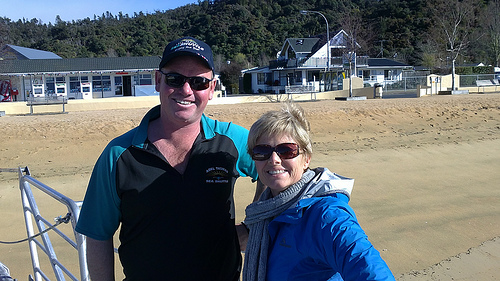 View other travel blogs on the Abel Tasman region:
Happy travelling!