One of the greatest things about Queenstown, alongside its incredible alpine scenery, is the amazing adventure activities! After all, this is one of the main reasons why Queenstown attracts visitors from all over the world. Whether you love the water, the mountains, or the forests, there will be an activity which is perfect for you. It also provides a great opportunity to do something which is slightly outside of your comfort zone. Pushing the boundaries of what you thought you were capable of makes for a very memorable visit to this country! One such company that offers a quintessentially Queenstown experience is Ziptrek Ecotours – if you have ever wondered what it's like to soar like a bird, this is the tour for you!
Ziptrek Ecotours
Ziptrek Ecotours offers all of the thrills that you would expect from a nature activity in this area, but they have a strong sustainability focus too. They are aware that tourism can bring with it quite large social and environmental challenges, particularly in Queenstown which takes on a sizeable chunk of New Zealand's tourists, and especially during peak season. So, Ziptrek Ecotours works hard to offset their impact through their 'Tiaki' approach. This is a promise to be respectful guardians of New Zealand's natural environment. This translates to powering their site through solar energy, native shrub and tree-planting programs, and eradicating the invasive wildling pines from around Bob's Peak. They also work hard to educate visitors on their tours about sustainability, and to inspire care for the natural world through fun and thrills. That definitely sounds like an genuine ecotour in our book!
What exactly is a 'Ziptrek?'
Put simply, a ziptrek is an outdoor course made up of interconnecting ziplines through a forest. You zipline from one treetop platform to another throughout the tour, allowing you to see the forest canopy from an entirely different perspective. It truly is like being a bird! Ziptrek was originally started in Whistler, Canada, but was bought over to Queenstown in 2009 to take advantage of the similar appetite for adventure ecotourism. Ziptrek Ecotours is now home to four different zipline routes through the forest, varying in length and intensity!
Please note: Ziptrek  Ecotours is only accessible via the Queenstown Skyline Gondola. This means that you must pay the Gondola Company for a 2-way ticket (even though you're only using the gondola 1-way).
Ziptrek Ecotours, along with the other companies sharing the site, are working hard to have this policy changed. It seems a little unfair, but please don't let that put you off or you'll miss the thrill of a lifetime! The trip up on the gondola is very smooth and has some incredible views, so it's hardly a waste of money. Here's Michael…um.. enjoying the view (I forgot about his fear of heights!)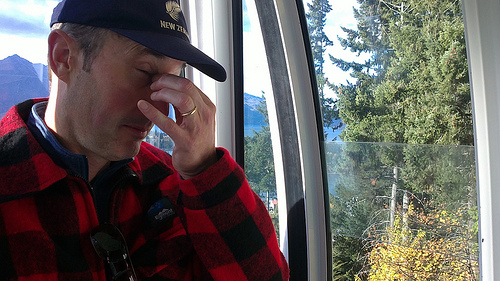 The Ziptrek Ecotours Kea Tour involves 6 different Flying Foxes, plus a 20-minute walk.  I'm pretty relieved that it's broken down (poor choice of words folks!) into varying speeds and lengths. It's a good intro for the longer and faster ones to come! As the staircase beckons "gulp* I'm not sure that I'm mentally prepared, despite the great orientation. The staff are all young, fit and good-looking. Tom, a cheerful Brit, helps me get the safety harness up past my bum (you don't mind if Tom's helping, right?)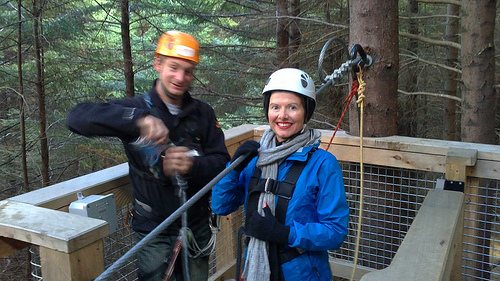 Facing the Fear
Yeah, the photo says it all. I know it's a bit of a forced smile! The first flying fox is the easiest, but also the hardest to overcome your fear. They always say that the first is the worst! Taking those last three steps off the platform is a real act of faith –  but I have no intention of turning back now.  I breathe deeply to accommodate the sudden rush of air into my lungs, and suddenly I'm suspended in a moment of sheer joy. The valley echoes to my happy squeals. I did it!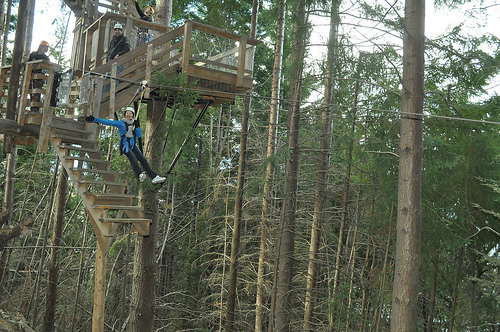 Foxing Around
Sometimes you get to bond really well with others in a small tour group, and today we're struck gold. It's jokes all around, and we encourage each other to overcome our nerves. The tour guides are loving it! We're ziptrekking with some lovely ladies from the USA, who have very strong southern accents.  The word "hang" sounds like "hi-ang" coming from them! Like me, they were apprehensive at first, but after the first experience they're hungry for more. One of them, a spritely 70-year old, accepts a challenge to "hi-ang" upside-down all the way on this one!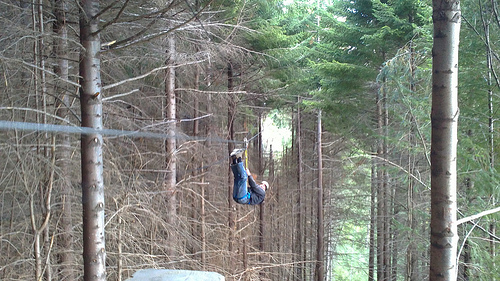 About three-quarters of the way through the tour, the guides from Ziptrek Ecotours give us a brief chat about sustainability. They keep it short and to the point. It's just enough information to retain and achieves a good balance with the tour. I won't forget the kindness of the wee Asian lady who helped one of our party down a steep part of the track. Nor will I forget the Americans who look forward to the response of their children and grandchildren when they see the photos on Facebook! Look at how we laughed at our fears: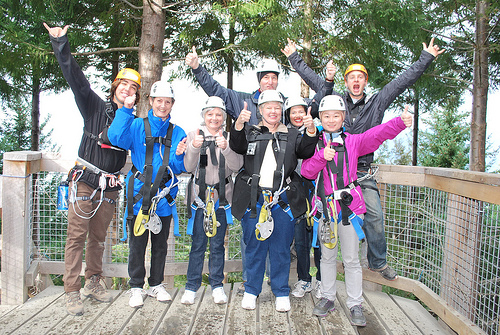 View our other travel blogs on the Queenstown region to help plan your trip:
For more adventurous Queenstown activities, check out our dedicated nature and lifestyle activities!
Happy Travelling!