Although Queenstown has won the well-deserved title of 'The Adventure Capital of the World', this doesn't mean there aren't some great offerings elsewhere! In fact, you don't have to stray too far away to find some thrilling experiences. The nearby town of Wanaka, just an hour's drive away, is home to the fantastic adventure activities run by Wanaka River Journeys. This is a fantastic way to take in the scenery, and also get a bit of a thrill whilst doing it!
When it comes to adventure activities in New Zealand, you have a plethora of options. Many travellers choose to visit the country specifically for skydiving, white-water rafting, and of course bungy-jumping opportunities! It's quite a badge of honour to say you have experienced these things in New Zealand. However, they aren't everyone's cup of tea. If you don't have a head for heights or want trip more suitable for multiple age groups or families, a jet-boat trip is an excellent choice.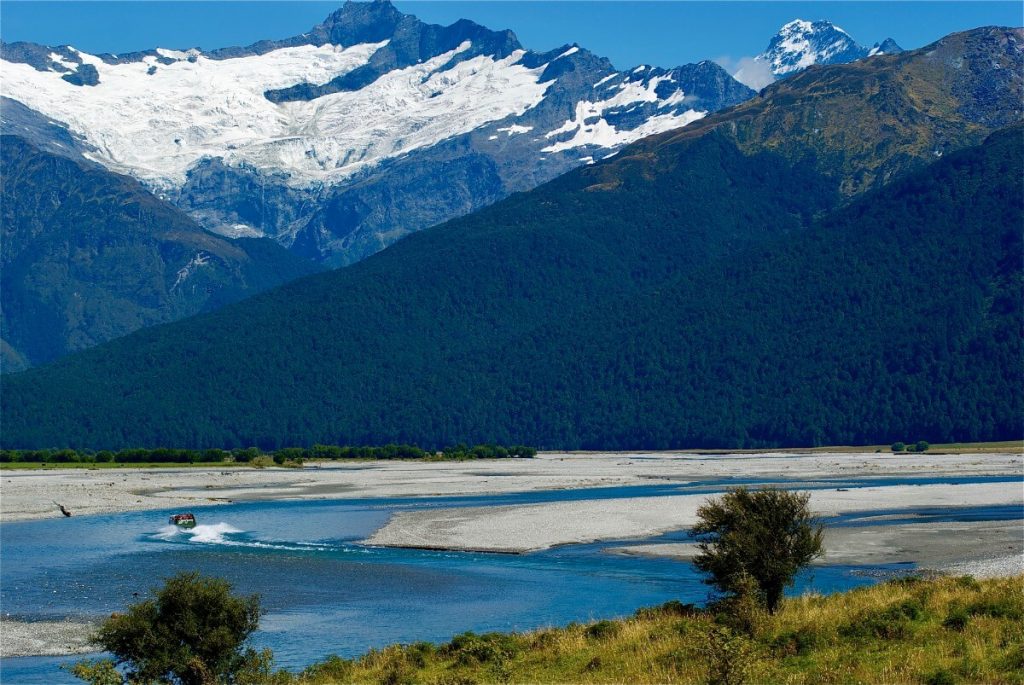 The Jetboat
The jetboat is a pretty iconic New Zealand invention. The country is full of many fast-flowing and shallow rivers, which make most traditional boat designs unsuitable. It's just too easy for propellors to get caught on rocky riverbeds. The jetboat was invented by Sir William "Bill" Hamilton in 1954 (hence its other name, the Hamilton Jet) to overcome this problem, placing the propulsion system on the stern and inside the boat instead of under the water. This also made the boats much faster and more maneuverable (cue the famous 'jet spin' which is the mainstay of many rides!) Jetboat trips have become a mainstay of New Zealand tourism, and other adventure tourism offerings around the world. But it will always be an example of the old-fashioned Kiwi 'No. 8 wire' mentality!

Wanaka River Journeys
These days, there are many, many vendors offering jetboat rides all over New Zealand. This makes it pretty tricky to know which are the ones to choose. Hint: it's not all about the price tag! With pretty much any tourism activity, boutique operators offer the best value for money. This is because they have the inside, local perspective of an area that is so valuable for visitors. They can take you to all the best views and photo spots that you would be unlikely to find on your own!
By choosing Wanaka River Journeys, we knew it was going to be more than just another jetboat ride. Their trip takes us through the spectacular Matukituki River, which runs to the northwest of Wanaka. Because the river flows right off the glaciers, it has the most extraordinary clarity. With all of the mountain views of Mount Aspiring National Park to boot, this is one incredible journey.
These small owner/operators are typically punctual and right on schedule. Sue, co-owner of Wanaka River Journeys pulled up right outside the Edgewater Hotel. We shared the van with some delightful Indians, one of whom thought I was the driver! Bless her! We arrived at the wharf and were quickly kitted up with giant size raincoats, gloves, and lifejackets. (You'll see why the coats are necessary if you read on!)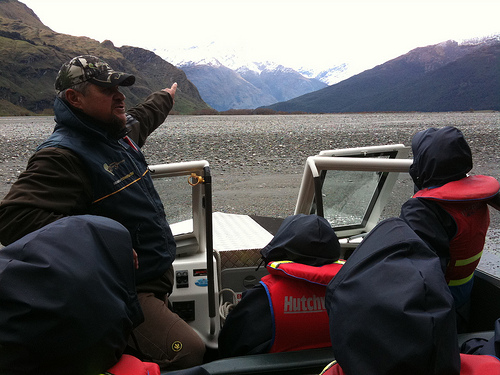 And We're Off!
Here's where the trip gets really special. Brent, the jetboat driver and co-owner of Wanaka River Journeys, is Maori. His commentary on the land is informative and from a Maori perspective. We started the journey with a 'karakia', a Maori prayer to our creator, and for the remembrance of ancestors. Something that Wanaka River Journeys is also very considerate of is the environment. Their operation works closely with the Department of Conservation and local farmers to minimise their impact, and also monitors river activity for signs of any disturbance to the ecosystem.
Then the engine roars into life and we're off, churning through the water at the rate of knots. Brent gives a pre-arranged signal, and seconds later we have first 360-degree spin. Thrilling! (This is where it pays to use the toilet facilities before you go). The raincoats also come in handy; as the boat spins around, you'll get sprayed pretty heavily! But that's all part of the fun. After a few of these spins, I begin to experience a dull ache around my face. I've been grinning like a fool throughout the entire maneuver, and can't seem to stop!

Nature at its Finest
A really special moment for me with Wanaka River Journeys is when I spy two beautiful black swans seemingly suspended in flight, their wings fanning the air in perfect unison. We stop in numerous places where Brent's passion for the land shines through his commentary, and once again I appreciate how much more there is for me to learn about my own country. Unashamedly, I admit I love all things LOTR. This is solid LOTR country, so another added bonus! Today, the low-lying clouds gave the land a strong mystical feel. Back at the wharf, Brent translates the karakia into English. Another great memory to store away.
For other activity suggestions in the Wanaka area, check out our nature and lifestyle itineraries.
Happy Travelling!