A must-do for every traveller, would have to be a visit to the Central Otago. So where do you stay in Central Otago – Queenstown or Wanaka?  If this is decision that you are finding hard to make, just remember this: the distance between Wanaka and Queenstown is only about 67 kms (40 miles). In fact, you only need to drive for 1 hour along Cardrona Road. Both Queenstown and Wanaka, offer a different experience to each other. Knowing this fact, will come in really handy. In fact, it will influence your decision as to where you stay!
Best Places to stay in Wanaka
If you are travelling via the West Coast, then you will reach Wanaka first. The bustling Wanaka village is located beside a pristine lake, which is called Lake Wanaka. The rolling tussock grass hills give a sense of space and it has a very relaxing vibe. For many New Zealanders, Wanaka is a prime holiday destination. This is especially the case when they head down south for their holidays – that is why so many Kiwis buy a holiday home here. Check out the Tourism Wanaka website for more details on the location.

Our top 5 Wanaka accommodation options
Wanaka Haven Lodge
Wanaka Haven Lodge is not exactly in the Central hub of Wanaka itself.  But believe me, that fact alone, is certainly one of its strengths. Even though this lodge is only a 5 minute drive away of Wanaka Village, you'll love the privacy.  The travellers that stay at this lodge, really do get to enjoy the beauty of unobstructed Alpine views. Plus you will have a high degree of comfort and relaxation.
Copper Beach Wanaka Bed and Breakfast
Cooper Beach B & B is a contemporary and boutique accommodation. You will have plenty of space on it's one acre of outdoor space. As there are only two private en-suited guest rooms, you can be assured of a reasonable level of privacy. Each guest room has large glass doors leading out to its own patio. You can sit out on this patio and enjoy a beautiful garden and mountain view. So perfect for couples!
Tin Tub Lodge
When it comes to accommodation, the Tin Tub Lodge certainly features as one of our top 'favs'. Yet again, this one has been built away from the central hub – and the views are to die for.  You have a choice of two levels – the Peak View Rooms, or the Lodge Rooms. If a higher level of comfort is what you enjoy, then I suggest you choose the Peak Room.  Sleeping in a California-size bed is just one of the many ways you can enjoy this luxurious experience. Plus, you will get your very own spa bath and private outdoor tubs to soak in. Bliss.
Wanaka Luxury Apartments
If you are travelling with a family, these apartments would be perfect for you. Yet again, guests that stay here, enjoy sweeping views of the mountains. Plus you will get the convenience of being short a short walk away from the lake, shops, and restaurants. Guests have a choice of 1, 2 or 3 bedroom living. Of course, most families opt to stay here because of the facilities – heated spa, pool, BBQ and pizza oven. These modern apartments are lovely and have been furnished with taste and quality decor.
Mahu Whenua near Wanaka
Now this property is an entirely different level to the others I have mentioned.  There are some of us that require total privacy and seclusion from the outside world.  In these difficult times, people are prepared to pay handsomely for security and authentic luxury. After all, what could be more desirable than having an entire National Park virtually to yourself! What you will experience at Mahu Whenua, is an eco sanctuary and lodge. Throughout your stay, you will be treated to the convenience of having a fully hosted and creative concierge team. Needless to say, your level of comfort is top of the range!
What to do in Wanaka?
Wanaka is not just about a beautiful lake and famous water sports. Wanaka also lends itself to a wide range of walks and mountain biking. With all these activities, you will find one to suit your fitness level. For example, hiring E-bikes throughout New Zealand, is big business. But you can also take leisurely walks along the lake's shoreline.
And if hiking is your passion, why not take a walk in the nearby Mt. Aspiring National Park. For your relaxation and pure indulgence, there are other lifestyle choices. These don't have to include strenuous exercise, such as lovely food and wine tours. Then you can always spend a day visiting the region's boutique vineyards. In fact, I'd go as far to say that this is a a must-do experience. Not only are the wines of a premium world-class standard, but the vineyards are located in very scenic areas.
Generally though, a stay in Wanaka is probably going to appeal more to nature lovers. And let's face it, if you stay here, you won't have to cope with the amount of visitors you'll get in busy Queenstown.
Our top 5 Wanaka activities and attractions
Wanaka River Journeys
Like a lot of river tours in New Zealand, you will get more than just a boat trip. Wanaka River Journeys tours do give you an incredible variety in just the one package. For example, one of their tours includes a jet boat ride, a beautiful wilderness walk and a 4WD farm safari.
Eco Wanaka Tours
This tour is pretty special and great for families.  You will get to see a beautiful predator-free island that can only be accessed by jet boat.  Eco Wanaka Tours specialise in Mou Waho Island Tours. This will take the form of an uphill walk, with plenty of stops on the way.   And your walk is totally worth the effort if you get to see all this with your knowledgeable guide:
You'll also gain an insight into the eco system of Mou Waho Island – it is quite fascinating.  Plus, you'll get to meet those cheeky wekas – just make sure you don't leave your lunch lying around!
Roy Rob Day Hike into Mt. Aspiring NP
This hiking tour will require some effort on your part.  There will be areas that you some of you may find quite steep. But with a reasonable level of fitness it will be worth your energy.  Because what you will see on the way, will absolutely enthral you.  In fact, this photo says it all.  Don't worry about running out of 'puff'.  You will have plenty of stops along the way.  I can tell you from personal experience, the glacier at the top of your walk, will take your breath away.
Alpine Lakes Heli Hike
The Alpine Lakes Heli-Hike is an unforgettable adventure. This tour will take you into the very heart of New Zealand's beautiful World Heritage Conservation area bordering. The scenery you will witness is so dramatic – an awesome close-up encounter with the Southern Alps.
Initially, your guide with drive you up to the Matukituki River Valley. From here, you get to board a helicopter. During your flight, you will see three pristine alpine lakes. The next part of the tour involves a 2 hour scenic hike – this walk will take you through alpine tussock herb fields and long spectacular ridges. At the end of your hike, you'll fly by helicopter to a secret mountain top location – absolutely perfect for photos. At the end of the tour, you will be taken back to your accommodation.
Food and Wine Tours
If you choose to go on a Wanaka Food & Wine Tour, you'll get some great options. All these options are geared towards your convenience and how much time you have. For example, if  you are time-short, you can do a mini tour. This option will involve a small collection of wineries and will take about 2 hours.
For something more in-depth, a boutique winery tour would be your best option. You will pay a bit more, but what could be more special that meeting the actual wine-makers! On the boutique tours, a gourmet lunch is served up to you along with a wine of your choice.  With all these options, you will discover so much of Central Otago's scenic beauty.
View a sample itineraries with Queenstown or Wanaka included.
Best Places to stay in Queenstown
Queenstown is considered the tourism playground of New Zealand – you will have so many adventures to choose from. The thing to remember, is that Queenstown is only a 50 minute drive from Wanaka. And like Wanaka, Queenstown is also located on a beautiful lake – Lake Wakatipu.
Our top 5 Queenstown accommodation suggestions
Azur Lodge Queenstown
If you would rather not have too many other guests mingling around, Azur Lodge would be perfect for you.  Another advantage to staying here, is that Azur Lodge is only 5 minutes away from downtown Queenstown. As a high-end lodge, Azur is quite unique in many ways. The villas are all angled away from each other, so you will have the most magnificent alpine and lake views. There is no restaurant on site for night dining.  This is what happens: You are given a menu from quality Queenstown restaurants to choose your dinner.  The staff will then collect your dinner from the restaurant at a time of your choosing.  The food is then served in your own villa on a candlelit table laid out with beautiful china.  What a perfect situation for honeymooners – a romantic dinner, just for two.
Sofitel Hotel
Having a spa and gym facilities onsite is a compelling reason why some visitors like to stay at the Sofitel. Also the French-inspired ambience and attractive decor is rather special. The Sofitel is centrally located in Queenstown and has 82 bedrooms and suites to choose from.  Also onsite, are 2 restaurants – the Left Bank Bistro and the Jervois Steak House. If you like the 'buzz' of a big hotels then the Sofitel would be a good option.
The Rees Queenstown
I think The Rees is a great choice for families that are travelling together needing space.  As it is located a short distance from the main hub, you can take a courtesy shuttle to and from the Queenstown town centre. The Rees has 60 hotel rooms, plus 90 Apartments and five private Lakeside Residences – all with views of Lake Wakitipu and the Remarkable Mountain Range. One very unique feature of The Rees, is their library of rare books and fine art. All the facilities you would expect of a 5-star hotel is provided at The Rees. They even have an electric car-charging station!
Millbrook Resort
When you drive into Millbrook Resort, it's like entering into a separate little town of endless rolling 'greens. But you don't have to be a golfer to enjoy Millbrook luxury Golf Resort Queenstown. Even though Millbrook is just a 10 minute drive from Central Queenstown, you will enjoy a very tranquil environment. Plus there are some excellent choices for accommodation to suit both families and couples. Millbrook villas and cottages have been carefully arranged in a horseshoe formation around those beautiful greens. The big jewel in the crown for Millbrook, is their world-class spa! Also, with 3 restaurants onsite, you can sample different cuisines.
What to do in Queenstown?
Of course, there is more to Queenstown than the awesome Remarkable Mountain Range, lake and vineyards. A Big key attraction is action and outdoor tours. Plus you can enjoy the very best in dining and shopping. The small village at beautiful Glenorchy is not far away either! Many of the most adrenaline-based attractions have been created right here in Queenstown. Bungy Jumping, exhilarating jet-boat rides plus  Whitewater Rafting  – these are just a few from the list – hey here's another one! Also, check out the Queenstown Tourism site.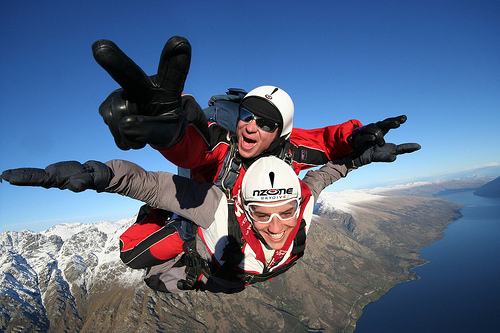 Other highlights like the Routeburn Track and Lord of the Rings film locations are nearby. Many travellers stay at least 2-3 nights to discover the region properly. Queenstown has a buzz and a very active nightlife!
Our top 5 Queenstown attractions and activities
Private Discovery Tours
A Tour Company like Private Discovery Tours specialise in small groups or with exclusive private tours. They tend to focus on getting off the beaten track – going to places that only they have access to. Depending on your interest, they offer a number of options for you.  The beauty of this level of service, is that all these options can be tailored to your interests.
Dart River Safaris
If you are based in or around Queenstown, you really should consider a Dart River Safaris tour. By choosing this company, you will definitely get value for your money. What you will get is a unique combo of 3 different experiences. Firstly, you can enjoy a scenic bus tour through LOTR film locations on your way to beautiful Glenorchy. At Glenorchy you will board a jet boat for a thrilling ride up the Dart River. After that, you will get to stretch your legs by taking a lovely short nature walk.
Shotover River White Water Rafting
The Shotover River White Water Rafting really make this fun for their customers. It begins with an unforgettable coach trip through Skippers Canyon – many exciting cliff edges to negotiate. You will already have had an adrenaline rush before you hit the water! After that you will get to experience firsthand, grade 3-5 whitewater rapids in one of the most scenic environments in the world.
Fly-Cruise-fly to Milford Sound
How does flying above the rugged backcountry of Central Otago sound to you? This really is a great combo, if you are short of time.  From the air, you can observe glacial-fed rivers and Lake Wakatipu. Plus you will witness two awesome National Parks; Mt Aspiring and the world heritage listed Fiordland National Park. Also included in this wonderful combo, is a cruising an entire fiord out to the Tasman Sea. Complete the tour with a flight over the Southern Alps back to Queenstown. All in all, quite a unique and captivating view from the air.
View a sample itineraries with Queenstown or Wanaka included.
Summary on "Where do I stay in Queenstown or Wanaka?"
So where do I stay in Queenstown or Wanaka? If you're looking for action, nightlife and some key icons of New Zealand, then stay in Queenstown. But if you want a more casual, nature-focused holiday, then stay in Wanaka. Remember, the drive via Cardrona, provides a stunning scenic connection between these two southern gems!
Helpful New Zealand travel links
Happy Travelling either Queenstown or Wanaka or both!