Travellers to the Central Otago region often ask themselves: shall I  stay in Queenstown or Wanaka?  The distance between Wanaka and Queenstown is only about 67 kms (40 miles) or 1 hours drive via Cardrona Road. However they both offer a different experience to the other and that's handy to know in advance! View a sample itineraries with Queenstown or Wanaka included.
Staying in Wanaka:
If you're travelling via the West Coast, you'll reach Wanaka first. The Wanaka village is located beside a pristine lake with the same name – Lake Wanaka. The rolling tussock grass hills give a sense of space and a great relaxation vibe. Wanaka is a prime holiday destination for New Zealanders heading south and some families choose to have their holiday homes here.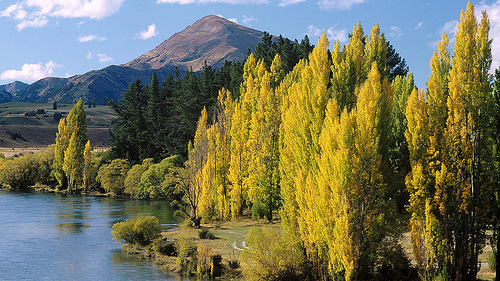 What to do in Wanaka
Ok, I've already mentioned the lake, but water sports are also a big drawcard. The region offers a wide range of walks and mountain biking, either along the lake or in the nearby Mt. Aspiring National Park. Highly recommended are Wanaka River Safaris and Eco Wanaka Tours. For food and wine lovers, visiting the area's picturesque boutique vineyards is a must-do experience. Generally a stay in Wanaka is more nature focused, with significantly less visitors than Queenstown.
Staying in Queenstown:
Queenstown is the "tourism capital" of New Zealand and only about 50 minutes drive Wanaka. And like Wanaka, it's also located on a beautiful lake – Lake Wakatipu.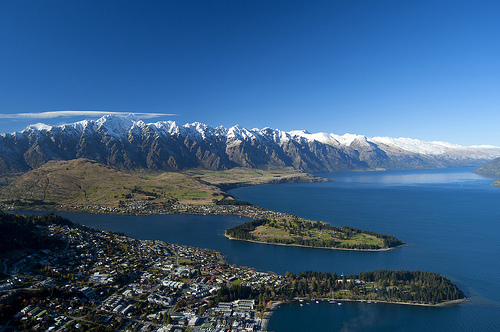 What to do in Queenstown?
Apart from the magnificent Remarkable Mountain Range, lake views and vineyards, the key attraction is action and outdoor tours and some of the best dining and shopping to be experienced in New Zealand. The shall village of Glenorchy is not far away too!
So, what exactly do I mean by action tours?
Many of the most adrenaline-based attractions have been created right here in Queenstown. Bungy Jumping, exhilarating jet-boat rides plus  Whitewater Rafting  – these are just a few from the list – hey here's another one!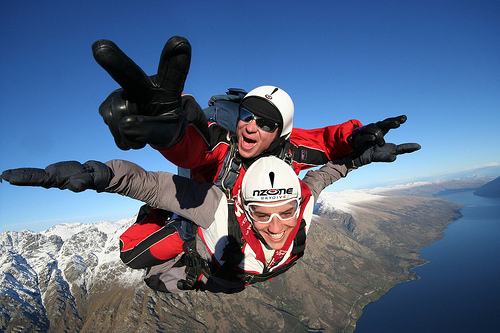 Other highlights such as the Routeburn Track or Lord of the Rings filming locations are close by. Many travellers stay at least 2-3 nights to discover the region properly. Queenstown has a buzz and a very active nightlife, with annual visitor numbers reaching 2 million – pretty significant for little ole New Zealand!
Stay in Queenstown or Wanaka – it all comes down to this:
If you're looking for action, nightlife and some key icons of New Zealand tourism, stay in Queenstown. If you seek a more casual, nature-focused and relaxed holiday, stay in Wanaka. Remember, the drive via Cardrona, provides a stunning scenic connection between these two southern pearls! View a sample itineraries with Queenstown or Wanaka included.
View other travel blogs on the Queenstown region:
Happy Travelling!