It is a well-known fact that New Zealand is a self-driving paradise! The roads here are well established pretty much throughout the entire country. And these roads are more often than not, incredibly scenic – an absolute joy to drive and frequently, where there is limited traffic.
What this Travel Blog will do, is to give you the best New Zealand road trips in both the North and South Island. You probably won't have time to do them all, but you'll benefit by reading about the fantastic road trips you will be able to fit in.
Best New Zealand North Island Road trips
1 – Twin Coast Northland and Bay of Islands
Most travellers will arrive in New Zealand's largest city, Auckland. We recommend that you take at least a couple days to overcome the jet-lag. Generally speaking, you don't want to hire a rental car in the actual city – there are often heavy traffic and parking issues in Auckland. But once you are ready to leave Auckland, that is the time to collect your rental car and head north. For the first part of this trip, it is best to use the motorway. In this regard, you have two options: either on SH1 travelling via Orewa or SH16 via Kumeu. If you have time, I recommend that you take the more scenic Kumeu route.
From Maungaturoto onwards, turn towards Dargaville. From here, the drive will be come far more rural – in fact a classic New Zealand country landscape. Do stop at the Kauri Museum in Matakohe. You'll get to see many exhibits from the pioneering days – when early European settlers in the area extracted kauri timber and kauri gum.
After Dargaville, keep on driving through to the famous Waipoua Kauri Forest. Here, you will get to see the most awesome giant trees. You will definitely get so much more, if you take a guided walk with a local guide at Footprint Tours. Yes, you can walk track on your own, but believe me, your experience will be so much more enhanced with all the extras by way of indigenous culture.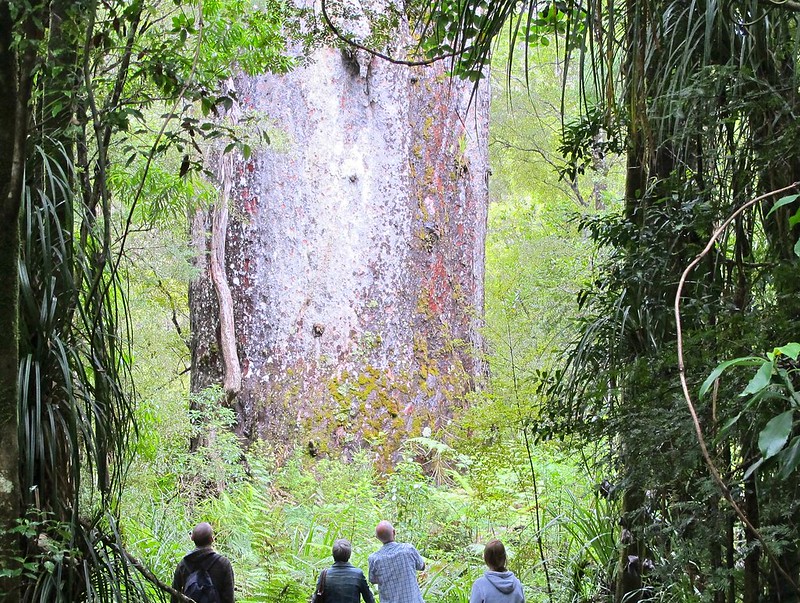 >>> View Sample for New Zealand road trip with this North Island Itinerary.
2 – Tongariro to New Plymouth via the Forgotten Highway
The Tongariro National Park is famous for its many hiking options, view details. So I would suggest, that instead of heading back to the main highway SH1, why not take a detour via the lovely Taranaki region. The perfect perfect route is waiting for – drive via Taumarunui and Whangamomona on the scenic Forgotten Highway! On this route, a must-do stop would have to be the famous Whangamomona Pub. Click here for more info on The Forgotten Highway.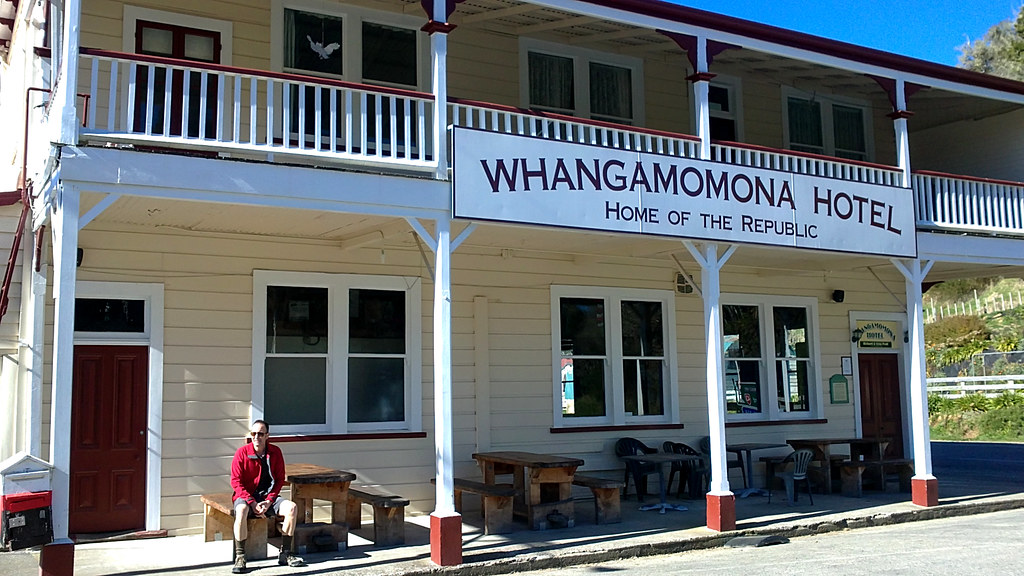 What you will remember about this whole North Island route is the incredible beauty of its rural landscape. And within this particular landscape, you will remember so many contrasts – from the highest mountains in the North Island, to the rolling farmland which leads to the Tasman Sea.  Whatever you do, don't miss out on Taranaki's iconic attraction – the Mt. Taranaki National Park. The density here of lush green forest is a true wonderland of riches!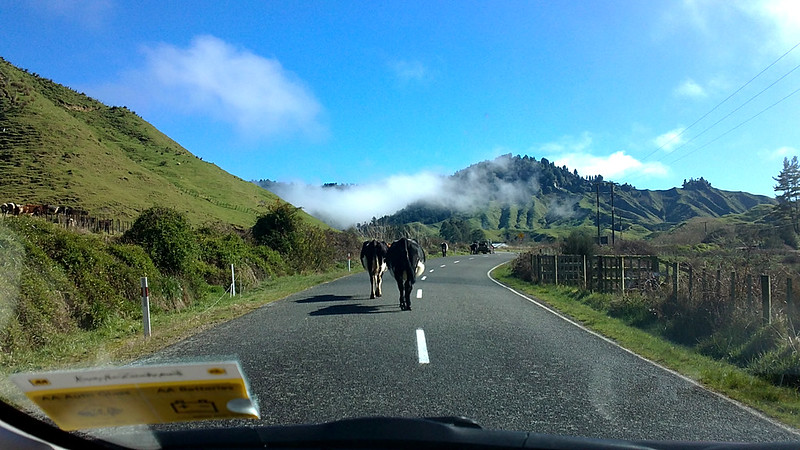 >>> View Sample North Island Itinerary.
3 – Tongariro to Whanganui
If you don't have the time to extend your trip by staying the Taranaki region, travel on via the Whanganui River area – another great route option. This is real Maori heartland. The river is a culturally significant waterway for the indigenous people of Aotearoa (New Zealand).
At the settlement of Pipiriki you will be able to join the jet boat trip to the 'Bridge of Knowhere'. Please note to check tour times and remember, pre-bookings are essential. To get to this area, it is not a long drive – 150 kms (90 miles) – but very rich in history with a famous St. Joseph Church in the tiny settlement of  'Jerusalem'.

>>> View Sample North & South Island Itinerary.
4 – Opotiki to Gisborne
The eastern coast of the North Island is a lesser visited region. However, you'll find yourselves in Maori headland with many important sites, including Marae's (meeting house). You will need to take into account the winding roads here. This is a very underpopulated coast route. Once you are outside of Opotiki, accommodation options will be limited. Do factor in time for photo picture stops and visiting cultural and historic sites.
Note: the travel times on Google map are not always that accurate – this is a winding road. You will not be able to travel the 340 kms (215 miles) in just the one day. he tiny village of Hick's Bay has one motel as well as one B&B accommodation. There is a motorcamp in Te Araroa which would be perfect if you are travelling with a motorhome. Generally, you cannot expect that many service options like supermarkets or petrol stations. So be prepared!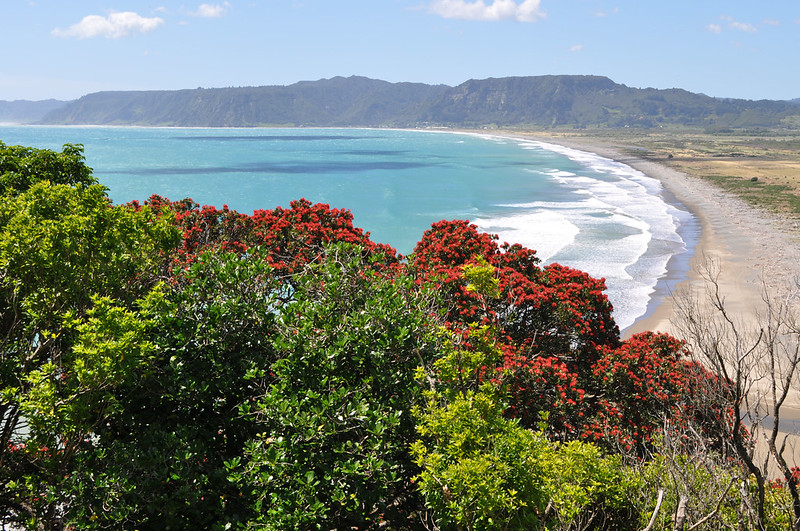 Best New Zealand South Island Road trips
The South Island of New Zealand is packed with scenic road drives. Listing them all would take more than one blog. The landscape of the South Island is incredibly diverse. You'll see lush green forests, sandy beach, then glacier covered mountain peaks. So here are some of our most favourite driving trips.
5 – Westport to Greymouth
The West Coast of the south Island is renowned for its stunning coastal drives. This is particularly true for the area between Westport and Greymouth – in fact, you will see some of the best scenic roads in the world. Make sure you stop at historic gold mining sites, limestone rocks at Punakaiki and the wild beaches near Runanga. More details with this West Coast travel blog.
Along this route, there are a number of spots you'll want to check out. Cape Foulwind is one and then you will have hose stunning scenic walks around Punakaki. For travellers with more time, head further north first, towards the Karamea and Heaphy Track region.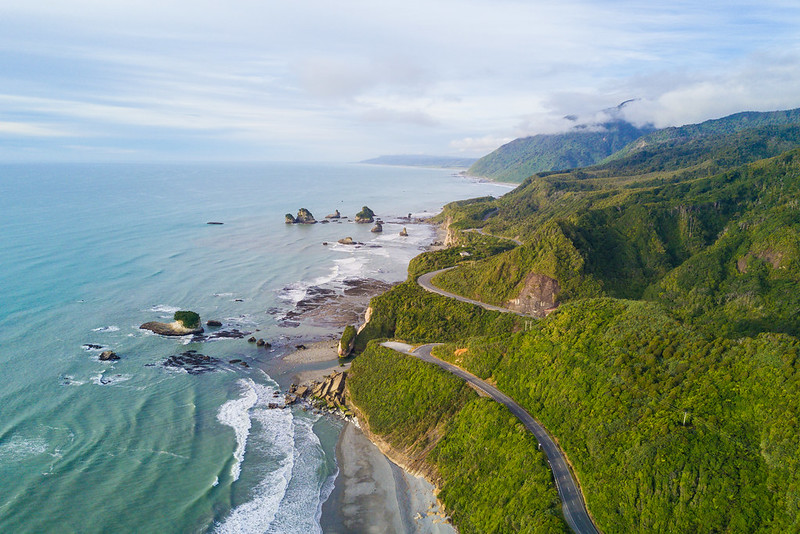 >> View Sample New Zealand road trip with this South Island Itinerary.
6 – Franz Josef Glacier to Wanaka
The drive between Greymouth and Franz Josef Village is lovely. This is a drive through a rural setting and mostly away from the Tasman Sea. After Franz Josef you'll be travelling through a number of National Parks , including the Westland National Park and Mt. Aspiring National Park. The Mt Cook and Fiordland National Park sit on the edge of this route. It really is a fabulous drive which passes through native Kahikatea (NZ White Pine) trees. A must-do for all travellers, is a stop at the Ships Creek walkway. See more details for travelling the West Coast.

Once you arrive in Haast you can either travel directly via Haast Pass to Wanaka or check-out the remotest part of the West Coast at Jackson Bay. Note, there is a cafe at Jackson's Bay that operates during the Summer season.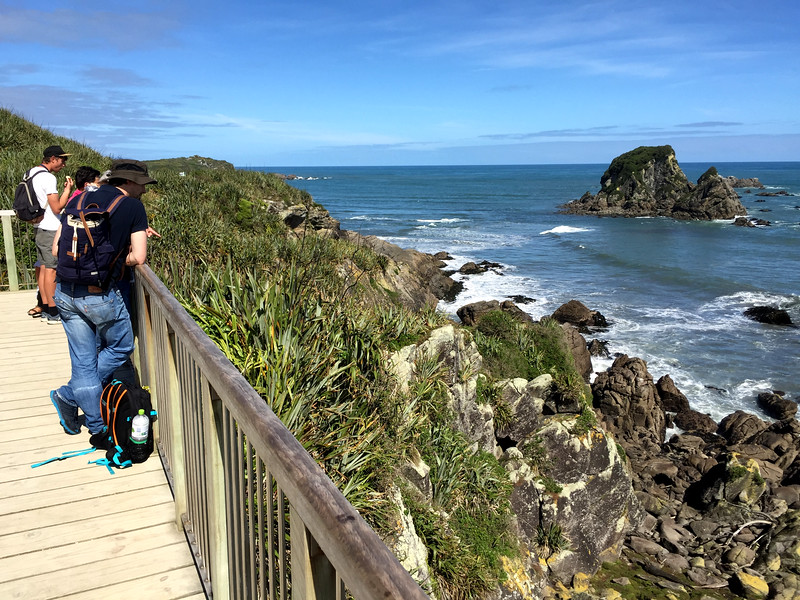 >>> View Sample South Island Itinerary.
7 – Te Anau to Dunedin via Catlins Forest Park
The southern parts of the South Island are often the key highlights for travellers. There are so many hiking tracks, breathtaking fjords and classic rural heartland. You'll get it all here! For travellers desiring authentic stays, you might want to consider staying in the charming Te Anau village – less busier than the tourism hotspot of Queenstown. We have already written a number of travel blogs on the Fiordland region, such as Fiordland top things to do and Day Walks in the Fiordland region.
The 'Southern Scenic' Route from Te Anau to Dunedin is a longer trip. Therefore, we recommend that you take a break at Invercargill. That way you will get enough time to check out Tuatapere, Riverton and the Transport World in Invercargill. Thereafter, travel to Dunedin via the ruggedly beautiful Catlins Scenic Route Make sure you stop at Cathedral Cove and the Nugget Point Lighthouse.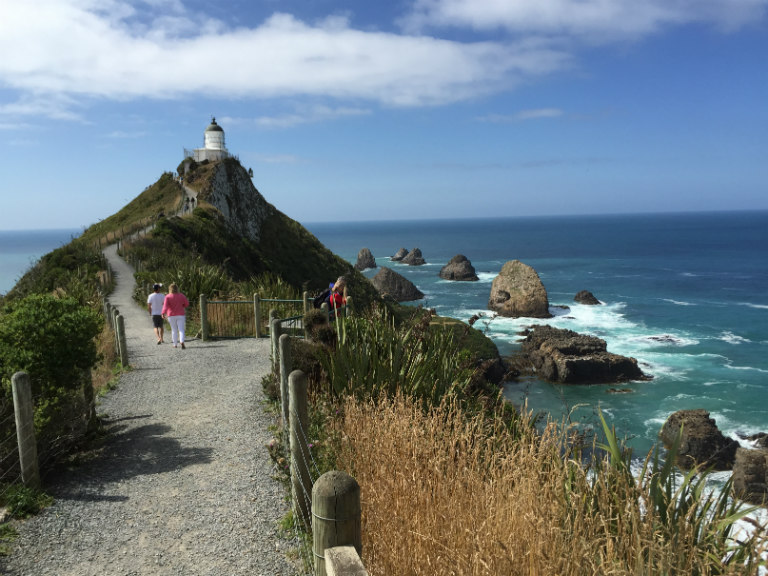 >>> View Sample South Island Itinerary.
8 – Dunedin to Mt. Cook
In contrast to the coastal self-drive route, the Dunedin to Mount Cook drive is mostly inland. This drive leads up to New Zealand's highest mountain range, the Southern Alps. Before heading inland at Oamaru, it is worthwhile to check out the traditional history of this port city. The old village/ harbour area is especially a very authentic example of a bygone era. In fact, some of the local shopkeepers still wear Victorian clothing! Continue your travels along the Waitaki Valley passing the hydro power station and vineyards.
Once you get to Omarama, turn north into the MacKenzie Country. You'll be in a high plateau with a totally different landscape. The Mt. Cook region offers plenty of local attraction and outdoor activities. Take your pick from Lord of the Rings tours, hiking on a glacier, or fly-fishing the headwaters of major rivers and lakes. Here are some suggestions what to do in the Mt. Cook region.
Frequently asked questions for self-drive New Zealand road trips
What side of the road does New Zealand drive on?
Like England, New Zealand traffic is on the left side of the road. Naturally, this means that the driving seats is on the right-hand side of the vehicle. Luckily the gas and brake peddles s are the same. Interestingly enough, getting used to 'driving on the wrong site on the road' for travellers from the US and Europe is pretty easy. However, we do recommend that after a long-haul flight, you make use of public or taxi transfers. For your first night in New Zealand, stay in Auckland (or whatever location you arrive at from overseas).
How many days to spend in Auckland?
Depending on the length of your stay in New Zealand, do consider a couple of nights in Auckland. Bear in mind that you can do day tours from Auckland to the Westcoast of Auckland. You can also take a day to visit the offshore islands, such as Waiheke Island or even to the Coromandel Peninsula.
Can you drive from North to South island on New Zealand road trips?
The answer to that question, is NO.  There is no bridge between the North and the South Island. However, there is a ferry service between Wellington and Picton. You can take your rental car or motorhome onto the ferry and cross over. For logistical reasons, the major rental car firms will not allow this option. In this case you would check-in your luggage, walk onto the ferry as a passenger, get you luggage back and pick-up a new rental car on the other side.
How many days in North Island in New Zealand?
Generally we recommend that you spend a 1/3 of your time in the North Island and 2/3 in the South Island. Sometimes travellers choose to spend all their time on just the one island. That way, they have an excuse to return in a few years to explore the other island. But the above guideline is pretty much what most travellers prefer.
Should I visit North or South in New Zealand?
For time-short travellers, this is a question that is often asked. We have written blog about this. At the end of the day your decision will depend on your overall time budget for New Zealand. Also, you do consider your interests. Are you travelling in a family group? Do you want to focus on specific areas of interest? We are great believers in more is less – less locations to visit, but staying longer in those you choose. For helpful advice, just pick up the phone or send us an email – a knowledgeable travel designer is worth their weight in gold!  Above all, remember that selecting locations and time is the most important planning step for your holiday to New Zealand.
How long does it take to drive from Auckland to Christchurch?
It's a long drive and takes about 3-4 days if you really want to do it. However, we don't recommend it in that time frame. You should rather spend 2-3 night at 3-4 locations and enjoy the drive! If you are time-short we suggest to use a domestic flight between the islands. Just drop off your rental car and collect another one at your destination airport. Its so easy and save a lot of time!
What to see in New Zealand in 2 weeks?
This is a tricky question – it  depends on your interests. Generally travellers come to New Zealand for nature and the outdoors. As a sample for 2 weeks in New Zealand (or 14 days) we would suggest that you spend 4 days in the North Island and the rest in the South Island. Use a domestic flight to cover larger distances. Avoid the ferry, as this will take too much time.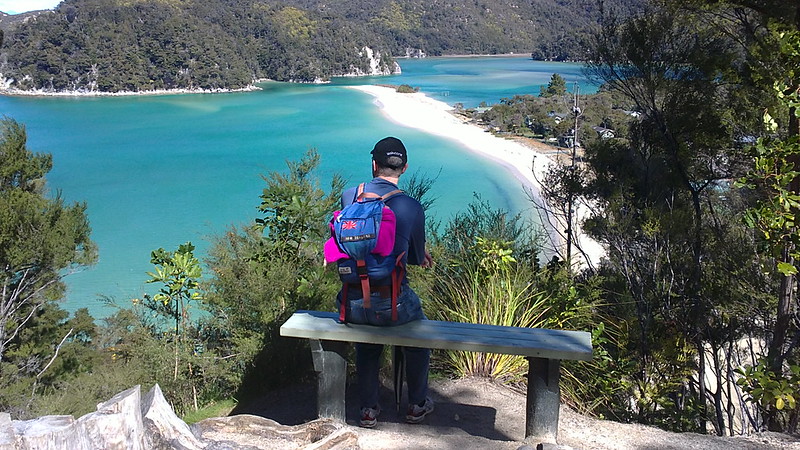 Summary on best New Zealand road trips
Travelling on New Zealand roads with either a rental car or a motorhome is the perfect way to explore. This way of travelling will give you so much flexibility- plus you will have time to stop at a scenic spot and truly enjoy your time in NZ. So what if you prefer not to drive? Then you either hire a private driver or use public transport. Travelling New Zealand is generally vert pleasant and quite easy. For anything unseen along the way, just remember that 'Kiwis' (New Zealanders) are a friendly lot. Your hosts and tour guides will provide you with handy hints and travel advice while you are on the road.
Helpful New Zealand travel links
Enjoy the best road trips in New Zealand!