Hokitika has always had a certain small town charm. Up until recently, the surrounding area of Hokitika has remained fairly undiscovered by a lot of tourists. And to some extent, it still is. But travellers are beginning to find new and exciting attractions – like the Hokitika Gorge and the Southern Alps glaciers. It is actually quite hard to imagine the complete contrast that lies beyond the bush-clad hills of Hokitika. We discovered a fantastic Six Glacier Helicopter trip that stands out as one of the best in New Zealand – and we found some new and very funky accommodation.
Hokitika must do for travellers – Glacier helicopter flights
When travellers think of New Zealand glaciers, they usually have Fox or Franz Glaciers in mind. And that usually involves a quick survey of a glacier and before you know it, you are back on the ground. But for something more bespoke, there is a new helicopter company now operating near Hokitika – this one is guaranteed to give you an exquisite adventure. In fact, it will blow your mind!
Matt Newton from Precision Helicopters is not interested in a factory-type turn-over of his customers.  In fact, what he provides, is a boutique experience like no other. And rest assured you will get to see more than just glaciers. Flying pass these majestic alps will open your eyes to the most beautiful snowfields of the Southern Alps – where the famous main divide sits between separating the East from the West.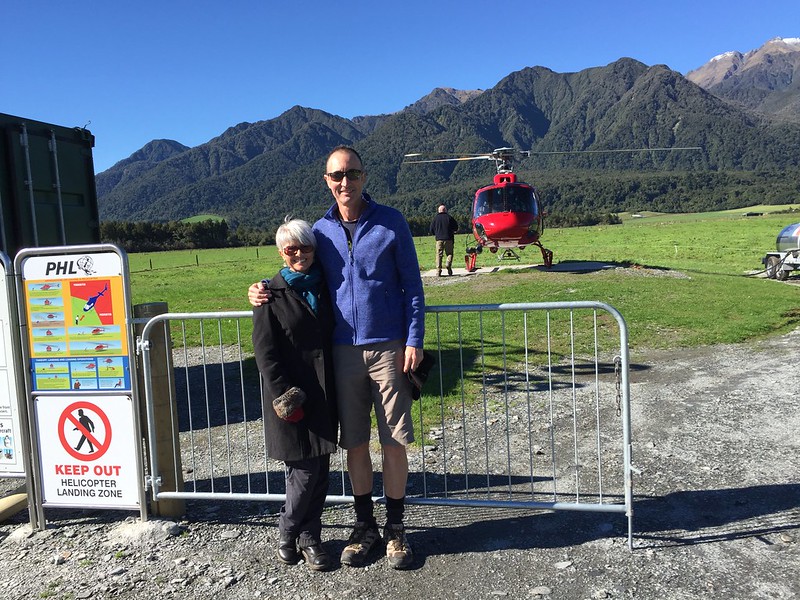 Garden of Allah premium option
You can choose 1 of 4 options.  We chose the the Garden of Allah premium trip which takes about 1 hour. Believe me, you will get so much bang for your buck – this trip is not just about glaciers. The Precision Helicopter departs from the Hokitika Gorge, about 35 kms from Hokitika township. The actual helicopter was brought over from the States after a complete revamp and it is a beautiful, smooth machine. You will get so incredibly close to a number of glaciers. There is nothing quite like soaring through these majestic alps.  Being part of this untouched wilderness is pure magic!
Before heading out to areas named The Garden of Eden and The Garden of Allah, you will see some beautiful mountains. You can never be quite the same after flying among pristine snowfields. And that is because the only footprints you will see here, will be your own. It is worth noting that Matt is pretty flexible when it comes to tailoring a trip to your requirements There really is no better way to celebrate this untouched New Zealand wilderness!
Where to stay in Hokitika
Hokitika Fire Station Apartments
In the very heart of the Hokitika township, we discovered some very funky and stylish apartments. In fact, the Hokitika Fire Station Apartments had only just opened a few days before our stay here.  I can tell you, there is a lot clever styling and attention to history that has made these apartments just a little bit different and unique. Each apartment is named after a Fire Chief from a bygone era – that adds a nice touch.
We just love that antique firefighting equipment has been reworked into the decor.  There is no finer example of this, than the ladder which provides a framework for the light fittings. On the open shelving sits an original fire hose attachment – and boy, does it weigh a ton!  The old sepia photos really take you back in time – when life was harder but more simpler. The kitchen is well equipped and although there is no stove top as such, there is a microwave. And it is always so nice to see a good coffee machine. But, if you are not keen on preparing your own breakfast, just pop across the road to The Kitchen restaurant – they serve a great breakfast.
Just by way of interest, the fireman's pole in the photo below is original. And the fireman's helmet is definitely real. You can try it on for size, but of course, you can't take it with you! We loved staying here and were pretty stoked that we had the back apartment.  It was very quiet at night. What a great little find!
Theatre Royal Hotel – Kumara
If you want to stay outside of Hokitika, just 28kms north is the historical settlement of Kumara. And folks, when it comes to accommodation, this was another great find.  A large part of the town has been bought and totally renovated by a family with a lot of vision. Talk about a one-stop shop!  The Theatre Royal Hotel at Kumara has been given a total new lease of life. A certain amount of sophistication has been added, but the local 'vibe' remains the same.
Just wait until you step inside to the main bar and kitchen area (yes, there is a full dining restaurant option).  You do feel as though you have stepped back into a more gracious era.  The antique beer taps are just beautiful and you can smell the old restored timber.
What a lot of folks don't know is that the Theatre Royal Hotel does have a number affordable accommodation options.  You can choose one of the en-suite rooms in the hotel itself, or you can nip behind the hotel to one of the spacious and modern cottages.  But if you really want to go back in time, just across the road you will find a total authentic experience.  Here is a panoramic shot of what we are talking about. In many ways, this restored cottage apartment is like stepping into a museum.  We understand that it could be a little off-putting for some.  On the the other hand, there are a lot of travellers who would love it!
Mahinapua Pub & Lakeside Walk
After a time of closure, the Mahinapua Hotel has reopened.  As a tourist attraction, this historic old pub is worth a visit.  It is only about 10 mins from Hokitika so it is one of those things you could do, if you are time-short. Some years ago now, this very same hotel was used in an iconic TV ad for Mainland Cheese. You might even meet one of the old-timers that featured in that ad.
Interested to check out some sample travel itinerary? View them right here for the South Island of New Zealand.
Some other interesting blog to check out:
Happy travelling Hokitika West Coast!