New Zealand weather – What to expect!
Clothing for travel through New Zealand should be chosen with all 4 seasons in mind.  The clothing you bring, must be able to cope with unpredictable weather patterns. New Zealand weather is famous for it's sudden changes – within a matter of hours or less. But the good news is, that there are no extreme weather conditions. And that means you can actually travel throughout New Zealand all year around.
Before I begin talking about clothing for travelling New Zealand, let's look at the local weather patterns in more detail.
New Zealand is surrounded by water – lots of water…
Yes, by looking at this map you can see that New Zealand sits between Antarctic and the Equator – and it is surrounded by vast oceans. The distance to both oceans is approx. 5000 kms (3000 miles). So of course, a steady continental climate does not apply here. The upside,is that unsettled weather doesn't usually stay for too long. In fact, you can have rain in the morning and a warm sunny afternoon. You might even get 4 seasons in one day!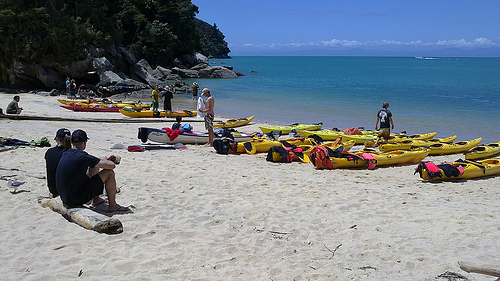 Weather in different locations in New Zealand
Where you are located in New Zealand, will play a big part in what you wear. The far north of the North Island has subtropical weather during summer – while the inland alpine areas of the South Island, can be as cold as -10°C (14°F). The average New Zealand temperature decreases as you travel south. Check out the New Zealand Tourism site with a changeable, regional climate map (as below) and select the different locations throughout New Zealand.
New Zealand travel seasons
The seasons in New Zealand are basically the reverse of the Northern Hemisphere season. They are in fact quite similar in respect of temperatures, weather patterns and clothing you need. The northern parts of New Zealand are similar to that of northern Africa and the southern parts, more like northern France. It is the oceans around New Zealand that cause a  different climate to that of Europe. There are some key differences, which I can to explain in more details.
Spring: September – November
The spring season can be an excellent time to visit New Zealand. Sure, the temperatures can often be a little cooler – especially in the southern parts of the South Island. But you will discover that the land is lush with greenery. Also there is often far less wind in the September and October months. However, keep in mind that the days are still a little shorter in September to October. By November, the daylight hours are getting far longer. Temperatures will range from 4.5 – 18 degrees celsius (40 – 65F).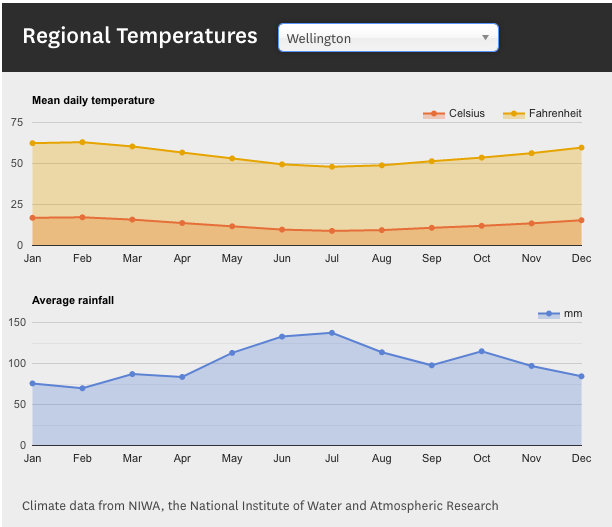 Summer: December – February
By now, the weather patterns have changed a little. In the 'old days' November was regarded as the start of the summer season. But now, the start of summer has shifted to December – this really when the summer warmth kicks in. It is at the start of December that both domestic travellers (e.g. long school holidays between mid Dec and end of January) and internationals come to NZ's shores. So that means just one thing – early reservations are essential! Temperatures range from 21 – 32 degrees celsius (70 – 90F).
Autumn/ Fall: March – May
The autumn season is regarded as the best time to go hiking and tramping in New Zealand. This is when the weather is very stable. You will get less wind, less rain and far less fellow travellers around! Temperatures are still pleasant, though they are getting chillier in the morning and evenings – especially from mid-April onwards. Personally I love this time of the year. This is the time when I can wholeheartedly recommend that you visit New Zealand. Temperatures range from 7 – 21 degrees celsius (45 – 70F).

Winter: June – August
These months are recognised as the 'off season' for New Zealand – that's unless you want to go skiing. Ski fields are generally opened from the end of June until mid September. These times can change slightly from year to year. Especially in the southern parts of the South Island, the days are getting much shorter. Temperatures range from 1.5 – 15.5 degrees celsius (35 – 60F).
General advice on New Zealand weather condition
It's always good idea is ask your accommodation hosts about the local weather.  However, the Metservice.com five-day forecast is pretty helpful, especially if you have outdoor activities planned. By now, it will be clear to you that New Zealand has many micro climates for it's regions. Therefore having chat to the locals for updates, is often the best call.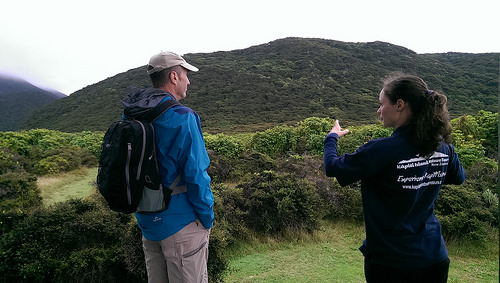 What clothing should I pack for New Zealand?
If you are traveling around New Zealand, you are bound to bump into most types of weather. The safest policy is to be equipped for all weather, no matter what the season. Wear layers of clothing to strip off and replace as necessary. Wet weather gear, a wind proof jacket, woollen sweater and strong footwear should be high on your list. In keeping with New Zealand's relaxed lifestyle, dress is informal for most occasions. A smart standard will be required for fine dining restaurants, shows and casinos.

Your Clothing Check-list New Zealand
Take a good rain jacket – this will be extremely beneficial in windy weather.
A quality fleece beneath and a polypro or merino shirt is always a good choice. The good old 'Swandri' has always been popular with Kiwi men.
In New Zealand most trampers wear mainly shorts.
If long trousers are preferred, for your tramp, then go for fast drying hiking trousers.

Jeans are no good

! They will get wet and you will get cold!
For hiking/tramping, do pack strong comfortable footwear.
Don't forget about sun hat and sun glasses. If you are anywhere near glaciers and snow, these are a 'must have'.
Read about packing for New Zealand.
When is formal dress expected?
When selecting clothing for travel through New Zealand keep in mind that dress standards in NZ are pretty casual and informal. We do make exceptions for weddings or an 'occasion'.  By viewing this video below, you will get a sense of what most outdoors and nature-focused travellers will wear.
Some more helpful travel information for New Zealand:
Happy Travelling through New Zealand at any time of the year!