Its fair to say that Karamea and Oparara Arch Track are probably one of the most photographed locations in New Zealand. So its a shame that a lot of travellers don't get to see this area.  One reason is that it definitely is one of the South Island's more remote locations – facilities are few and far between. But if you have plenty of time and you want to visit here, you won't regret it.  Just so you know, try to stock up on essential supplies before you drive there. Trust me, thinking ahead will make it all worthwhile.  Be prepared for the most awesome and untouched beauty.  In fact, this sort of nature is very typical of the West coast Region. And it has a spirit that will definitely move you.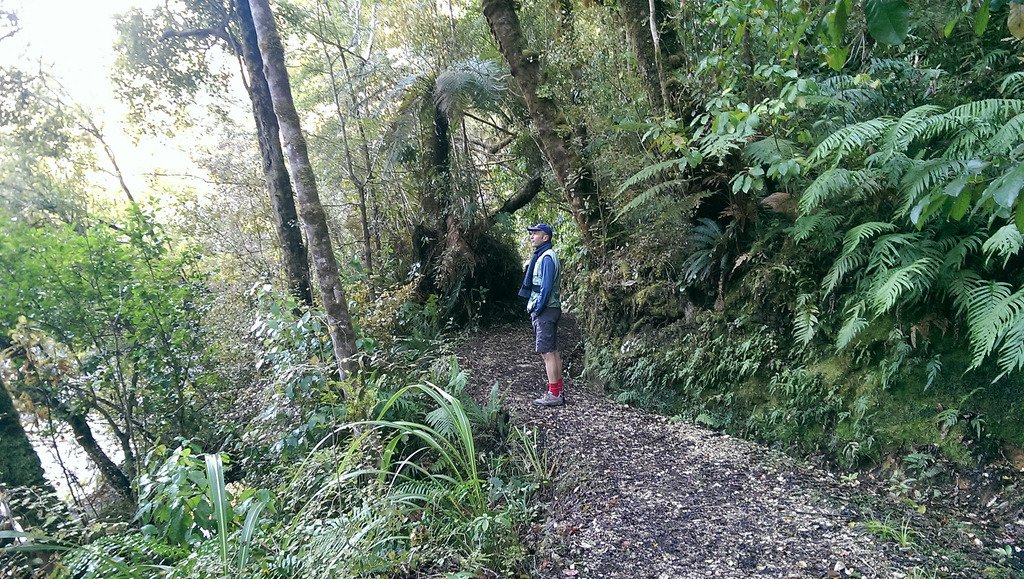 Travellinb Karamea and Oparara Arch Track in winter
We travelled here in the winter month of July and it was cold. But with plenty of wool clothing, we were prepared. A lot of people don't know this, but In the winter months, the West Coast has beautiful sunny weather.  It is actually a wonderful time to see this region.
Dining & accommodation
There is a restaurant in Karemea and its a bit of an all-rounder. We received the friendliest welcome at the Last Resort Restaurant. My chicken curry and Michael's pasta was delish!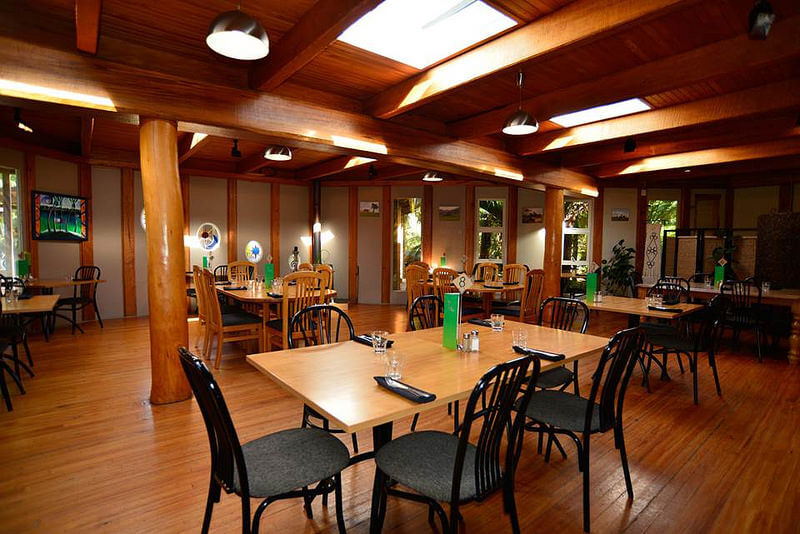 What you'll find, is that the restaurant is just one part of an accommodation complex.  The Last Resort has a variety of accommodation options – these include cottages, studios and lodge suites. The staff in these more remote places are often very friendly. And they deliver the type of service that's not pretensions, but very sincere.
Karamea and Oparara Arch Track – what to see
You may be surprised to discover, that for a short stay, you will achieve quite a lot of sightseeing.  Our explore began with a stunning late afternoon walk on a beautiful  beach. Can you imagine the sense of freedom of having this beach all to yourself! Believe me, there are very few places in the world where you'll get that sort of luxury. These beaches are rugged as they are beautiful.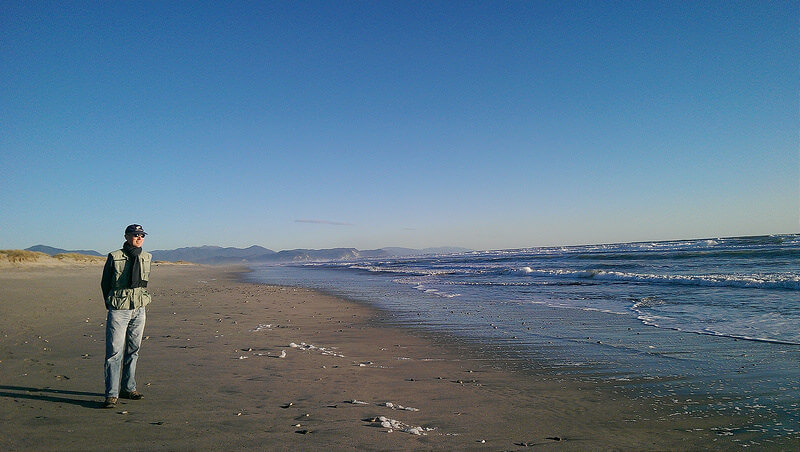 Oparara Arch Track
The next morning of our stay, we awoke to a very dry frost.  You could have actually cut glass with it.  But the cold is not a problem, as the winter sun is enough to warm you through.  For the remoter parts of New Zealand, it does pay to have a 4 wheel drive.  Sometimes, you will need to go off-road onto gravel roads.  But just remember, these gravel roads tend to lead to a major attraction.  About 10kms from the Karamea settlement, you'll arrive at one such gravel road.  Just continue driving 14kms along the road until you arrive at a car park.  You will have arrived to the start of the Oparara Arch Track walk. You'll see that it is definitely worth every minute of the drive.  How could anyone not be 'wowed' with the beauty that greets you.  Its places like this, where everyone gets an equal chance to throw away their cares. If you wish, you can collect them on the way back – but maybe you won't need to.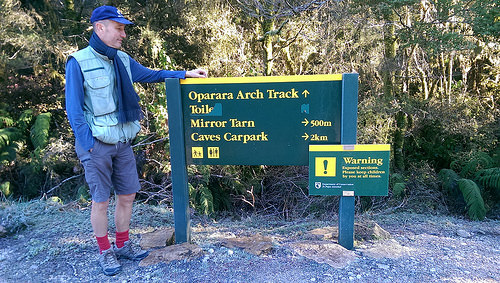 As you walk through the Oparara Arch Track, you'll become aware of the delicious air that crackles around you.  In the winter months, everything seems frozen in time. But you'll still be blown away by the lush, native bush that thrives here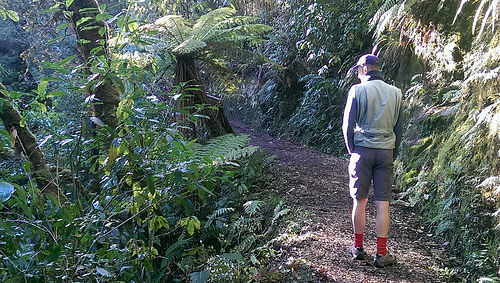 Karamea and Oparara Arch Track – what about sandflies?
There is one tremendous advantage to visiting this spot in the colder months. There are absolutely NO sand-flies on the Arches Track – they don't like the cold.  Another reason for the absence of sandflies, is that black' water is found around these parts.  This is a type of water that mosquitoes will NOT breed in.  So no matter what time of year to visit Karamea, you won't find any annoying little critters on the Oparara Arch Track.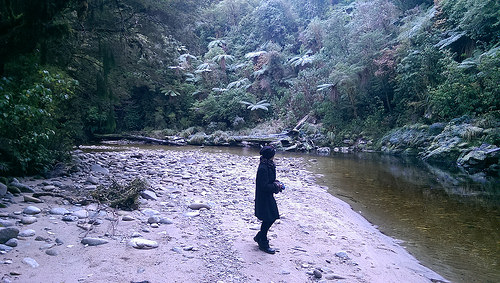 I think the word 'magical' is the perfect description for this type of pristine world.  Sir Peter Jackson certainly thought so. In fact, the whole area is famous as a location for the LOTR and Hobbit movies. You don't have to try hard to imagine tall elves making their way up these steps to the arches…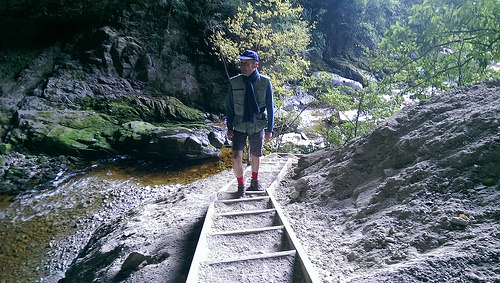 Karamea and Oparara Arch Track – Rock formations
Another reason to visit the Oparara Arches is the rock forms.  They have a wonderful texture and shape about them.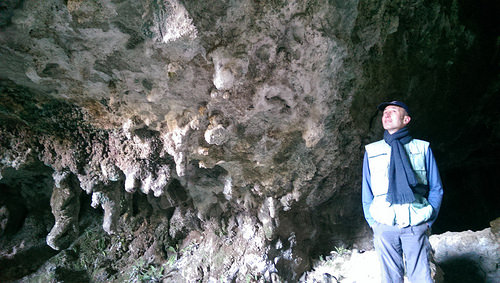 This photo doesn't really do it justice. If you look right at the end, there is an opening framed by the rocks of the cave.  So many photographers have spent their time capturing this stunning scene.  Its just like looking through a framed window to the world beyond.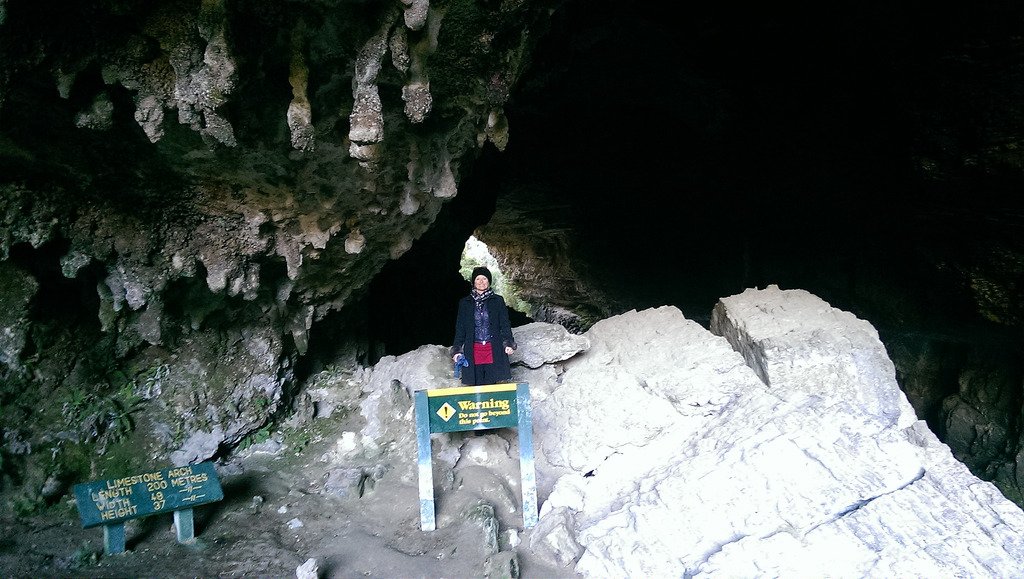 Heaphy Track
It's been years since we walked the Heaphy Track so any chance for a revisit, is most welcomed.  This is Kohaihai, at the Karamea end of the track. Drive north and park your car at Kohaihai.  Not far from here, is a spectacular grove of Nikau Palms and the most beautiful swing bridge.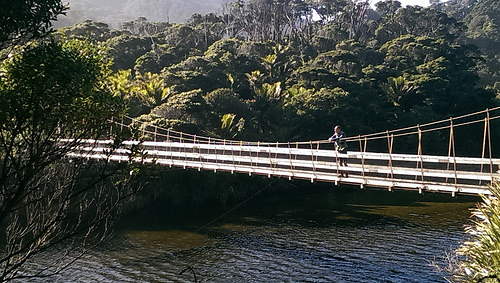 Sometimes, you come across travellers who have just completed the Heaphy Track by cycle.  They always look scruffy and exhausted. But there's no mistaking their exhilaration and joy after completing this beautiful experience. The sun has begun to warm our backs, so let's say goodbye for now and leave Michael to enjoy his moment of bliss! Travelling further south to Fox and Franz Josef Glacier or further to Wanaka.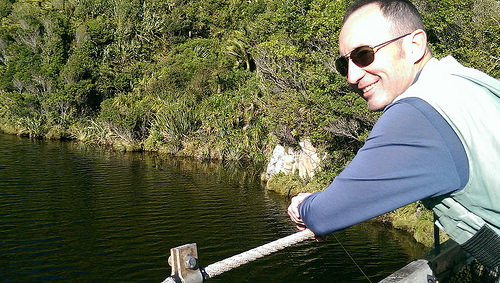 Happy travelling!