New Zealand Honeymoon destinations such as Rotorua and Queenstown are heavily promoted overseas. With these locations having such a heavy presence on social media sites like Instagram, it's hardly surprising that they are popular choices. They certainly won't disappoint any new couples that visit! However, this does lead to the misconception that New Zealand is a destination only for couples with a blow-out budget. It's true that if you stick to the more popular destinations for your trip, it's going to cost you a lot more than the areas which are more off the beaten track. But it's these gorgeous and lesser known places in New Zealand that will really make your Honeymoon memorable! Our top 10 New Zealand honeymoon destinations and activities are for fun seeking, nature-loving Honeymooners who want to have the adventure of a lifetime!
Where to begin with your honeymoon in New Zealand?
As most international travellers begin their trip in Auckland and finish in Christchurch, we'll go from North to South. We'll add in any useful links for easy reference and information.
HANDY HINT -> Top 5 Suggestion on how best to plan a New Zealand honeymoon
1. – Waiheke Island near Auckland – for the wine lovers
Waiheke Island is just a short 50-minute ferry ride from downtown Auckland, but while you're here it's very hard to imagine that New Zealand's largest city is so close! Waiheke is definitely what you would call a 'lifestyle' destination in terms of its offerings. The island is a gorgeous, relaxed gem surrounded by the bluest waters, beautiful beaches, world-class vineyards and restaurants. If you are flying into Auckland, this makes for a fantastic first stop on your Honeymoon! It's not unusual for people to travel straight from the airport to the ferry terminal in order to maximise their time here.
Waiheke Island is 92 square miles in size, and home to over 20 vineyards! This makes the island incredibly unique and easy to explore. However, it isn't the best place to navigate long distances on foot; the main part of the island away from the beaches is extremely hilly, and there can be quite sizeable distances between areas. But it's an easy place to hire bikes, cars, even retro scooters if you are feeling adventurous! It's also a great place to pick up a guided tour. We highly recommend Waiheke Wine Tours by locals Wayne Eagleton and Jean Goodbrand, who truly know Waiheke Island inside out. They can let you know about all the goings-on and hotspots on the island during your time there!
You can check out our guide to Waiheke Island here.
2. – The Coromandel Peninsula – Kayaking & hiking
A very common question that our travellers ask is this: "shall we go to the Bay of Islands, or to the Coromandel Peninsula?" As a result, we have written an entire post on this subject – "Bay of Islands v Coromandel for the times trapped traveller.: The key advantage with the Coromandel is that it's much closer to Auckland (2 1/2 hours vs. 4 hours) and has just as lovely scenery as the Bay of Islands. You'll get the same warm climate, and the giant Kauri Trees and golden beaches on the eastern side of the peninsula which make for some truly stunning coastal walks. The Coromandel is the perfect destination for any couple that wants to get out and get active during their Honeymoon. You have some fantastic options, such as kayaking, boat tours, diving, and hiking.
Hahei Beach is one of the top locations here. It offers beach access to the world-famous Cathedral Cove Walk (the beach from the start of the second Narnia movie!) and the glorious Kayaking from Hahei Beach Village. Hot Water Beach is also a fun place to visit, since it's exactly what it says on the tin! Go at low tide and bring a shovel so that you can dig your very own spa pool! This is a very popular activity year-round, so be warned: the carpark will be busy!
Northern areas of the Coromandel Peninsula
If you want to get to some of the more remote and quiet areas, the rule of thumb is to drive north. Generally speaking, the further up the peninsula you go, the less touristy it becomes. The north-east of the peninsula is also where you will find some of the best beaches! Kennedy Bay is a stunning location that is well worth putting in your itinerary.
For other activities, the Coromandel is famous for its local artists and galleries. If you want to pick some authentic momentous of your trip, this is a great place to do it.
Note: The Coromandel Peninsula is notorious (even with NZ locals) for its windy roads with sharp corners and hairpin bend. In the far north, many roads are still unsealed. It's important to take your time and not rush; it's your Honeymoon after all!
3. – Blackwater Rafting Waitomo Caves
Now, this really is a "classic Kiwi" adventure! The Waitomo area is located midway between Taupo and Rotorua, so it makes for a great stop partway through your trip and either to or from Auckland. The region is basically like a 'Swiss cheese', with limestone cave formations all over the place to explore through caving activities and forest walks. Accommodation is more limited, but Kamahi Cottage and Waitomo Boutique Lodge are great options.
Established in the mid-1980s (I did my first visit in 1988) the Waitomo Caves Blackwater Rafting is now frequently listed as one of the top adventure activities in New Zealand. It's easier for you to watch the video to get a sense of the adventure – but take it from me, it's safe and fun. This is a true 'wet water' experience, there's no avoiding it! But a shower and BBQ is provided after the tour. The tour takes about 4 hours in total. All you need is swimwear and a towel – the fun is guaranteed! We've seen people of all ages do this tour and love it, from families, to Honeymooners, to people in their seventies!
If you aren't big into water activities but love caves, the Ruakuri cave tours are a great alternative which still gives you the cave experience. You can read our dedicated Waitomo Cave guide here.
4. – Orakei Korako Flight + Walking excursion
The area between Rotorua and Taupo is the most geothermally-active region in New Zealand. This is an incredibly unique part of New Zealand's scenic diversity that you won't find in many other countries! There are many different geothermal reserves that you can easily visit  – among them Waiotapu, Waimangu, and Te Pui. These tend to be a little more touristy, and Orakei Korako is the quietest of the lot. Here, you will find all of the bubbling mud pools, hot springs and geysers you could dream of.
You can combine a visit to the Orakei Korako with a scenic flight from Taupo over the area. Plus, you can take a guided walk through this volcanic wonderland! The advantage? – you won't have to put up with the truckloads of tourists at the other reserves. Be sure to have good walking shoes and a rain jacket (just in case!)
To visit here by driving, it's best to base yourself in either Taupo or Rotorua. Rotorua is the closest of the two at a half-hour drive, and also offers other forms of relaxation like the Polynesian Spa. Taupo allows you easy access to the Huka Falls, and to the famous Tongariro Crossing Great Walk as well.
A word of caution here: The Tongariro Crossing is a challenging track which is 8-9 hours one-way, and so should only be done by those with a good fitness level. The weather is also extremely changeable, so you need to bring sturdy shoes, layers of clothing and waterproof garments. Several tourists are rescued every year from this track, and this is usually down to a lack of preparedness. You don't want to put a dent in your Honeymoon trip!
5. – Abel Tasman – Romantic Vineyard Cottage stay – Bliss for any Honeymoon Couple
The Abel Tasman region and Honeymoons are a perfect match for romance! Abel Tasman and neighbouring Golden Bay see some of the best weather in the whole country. The northern coast of the South Island has some of the highest annual hours of sunshine, and a pleasant climate all year-round. Not surprisingly, this makes the region especially famous for its beaches. Think pristine white sands and turquoise waters – in terms of scenery, you could easily be in the Pacific Islands! This makes it a great place for all kinds of water activities like kayaking, paddle boarding and sailing, as well as hiking and cycling trails. The area is home to the Abel Tasman Coast Track, one of the most stunning walks in New Zealand.
One of the best honeymoon spots in New Zealand with four key areas:
Nelson city, the largest settlement in the area which is home to a fantastic arts and crafts scene.
The wider Tasman region between Motueka and Richmond, which is home to Abel Tasman National Park and remarkable nature experiences.
Golden Bay in the north-west, which is a more hilly and sparsely populated coastal area home to Farewell Spit and Cape Farewell, which is a fantastic place for horse-riding and bird-watching.
Nelson Lakes National Park to the south, which is home to spectacular forested valleys and mountains at the tip of the Southern Alps.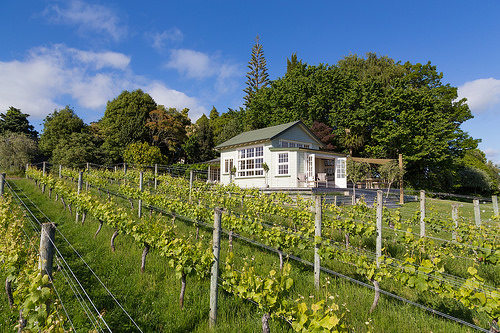 What best New Zealand honeymoon places to stay?
We'd recommend that couples stay in this region for at least 2-3 nights, as there is so much to explore here. One of these days you should definitely reserve for exploring Abel Tasman National Park, which is home to a variety of water taxi services to get you in and out of different bays (you can read more about the water taxi services here.)
In terms of accommodation, a vineyard cottage stay is such a wonderful way to celebrate your first time together as a married couple. A fine example of a romantic setting can be found at places like the Kina Beach Vineyard Cottage, which is conveniently located between Nelson and the Abel Tasman National Park. Here, you can walk through the grapevine rows down the beach, or just sit on your veranda amidst the privacy and scenery.
View Honeymoon Sample Itineraries
6. – Remote & romantic West Coast beaches and rainforest
The West Coast of the South Island can rightly be called 'Paradise'. It's wild, lush, and underpopulated – the perfect place to explore and find new nature experiences. In terms of tourism, the West Coast is by far one of the most undeveloped parts of the country. Due to competing with the more well-known South Island destinations such as Queenstown and Glenorchy, it often doesn't make onto the itinerary for many travellers. Yet it's such a unique part of the country that you cannot experience anywhere else; it will put you in mind of Jurassic Park, in a time before humans existed!
This coastline is pretty well-known for receiving huge amounts of rain (which explains why it's home to so much temperate rainforest!) and the bulk of this actually falls in the summer (which is December, January, February in the southern hemisphere). If you are Honeymooning in the low season between May and September, this is one of the best parts of New Zealand to visit. You will most likely to be treated to clear sunny days and incredible views of the snowy Southern Alps!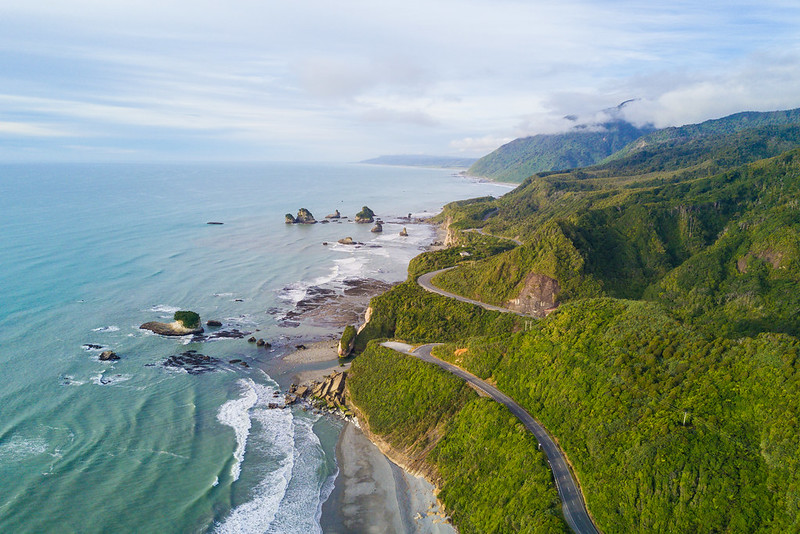 Here is a quick West Coast north-to-south summary for a cool New Zealand honeymoon itinerary:
Karamea and Westport: The far north of the West Coast receives very little tourism because it's effectively the 'end of the line' – the highway ends at the foot of Kahurangi National Park, which has no through road to the Tasman Region, so you will have to double back on yourself to continue your trip elsewhere. However, its geographic location means that the climate is far more like the Tasman than the rest of the West Coast (i.e. less rain) which is better for visits during the summer months. It's also home to some beautiful white-sand beaches and the incredible Oparara Arches – these are well worth a visit!
Punakaiki: If you are a little shorter on time visiting the Punakaiki area will give you a great taster of what the West Coast has to offer. This village sits right on the edge of Paparoa National Park and you have some wonderful hiking opportunities down the Punakaiki River on the Inland Pack Track, and caves to explore just a short drive north in Charleston. Of course, you'll need to check out the iconic "Pancake Rocks!" (best to do at high tide). If you are driving south, consider a stay at The Breakers Boutique B & B.
Greymouth & Hokitika: The West Coast is coal mining country, and so has some fascinating history for you to explore. You'll find old coal mines and abandoned settlements on the West Coast Wilderness Cycling Trail, and beautiful inland lakes such as Lake Kaniere or Lake Mahinapua. Read more details on Hokitika.
Franz Josef and Haast: This is generally the most touristy part of the West Coast, as it is home to the Franz Josef and Fox Glaciers. However, there are other unique offerings as well. Consider visiting the world-famous white heron colony at Waitangi Roto, or the moody coastline of Gillespie Beach.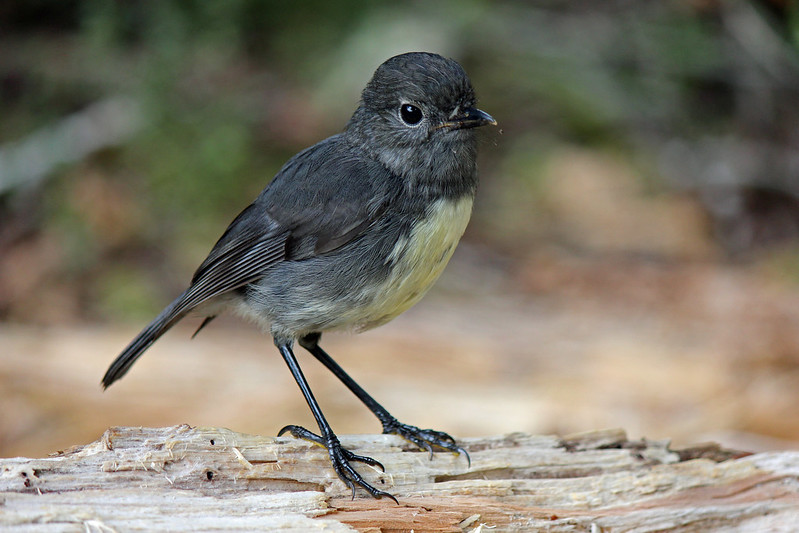 7. – Must do in a honeymoon package – Heli-hiking on Fox Glacier
The glaciers in New Zealand are unique in that they flow a lot faster than other glaciers throughout the world. It's only around 25 kms from our highest peak – Mt. Cook is 3654 metres high – down to the Tasman Sea. Is this what makes New Zealand scenery so unique – in this 25km you have alpine country with majestic glaciers, lush rainforest, and then beaches and lagoons. You can do this all in one day!
We advise a Heli-hiking trip, which is worth every penny. The glacier is extremely steep, so the only way you can reach it is by helicopter. You'll get two short helicopter flights, and two hours of walking on a safe part of the Fox Glacier with a local guide. The trips are small, with a max of 11 people. Special ice equipment is provided for the hike. Bring your own sunglasses (the glare can be extreme) and a good jacket! Layers are important, as sunlight bouncing off the ice can quickly warm the surrounding air. Including safety briefings at the start, the trip is about 3-4 hours.
Note: These heli-trips are very dependant on weather conditions, and pilots can only make a call 30 minutes beforehand as to whether they are safe to go. The best weather is generally in the morning, so try to book for then if it's available. But prepare yourself for the possibility that a cancellation could happen. It's a good idea to spend a couple of days in the area to give yourself another opportunity on the off-chance this does happen.
8. – Rob Roy Valley Walk – romantic things to do in Wanaka for Honeymooners
The Otago region is widely considered one of the most stunning on New Zealand, and with good reason. The stark alpine and grassland has a unique splendor that is difficult to beat! Wanaka is a great place to base yourself during your time, with its central location. We are often asked whether Queenstown or Wanaka makes for the best base. So often, in fact, that we wrote an entire post on it. It really comes down to personal preference; Queenstown is much more of an international hub, whilst Wanaka is a bit more laid-back and 'kiwi' in its personality. But in both, you will find similar local scenery of rolling hills and picturesque lakes.
For those Honeymooners keen on one-day hikes, the Rob Roy Valley Walk is definitely a highlight. We recommend staying in Wanaka for two nights, and taking one of the days to travel up the West Matukituki Valley (1 hour from Wanaka) The walk is about 5 hours return, and is home to waterfalls, glaciers, and a classic New Zealand swing-bridge. It's a more strenuous walk, but most will manage it if you take your time. You'll gain access to a stunning alpine valley, a perfect place for lunch and to meet the local Kea birds!
Since this is in Mount Aspiring National Park at a high altitude, the weather will be cooler than surrounding areas. It can also change fast, so be prepared with waterproof layers. Water and snacks are also a must!
9. – Dart River Safaris – with Lord of the Rings From Queenstown
Glenorchy might as well be known as ground zero for New Zealand's fantastic scenery, as the region featured heavily in the Lord of the Rings trilogy. For many travellers who visit New Zealand, this is exactly what they have come to see. This pretty little village is just one hour's drive from Queenstown, so it's easy to fit in a visit. We guarantee you'll enjoy the drive to Glenorchy in your car – the scenery will take your breath away! There are plenty of stopping points along this route, which you;ll definitely want to use because there are some glorious photo opportunities.
If you have the time it's well worth doing an overnight stay in Glenorchy, especially if you are a couple who enjoys being in more secluded locations. Accomodation options are more limited here than Queenstown, but we highly recommend checking out Camp Glenorchy, a unique eco-complex. The local pub also serves up some great hearty fare!
If you really want to experience the 'film scenes' of Lord of the Rings in a hands-on way, the Dart River Safari is a must-do. This jetboat excursion takes you through some of the most iconic scenes from the films, and gives you a real thrill ride that you will never forget!
Glenorchy is also very close to some of New Zealand's best walks, such as the Routeburn Track, the Greenstone Caples track and the Rees-dart track. These have both day and multi-day options.
Next you'll take a thrilling jetboat ride down the Dart River back to Glenorchy. I highly recommend this trip as you really get the best overview between the Fiordland and Mt. Aspiring National Parks.
10. Dunedin – nature discovery with albatross and penguins
Nature tours don't get much better than the Elm Wildlife Tour on the Otago Peninsula! If you are real bird-lovers, this is a must-visit. Trust us, seeing the native yellow-eyed penguins walking along the beach is a magical experience. The Otago Peninsula is an hour's drive from Dunedin, so a trip here is easy to fit in if you are visiting the city. Quick note: the Speight's Brewery is a must-visit!
We highly recommend joining a combined Penguin/Albatross tour with Elm Wildlife. Part of the tour cost contributes to penguin conservation projects on the Peninsula for research and helping sick birds. A guide will drive you onto a private farm property by the beach, and you'll take a 20-minute walk to the nesting area of the Yellow-Eyed-Penguins. It's one of the most incredible sights to see these birds returning from fishing in the evening and walking up the beach to their nests to feed their chicks. There are seals, sea lions and sometimes even sea elephants. You'll be right in the middle of this gathering!
You'll also get to view the Southern Royal Albatross colony at Tairoa Head, on the far end of the Peninsula. It's the only nesting site in the world close to a human settlement for these giant birds (they have up to a 2.5 metre wingspan!).
Note: It's nesting season for the penguins between mid-August and the 24th November, so access to the bird nests is not permitted.
The Otago Peninsula also has some lovely walking opportunities at Sandfly Bay and Tunnel Beach. The Caitlins forest park south of Dunedin is also a great option for those wanting to go a bit further afield.
Most travellers come to New Zealand to experience nature, wildlife and adventure activities. Honeymooners will find that these special locations – and beautiful, romantic hideaways – are perfect for starting out a wonderful life together.
You can check out Guest NZ's dedicated Honeymoon itineraries.
Also, check out Honeymoon packages for Australia and New Zealand.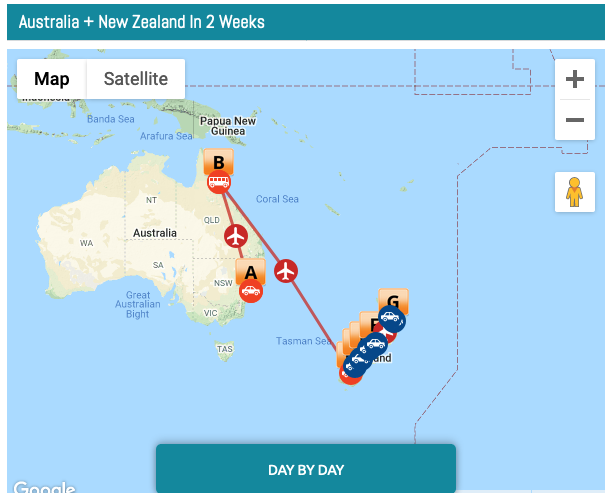 Happy travelling in the top 10 New Zealand honeymoon destinations!