New Zealand Honeymoon destinations such as Rotorua and Queenstown, are heavily promoted.  But do Honeymooners know about the gorgeous and lesser known places in New Zealand? These Top 10 New Zealand honeymoon destinations and activities are for fun seeking, nature-loving Honeymooners.
Where to begin with your honeymoon in New Zealand?
As most international travellers begin their trip in Auckland and finish in Christchurch, we'll start from North to South. In fact, we'll add some useful links for easy reference and information.
1 – Waiheke Island near Auckland – for wine lovers
Just a short 50 minute ferry ride from downtown Auckland, is Waiheke Island. This is such a gorgeous, relaxed gem surrounded by the bluest waters. It's actually hard to imagine that New Zealand's largest city is so close!
Friendly locals and remote empty beaches are such a welcomed sight – especially when you arrive at the ferry terminal. Now you can either rent a car for the day, or join a vineyard/scenic small group tour. Handy Hint: Take the 10am ferry ex Auckland harbour and back at 4pm from Waiheke ferry terminal.
2 – Hahei Beach Coromandel Peninsula – Kayaking & hiking
The question our travellers ask, is this, "shall we go to the Bay of Island or the Coromandel Peninsula"? We have written another travel blog on this subject – Bay of Islands v Coromandel for the timestrapped traveller. The key advantage with the Coromandel is there is less driving and the scenery is just as lovely as the Bay of Islands. You'll get the same warm climate, the giant Kauri Trees and golden beaches on the eastern side of the peninsula. Hahei Beach is one of those top locations with beach access to the Cathedral Cove Walk and the glorious Kayaking from the Hahei Beach Village.
3 – Blackwater Rafting Waitomo Caves
Now this really is a "classic Kiwi" adventure. Established in the mid 1980's (I did my first visit in 1988) it's now seen as one of the top adventure things to do in New Zealand. It'll be easier for you to see the video to get a sense of the adventure – but take it rom me, it's safe and fun. Be warned, you will get wet, but a shower and BBQ is provided after the tour. The tour takes about 4 hours. All you need is swimwear and a towel – the fun is guaranteed.
4 – Orakei Korako Flight + Walking excursion
The area between Rotorua and Taupo is the most geothermal active region in New Zealand. There are many "reserves" you can easily visit  – Waiotapu, Waimangu, Te Puia etc. With Orakei Korako you can combine a scenic flight from Rotorua over the area (in a fixed wing aircraft). Plus you can take a guided walk thru the volcanic wonderland. And the advantage? – you won't have to put up with the truckloads of tourists at the other reserves. Have good walking shoes and a rain jacket (just in case).
To get a general idea view example honeymoon itineraries from Guest NZ…

5 – Abel Tasman region – romantic Vineyard Cottage stay
The Abel Tasman region and honeymoons are a perfect match for romance and for sheer intimacy. A vineyard cottage stay is such a wonderful way to celebrate your first time together as a couple.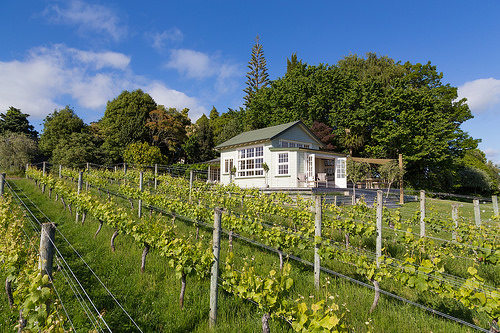 Stay at least 2-3 nights, relax and enjoy this beautiful – and mostly sunny – Abel Tasman region. A fine example of a romantic setting can be found at places like the Kina Beach Vineyard Cottage. Conveniently located between Nelson and the Abel Tasman National Park. Here, you can walk thru the vinegrape rows down the beach or just sit on your veranda amidst the privacy and scenery.
6 – Remote West Coast Beaches and rainforest
The West Coast of the South Island can rightly be called 'Paradise' It's wild, lush and underpopulated – the perfect place to explore and find new experiences.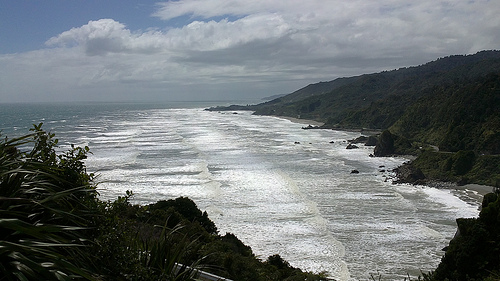 Drive thru the Buller Gorge with lots of stopping options (e.g. swing bridges, walks, historic sights). Then the Cape Farewell Seal Colony (with Walk). Of course you'll need to check out the iconic "Pancake Rocks" at Punakaiki (best to do at high tide). And if you're after a great hosting experience and stunning views over the Tasman Sea. Consider a stay at The Breakers Boutique B & B. Plan on a 2-night stay. Helpful vacation sample: 14 days New Zealand honeymoon.
7 – Heli-hiking Fox Glacier – one of the Top 10 New Zealand honeymoon destinations
The glaciers in New Zealand are different in that they flow a lot faster than other glaciers throughout the world. It's only about 25 kms from our highest peak – Mt. Cook, 3654 metres – to the Tasman Sea. In between you have (a) the high alpine country – glaciers with a lengh of 12 kms, (b) lush rainforest with stunning walks and (c) beach and lagoon walks along the sea. And you can do this all in one day!
Start with the Heli-hiking in the morning, it's worth every penny as you get 2 x short helicopter flights and 2 hours walking on a safe part of the Fox Glacier with a local guide. Special ice equipment is provided. Bring your own sunglasses and a good jacket.
8 – Rob Roy Valley Walk – a magic valley near Wanaka
For those Honeymooners keen on one-day hikes, the Rob Roy Valley Walk is definitely a highlight. Stay in Wanaka for two nights and travel for about one hour up the West Matukituki Valley in your rental car or with a transport operator. The walk is about 5 hours return and crosses a classic NZ swing-bridge.  You'll gain access to the hug "valley bowl", a perfect place for lunch and meet the local "Kea" birds.
9 – Dart River Safaris – with Lord of the Rings From Queenstown
I guarantee you'll enjoy the drive to Glenorchy in your car – the scenery will take your breath away. From Glenorchy, the Dart River Safari tour begins. First, a bus will take you to a place that is actually called "Paradise". This is an informative tour with stops on the way (learn interesting and funny facts about the filming for the Lord of the Rings in the area).
Next you'll take a thrilling jetboat ride down the Dart River back to Glenorchy. I highly recommend this trip as you really get the best overview between the Fiordland and Mt. Aspiring National Parks.
10 – Dunedin – nature discovery with albatross and penguins
Nature tours don't get much better the Elm Wildlife Tour on the Otago Peninsula! You'll be collected from your accommodation in Dunedin. The first stop is at Tairoa Head (right at the end of the peninsula) to view the Southern Royal Albatross colony. It's the only nesting site in the world close to a human settlement for these giant birds (up to 2.5 metres wing span!).
A guide will drive you onto a private farm property beach. You'll take a 20 min walk to the nesting area of the Yellow-Eyed-Penguins. It's one of the most incredible sights to see these birds returning from fishing in the evening and walking up the beach to their nests to feed their chicks. There are seals, sea lions and sometimes even sea elephants. You'll be right in the middle of this gathering! Note, between mid August and 24 November it's nesting time for the birds and access to the bird nests is not permitted.
Most travellers come to New Zealand to experience nature, wildlife and adventure activities. Honeymooners will find that these special locations – beautiful, romantic hideaways – are perfect for starting out a wonderful life together.
Happy travelling in the top 10 New Zealand honeymoon destinations!