What is the best Heli Hiking New Zealand has to offer? That's a good question with a short answer – all of them! Let's go one step back and look into that the key advantages of using a helicopter. Rather than seeing it as a costly way to get around, think of it as covering long distances in a short amount of time.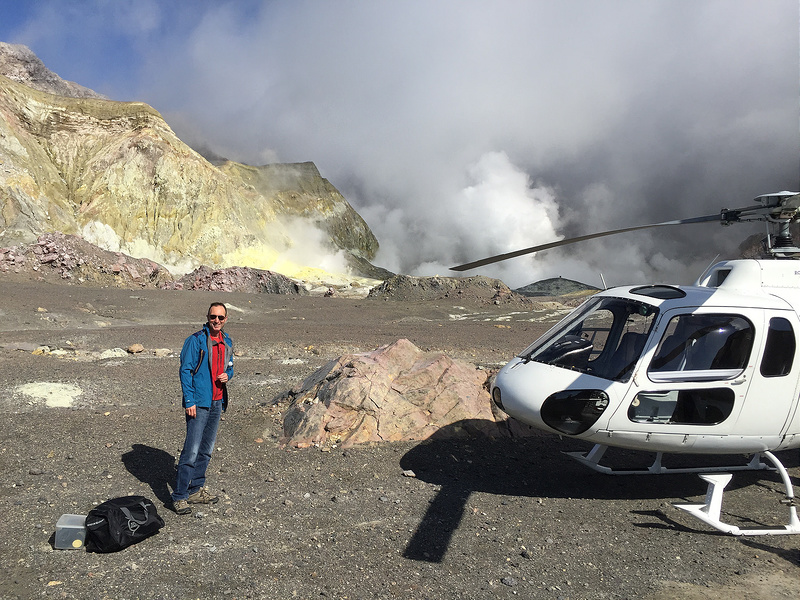 Also, a helicopter is able to access remote areas you wouldn't have a hope of getting to any other way. So especially for time-short travellers, using a helicopter in combination with a hike makes total sense. It actually elevates a tour like this to a whole new level. And who doesn't enjoy getting away from mainstream tourism – everyone loves that!
Helicopter – a classic transport vehicle
Helicopters are widely used in New Zealand. In fact we have some of the best helicopter pilots in the world. Think about a New Zealander in the 1980's flying for Jacque Cousteau on his ship research vessel 'Calypso'. Given the nature of New Zealand's remote wilderness locations, helicopters have been essential for research, conservation, hunting and tourism. In a matter of a few minutes you can escape into the real wilderness. No one has the time to go to these remote areas on foot – this would involve weeks of strenuous hiking and scrabbling over hills.
Escape the crowds into pure nature
What I personally find amazing is the total contrast between our sophisticated 'coffee culture' and the  moss-covered, yeasty smell of a classic New Zealand rainforest. And instead of traffic noise, you'll get the pure sound of bird song. Two different worlds!  Seriously, you have to do it. It's a life-changing experience, that far outweighs any price tag.
Some of the best Heli Hiking New Zealand features
Travellers often associate glaciers with 'heli hiking'.  But it is so much more than that. Here are some samples throughout New Zealand.
1 – Helicopter experiences Bay of Island
The far north has a number of unique places to visit with a helicopter. Think about remote beaches and islands. The main operator here is Salt Air, which is based in Paihia. Rather than the classic 'hiking', this is where you fly over the turquoise waters of the Bay of Islands. Stops are taken for beach walks and a picnic. What a nice way to start any New Zealand trip!
2 – Heli hiking White Island volcano
We have experienced this trip ourselves and have already written about it. This is such a cool thing to do. Its best if you fly from Rotorua. You'll be spending about 30 minutes flying over classic New Zealand farm land. Then you continue the flight over the waters of the Bay of Plenty.  You may very well get to see see whales! – especially if you fly over and land on White Island. Landing on White Island, New Zealand's active volcano, is like being on the moon!  Its a total alien world of smells, fumes and steams.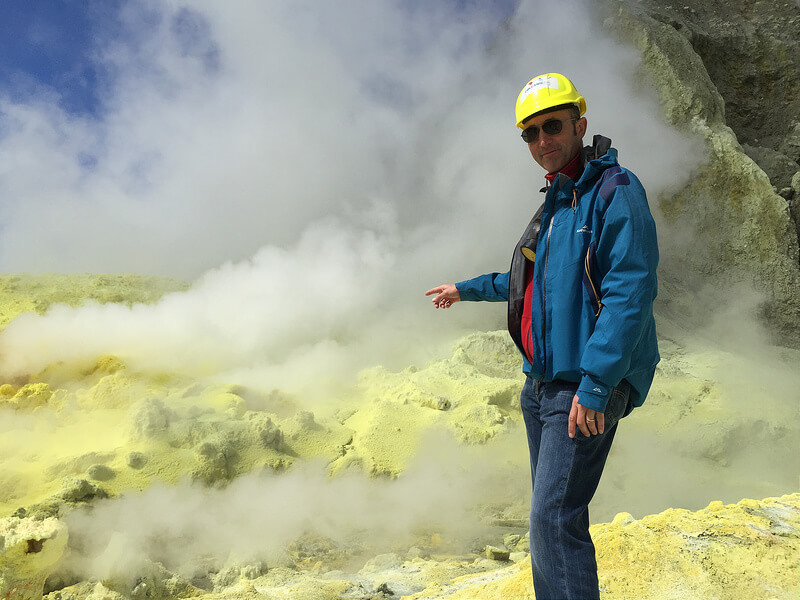 A guided walk is also included. And its a your chance to learn about the science of this incredible lunar landscape.
3 – Helicopter discovery Mt. Tarawera
Close to Rotorua is another volcano, Mt. Tarawera. On a fine day it offers spectacular views over craters and domes that were formed in the 1886 eruption. This trip can be done with a guided walk or mountain biking. View more details on Volcanic Air Safaris.
4 – Heli hiking New Zealand – Tasman region
On the top of the South Island is the Nelson Tasman region. This is a region famous for the beach and forest walks of the Abel Tasman National Park. It's also where the famous 'ring' for the 'Lord of the Rings' movie series was designed/ create by a Nelson jeweller. Some of the filming was done  in the Mount Owen region. Taking a flight up there and seeing the granite top is something special. Friends of ours did this and were 'blown away' by the experience. See details on Tasman Helicopters.
5 – Heli hiking Glacier country
Now, this is the classic 'heli hiking' we've all read about. Flying into the glaciers of the Southern Alps – mainly Franz Josef and Fox glaciers. But what people don't realize, is that this trip is also available from the eastern site, Mt. Cook. The hiking is done in the middle section of the glaciers. Here you have the ice caves forming and the pure blue ice colour coming out. Again, the weather will have a major impact if this tour goes ahead or not. In any case, book ahead – if the weather is good, everyone will want to fly up.
6 – Helicopter flights and hiking Queenstown and Fiordland
Queenstown and Fiordland are the 'hardcore' helicopter regions in New Zealand. The scenic beauty and natural wilderness is mind blowing. You can go for a local heli-hiking trip such as up to the Kepler Mountains with Trips and Tramps or fly into the wilderness area, such as the Murchinson mountains. May visitors also take a trip from Milford Sound. The mountains dividing the fjords and the village of Te Anau have a major impact on weather and the flying conditions.

7 – Heli transfers and hiking on Stewart Island
Rakiura Helicopter are based in Bluff (near Invercargill) on the mainland. We have used their services before in flying straight over Foveaux Strait into the wilderness trails of Stewart Island. Surely this is the ultimate 'civilisation – wilderness' shock experience. It's magic and we can recommend this hiking for more serious and experienced hikers only. Be very much aware that Stewart Island hiking conditions are very challenging (muddy tracks and stormy, fast changing weather).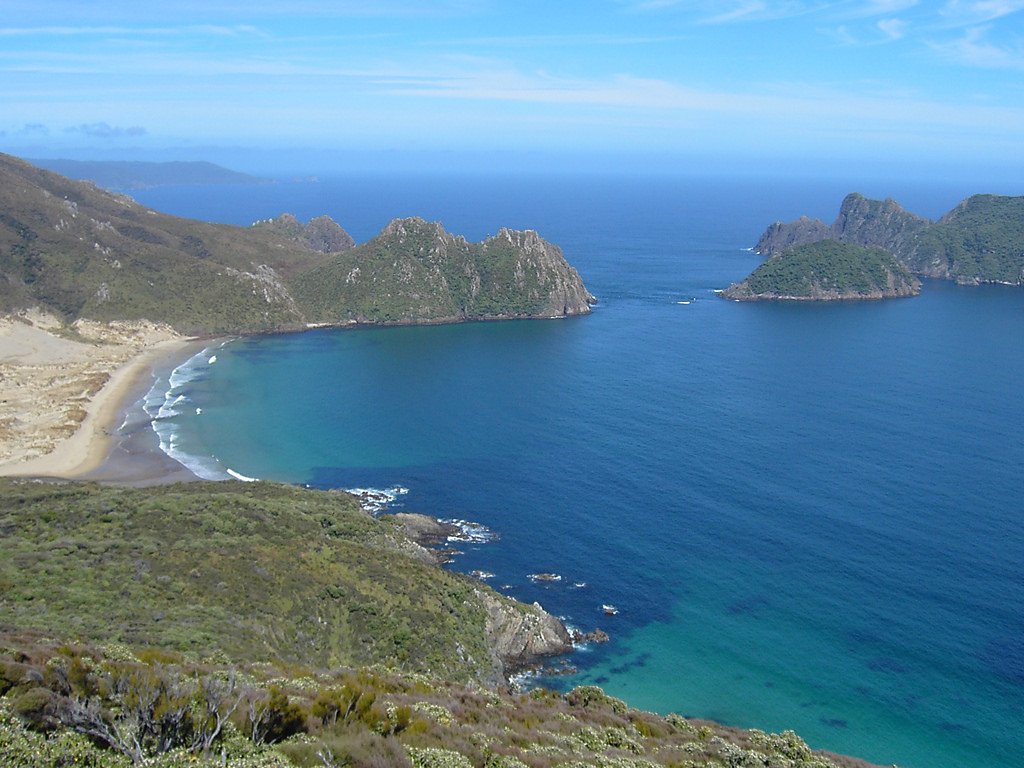 As mention before, these are just a small selection on Best Heli Hiking New Zealand hiking options You will find more when travelling throughout New Zealand. The weather will play a major impact when planning a heli hiking trip. So, whenever the day is right and you have the opportunity for it, do it.
Happy travelling when heli hiking New Zealand!