Travelling between Rotorua and Taupo won't actually take you that long. In fact, the distance you travel will only amount to 90 km. But this is so ideal – you will have plenty of time for to enjoy all the stuff in-between. Of course, no one should miss on the key attraction which is the geo-thermal activity. To the north you will get to see the 'White Island Volcano in the Bay of Plenty.  But please note, the only way you will get to see this volcano now, is from the air – an awesome perspective. If you head to the South, you will be in the Tongariro National park- an an absolute magnet to many travellers. Included in this, is Mt. Ruapehu, Mt. Ngauruhoe and Mt. Tongariro. Let's not forget the scenic along the Whanganui River.
Tectonic Zone from White Island to Tongariro NP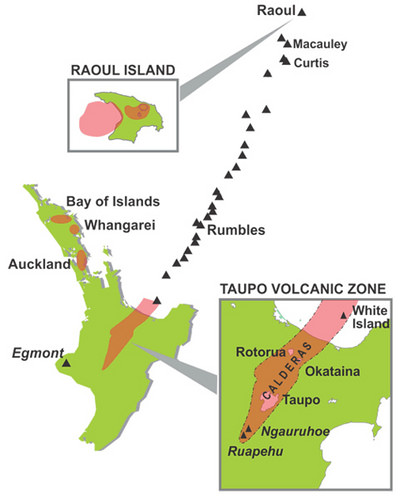 In this amazing area, you will get a once-in-a-lifetime chance to see rocks that are over 500 Million years old. The massive area once known as Gondwanaland, began to split up about 160 million years ago. New Zealand was part of the land that separated from Gondwanaland about 85 million years ago. New Zealand sits on two tectonic plates – the Pacific and the Australian. Being part of the 'Ring of Fires', it covers the wider Pacific Ocean region. It is this geo-tectonic zone that provides awesome experiences, condensed into one place – making up those incredible key sights between Rotorua and Taupo.
Outside Rotorua Whakarewarewa or Te Puia
Whakarewara/ Te Puia lies just outside the central Rotorua township. In fact, this is one of the first early settlement locations for local Maori. The first fortification (Te Puia Pa) was erected around 1325 AD. Whakarewarewa has approx. 500 pools and at least 65 geyser vents. Seven geysers are currently active. Pohutu Geyser erupts to heights of up to 30 metres – its an awesome sight!
Wai-O-Tapu + Lady Knox Geyser
Wai-O-Tapu is located about 30 minutes drive (and 27 kilometres) south of Rotorua. Many of the hot springs in this area have a striking colourful appearance. Be warned folks, you will have to expect a bit of a 'ripe' smell of sulphur. This geyser is 'triggered' with soap at 10.15 am each morning. View details. What you will see is a fountain of hot water shooting up to 20 metres into the air. A local tour guide will explain to you some very facts on the thermal region and Wai-O-Tapu itself.
This lady really provides the wow factor! The 'Lady Geyser' is sculptured out of volcanic activity and has actually been thousands of years in the making – in fact, the geothermal area covers 18 square kilometres. Thankfully, it has been protected as a scenic reserve since 1931. An authorised tourist operation operates under the name "Wai-O-Tapu Thermal Wonderland". You will see one of New Zealand's most colourful and diverse geothermal attractions.
Handy hint for the Champagne Pool – Wai-o-tapu
Moving on, I would suggest that you head off to the nearby "Champagne Pool". Interestingly enough, you may get this one all to yourself – most tourists go to the Lady Knox show.
Waimangu Thermal Valley
Just 10 kilometres north of Wai-O-tapu, you can see another interesting geological site – Waimangu Thermal Valley. Waimangu means 'black water' in Māori and it includes Lake Rotomahana. Lake Rotomahana is the former site of the Pink and White Terraces – also the location of the Waimangu Geyser. The eruptions from the Waimangu Geyser were seen reaching up to 1,500 feet (460 m) in height – as you can imagine, this generated worldwide interest. The geyser stopped erupting in November 1904.
As an added bonus, you will see the largest hot water Spring in the world in this very spot.  And it won't come as any surprise to learn that it is called Frying Pan Lake. There is also a very unusual pale blue Inferno Crater Lake in this area. If walking is your thing, take a stroll through the valley – a beautiful walk through a natural geothermal ecosystem. At Lake Rotomahana, you can include a 45 minute boat cruise to see the final resting place of the Pink & White Terraces.
Travelling between Rotorua and Taupo – Orakei Korako
If you head closer to Taupo you'll come across the Orakei Korako Thermal Valley. This is a highly active geothermal area that sits in the middle of a rural and forest landscape. It is largely known for its series of fault-stepped terraces. You can find these terraces in the valley which lies north of Taupo – on the banks of the Waikato River. The lowest terrace at Orakei Korako is the jade-green Emerald Terrace.  This is the largest of its kind in New Zealand, with up to 35 active geysers.  Orakei Korako remains the largest geyser field in New Zealand. The most famous of these is the Diamond Geyser, whose random eruptions eject boiling water as high as nine metres. You might want to real about another road journey through the North Island by clicking onto this link: Orakei Korako in more detail.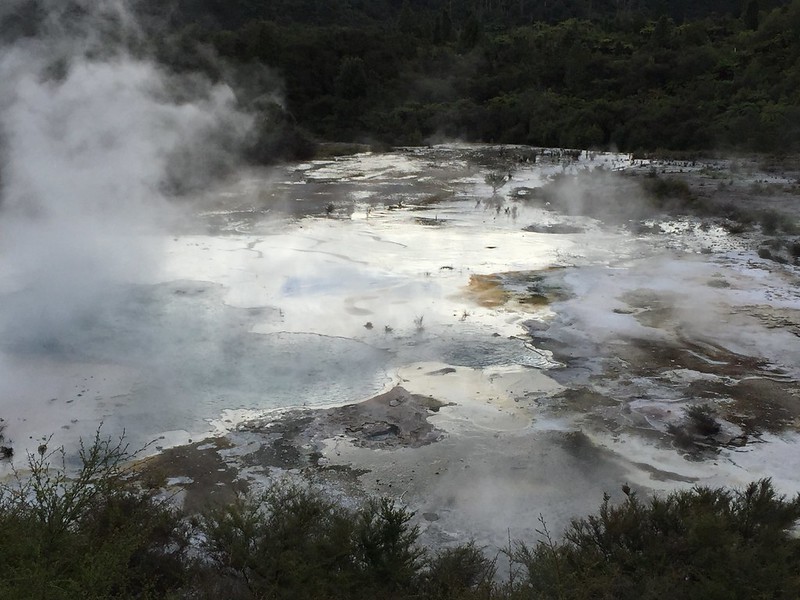 Scenic flights in the Rotorua & Taupo region
White Island (Whakāri) is New Zealand's most active cone volcano. About 70 percent of the volcano is actually submerged under the sea – this volcano is absolutely massive – the largest volcanic structure in New Zealand.
Update: On Monday, 9 December 2019, 2.11pm White Island unexpectedly erupted. There were 47 people on the island at the time. Sadly there were 21 fatalities. So it is understandable that the White Island landings were stopped. But the good news is, that you can get a birds-eye view of it from the air.
The local flight operator Volcanic Air offer a range of helicopter or floatplane scenic flight. Some of them will include landings either on Mt. Tarawera or at Orakei Korakei with a guided walk included. The Mount Tarawera offers a privileged view of spectacular craters and domes formed by an eruption in 1886. With your local guide learn more about the region's history, culture and geology. Scenic flights to and from the volcano take in expansive views of our stunning Lakes District and National Parks.
Huka Falls Reserve near Taupo
The best way to explore these natural wonders is to have your own vehicle. Start in the morning from Rotorua and work your way through to Taupo. Don't forget to visit Huka Falls, which feeds New Zealand largest river – Waikato River. The Huka Falls are a set of waterfalls feed by New Zealand largest lake – Lake Taupo. A few hundred metres upstream from the Huka Falls, the Waikato River narrows from 100 metres into a canyon only 15 metres across. Access is very easy and the sight is truly spectacular – make sure you see this one!
Tongariro National Park
If you head further to the south from Lake Taupo, you'll come across the Tongariro National Park – this is such an iconic attraction. In the summer season, the 'Tongariro Crossing" is incredibly popular, being famous for hiking trails and its 3 main volcanos – Mt. Ruapehu, Mt. Ngauruhoe and Mt. Tongariro. See more details on the hiking options here. In the winter season, the locals love  skiing here – a very popular with modern ski facilities and lifts.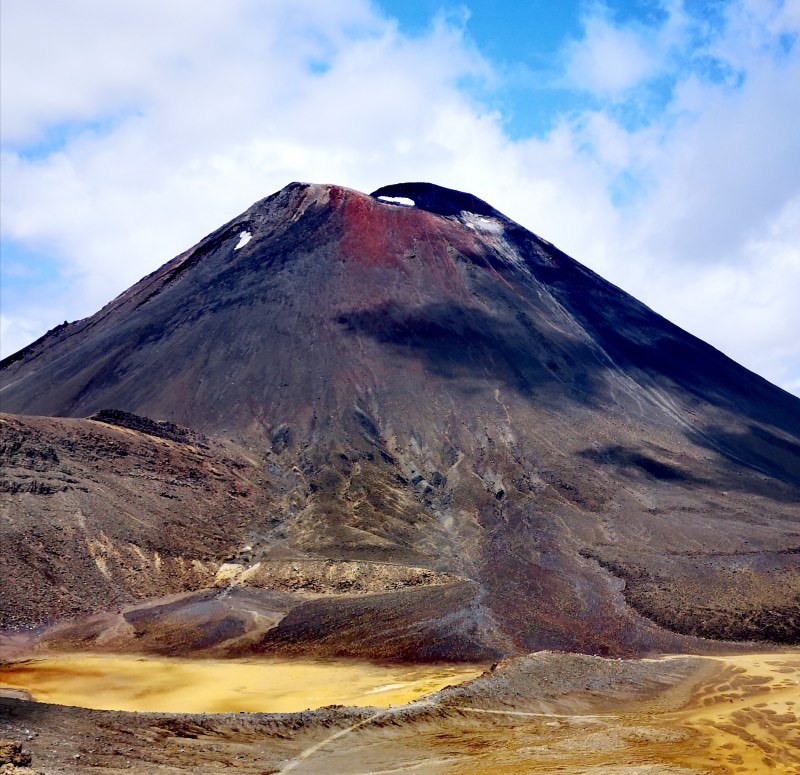 Helpful New Zealand travel links
Happy travelling between Rotorua and Taupo!