There are stunning regions in New Zealand. In tourism terms, some of these regions could be described as 'underdeveloped'. But believe, if you are a serious travellers you will probably agree that this is a good thing. Because if any area is 'underdeveloped, you will get to be away from mass market tourism and those populated hot spots. This is where the beautiful rural 'King Country' of the Waikato region really comes into it's own. If you travel through the Waikato Region, you will probably stop to explore the famous Waitomo Caves.  So here are a few tips on what to do in the Waitomo area of the Waikato Region.
What Waitomo has to offer … firstly Caves
Most of first-time travellers to New Zealand that the Waitomo Caves is an absolute must-do. There are a number of different caving tours at the Waitomo Caves. These options include Spellbound,  Black-Water-Rafting and 4 or 7 hour Abseiling tours. Can you imagine yourself doing this?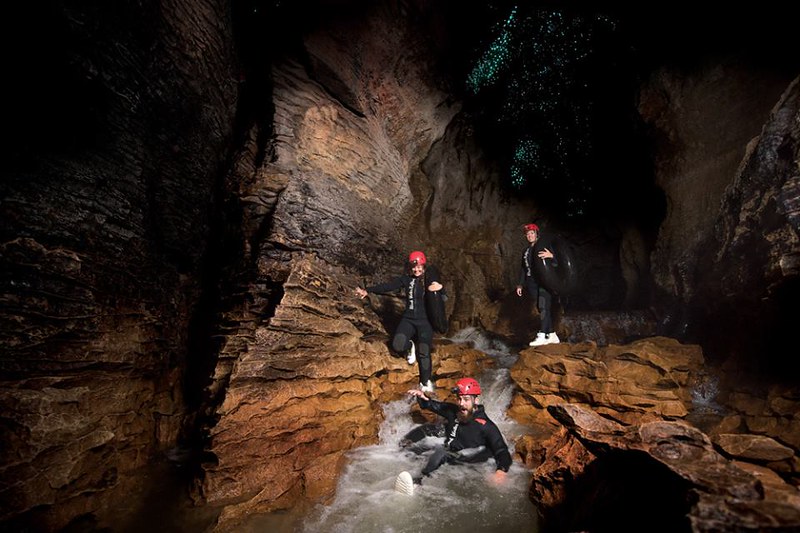 …or this crazy looking guy having some fun…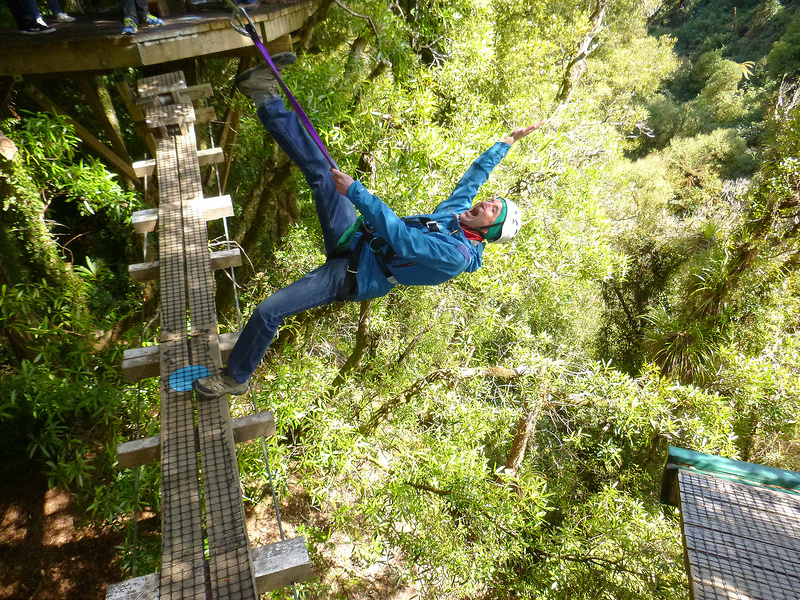 Kawhia Hot Water Beach
You could spend another fantastic day out at the Kawhia hot water Beach. When I visited this beautiful beach for the very first time, I discovered something really beautiful.  The tussock that grows here, is such a stunning feature of the landscape.  For sure, there is a bit of a climb over dunes to get to the beach, but most people can cope with this. And you will be glad you did this. Kawhia Beach stretches out as far as the eye can see. The very first thing you will probably notice, is the black-iron sand – it provides so much drama to the overall look.  Best of all perhaps is that amazing hot water! Just arm yourself with the spade provided and dig your own personal spa.  But do remember to go at low tide.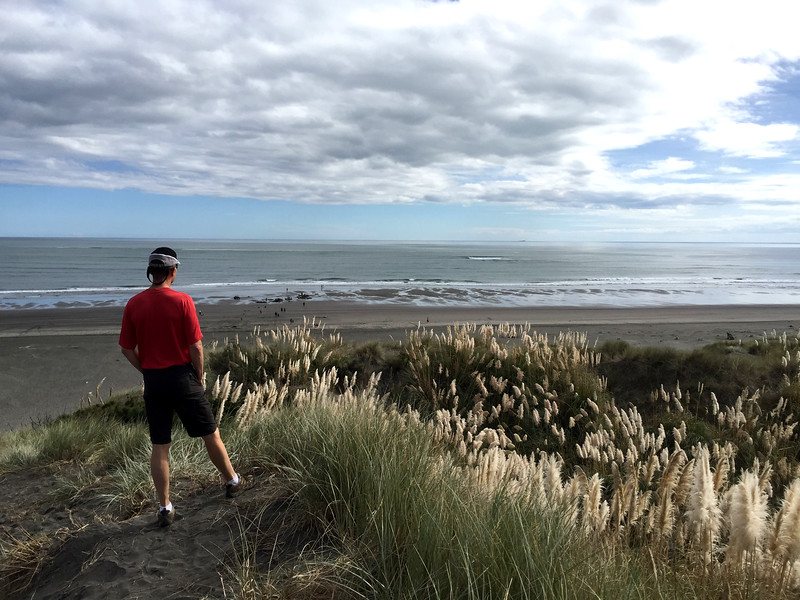 Hobbiton Location Tour (Lord of the Rings)
The Hobbiton Village is in Waitomo and it caters for large busloads of people.  But listen to this, just hidden away, is the less known Mangaotaki Valley site – you won't get any jostling for space here folks! This tour has a wonderful point of difference.  The 'Hairy Feet Waitomo' tours will only cater for one small party at a time.  And that means, no more than probably 12 pax . But the next great thing is that you will be guided by the owner of this land who was actually personally involved with the Hobbiton production. In fact, 20 minutes of the first Hobbiton film was filmed right here in this very location.  So if you're a Tolkien fan, you will love this one.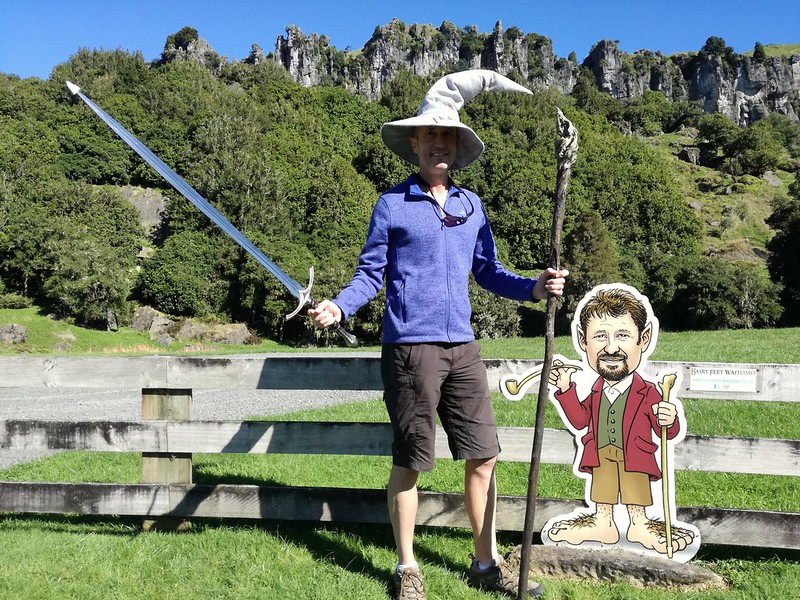 Marokopa Falls near Waitomo
We are always urging our travellers to slow down!  Sometimes here just isn't enough time to do everything.  That is why taking this 20-minute return walk to Marokopa Falls will be just perfect for you. It is not every day that you get to see a spectacular 36-metre waterfall!  And to get there, just drive a short 2 kilometres past the Piripiri Cave off State Highway 37. The Marokopa Falls is actually one of the most beautiful waterfalls in the country. And it will photographs so well for you!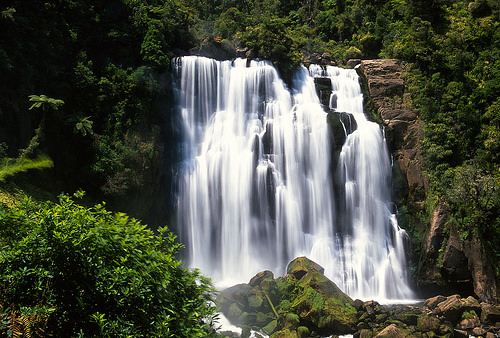 Otorohanga Kiwi House & Native Bird Park
Here is your chance to see New Zealand's most iconic birds – the Kiwi.  The Otorohanga Kiwi House also has other native birds including the cheeky Kea kiwi birds, plus daily talks by the keeper and feeding displays (kiwi, kea & kaka, kakariki and longfin eels). Enjoy the great range of native birds and these includes Keas, Kakas and Kakarikis, If you time it right, you will even get to hear talks by the keeper and see the birds being feed. And all of this can be enjoyed in a peaceful park-like.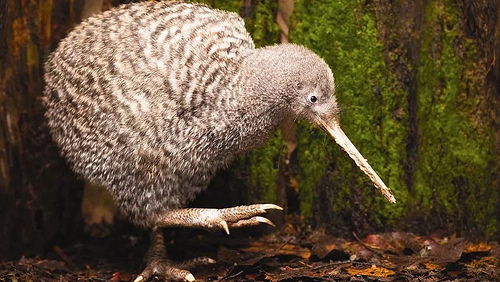 Kamahi Cottage – Farmstay Accommodation
Waitomo has it's own 5-star Farmstay which is located close to the Waitomo Caves and the Village of Otorohanga. Liz and Evan run a farmstay style cottage in the Waikato area. The cottage is beautifully rustic on the outside. But it definitely has a softer level of comfort when you step inside.  Liz is a gourmet cook and her breakfasts are to die for.  This was a such a great little find – a hidden gem owned by real New Zealanders in the rural heartland.
Farm Tour at Kamahi Cottage
Evan from Kamahi cottage is a retired farmer.  So for an additional charge, he will take you on a fabulous farm tour through a real family-owned farm. Between the months of August and October, you will enjoy the sight of new born lambs.  They are the cutest!
Ed Hillary Walkway – Otorohanga
I came across this very interesting gallery by pure chance.  It is actually quite a unique gallery of Kiwiana displays. You will see some very clever showcasing of New Zealand's popular culture. Not only will you learn some history, but also about the heroes and icons from different eras. This is a free attraction right that can be found in the main street of Otorohanga.
Beachy & surfy Raglan area
Raglan is such a charming seaside village. It is famous as a popular hang-out for surfers and artists. And to go with that brand, there is also has a vibrant cafe scene – classic NZ lifestyle.
Summary on what to do in Waitomo
I have listed just a few of the many highlights to be found in the Waitomo Caves area of the Waikato Region. However, to see at least half of my suggestions, you need to stay at least 2 days. You will be awed awed by the beautiful North Island landscape found here. And because you will be in an underpopulated spot, you will get plenty of space to enjoy some very special moments.
Check out this Pure New Zealand North Island travel itinerary, which bring you to the 'real treasures' New Zealand offers.
Happy Travelling the Waitomo & Waikato region!