Today, we traveled just 45 minutes from the famous Waitomo Caves to Piopio. Where is that, you might well be asking! Piopio is a small farming township right in the middle of State Highway 3. Naturally, it isn't a place that tourists will have heard of. Many would drive right on by. But this area has a real gem; Hairy Feet Tours may no longer be a hidden secret, but many travellers still have no idea about this fantastic offering.
We all know that New Zealand attracts its fair share of Tolkien enthusiasts (or perhaps all of them!) and many want to hit the ground running, taking in as many filming locations as they can. The Queenstown/Glenorchy locations are the most famous, and so some of the busiest. If you want to get a slightly more intimate and personalised experience, you should set your eyes a little further to the north.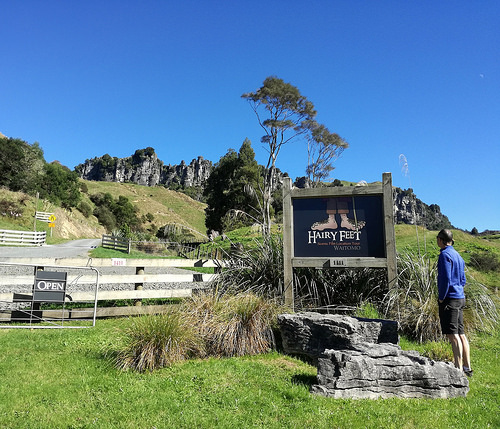 Hairy Feet Tours – the Beginnings
These tours were really started by a stroke of luck! It all got started when Warrick and Suzie received a surprise visit to their farm on a very wet day in 2010 by a location scout. He was searching for places to film the upcoming Hobbit trilogy, and was particularly interested in the Denize Bluffs, the huge limestone cliffs which ran along their farm, and the extensive rainforest. After a few other visits with film crews, Peter Jackson expressed interest in using the area for a scene in "The Hobbit: An Unexpected Journey."
The shoot took a whole 8 months of planning a solid week of shooting. In the end, it was on-screen for just 22 minutes! It doesn't sound like a lot, but that is actually a lot in screen time; more than almost anywhere else in the film! It certainly makes you realise how many hundreds of locations make up a film that is over two hours in length. The scene in question? The Trollshaws Forest scene!
Keen to share this beautiful region, Warrick and Suzie started Hairy Feet Tours to give visitors a true kiwi experience (with a Tolkien twist of course!)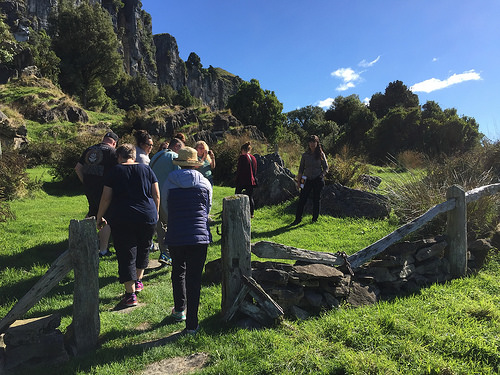 Tour Details
One of the best things about this tour is that you don't have to be a Lord of the Rings buff to enjoy it. Anyone who has a love of nature and the outdoors will find something to love here! Also, if you have ever been curious about the details of a working farm, this tour puts you right in the middle of it.
Hairy Feet Tours run two tours each day, at 10am and 1pm, with each lasting for around 90 minutes. This makes it a great short activity that you can easily fit into a busier day on the road. They use a mini-van to transport guests right up close to the key filming sites and allow you to have a good explore around the area.
In New Zealand, it can sometimes feel like you are tripping over film locations, but some of the most beautiful are pretty inaccessible to tourists. By contrast, Hairy Feet Tours doesn't take you too far off the beaten track. It's only a 45-minute drive from the Waitomo region. So if you have a bit of spare time, we highly recommend!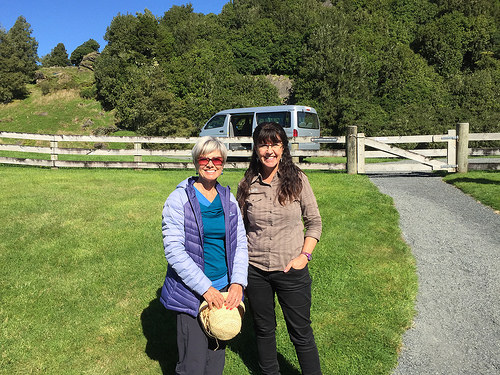 Our experience with Hairy Feet Tours 
Our tour started from the moment Suzie greeted us at her modern reception area. Suzie runs the tours herself, and takes a lot of pride in the operation. After all, this farm has been in Warrick's family for three generations! This is a predictable photo I know, but at 6ft.2in, Michael wouldn't make a very good Hobbit!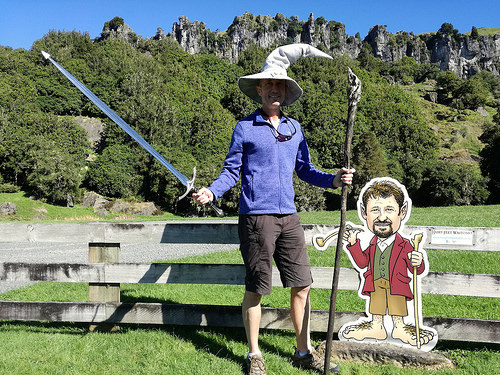 You can understand why Peter Jackson and his crew quickly fell in love with this place. The ancient rock formations are perfect for 'Middle Earth', as are the prehistoric-looking forests. It really does make you appreciate just how stunning his country really is, with so much diversity.
Hairy Feet Tours – scenic beauty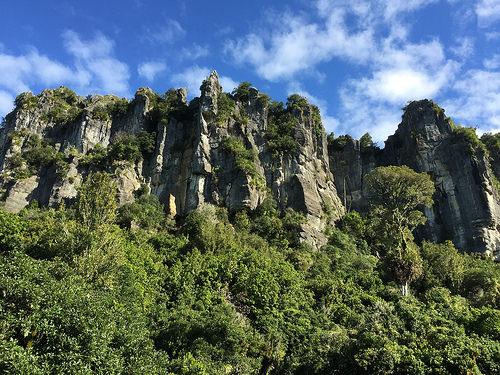 After a quick drive up a hill in a modern van, you can start following in the footsteps of the hobbits!
How could anyone not be inspired by this magnificent scenery? You are surrounded on all sides by lush, rolling green hills. It really is Tolkien's world bought to life. The best part of these tours is their small size. Visiting Hobbiton these days can feel a bit like sitting in a traffic jam, especially during the summer. By contrast, Hairy Feet Tours aim to offer a much more intimate experience. Our tour had just 9 people, which made it a very enjoyable experience.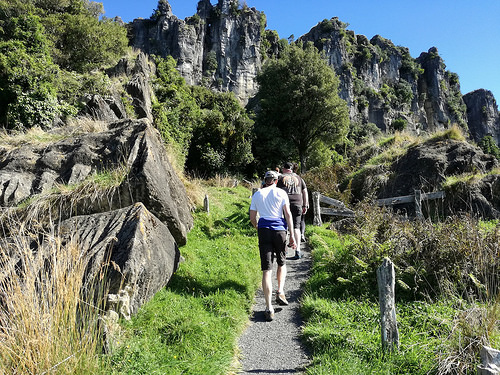 Recreating the scenes
There isn't too much walking, and there are plenty of stops on the way. At each stop, Suzie holds up a still shot from a particular scene, which matches the area we were standing in at the time. It was a really neat way to show off just how much this area featured in the film. It certainly makes you want to view it again more closely!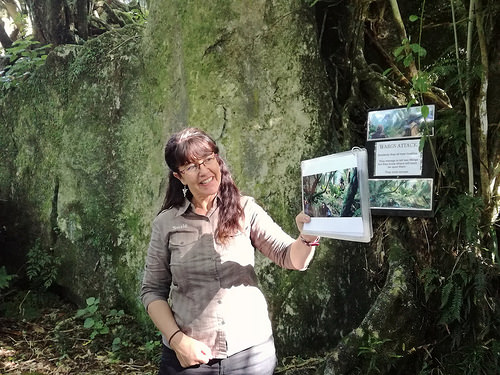 She invited each of us to recreate the same shot for ourselves. I tried to look like a worried Bilbo. I'm so pleased we captured the birdhouse in the background!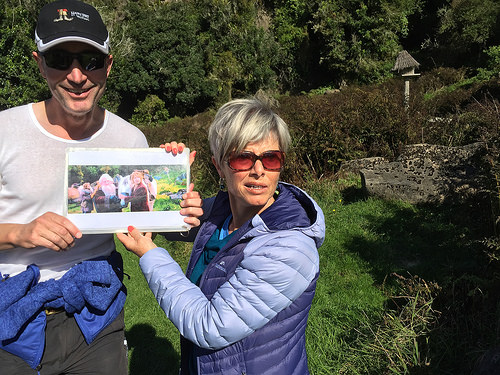 Tom, Bert and William are such innocuous names for the revolting trolls from the Hobbit films. This was the very spot that poor Bilbo almost got cooked for their dinner!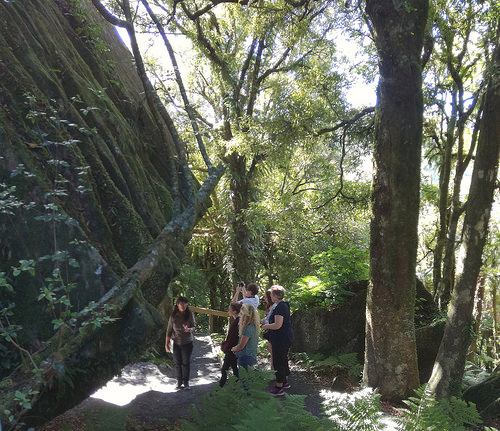 A tour like this is only as good and its guide. Suzie's personal connection to the film really inspires you to see the film again. That has to be a measure of how successful this tour really is. We also have to mention Suzie's husband, Warrick. A local artist was commissioned to recreate Warrick's likeness as a hobbit. We think he did rather well!
You can find more details about the tour here.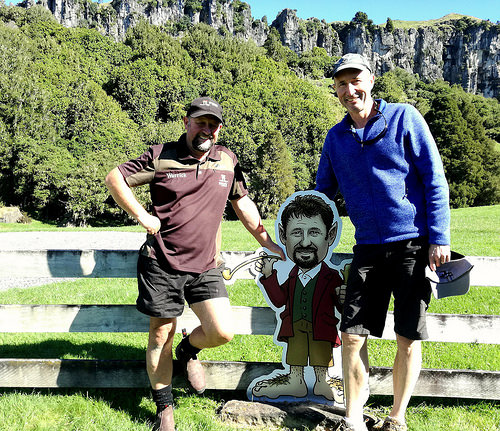 Happy travelling with Hairy Feet Tours!