If you have no fear of heights, then the Rotorua Canopy Tours should definitely be on your list of things to do in the region! If you're the kind of traveller who loves skydiving and bungy jumping, this is an awesome activity. The Rotorua Canopy Tours provide a great deal of fun and is great value for money. Although zip-lining over a forest is an essential part of the tour, there's so much more. Adventure, fun and nature – it's a great combination!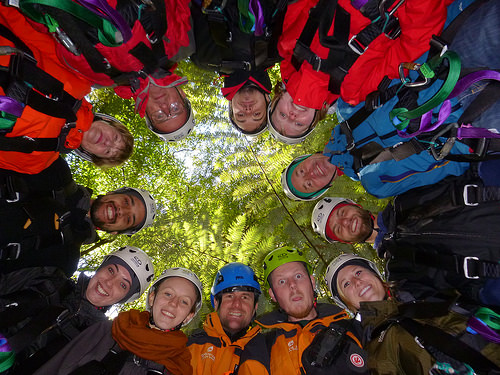 Rotorua Canopy Tours – Caring for our native forests
New Zealand was once a heavily-forested land. In fact, there was little BUT forest a thousand years ago! Because New Zealand broke off from any major landmasses so millions of years ago, it's an ecological marvel. The flora and fauna that exist here, you will find no one else in the world. This is what makes New Zealand such a fascinating country to visit, but this is constantly under threat. Species introduced by European settlers have wrecked havoc on native wildlife over the generations, especially species such as wildling pine. Ever wondered why you go through such strict biosecurity measures when you arrive in New Zealand? Because in the 21st century, any foreign matter could potentially cost the agricultural economy billions of dollars.
Today, pristine areas of forest are prized by this country and its people. The Dansey Road Scenic Reserve, where the Rotorua Canopy Tours are based, is one of the most intact forest systems in New Zealand. In fact, some of its trees are over 1000 years old! Due to a geological quirk, this forest became a paradise for native birds of every kind. The soil is deficient in cobalt, which means that introduced mammals such as pigs and deer steered clear of the forest because they couldn't digest its plants.
Conservation efforts
However, the Reserve has been under threat in recent years. Introduced pests such as rats and possums have decimated the local birdlife. Since 2013, the year after it opened, Rotorua Canopy tours has been working hard to turn this around by starting a trapping programme. The success of this operation led to the development of the Canopy Conservation Trust with the help of the Department of Conservation. There is far more work to be done, but once again the forest is filled with the sound of birdsong. The tours give you an incredible opportunity to see the success of their endeavor close up, and hear more about the future of the project.
Rotorua Canopy Tours – Tour Options
Rotorua Canopy Tours offers you two tour options. Slightly shorter and more laid-back Original Canopy Tour, and the more adventurous Ultimate Canopy Tour. Both of them are incredibly exciting, though the former is better for those slightly nervous of heights. Both include magnificent swing bridges, zip lines, and super-friendly guides! As well as grown-up travellers, this is a great choice for those travelling with families.

Rotorua Canopy Tours – check-in
The Check-in process is very easy. Everyone meets at the Rotorua Canopy Tours base in Rotorua's city centre. First of all, you'll get an iPad to type in your details. This info will include any medical conditions you may have.  Curiously enough, you will also be asked if you have fear of heights! The use of i-Pads is such an efficient way of gathering important information. Safety is given the utmost priority here. It's good for the staff to be aware of any customer issues before the tour actually begins.

Rotorua Canopy Tours – the Forest setting
We arrive at the first platform. What an exhilarating feeling to be surrounded by the forest and the purest oxygen!
The guides are meticulous in explaining how we are going to use our equipment. This exercise turns out to be a lot of fun. Like a lot of New Zealand tours, group interaction is encouraged. After all, part of the travelling experience is having fun with other fellow travellers! For the short time we have together, trust and friendship are very important. It's really easy to achieve this in a small group tour like this. With no more than 10 people, it's a very comfortable size. Each person is fitted with a harness based on their weight.  And everyone gets the smile-of-Bravery award. Convincing, isn't it?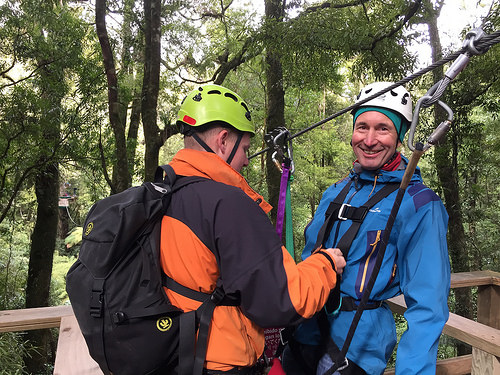 Rotorua Canopy Tours – lights, camera, action!!
Believe me, an adrenaline rush is guaranteed!  Each zip-line has a different grade, with some longer and faster than others.  Zip-ling between these giant trees is an incredible feeling!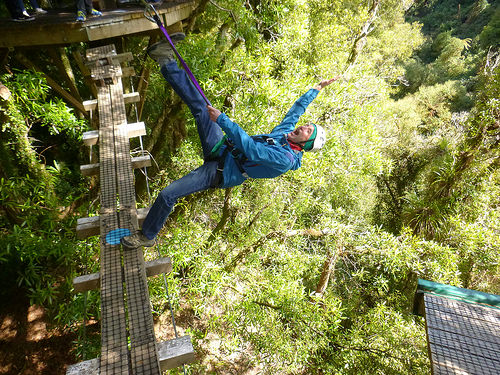 Rotorua Canopy Tours is such a cool concept to get people a little out of their comfort zone. It also provides a heightened awareness of nature's challenges when it comes to conservation. I'm stunned to hear that each day, 70,000 birds are killed in New Zealand by stoats, rats and ferrets. Every day! So, the conservation philosophy of Rotorua Canopy Tours is to use traps to combat some of this carnage. It gives our New Zealand birds, especially endemic species, a chance to survive.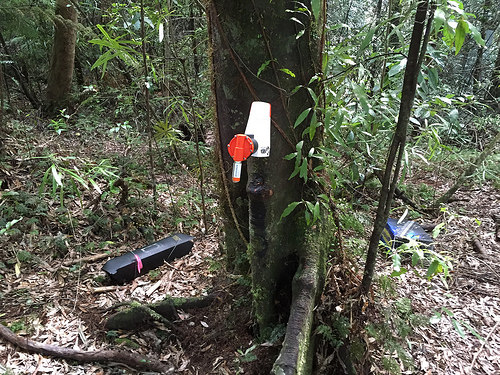 There are 6 zip lines and two bridges to cross during the Original Canopy Tour, which generally takes about 3 hours. The longest zip line is an enormous 220 metres! This map should give you a pretty good idea of what to expect: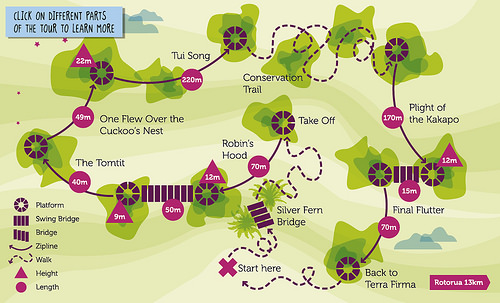 This tour is the closest I've experienced to flying like a bird through the forest canopy. Naturally, there's a lot of shrieking going on from individuals, but in a happy way.  Nothing wrong at all with letting the kid out to play every now and then!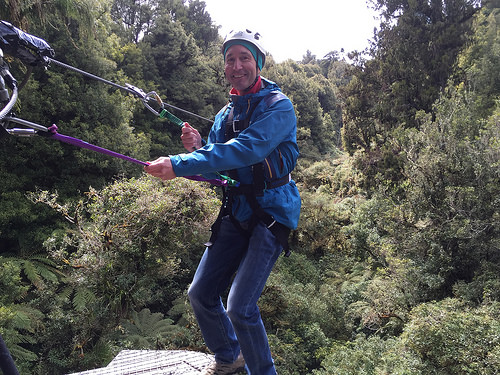 For more tours of this kind, check out our specialist nature and lifestyle itineraries!
Happy travelling!