If you have no fear of heights, then the Rotorua Canopy Tours should definitely be on your list of things to do. If you're the type of traveller who loves skydiving and bungy jumping, this is an awesome activity. The Rotorua Canopy Tours provide a great deal of fun and it is great value for money. Although Zip-lining over a forest is an essential part of the tour, there's so much more. Adventure, fun and a nature – its a great combination!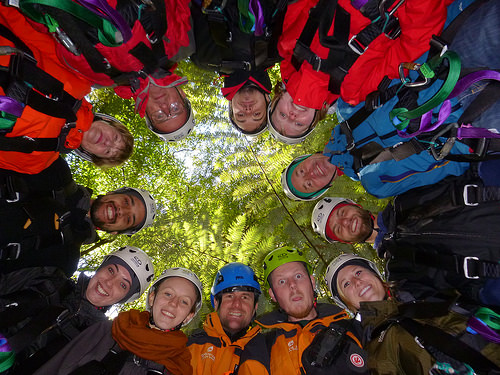 Rotorua Canopy Tours – check-in
The Check-in process is very easy. Everyone meets at the Rotorua Canopy Tours base in the city centre. First of all, you'll get an iPad to type in your details. This info will include any medical conditions you may have.  Curiously enough, you will also be asked if you have fear of heights! The use of i-Pads is such an efficient way of gathering important information. Safety is given the utmost priority here. It's good for the staff to be aware of any customer issues before the tour actually begins.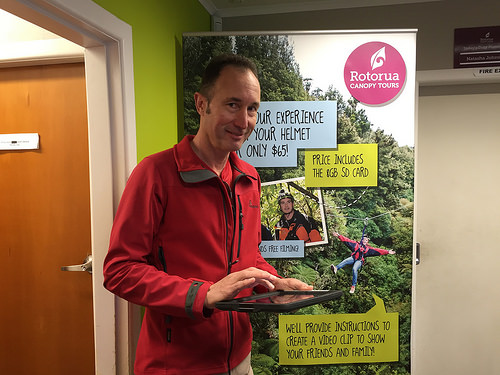 Rotorua Canopy Tours – the Forest setting
The stage is a drive up to an original nature forest in the Department of Conservation park. The van is very modern and you'll enjoy the scenic drive. Now it can be rather chilly in the forest so do dress warmly. As you stroll into the forest, the guides will discuss the different tree species.  Many of these are Rimu (NZ Red Pine).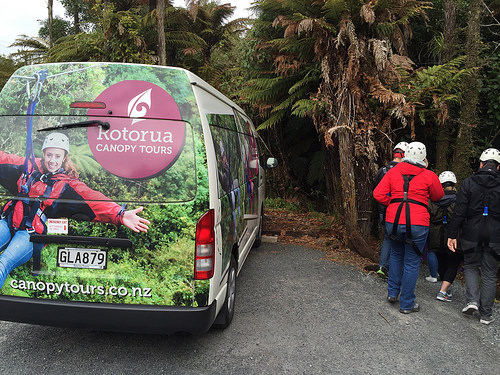 Today, we arrived at the first platform. What an exhilarating feeling to be surrounded by the forest and the purest oxygen.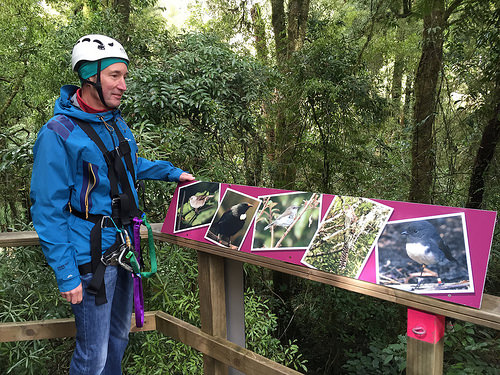 The guides are meticulous in explaining how we are going to use our equipment. This exercise turns out to be a lot of fun. Like a lot of New Zealand tours, group interaction is encouraged. After part of the travelling experience is having fun with other fellow travellers. For the short time we have together, trust and friendship is important. And its easy to achieve this in a small group tour like this. With no more than 10 people, is a very comfortable size. Each person is fitted with a harness based on their weight.  And everyone gets the smile-of-Bravery award. Convincing isn't it!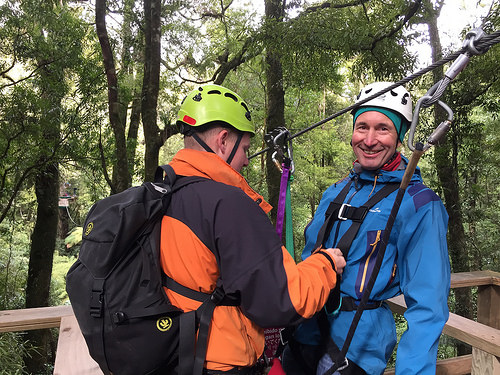 Rotorua Canopy Tours – lights, camera, action!!
Believe me, an adrenaline rush is guaranteed.  Each zip-line has a different grade, with some being longer and faster than others.  Its thrilling zip-ling between these giant trees.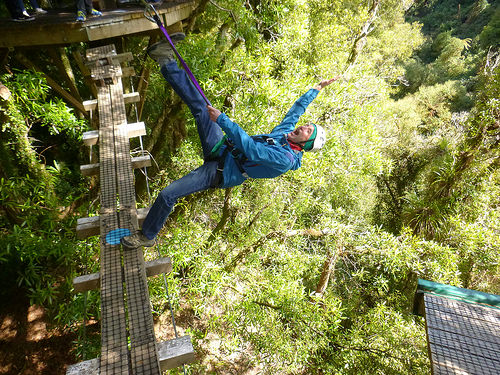 Rotorua Canopy Tours is such a cool concept to get people a little out of their comfort zone. And it provides a heightened awareness of nature's challenges when it comes to conservation.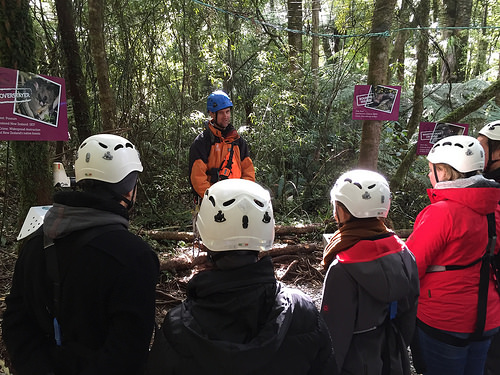 Rotorua Canopy Tours – the conservation aspect
I'm stunned to hear that each day, 70,000 birds are killed in New Zealand by stoats, rats and ferrets. Every day! So the conservation philosophy of Rotorua Canopy Tours is to use traps to combat some of this carnage. It gives our New Zealand birds, especially endemic species, a chance to survive.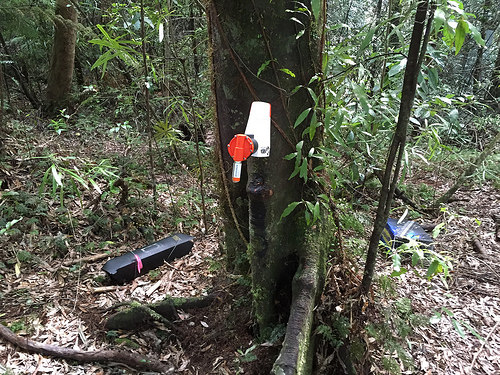 There are 6 zip lines and two bridges to cross during the journey, which generally takes about 3 hours. The longest zip line is an enormous 220 metres. This map should give you a pretty good idea of what to expect: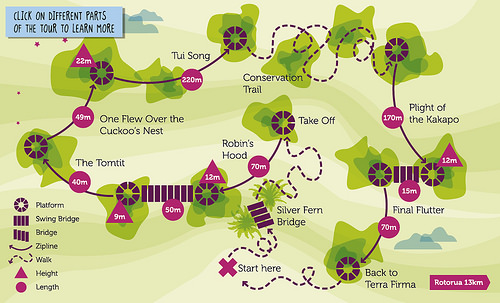 This experience is closest I've experienced of flying like a bird through the forest canopy. Naturally, there's a lot of shrieking going on from individuals, but in a happy way.  Nothing wrong at all in letting the kid out to play every now and then.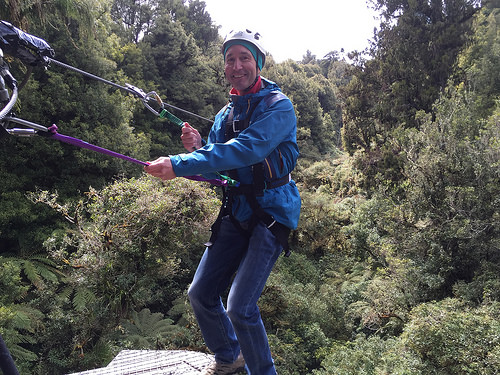 Happy travelling!