New Zealand is well known for its beautiful nature, laid-back lifestyle, but for a honeymoon, why not focus on the Top 10 Romantic Getaways New Zealand? Now, for you time-short honeymooners, it really can be a struggle to fit in as much as possible. So if you're considering the Top 10 Romantic Getaways New Zealand, remember, with a special holiday, less is more!  This means that you plan to stay longer at one location – say 2-3 nights. Then use each location as a base for exploring with day trips around the location.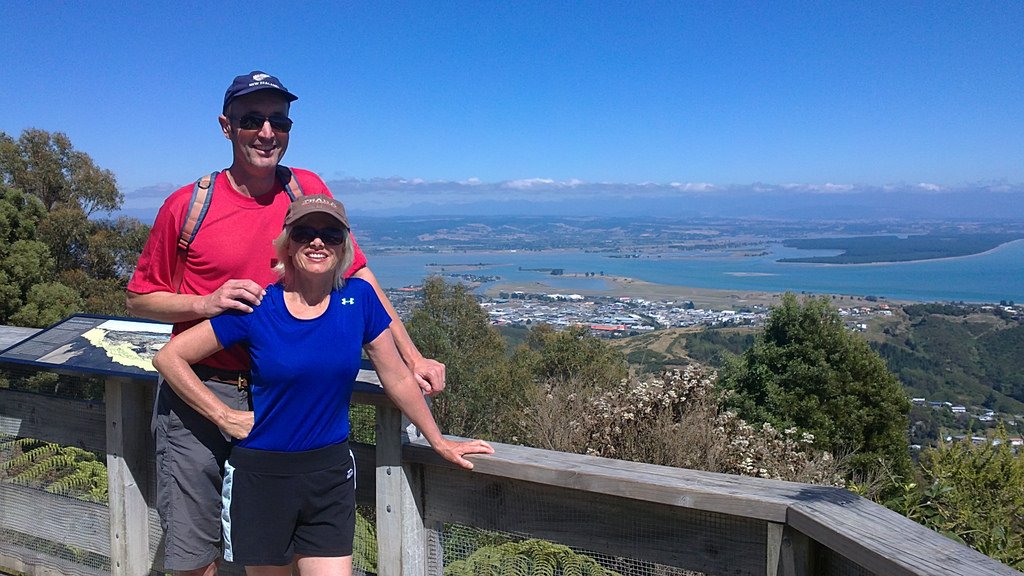 General fact before planning your holiday details
Climate and weather when planning New Zealand
New Zealand is located in the Southern hemisphere, so this makes our weather and climate conditions opposite to the Northern hemisphere. Spring occurs between September and November and Summer between December and March. Now here's what you might not know – our autumn is a wonderful time to travel New Zealand.  The weather is more settled. Keep in mind that New Zealand is surrounded by sea, so don't expect continental weather – but rather a fast changing weather pattern. View the best time to honeymoon in New Zealand.
The New Zealand summer does have rain, but our 'winter' (off season travelling) can be lovely in some parts of the country. Its really important that if you are planning travelling New Zealand and Australia, you need to research the climate conditions in detail.
Decide on locations and times in New Zealand
Okay, now you've got the climate and weather conditions sorted, you now get to decide where you want to spend your time. The 'Top 10 Romantic Getaways New Zealand' listed below, will get the ball rolling for some great ideas. For any honeymoon itinerary I'd recommend that you stay longer at key locations. Some honeymoon travellers only have 10, 12 or 14 days, so you want to focus your planning around 3-4 key sites and explore from there. There are plenty of activities just about everywhere in New Zealand that we've already covered in our Top 10 honeymoon activities.
Accommodation styles and standards New Zealand
There is a ton of accommodation options in New Zealand to select from. Due to the small scale and limited amount of unique properties, the important thing is to plan early. Sure, there are some really well appointed vineyard cottages, but definitely not hundreds – maybe a few dozen around the country. Besides vineyard cottages you'll find lovely farm cottages and really special eco 'pods' located in acres of solitude – what could be more perfect for a romantic honeymoon holiday. For the main cities your might want to go for a boutique hotel, such as a The George in Christchurch or a QT Hotel in Wellington. Luxury lodges are beautiful for romantic retreats. I'd suggest having a few 'rock star' properties in your honeymoon – private retreats during your travels – you'll remember those for the rest of your life!
Activities and tours to do while in New Zealand
Throughout your honeymoon travel in New Zealand, you'll be constantly reminded that its all about nature and the outdoors. This is what makes New Zealand ideal for exploration. Going for a walk or a hike, can mean so much more here. Sometime it includes a zipline through native forest, taking a jetboat up and down remote rivers or a helicopter flight onto a glacier. Believe me, you won't cover it all in a few weeks, but with your interests in mind, you'll get to experience the sort of amazing activities you would never do in your home country! Now the perfect honeymoon holiday needs clever planning. So choosing the right locations and sorting out the day-to-day travel times, is terribly important. Afterall, you are on the most romantic getaway of a lifetime, so if you want a beautifully balanced itinerary without the stress, you've come to the right place.  Any questions, just ask Michael cos he's the guy on the ground with all the answers
Our recommended Top 10 Romantic Getaways New Zealand
1. Bay of Islands for water sports and history
The Bay of Islands is the birthplace of New Zealand. The first missionaries, traders and pirates came ashore here in the early 1900's. The first Polynesian seafarers – Maori – came 600-700 before that. Today the Bay of Islands is a wonderful place for water sports diving, snorkelling and dolphin swims. Plus there's great day tours into the Far North to see those stunning beaches. And don't forget a visit to the historic site of Waitangi. A number of romantic getaways – on varying price level – completes the picture.
2. Waikato and Waitomo Caves for rural New Zealand
Its pretty much accepted that most travellers don't come to New Zealand for its cities. On the contrary, it's the outdoors and the rural areas holiday makers love. The Waikato and Waitomo regions are a perfect example of authentic and pristine areas. Staying in a romantic farm cottage or exploring small-scale Hobbiton tour with a local guide, is something you won't get in mega-tourism locations. But if you are keen to see Hobbiton Village, (the more famous  film set), it's a short drive away – but expect to be just one of hundreds more people milling around – the smaller scale Hobbiton tours might suit you better. If you are keen on more luxury accommodation, you'll love the newly opened Henley Boutique Hotel at Cambridge. Eager to exploring a cave? Then going Black Water Rafting in Waitomo is the activity for you. All of these are very close-by.
3. Hawkes Bay for Wines, Food, Arts and Golf
If you are into the finer things in life and would love a round of golf at one of the leading courses, the Hawkes Bay would be your pick of the bunch! This region sits on the eastern coast of the North Island and is generally warmer. In fact, some of New Zealand's best red wines are grown grow here. The Cape Kidnappers area found in the Hawkes Bay is not only famous for its golf course. There are also Gannet colonies which can be explored in a rather unique way – with a New Zealand tractor! With accommodation options, you might spend a couple of thousand for one of the world's best lodges – Cape Kidnappers – or a few hundred dollars in a cottage nearby. Art deco is a key feature in Napier, which was rebuild after an earthquake in 1929.
4. Abel Tasman & Golden Bay for style, food and nature
For pure romance, one of the best spots New Zealand has to offer, is the Abel Tasman region. Everything you could wish, you'll find here –  lovely vineyard cottages and first-class lodges (such as Te Koi at Bronte), stunning beaches, activities such as kayaking or cruises or eco educational tours and top-notch food – especially fish, as Nelson is a main fishing port. Time-permitting, head over to Golden Bay for a bit of horse riding or simply discover a rather 'under-explored' part of New Zealand. Recommendation: plan at least three nights in the Nelson-Tasman region. I guarantee, you will love it!
5. West Coast South Island for rugged beauty
The West Coast of the South Island is known for its rugged rain forest beauty and natural spirit. There's always something to wake up in the morning with wild winds and rolling waves from the Tasman Sea to welcome your day. The drive around the Coastal Road is extremely scenic – one national park or nature reserve follows the next one. Yes, some parts are remote – after all only 33,000 souls living in a 600 kms stretch from Karamea to Jackson Bay. But, on a romantic getaway, surely that's what you're looking for. Expect good-hearted people and honest foods. The West Coast is just a bit different to other parts of New Zealand – if you're around for the Hokitika Wild Food festival, you'll know what I am talking about.
6. Queenstown for action and adventures
Queenstown is the most widely known holiday location in New Zealand. It has grown over the past 20 years to over 2 million annual visitors. So, expect lots of wonderful restaurants, fab lodges, exciting fun adventures such as Zipline or Dart River Safaris. It also has access to cycle trails and hikes. Really lots to do and to see. If you want to best of both worlds consider staying in Wanaka or Glenorchy, which is a 45 minute scenic drive from downtown Queenstown. Honeymooners and romantic getawayers love the spa and beauty treatments at Millbrook Resort as well as Onson Pools. As Queenstown has an international airport it can be used to combine Australia travel plans.
7. Fiordland for nature, wilderness and remote hikes
If you love nature and hiking, then the Fiordland region is the place for you. Spend at least two nights in New Zealand's walking capital, Te Anau, and explore it. Take a guided walk on the famous Milford Track (one day or multi-day option) or just pop into Rainbow Reach for an afternoon stroll to Lake Manapouri. There are heaps of walking and hiking options on your romantic getaway. Milford Sound is an absolute given to visit. For the more remoter places – some of them deep in the Fiordland wilderness – use a Waterwings plane or a helicopter flight. On a clear day this will be a day to remember. Take your insect repellent though! Another special trip is going from Lake Hauroko with a jetboat right down to the southern coast. From here you'll get a first glimpse of New Zealand's third main island – Stewart Island.
8. Stewart Island for more wilderness and Kiwi birds
Now, Stewart is something for serious nature lovers and for travellers with a bit more time. Stewart Island is accessible with a 20 min flight from Invercargill or a one hour ferry ride from Bluff (most southern town in NZ). The place is basically a national park with special permit areas. There is one village – Halfmoon Bay – with a permanent population of around 400 souls. During the winter season, (May-September) it's very quiet. During the summer season (Oct – April) the place will be 'humming' – well for Steward Island standards anyway. You want to go to Stewart Island to experience wildlife as well as some more serious hiking. I use the word "serious" because many of the key walks are quite muddy – so be prepared. Apart from hiking there is also kayaking in Patterson Inlet as well as Kiwi bird night tours and fishing tours.  And lets not forget the wonderful fresh fish in the local pub, the 'South Sea Hotel'.
9. Mount Cook for mountains and glaciers
Sir Ed Hillary, the famous New Zealander and first man to conquer Mt. Everest, used to be a beekeeper (north of Auckland). But his 'training turf' was the Mt. Cook National Park. From sea level New Zealand's highest mountain (3653 meter) are only 25 kms away. The area is magic for the vast glacier lakes as well. Honeymooners and romantic getaway travellers love the remoteness and space in this part of New Zealand. Staying in a place like the Mt. Cook Retreat is a true New Zealand high country experience. Doing glacier lake tour on the Tasman Glacier Lake or heli hiking on the glacier itself are special trips you will not forget in a hurry. Naturally there are lots of walks and hikes you can do in the national park. I should make special mention of the Stargazing at Mt. John in nearby Lake Tekapo.
10. Akaroa & Bank Peninsula
Now at the end of your trip you probably might like to 'chill' – just let a couple of days go by with no rush at all. The PurePods are the perfect way to let your soul rest and your brain to remember all the experiences you had during your honeymoon or your romantic getaway in New Zealand. There are still lots to see and do on the Banks Peninsula, which is only 1-2 hours from Christchurch airport. Try a Dolphin Swim or a cruise from Akaroa. There are wineries, a cheese factory, plus wild and remote bays you can explore at your leisure before catching a flight back home.
Summary on Top 10 Romantic Getaways New Zealand
Yes, there is lots to see and to do when travelling New Zealand for your honeymoon or romantic getaway. My key advise is not to try to see and do it all. Focus on key regions you really want to explore, then select the right kind of accommodation for you. And don't mind 'splashing' out a bit here and there to get a truly memorable romantic experience. Once you add some tours, you'll achieve the right mix and have a fab holiday in New Zealand. For any questions email Michael and he'll be happy to answer them – make the right choices.
To get a general idea view example honeymoon itineraries from Guest NZ…

Happy travelling in Top 10 Romantic Getaways New Zealand has to offer!