Milford Sound. Once named by Rudyard Kipling as 'the eighth wonder of the world.' Today, it's
internationally
acclaimed as one of New Zealand's greatest attractions.
Located in Fiordland National Park in the Southwestern corner of the South Island, it's an oasis of natural beauty
.
With its stunning waterfalls, pristine forests and
numerous
activities, Milford Sound and the Milford Track have been on the bucket list of almost every traveller to visit New Zealand.
 Whether you are travelling solo, as a family or with a bigger tour group, there is an option here for all.
The secluded nature of Milford Sound has allowed it to remain
virtually
untouched, a real jewel in New Zealand conservation
. But this also presents some logistical challenges for tourists. For one, it's a 288km (4 hours) drive from Queenstown, where the vast majority of tourists
depart
from via Highway 94. A trip to Milford could
easily
fill an entire week, but most travellers are on a tight schedule. Many can only dedicate a full day to the area as part of their wider trip through the South Island.
But is it possible to see the best of what Milford Sound has to offer in
just
one day? Our answer is yes, you can! It's a question is choosing the right tour to fit your needs.
Milford Track New Zealand and Boat Cruise
Local guiding operator Trips and Tramps has catered to this need, and now offers a combo of a 4 hour guided day walk with the famous Milford Sound Nature Cruise!
Part one: The Milford Guided Day Walk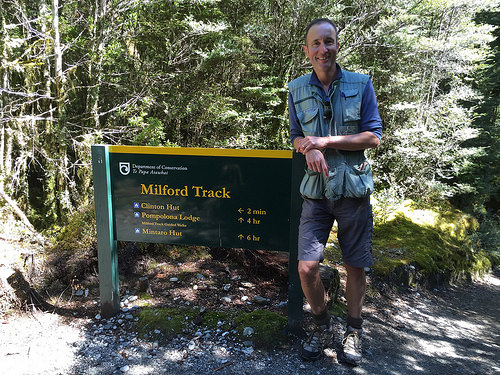 New Zealand's Milford Track is one of the most famous walks on the planet! This Fiordland National Park trail is one of New Zealand's nine 'Great Walks'. These have been given special status for having some of the best scenery in the country. (Having done all nine is quite a badge of honour!) It traverses a variety of terrain, from rainforests to alpine passes, and is a truly unforgettable experience.
The entire track  is a 53.5km long and takes 3-4 night to complete, with both guided and self-guided options. Obviously this isn't feasible for many travellers, owing to time and/or fitness levels. However, Trips and Tramps' half-day option gives a fantastic taste of what the track has to offer.
Trips and Tramps Info: Most travellers stay in Te Anau and head to Milford Sound. You can either be collected from Te Anau, or self-drive to Milford Sound and join the tour from there. The 2-hour drive is incredibly scenic, with walks, waterfalls and lookouts along the way.
The trip starts at Sandfly Point, where you will be dropped off by water taxi at 8:45am. (Yes, you will really need insect repellent for this place!) This is technically the end point of the Milford Track for those doing the full hike. This means that between 9am–12pm there will be no other walkers on that stretch. You can enjoy your 12 person maximum guided tour in real peace! The half-day option takes you through beautiful New Zealand rainforest, past the Arthur River to the famous Giant's Gate waterfall. You will have plenty of incredible photo opportunities!
Part Two: Milford Sound Nature Cruise with Real Journeys
Real Journeys is a local tourism vendor who have been operating the world-famous Milford Sound nature cruises for decades. The 2.5 hour cruise goes right into the fjord and to the Tasman Sea (subject to weather and sea conditions) taking you close enough to the famous waterfalls to feel their spray. It's a major highlight in any New Zealand itinerary! Also, keep an eye out from some friendly dolphins and seals!
Trips and Tramps info: The water taxi will return walkers back to the Milford Sound Wharf at 1.15pm after the hike. This is perfect timing to connect with the Real Journeys Nature Cruise at 1.35.pm!

Other options for short visits over Fiordland
If you're really short on time, consider a scenic flight from Queenstown with either Air Milford or one of the local helicopter companies. The views are nothing short of spectacular, you allow you to experience the beauty of Milford Sound from a difference perspective
Note: all flights are subject to weather conditions on the day of travel. If the weather prevents the flight, full refunds are generally provided.
Summary of Milford Sound options
Trips and Tramps Milford Track Guided Walk and Boat Cruise is offered from the end of October to the end of April each year, with pick-up options from both Te Anau and Milford Sound. Prices and further details can be found online. 
Air Milford offer a variety of scenic flights to Milford Sound from Queenstown, some of which can be combined with a nature cruise. Check their site for more details. 

Other travel tips:
When travelling during the peak summer months between November and March, it is essential to pre-book all accommodation and tours in the Fiordland region as options are limited.
Fiordland gets the most rain out of any region in New Zealand (it has an average annual rainfall of 252 inches!) Be sure to pack your clothing accordingly.
If you are travelling in the off-peak season to Milford Sound i.e. between May and September, check out our winter guide here.
For more nature activities, check out our specialist nature and lifestyle itineraries. 
Happy travelling in the Fiordland National Park!