New Zealand has long been a driver's paradise with its beautiful open roads and diverse scenery. But should you choose a motorhome or a rental car? This is a question that many travellers struggle with when planning their holiday. In this guide, the will discuss what you need to keep in mind as you plan your trip:
HANDY HINT -> Top 5 Suggestion on how best to plan a New Zealand holiday
Motorhome or rental car – the cost breakdown
The cost of a rental car vs. motorhome depends on the season and size of the vehicle. For a Compact Automatic car in peak season, expect to pay around NZ$100 per day with full insurance cover and 2 signed-in drivers. Rental cars are calculated by 24 hours. So, when picking it up 1pm on one day and drop it off at 1pm the next day, this will be counted as one day's rental.
For some locations (e.g. Queenstown) there is a location surcharge on motorhomes of around NZ$400. All motorhomes run on diesel, so you will need to calculate on 15 litres per 100kms in fuel consumption. There are also 'road user charges' (diesel tax) which is around NZ$45 per 1000kms. During the peak summer season, there can also be a one-way fee or a minimum rental period of 14 days. On top of this, you will need to calculate the fees for motor parks of around NZ$40 per person. So, in a motorhome vs rental car comparison, motorhomes have more associated costs.
What kind of New Zealand holiday are you after?
The motorhome can be regarded as the 'classic' New Zealand holiday option in many ways. It conjures up romantic images of pulling up by beaches or lakefronts for some shut-eye, and getting a million dollar view in the morning for free! Certainly, a motorhome vs a rental car gives you a lot more flexibility in this regard. They are also a great option if you are travelling New Zealand with children. It also gives you a certain amount of consistency that you won't get by sleeping in different accommodation every night. It certainly eases stress to know that you have everything you need for living right there with you!
Note: In the past year, New Zealand has tightened up considerably on so-called 'freedom camping' laws. Previously, it was generally permissible to pull up wherever for the night unless there were signs saying otherwise. However, the increase in tourism numbers has made this unsustainable, and the environment is suffering as a result. Although this is down to illegal freedom camping (i.e. not having self-contained toilet facilities) the changes affect any vehicle with sleeping facilities. In areas such as Queenstown and Tekapo, councils are setting up designated areas away from scenic reserves for freedom campers. If you are planning on freedom camping rather than staying in campgrounds, be sure to check the council regulations where you are staying to avoid fines.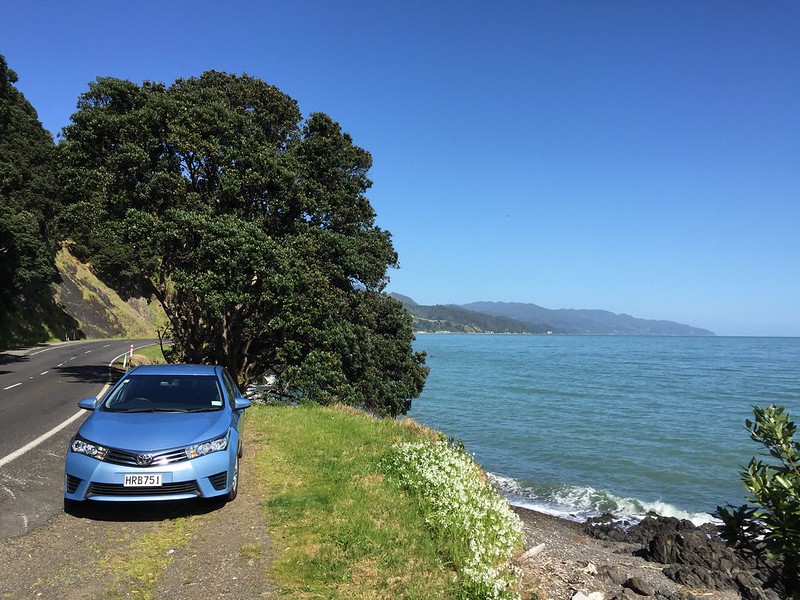 Motorhome vs. rental car – How long is your trip?
Time constraints play a big role in the rental car vs motorhome debate. Travelling by rental car is faster, and creates a very different holiday experience. One of the most under-utilized parts of travelling around New Zealand is domestic flights. You can easily pick up some great deals using Jetstar or Grabaseat between the islands. This will save you a LOT of time. For example, a flight between Auckland and Christchurch takes 90 minutes, versus the almost two days it would take you to drive that distance! Drop off your rental car at the airport and pick up another when you arrive, and you are good to go!
For example, taking the Interislander ferry when you have a rental car gives you the option of dropping off the car beforehand. This can save you a lot of money, considering that taking the ferry with a motorhome can set you back as much as $300 NZ (in comparison to around $100 for foot passengers).
So, if your New Zealand holiday is on the shorter side (less than 2 weeks) a rental car is better suited to take advantage of other travel options. There are far less motorhome dealers in New Zealand, so there are only three main depot locations: Auckland, Christchurch and Queenstown, which gives you far less flexibility. Motorhomes are therefore suited to longer trips (2 weeks plus) where you can travel a round-trip.
Motorhome vs. rental car – How confident a driver are you?
This is something we tend to discuss a lot on this blog, because it's so central to people's time in New Zealand. Usually, the first thing travellers do is to pick up a vehicle and be away. However, New Zealand is not the easiest nation where driving is concerned. For many travellers, they need to adjust to travelling on the left side of the road.
There is also New Zealand's actual roads to contend with. As a very mountainous country with a low population, roads here are probably very different than what you are used to. Many are narrow and winding, with sharp hairpin bends and few places to pull over. The lack of freeways is what makes for such scenic road trips here, but it does mean that travel distances are probably further than you think because speed limits are a lot lower (100km is the highest, and in many cases, it's 70-80km.)
Your experience as a driver is key here. Accidents between locals and tourists, especially during the summer months, are sadly very common. A lot of this is due to inexperience both on NZ roads and with driving unfamiliar vehicles. It's really important to think carefully about whether a rental car or a motorhome would be best within the context of your own driving skills.
Insurance policies for motorhomes/ camper & rental cars
It's also important to bear in mind that New Zealand is not as motorhome-friendly as countries like the United States. Road quality can be very variable, especially when you are driving through more rural areas. A high proportion are completely unpaved; potholes are not uncommon! These tend not to be marked out in advance, so roads can turn from tarmac to gravel without warning. It's not unusual to see signs at the start of these roads which read 'unsuitable for high-sided vehicles'. Whilst you are obviously free to continue at your own risk (and many travellers do without incident) you will find little sympathy from your insurance company should anything go awry!
If you read your policy carefully you will very likely find that it does not cover accidents that take place on unpaved roads, because they are deemed 'high-risk'. In many countries this wouldn't present an issue, as unpaved roads would be well away from tourist areas. In New Zealand however, the access roads to many attractions, such as the Oparara Arches on the West Coast,  are unsurfaced. Depending on how confident you are, this could mean crossing some attractions off your list if you are in a motorhome. Regular rental cars tend not to face these issues (though it's worth seeing if you need to purchase some extra cover).
Motorhome vs. rental car – What time of year are you travelling to New Zealand?
As with most things in New Zealand, rentals are more expensive during peak season because the demand is higher. The roads also tend to be much busier during those summer months (December-February). You can usually save quite a bit of money if you travel during the off-season. If you travel during the winter, you'll get a motorhome for about NZ$150+ per day with full insurance. For summer, the same vehicle will cost NZ$500+ per day. Quite a big difference! The fluctuation is less severe with rental cars, because the country's fleet is much larger.
View a sample motorhome itinerary for North & South Island.
Accommodation options for New Zealand
New Zealand has a wide variety of accommodation for those with rental cars. You can choose from B & B Lodges, cottages, motels, boutique hotels, and mainstream hotels. Cost usually starts at around NZ$250+ per night per room. You can check out our full accommodation options here.
Regardless of whether you choose a motorhome or a rental car, you will have a fantastic holiday. Take some time to weigh up the pros and cons of each option, and you will create the travel experience that suits you the best. Finally, some travel planning trips to consider.
Happy travelling either with a rental car or a motorhome!