If you're travelling the Christchurch to Tekapo scenic route, here's what you should do – go through Darfield on State Highway No 77. Sure, it might take a wee bit longer, but the scenery along this two-lane rural road is beautiful.
The Canterbury Plains
And what you will discover, is that the scenery changes quite frequently. You'll start from the the Canterbury Plains – a flat patchwork quilt of wheat and grazing pastures.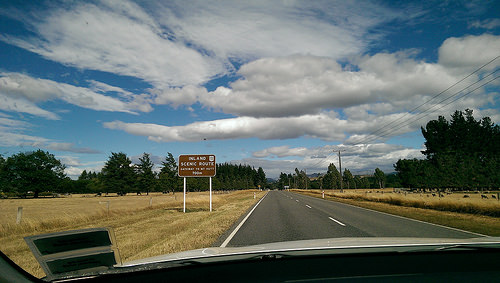 But before you know it, things get a lot greener. Seriously, all it takes, is a quick check of a map – and the minute you look up, you might think you're in a different region. And here's the thing, even in the busy season, you won't be sharing the road with hordes of other travellers. We passed these cyclists this morning – they had the sun on their backs.  Little did they know, the weather was about to change.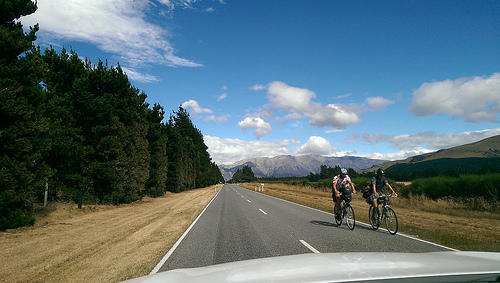 The Rakaia Gorge
It's such a neat experience when you first catch sight of the Southern Alps. And its at this stage, gently rolling hills appear – classic Lord of the Rings Country! Michael expects that I should be able to name each individual mountain (actually he can). After Glentunnel, its up and around to the beautiful sight of the Rakaia Gorge. This is a good place to rest.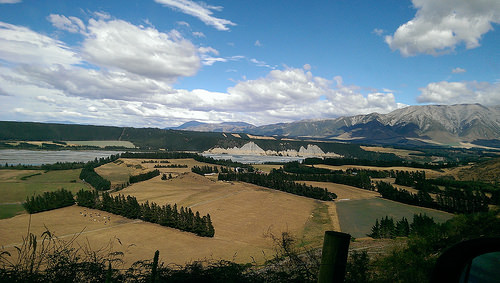 The water of the Rakaia Gorge is typical of a New Zealand High Country river. It's unusually milky green colour is the result of sediment released from the movement of the glaciers. Their are some great highlights on the Christchurch to Tekapo scenic route. Stop at the bridge or drive to the other side where there's a camping ground with toilets. Isn't this a sight for sore eyes!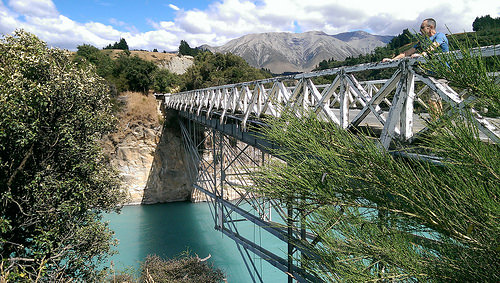 The river meanders as far as those sore eyes can see. This is rugged, raw country people and if you're a photographer, it's heaven.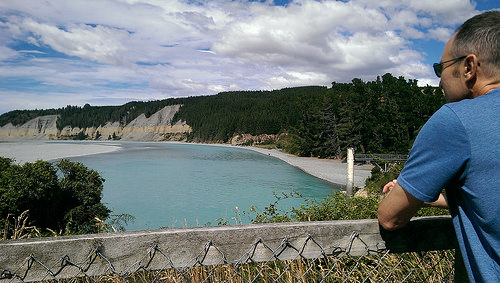 Stopping at Geraldine
Next stop is the town of Geraldine. Do check out the family-owned Barker's Store that sells quality preserves, sauces etc. This shop has been going for years and I like their products. My only gripe is that they've changed the recipe for their blackcurrant jam. Love their ice-cream toppings. Further down you'll find a very good artisan cheese shop.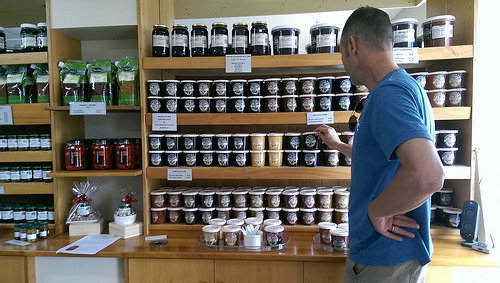 Geraldine has an excellent Fresh Choice Supermarket off the main road just as you come in. If you're staying in Lake Tekapo, you might want to stock up now. The cafes in Geraldine provide the generic white filled bread rolls and paninis – enough to keep the masses happy. However if you're after something a bit special, you'll probably be out of luck. To be fair though, the coffee we had at Plum Café was excellent.
To get a general idea on what you can do in the South Island…

The weather is turning and much needed rain is beginning to fall. I swear there are farmers doing cartwheels of joy, as I speak: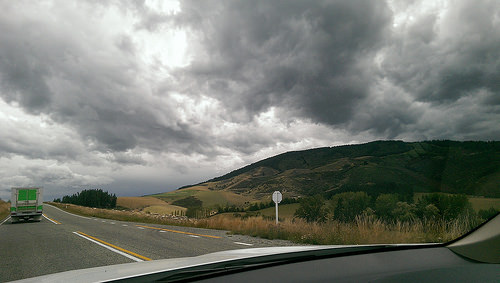 Lake Tekapo
It's been four and a half hours in-between stops and we've arrived at Lake Tekapo, the surrounds of which remind me that I have arrived in another part of Paradise.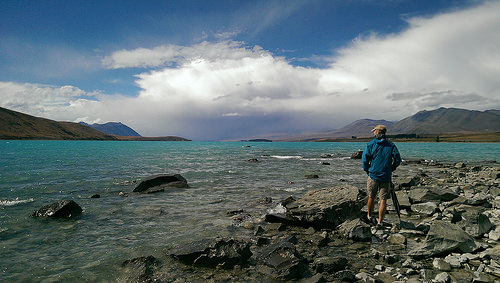 The time has flown and the journey has been relaxing. That's the beauty of The Christchurch to Tekapo scenic route. Check out other travel routes, such as Dunedin to Lake Tekapo, Wanaka to Fox Glacier and Nelson to Fox.
Happy travelling in the Canterbury & MacKenzie country!