The southern Fiordland region along with Lake Hauruko, the Hump Ridge and the Waitutu Forest, is one of our top 10 New Zealand must-dos. And that is because it is a pristine area, well off from the main tourism tracks. In fact, much of this area is undiscovered and probably will remain that way. Deep in the heart of the Fiordland National Park, the  Wairaurahiri Jet adventure in Fiordland National Park can best be described as the experience of a lifetime!
Wairaurahiri Jet adventure in Fiordland National Park
The Wairaurahiri Jet adventure in Fiordland National Park is very much a small group tour. The day begins in Te Anau in the early morning. You will first drive yourself to the Lake Hauroko carpark. This will take about 1.5 hours. This is where your amazing mini expedition begins. It is helpful to know that the Wairaurahiri Jet adventure in Fiordland National Park offers a range of tours – so you can actually combine this tour with the Hump Ridge track and helicopter rides.
Lake Hauroko
The Wairaurahiri Jet adventure in Fiordland National Park trip starts off with a leisurely 10km jet boat ride across Lake Hauroko. On a clear day, this part of the tour is incredibly serene – the waters are and calm and the skies are crisp-clear. On the day I joined the tour, we had 7 passengers all up.  For a personalised experience, it really was the ideal number.
There are stops in the middle of the lake where your driver guide explains some of the local history. There is a sense of the mystic all around you.  Maybe that is because there is a Maori Princess buried on an island around here.
Travelling the Wairaurahiri River
Even thought there are very few boats in this area, we still have to sign into the DOC log book at Teal Bay before proceeding. The next stage involves jet-boating along the Wairaurahiri River. And that means you get to travel for another 30 kilometres to where the river meets the ocean. Now the action really begins to ramp up!  The river becomes narrow and the water much more shallow. This is when your adrenaline rush begins.  The boat kicks up jets of water and travels so close to the beech trees along the bank,  you can almost touch them.
Conservation and Predator Control
For the owner guide, the preservation of this area is a lifelong passion. It is heartening to see so many traps that have been set to catch rats, stoats and weasels. These pests are ruthless predators of our endemic bird life.
Wairaurahiri Jet adventure in Fiordland National Park – Bush Walk
Like most forests, you there is a constant moisture in the area. And that is why the bush is so lush and green. You will get to see and hear so many birds. Believe me, that is such a heart-warming sign of successful predator control. We were also introduced to so many different species of trees. How special it was to have a Robin drop in – just to say "gidday".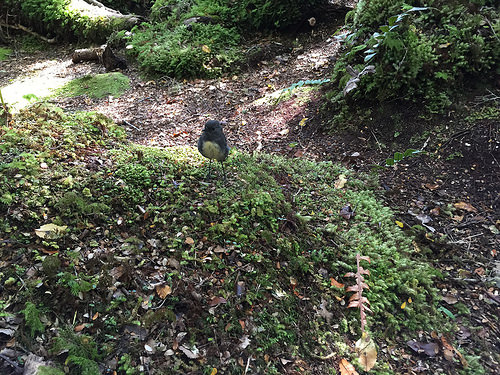 Wairaurahiri Jet adventure in Fiordland National Park – reaching the ocean
After about 2.5 hours, our jet boat finally reached the ocean – and what a sight it was!  We all wandered around for a while, before stopping to gaze at nature's untamed world. On a clear day you see Stewart Island across the Foveaux Strait.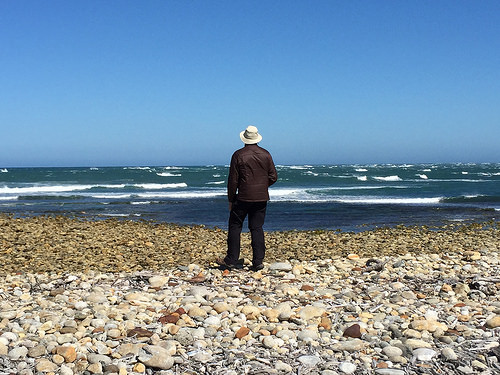 You will find it hard to turn your back on such a beautiful scene.  But you will be returning to the Waitutu Forest.  And after all, how special is it to be in a forest that has been built over  millions of years.  This huge expanse of time has resulted in 13 terraces which display various vegetation and geology. We can actually discover so much by studying these terraces. Scientists have been able to interpret major seismic events – even comets flying into the earth.
Wairaurahiri Jet adventure in Fiordland National Park – Lunch in the forest
But as you can imagine, all this fresh air does give you quite a big appetite! After a 30 minute walk we were more than ready to eat. And the fact that our guide was wearing a chef's apron was most promising!
I can assure you, that there are no stale white buns here folks. We ate like kings! I am referring of course to the Venison steaks, salads, freshly baked bread and vegetables. These were all so  attractively presented. I can quite happily recommend this 'restaurant'!
Waitutu Track – swing bridge
After lunch everyone can take a walk on the Waitutu Track. This will take you about for 15 minutes – it is an excellent chance to walk off lunch and use the local "swing bridge". Of course, some travellers may be a bit dubious about this.  I guess there are some travellers who have never used a swing bridge.  But the swing bridges in New Zealand are very sturdy pieces of well thought out architecture. Besides, they are absolutely essential in a wilderness like this.  There really is no other way can cross a river.
On our return back to the boat, we discovered that our our chef had returned to his role as a driver-guide. So we headed back up the Wairaurahiri River with stops on the way. The last few minutes were spent gliding over the river. The Wairaurahiri Jet adventure in Fiordland National Park is a standout experience. In fact, it would go down as being one of the best tours we've ever taken for this type of experience.
Here are some other travel blogs on the Fiordland region you might be interested:
Happy travelling the Waitutu / Fiordland National Park.