Appellation Wine Tours with a great guide is pretty much what you would expect in Central Otago.  After all this region is famous for its wine, especially Pinot Noir. And with Appellation Wine Tours it is the guides that really enhance the whole experience But of course personality alone, is not enough. As a guide, you do have to have an extensive knowledge of the region's history, geographical and it's exceptional wines.
Appellation Wine Tours – what is on offer?
Appellation Wine Tours operate from Queenstown and they have a range of modern and air-conditioned vehicles in their fleet.  They specialise in small group tours and that means greater flexibility for the day's itinerary.  It is also good for for you to know that these tours visit different cellar doors every single day! So that means, you can make vineyard requests. If there is a particular vineyard you would like to visit, your driver guide will do their utmost to make it happen.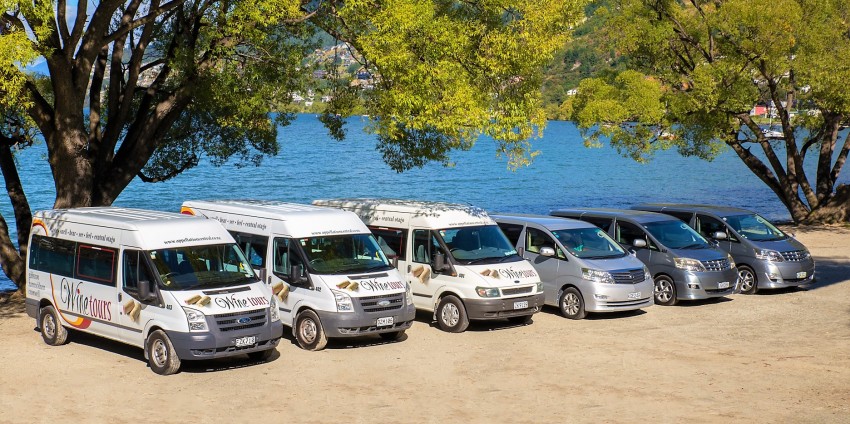 What you will experience
On the day we joined one of the tours, we drove through the Gibbston / Queenstown wine region – our first stop being Peregrine Winery. Even for its distinctive architecture alone, makes Peregrines a must-do visit.  The roof line is shaped to represent the wingspan of a Peregrine ( native falcon).
Although red wine has always been the star of Central Otago wineries, white wine is emerging as a show-stopper. The most beautiful Rieslings are beginning to gain much fame, so look out for these.
The tour we took, included a lunch platter at Carrick Winery.  Carrick Winery is an ideal place to have lunch – not only can you do a tasting, but you can then enjoy lunch overlooking one of the most beautiful views in Central Otago.
The beauty of a small group tour
Because you will be travelling in a small group, by having lunch together, you will be able to get to know your fellow passengers.  Believe me, travellers from all over the world come to New Zealand and they often arrive from different places to your own.
One of the passengers on our tour, made a special request to visit the Mt Difficulty winery. It had not be scheduled for that day, but the guide changed to route to suit. We arrived at Mt Difficulty just as a late lunch was being served and the place was humming. In fact the staff were run off their feet, but couldn't have been more cheerful.
Iconic Chard Farm
One of Michael's favourite wineries is that of Chard Farm.  Yes, we did have a butt-clenching ride up an incredibly steep gravel road but the views below us were spectacular.  Our guide negotiated the tight bends with ease.  On the way up we stopped to take photos of the AJ Hackett Bungy jump at Kawarau Bridge in the Gibbston Valley . Chard Farm has a special rustic character and has pretty much become an icon for this region.
At the end of the day, after numerous wine tastings at these beautiful vineyards, you will be feeling pretty mellow. Most of us were pretty quiet on the way back, just enjoying the views.  But our guide still had some fascinating stories to tell before arriving back at our hotel.   Here's a toast to Appellation Wine Tours with a great guide.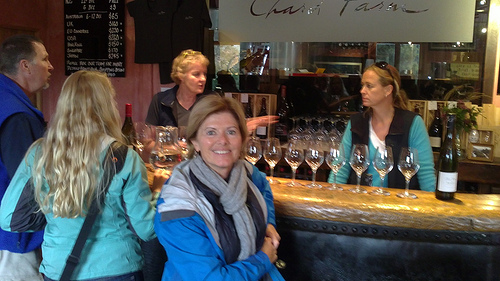 Check out one of our South Island travel itineraries, which you can include a food and wine tour easily.
Happy Travelling with Appellation Wine Tours!