It's often the guide that can turn a great tour into something truly special.  I'm referring particularly to Keren, one of the tour guides from Appellation Wine Tours.  Keren sparkled with personality thoughout this entire half-day trip.   It seems that Appellation Wine Tours choose their driver-guides carefully – personality alone, is not enough. An extensive knowledge of the region and it's exceptional wines, is essential.  (hey don't let this go to your head Keren!)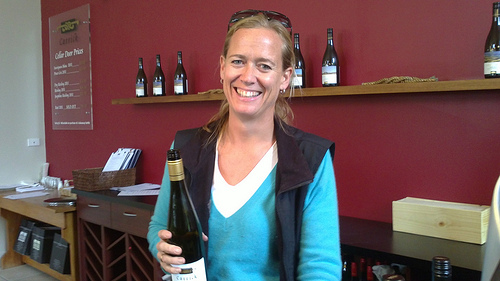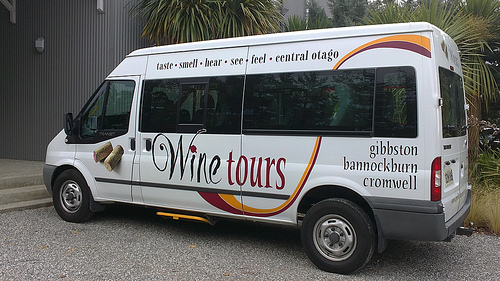 We started our tour through the Gibbston wine region stopping  first at Peregrine Winery. Gotta love Peregrines distinctive architecture representing the wingspan of a Peregrine ( native falcon).  Michael is the only male on the trip and he's milking it for all it's worth. One dear lady on the tour doesn't care for alcohol and has never tasted Rieslings before.  I'm getting concerned. Seriously folks, it's not touching the sides. Believe me, Peregine's rieslings  have the power to seduce.  Keren tactfully advises the procedure – sniff, swirl, taste and spit ( obviously the latter is optional but if you want to last the distance, it's advisable to spit more than swallow). Isn't Michael looking comfy!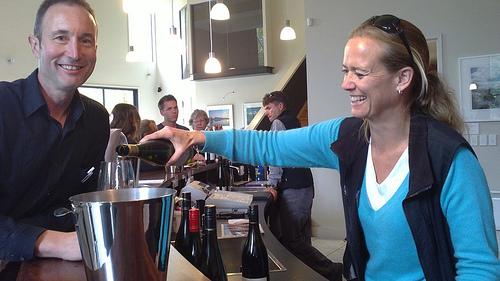 We're loving Keren's storytelling skill of the region, some factual, others  mythological. She;s cranking them out making us hungry for more.  Hey the rest of the tour party are very quiet (must be challenging for a guide).  Great teamwork from everyone in this region with Keren getting behind the bar to help the winery staff  pour the wine for sampling. Here we are at Carrick Winery for lunch platter.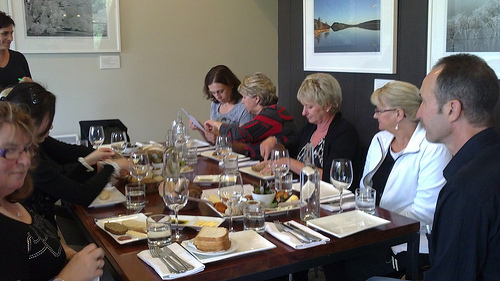 The view from Carrick Winery cafe is spectacular – provides a sobering moment for me, excuse the pun: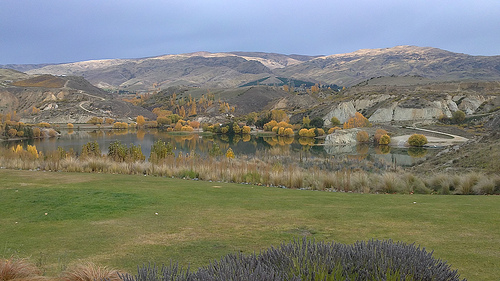 The Mt Difficulty winery is located in the Bannockburn Region and has been specifically requested by one of the passengers. That's the joy of a small group tour – flexibility – you hum it son, I'll play it. Mt Difficulty wasn't on the list for todays tour but it is now.When we arrive it's buzzing. Diners are enjoying a late lunch and the staff are run off their feet but they couldn't be more cheerful.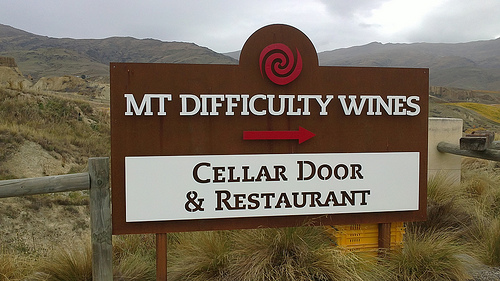 My fav winery is Chard Farm.    We have a  butt-clenching ride up an incredibly steep gravel road but the views below are  incredible.  Keren negotiates the bends with ease, ensuring great photo opportunities  of the AK Hackett Bungy jump at Kawarau Bridge in the Gibbston Valley . Chard Farm has a special rustic character and is a recognised icon for this region.  Doncha just love Lola – she's made from old wine vines (that's the one on the left, ok).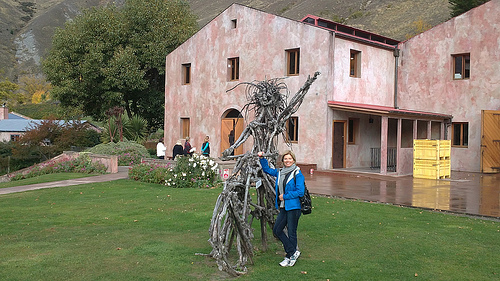 I'm feeling pretty mellow. It's cosy in here and these Pinot Noir wines are delicious. Business is brisk. Time for the drive back into Queenstown. Keren's still in fine form and begins a fascinating story that only ends on drop-off at the hotel.   Here's a toast to Appellation Wine Tours and a  fantastic guide.