Hobbiton Matamata New Zealand – Movie Set Tour: If you were to judge the Hobbiton Movie Tour by the base office, you'd probably do a quick U-turn.  Don't be put off by its scruffy exterior, after all this is farmland.  The bus is a bit 'rustic' but you're really only on this for a very short time. But once the bus delivers you to the storybook world of Hobbits, you'll be thrilled with the detail and authenticity you enjoyed in the LOTR triology.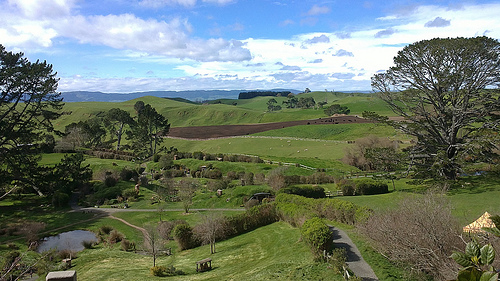 Hobbiton Matamata New Zealand – Movie Set Tour – what's real and what's not?
A lot of dedicated maintenance has been carried out and all that's really missing are the Hobbits. If you look hard, you can just make out the beehives in the background of this photo. They're not real but the point is, they look real.  However, there's nothing fake about the vegetable patch.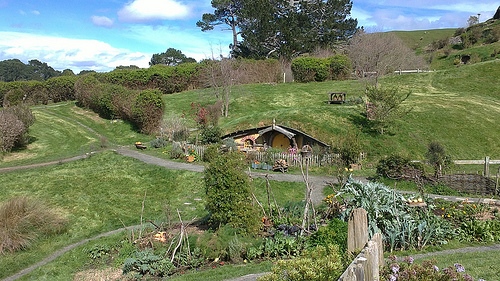 Hobbiton Matamata New Zealand – Movie Set Tour – tricks of illusion
New Zealand Tour guides are often chosen for their ability to foster group participation and most people enjoy an entertaining guide which this tour has plenty of. Walking through layers of gentle sloping paths, it's easy to imagine Gandolf passing the time of day with his little hairy friends. You'll quickly learn, that like most modern cinema, special effects are often achieved with scale and illusion techniques. Sometimes Gandalf would be filmed sitting well away from Frodo and Bilbo,  or in a separate studio altogether. Here's an example of the illusion: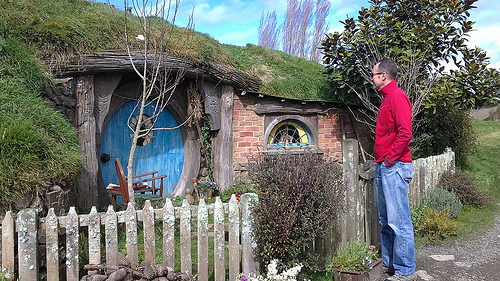 Here's the reality and one hobbit that didn't quite make the audition: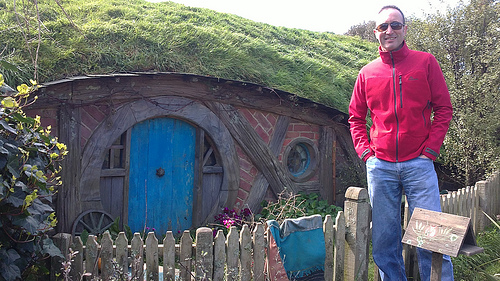 The stable was my absolute favourite Hobbit building – even on closer inspection, it looks real!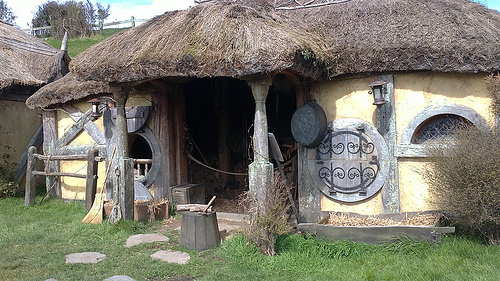 Some of the trees were cut down off-site, bolted together then transported and strategically placed. It's quite an experience meeting like-minded Hobbit and LOTR fans. They come from all over the world – this gentleman came from Hungary – that's one of the great things about travel.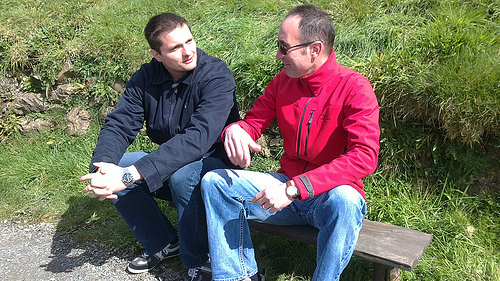 Hobbiton Matamata New Zealand – Movie Set Tour – Shires Inn
The tour comes to an end at Shires Rest, the beautiful old thatched roofed Inn shown in the films. It's rustically gorgeous inside with a roaring fire. And its full of nooks and crannies like this little annex. There's so much to love about this beautiful timber door frame: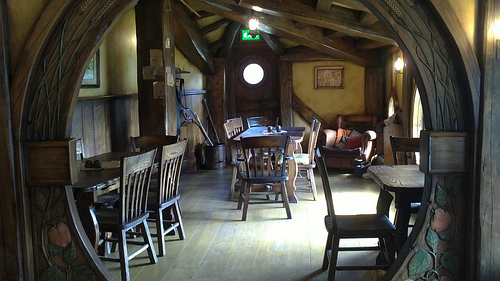 If you're feeling a bit peckish, The Shire's cafe is open for freshly baked home made treats like muffins, scones and cookies.  Apparently the pork pies are sensational.
Hobbiton Matamata New Zealand – Movie Set Tour is the ideal tour if you're based in Rotorua or on your way to Rotorua.
Happy travelling