Our of all the destinations we've visited in New Zealand, Stewart Island will always have a special place in our hearts. However, it's somewhere that many travellers to these shores will never visit! Often, this is because of time constraints. But it's also because most travellers simply aren't aware that New Zealand's third island has so much to offer. It's a long way away from the main tourist hubs, and the island itself tends not to be that well-publicised by tourism campaigns. We have already covered the gems of Stewart Island in our dedicated Stewart Island guide. So, today we will be focusing on nearby Ulva Island, the incredible wildlife sanctuary just offshore.
Steward Island is the butt of many jokes by New Zealanders about being stuck in a time warp. Culturally speaking, it's seen as a bit of a backwater. Stewart Island isn't exactly a cosmopolitan hub, but it's a pristine slice of New Zealand that's difficult to beat. Apparently, they say that nothing changes in Stewart Island, and that's a good thing! Let's be honest; paying more for petrol is a minor inconvenience for being able to explore one of the purest natural environments on earth. So along with his best tramping buddy, John Hall-Jones, Michael took a two-day break to visit tourist operators and to join Ulva's Guided Stewart Island Walks on Ulva Island!
Ulva Island – a remarkable nature sanctuary
Only a 15-minute boat ride away from Stewart Island, Ulva Island is just 3.5 km long. Therefore, its isolation has made it a highly successful breeding ground for many native birds and other endangered wildlife. Ulva Island has been completely pest-free in 1997, and the Department of Conservation (Doc) allow small tours to visit under supervision. So as well as the opportunity to enjoy walking through rich New Zealand rainforest, you might also catch a glimpse of natives like the South Island Saddleback, kiwis, and even yellow-eyed penguins!
Note: As a predator-free island, DoC has some strict biosecurity procedures in place to make sure Ulva Island says that way! Consequently, this means wearing totally clean footwear, checking your bags for any pests/insects that might be in residence, and ensuring that all pockets and zips are completely sealed on bags. For more information, you check their online guide for visitors here.
Ulva's Guided Stewart Island Walks
Ulva Goodwillie started her guided walks in 2000, due to the need for visitors to the island to have a guide. She herself is named after the island and is a descendant of the first Maori peoples to inhabit Stewart Island. What she doesn't know about the area, isn't worth putting on a postage stamp! Ulva and her team of guides are passionate about sustainability and conservation, and offer a unique experience of New Zealand wildlife to visitors. They are also a sponsor of Gadget, DoC's rodent detector dog, who patrols the island to keep Ulva pest-free!
Heading to Ulva Island 
The day begins at 8.30am, when the water taxi collected Michael and John to take them to Ulva Island. The water taxi driver, Peter, is the ex-schoolteacher who never left. That's the way it works down here!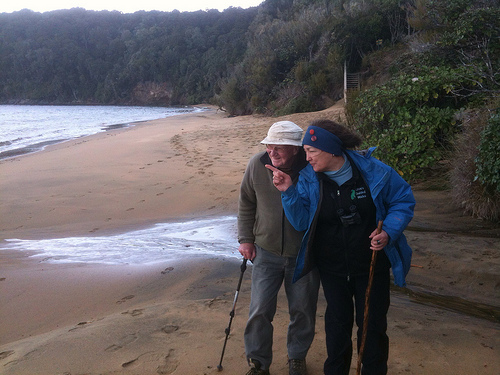 The walk with Ulva covers the history of Ulva Island, and the very special birdlife that Michael loves. It goes without saying that you're never too old to hug a tree!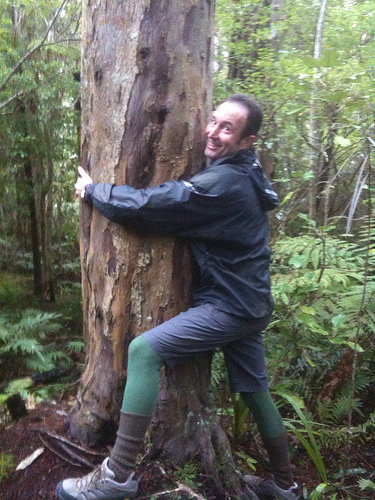 Ulva Island birdlife
As we mentioned earlier, Ulva Island is home to a plethora of native birdlife. The little Stewart Island Robins are breeding at the moment, which is so special to see. It's a curious thing to see the bald patches across their breastbone. Ulva explains that the Robins pluck the feathers from their chest to expose more of their body warmth to the eggs. I hope those kids are grateful!
There's a very good reason why Ulva rakes the ground occasionally with her stick. This action brings insects to the surface – these are easy pickings for the robins!
There's a wealth of lichen and medicinal herbs on Ulva Island, and magnificent orchids. These Mollymawks (small Albatrosses) make for a great photo!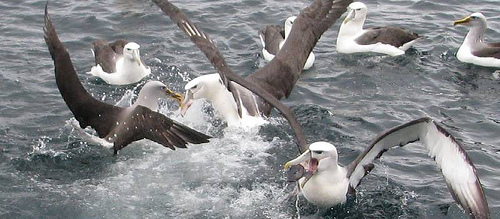 So, it's now time to saddle up the horses and leave this beautiful place. It seems like the only challenge of Ulva Island is getting people to leave again!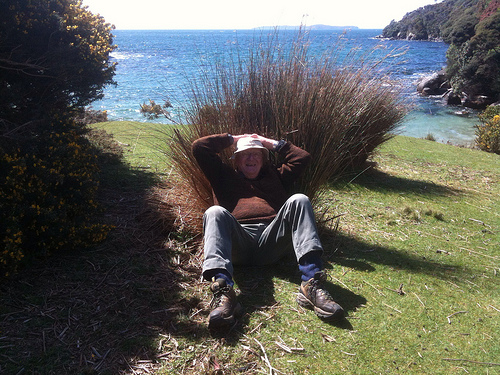 So more information on Stewart Island, check out our dedicated nature and lifestyle itineraries.
Happy travelling!