Over the past few years, we've seen Dunedin grow to become a tourism destination its own right. It's a really exciting development because the town has so much to offer visitors; beautiful heritage buildings, hip breweries and cafes, great hiking, and fantastic nature experiences. The Otago Peninsula is less than an hour from Dunedin, and is home to a huge variety of native New Zealand wildlife. We highly recommend Elm Wildlife Tours, who guarantee close-up viewings of the rare yellow-eyed penguin. You'll also get to see Hooker's sea lions, New Zealand fur seals, little blue penguins, and the Royal Albatross! It's a uniquely kiwi wildlife encounter that's not to missed!
The Royal Albatross Colony of the Otago Peninsula
The Otago Peninsula is home to the world's only mainland breeding colony of Royal Albatross in the world. Located at Taiaroa Head at the tip of the Peninsula, you have a unique opportunity to observe these birds in their natural habitat. If you're lucky, you might have spot some chicks!
Elm Wildlife Tours is a responsible eco-tourism provider who work hard to ensure that their impact on the environment is minimal. They have been accessed by the Earthcheck programme as meeting the standards of best practice in their environmental management plans, making them one of the most sustainable providers in the Asia-Pacific region. Their small tour sizes also ensure that the locals living on the Otago Peninsula are not affected by excess tourism.
Elm Wildlife Tours on the Otago Peninsula 
You'll be collected in Dunedin by mini-bus. With a guide on-board, there's a quick briefing and then the bus ride out to the Albatross Centre.  This is an incredibly scenic and relaxing ride – you'll get plenty of variation on this tour! The Otago Peninsula is home to miles of unspoiled coastline, secluded bays, and tussock-covered hills – it's one of the most peaceful places in the world.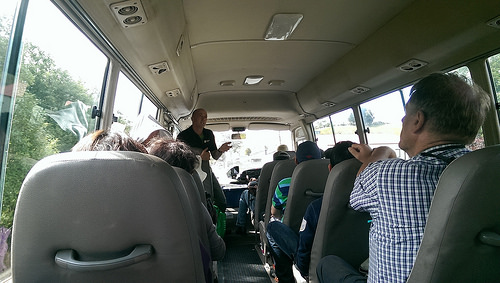 The journey to the Albatross Centre at the tip of the Otago Peninsula takes about 50 minutes.  We chose to go in the late afternoon, and it was perfect timing.  The weather was calm and quite warm.  Unfortunately, this type of weather is not so good for spotting Royal Albatross! It's usually only on the windy days that you'll see these majestic creatures soaring the skies. However, the weather turned out to be perfect for sea lions, fur seals, and Yellow-Eyed Penguins. It's a real privilege to see these penguins – they are an endangered species, and few ever get to see them up close.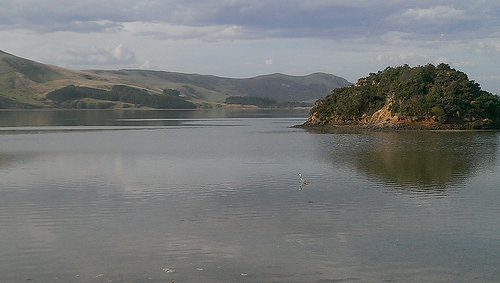 Along the way we spot the most elegant black swans floating by, on the lookout for the fresh water creeks that flow into the sea. For bird lovers, you will have some awesome photo opportunities on this tour. You have a chance to see Oystercatchers, Kingfishers, Spoonbills, Spur-winged Plovers, and Shags. They don't call the Otago Peninsula 'the wildlife capital of New Zealand' for nothing!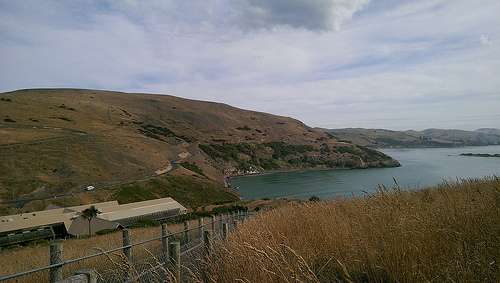 Otago Peninsula Albatross Centre
We arrived at the Albatross Centre on the Taiaroa Head and for the next half hour, our guide Joel gave an excellent presentation on the Royal Albatross. Having guides with both knowledge and a passion for wildlife is always an amazing combo.  It also helps when they have such an engaging personality!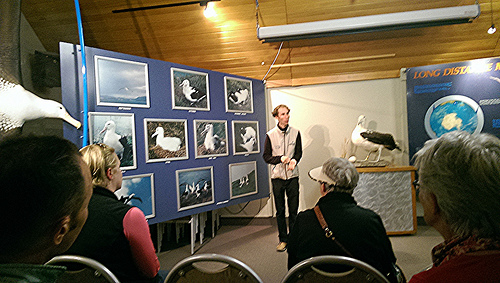 The Southern Royal Albatross has a wingspan of over 3 metres. You can imagine that in windy conditions, they look spectacular. It's pretty special to see them catch the wind currents around the breeding colony. There is an enclosed viewing platform from which you can see these guys without getting blown off your feet. Some may liken this to being in an enclosed zoo. The difference here, of course, is that the wildlife are totally free in their natural environment. They behave according to their rules, and no one else's.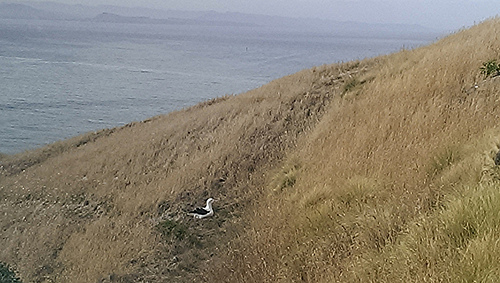 Elm Wildlife Tours – Papanui Beach
This is the part of the tour that I loved the most.  After reboarding the bus at the Albatross colony we set off to Papanui Beach, which is on the eastern coast of the Otago Peninsula.  This is where the fur seals can be found – more often than not from this rugged vantage point. You only need to take one look at this turbulent sea to be reminded that nature is in charge!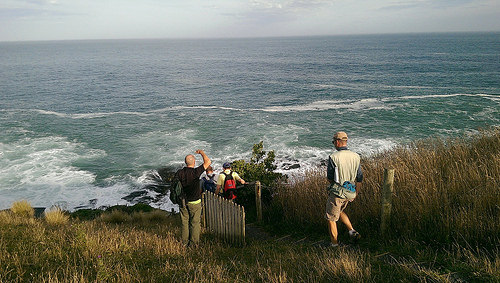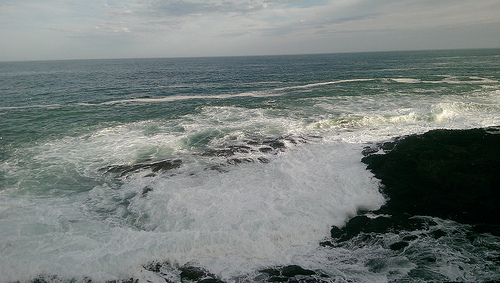 We moved on for a closer look at the fur seals.  These guys can often been seen draping themselves across the rocks below. They come in all sizes, ages and temperaments. Unlike the sea lions, who fear absolutely no one, fur seals are very shy. However, they are still quite curious!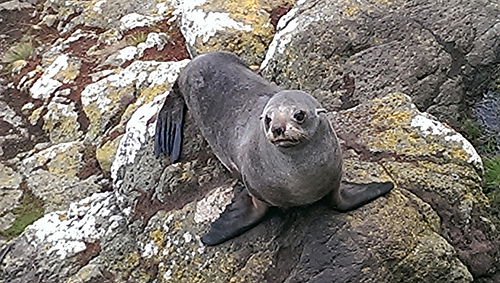 You'll quickly find that they probably have better things to do than look at humans!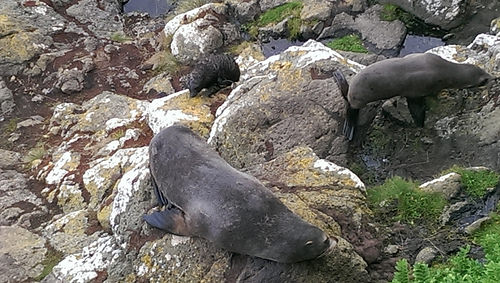 The stroll down to the stunning Papanui Beach is a real highlight. Just a note of caution here folks – the walks to and from the beach can be quite challenging. On the warmer evenings, you will work up quite a sweat! However, it can be the total opposite – cold and extremely windswept. This turned out to be our lucky day: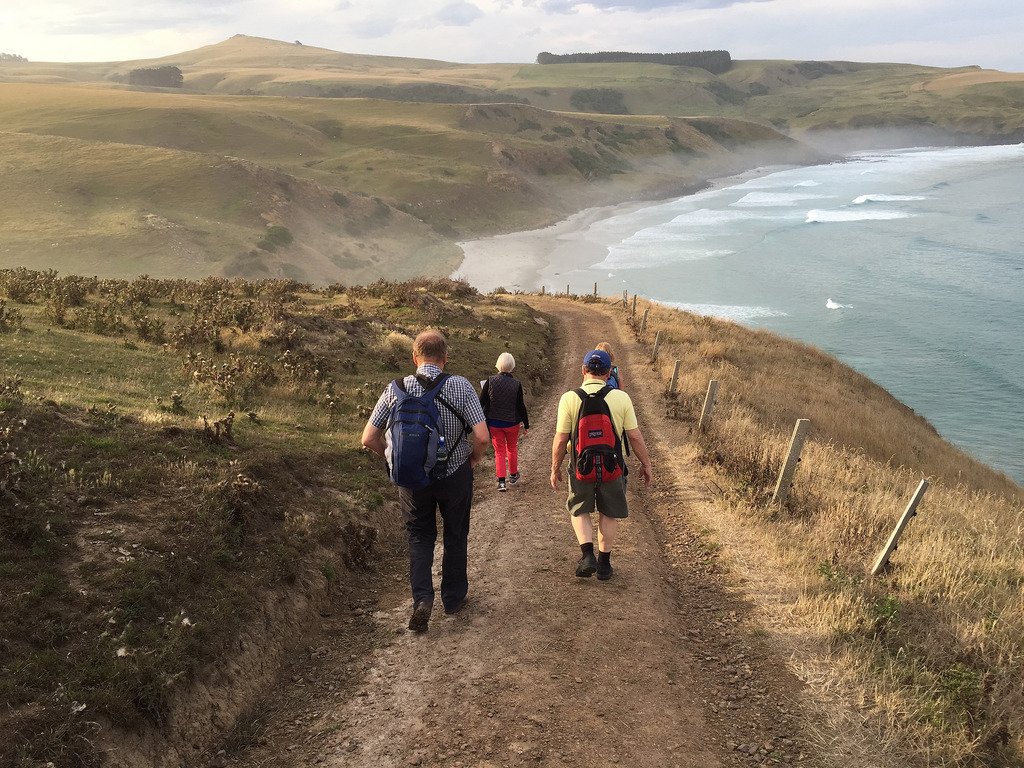 The yellow-eyed Penguins of the Otago Peninsula
The yellow-eyed penguin is the rarest penguin in the world, and it can only be found in New Zealand! I find it ironic that the majority of New Zealanders will never get to see these penguins. It's the international visitors, the ones who take this tour, that get this privilege. It's quite a sobering moment when you see the first one – believe me, they are extremely precious and beautiful little souls! They waddle pass you, totally unaware of your presence – their little wings pressed at right angles to cool the body.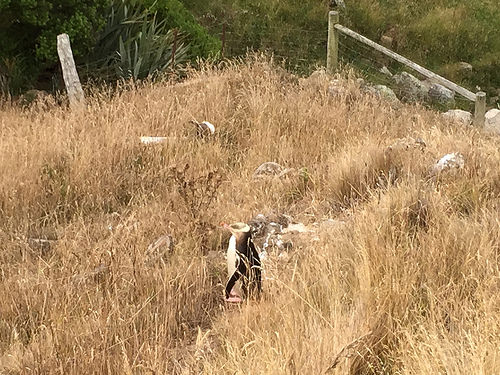 I admit this photo isn't the best.  However, out of respect for an endangered species we had to keep our distance. But I can tell you, it was still a thrilling moment. The yellow-eyed penguin is struggling to maintain and increase its numbers. You can imagine how exciting it was to see three of them in one day! Just look at those yellow eyes – no one yet knows why they are this colour.
Elm Wildlife Tours – Sea lions
A misty haze descended on the beach below, which created a nice humidity. We continued our walk towards what looked like a large piece of kelp lying on the shore. We quickly discovered that it was, in fact, a sleeping sea lion! This one seemed pretty intent on sleeping off a hard day out at sea! We retreated to a safe distance before we began taking photos.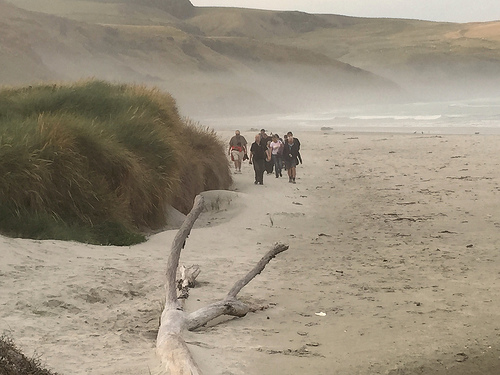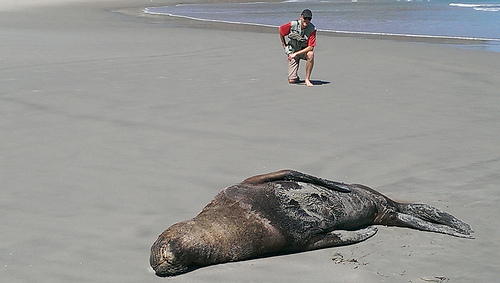 This particular Sea Lion was a bull male. He was covered in sand, except for one large eye that remained opened. He may have been sleepy, but he was forever on the lookout.
I loved every minute of this tour. You'll never forget seeing the joyful reunion between penguins as one comes ashore – it's a magical moment. We left our sea lion to his slumber and said goodbye to the Otago Peninsula. This is the stuff that dreams are made of!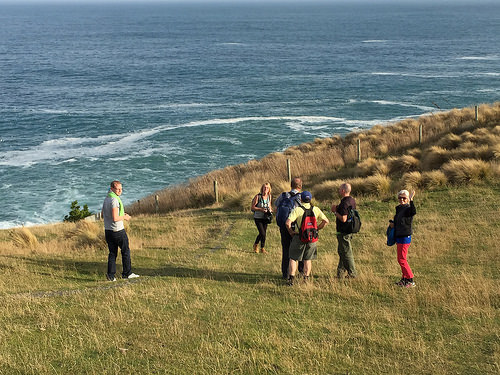 For more great activities on the Otago Peninsula, check out our nature and lifestyle itineraries.
Happy Travelling!