Despite its rather harsh winters, Dunedin's has some of the best beaches and coastal scenery in New Zealand. A prime example of this can be found at the Dunedin Tunnel Beach walking track and Sandfly Bay. Of course, it is probably not a good idea to do either of these walks when there is a southerly wind blowing.  After all, beaches can be terribly exposed to the elements.  But on a warm and sunny day, these are magnificent scenic walks. Before setting off for Tunnel Beach, you might enjoy a quiet stroll along beautiful St Clair Beach. Even on cooler days, St Clair beach has a wild beauty.
Dunedin Tunnel Beach Walking Track – handy hints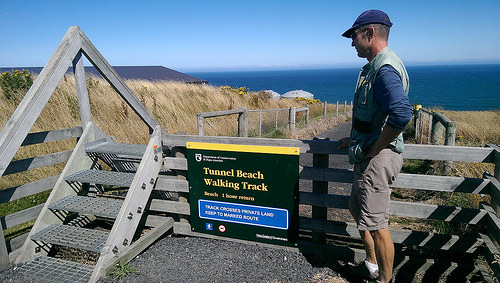 Dunedin Tunnel Beach Walking Track – what to wear
Now if you are going to do this walk, you will need your sturdiest walking shoes.  Make sure your shoes have a good tread because the Dunedin Tunnel Beach walking track has a lot of loose stones.   Although the track is quite wide, it is rather steep – a good level of fitness is required. In peak season, you will find many visitors here, just like yourself.  But there is plenty of room to park your vehicle at the carpark provided.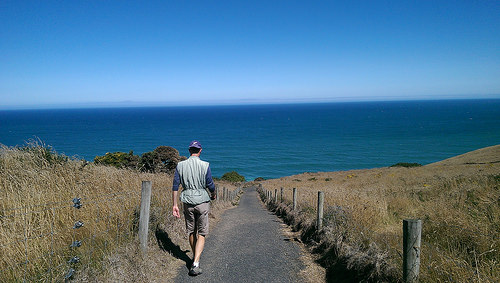 Dunedin Tunnel Beach Walking Track – views & safety
The views along the track are mesmerising – so much so, that at first, you won't notice the track getting steeper. But believe me, it does.  I quickly fell behind and Michael became a tiny figure in the distance. Right at the end of the walk, you will come across a magnificent giant piece of rock that you can walk out onto. The views will most certainly overload your senses. So a word of caution – there are no barrier fences here.  You will need to be very careful when getting your loved ones to step back for a photo.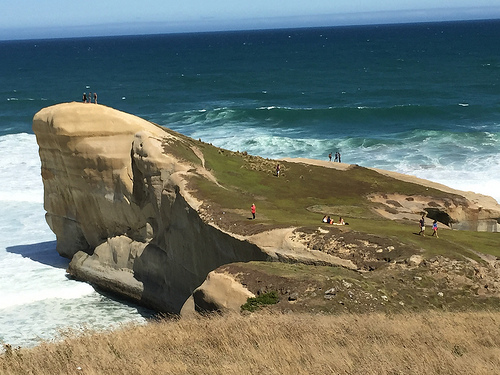 See what I mean!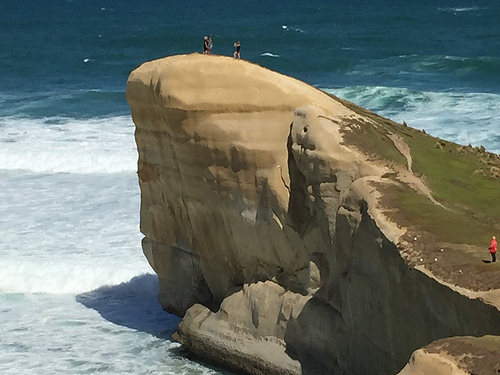 Places Nearby of interest – Dunedin's St Clair Beach
St. Clair has long been a popular leisure destination for local. The promenade is lined up with attractions such as cafes, bars and naturally the beach! Facing the Pacific Ocean its a fun place to be, especially in the peak summer season when you want to cool off!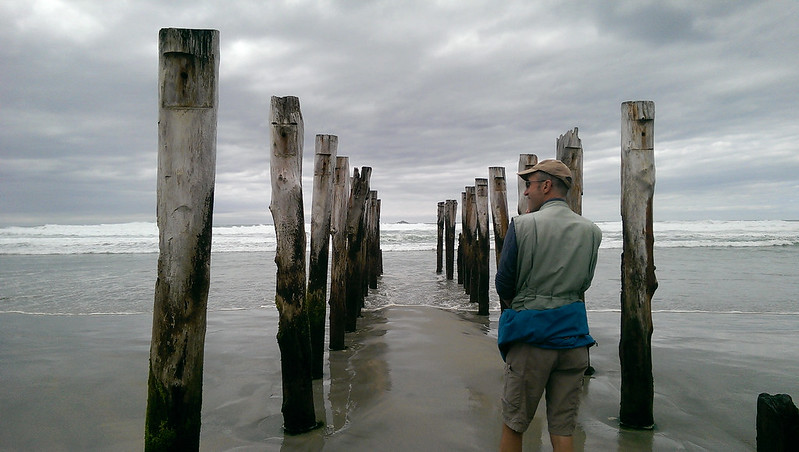 Dunedin Tunnel Beach Walking Track – Dunedin Salt Water Pools
You will find plenty of locals out quite early in the morning, enjoying their city's famous landmark. A good thing to know, is that nearby you can have a swim in the salt water pools. It is a good facility and it has a cafe attached.  If you look hard, you can see it right at the end here. These pools are accessible to the public and pretty much open 7 days a week.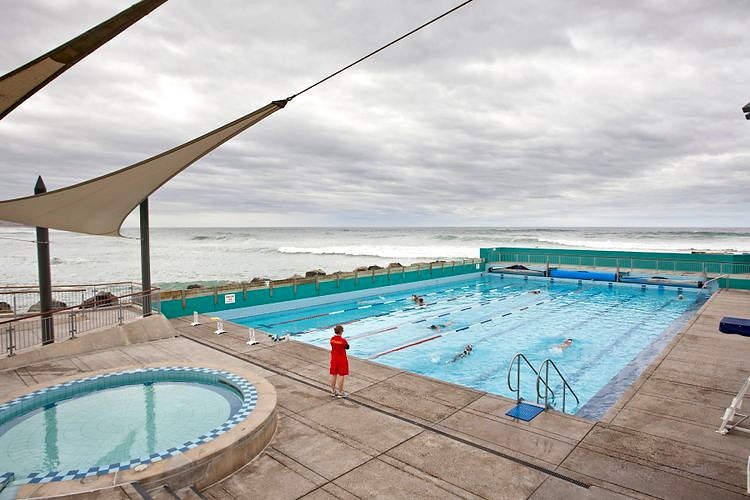 Sandfly Bay on the Otago Peninsula
If you are heading out to the surrounds of Dunedin, I have yet another 'gem' for you to discover.  And please don't let the name put you off! Sandfly Bay. Most of the time, there are no sand flies to be seen. Better yet, you won't find so many people milling around. Believe me, the towering sand dunes are awesome. The actual beach beyond is absolutely beautiful with such beautful deep blue sea colours.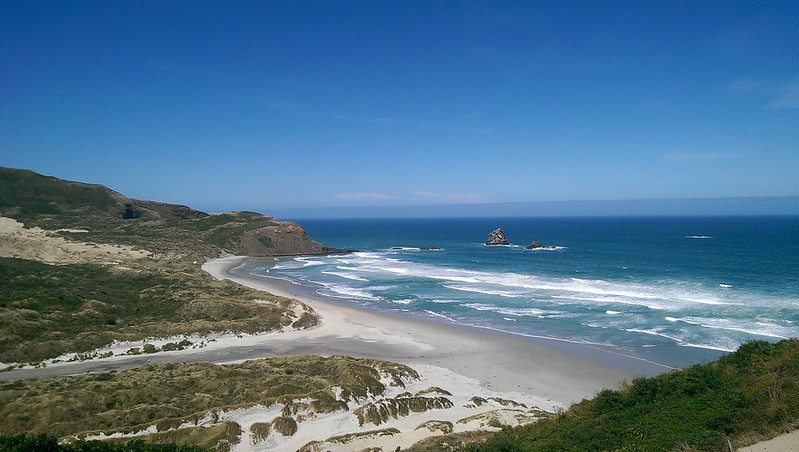 Sandfly Bay – location – how to get there
To get to Sandfly Bay, drive your car along the top of the peninsula on Highcliff Road. Take a turn down Seal Point Road and then continue to the carpark at the end. Don't forget to lock your car, before starting the track walk. First, the trail will lead you over farmland. Then you will quickly descend onto a sandy track. It is this track that will take you through those lovely sand dunes. There is a viewing platform where you can stop to savour the views on your way down.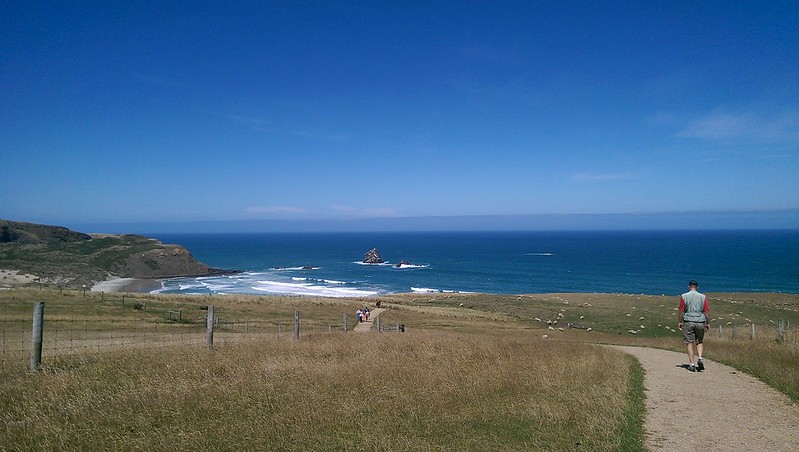 Sandfly Bay Wildlife
As stated previously, you definitely won't find many sandflies. What you will most probably come across, will be New Zealand fur seals and New Zealand sea lions. These guys are often found resting on the beach. But do keep your distance – they will be faster than you think – and can be dangerous if their escape route is blocked. These guys rule and those bull males are quite a confronting sight as they emerge from the surf.  But once they have burrowed into the sand, they will settle in for a well earned sleep.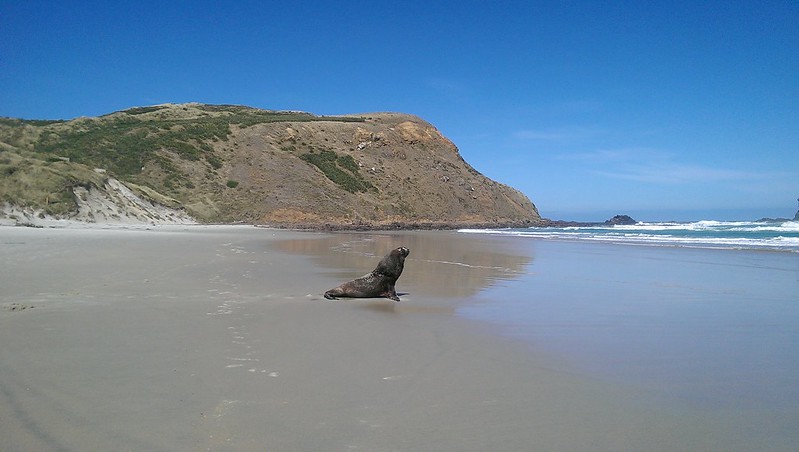 No doubt about it, once you are down on the beach, you'll want to kick of your shoes and feel the sand between your toes.  Take a stroll right to the end, and luxuriate in the most tranquil of spaces.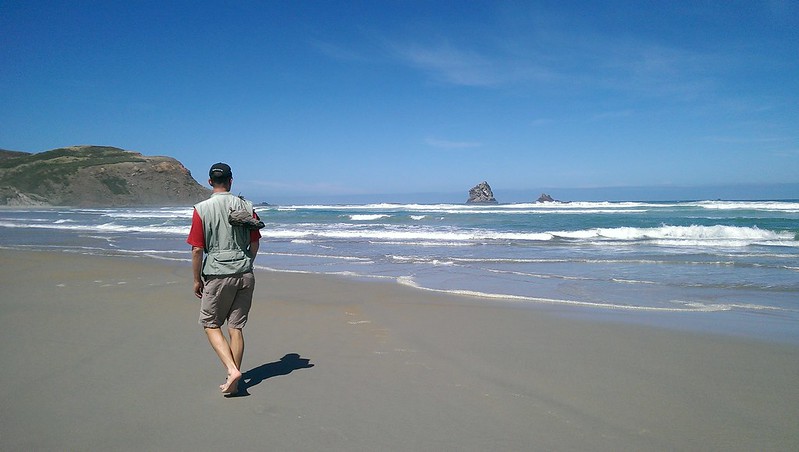 Summary
There are few places in New Zealand that have both beautiful beaches and a dramatic cliff coastline. Dunedin has both! The Dunedin Tunnel Beach walking track is accessed from St Clair and has the most fantastic sculptured limestone cliffs. And Sandfly Bay is surrounded by golden sand dunes, cliffs and frothing surf. In fact, everywhere you go, you are bound to come across some of New Zealand's most magnificent wildlife.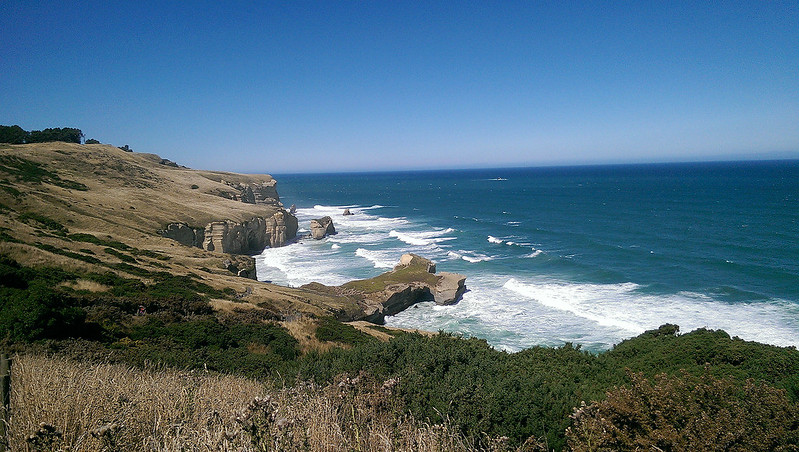 If you are short on time, the Dunedin Tunnel Beach and Sandfly Bay walking tracks are perfect.  If you go at a steady pace, it will take you about one hour. The views are just sublime and walks are great for your fitness. If you base yourself in Dunedin for a few days, you will quickly discover that this city has many charms. However, you will find that the surrounds are absolutely awesome. The beaches and the wildlife here are a magnet for nature lovers and hikers.
Happy Travelling in and around Dunedin!