When travelling for longer periods, selecting the right accommodation is crucial. A lot of travellers prefer the independence of self-contained Holiday Apartments – this means that they can prepare their own meals and eat when they feel like it. This blog will go into detail about what holiday apartment accommodation New Zealand has to offer. Find out what facilities are included and where the best locations are. Also you will learn how to research. But if you like, why not dig deeper –  read up on other types of accommodation options in New Zealand.
Holiday Apartment Accommodation New Zealand Options
First of all, as a traveller you will get a wide variety of accommodation in New Zealand.  Many of us like to stay in different types of properties.  This means upmarket B & B's, luxury boutique lodges, vineyard cottages, hotels and of course apartments. The good thing thing about apartments & cottages, is that they are self-contained – you will be able to have full independence. Not only will you get spectacular views, but many are these are centrally located. Like most things, there is downside to apartment accommodation. If you choose a large apartment complex, you might find that the noise level is an issue. Many of us have experienced apartments where the walls are 'paper thin'. Also, bear in mind that in New Zealand, we often build with wooden frames! But waking up to the most spectacular views is a luxury for many travellers.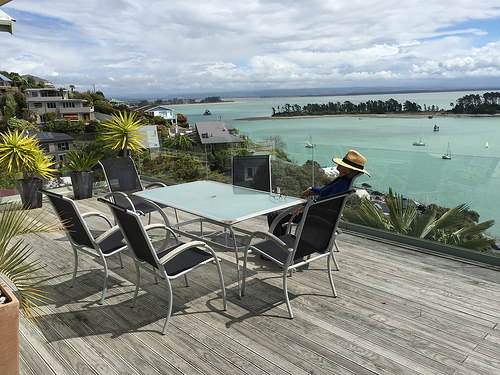 Cottage Accommodation in New Zealand
The cool part with country style cottages is that they are often private and totally secluded. A great example is The Old School House at Kina Beach (see photo below). You will be surrounded by vine grapes in a tranquil environment. Kitchen facilities are pretty much standard in cottages and include the basics – a micro wave oven, eating utensils and a pot or two.  With cottages, you probably won't be that close to shops or restaurants. But honeymooners especially just want to whip up a simple meal or platter and enjoy their intimacy. Read more on how to plan the perfect honeymoon.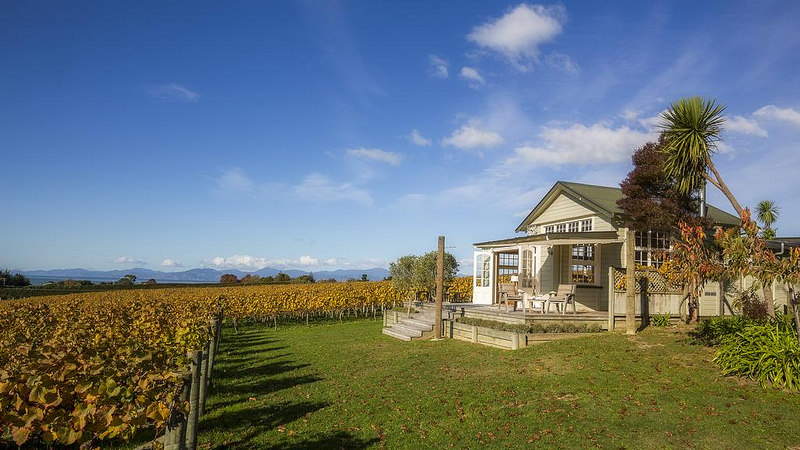 Classic Apartment style in major cities
If you are staying in major cities such as Auckland, Wellington or Christchurch, your cottage options will be limited. City apartments are usually 'investment properties', which are either run by major hotel chains or privately owned through online platforms such as AirBB or Booking.com. Most probably, you will not meet the actual hosts. Instead, you will be given a 'electronic key code' to self-check-in. With hotel apartments, you may get a reception area to check-in. In a city such as Auckland, what could be nicer than having an inner-city apartment overlooking the harbour. This is a very central location and that means you can walk everywhere to see local sights, restaurants and the nearby ferry terminal.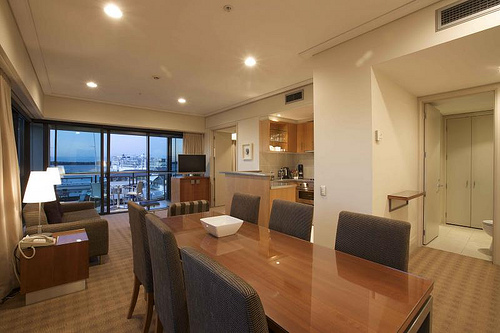 Luxury Retreats with stunning views and locations
Another level up, are luxury retreats. These retreats are generally larger with 4-5 bedrooms, a full kitchen and multiple bathrooms. The outdoor living areas are gorgeous! In fact these luxury apartments always have stunning sea or valley views. They are a great option for extended families over a longer period of time. Of course, their prices are higher, but when you gather a group of 6-8 persons, it does become value for money. Stand-alone luxury retreats provide very attractive stay-in options – you simply can't go wrong if you have a separate gourmet kitchen. What could be nicer than having access to a sophisticated coffee and bread-making machine.  You'll also get a great choice of top quality pots, pans china and cutlery. And let's not forget how convenient it is to have a wall-mounted oven with a full gas hob.

New Zealand Accommodation – what does "self-contained" really mean?
For most of us, "self-contained" means being about to sleep in to whatever time you want. It also means not having to come down to breakfast with 'bed hair' or having to converse with other travellers while you are having breakfast. A quiet breakfast with just the one you love is a very gentle way of starting a new and exciting day of travel!
What locations are the best and how to select?
The answer to this question depends on your interests and the amount of time you have available. I generally recommend that you stay longer in each location to appreciate the region you are visiting. New Zealand is such a diverse country with many changing landscapes – therefore, it is such a great idea to mix and match your accommodation. So if you are staying say 1-2 nights in central Auckland, a hotel or apartment will probably work best for you. If you are on a honeymoon and crave privacy, a vineyard cottage for three nights will be perfect! So, before booking any accommodation, first, select your locations carefully. See handy travel hints for New Zealand.
How to decide and book apartment or cottage accommodation
So by now, you have carefully chosen your locations. . Its time to start talking about selecting the right accommodation. We all know websites can be misleading. The photos are lovely and the locations look perfect. But no one is going to tell you about the heavy truck traffic going pass your bedroom window or the paper-thin walls! There are many online reservation platforms around, such as AirBB, Booking.com and so on. Obviously all the reviews and recommendations you are reading online will provide some sort of indication, but will these reviews really guarantee that '5-star' experience? I strongly suggest that you get in touch with a respected travel agent or even the hosts directly. By talking to a real person, you will get a pretty idea of who and what you are dealing with. It is such a good idea to simply pick up the phone and have a chat to someone. In the age of Whatsapp and Skype, it will cost you nothing to do this simple piece of research! Click & book is easy, but you will not always get what you bargain on. Read more on why to use a local agent.
Summary on Holiday Apartment accommodation New Zealand
1. Consider what locations you want to stay in and and why? 2. How much time to you want to stay at each place? and 3. What is the best accommodation type for this location and length of stay? The rest on your accommodation research will really flow from these simple 3 key points. View on how to plan your perfect holiday.
When selecting apartment style accommodation in cities, be aware that not everyone shows consideration to their neighbour. The last thing you want is having to deal with constant door slamming. And no one wants to cope with having to listen to late-night drunken conversations on the balcony next door. If you are sensitive to noise, then you might want to consider staying in a standalone cottage, retreat or villa.
Spice up your stay and experience a variety of accommodation options while travelling New Zealand. Make sure you have some contact with 'locals' and experience life through their eyes. So, you might finish up a night of two in an inner city apartment, then two or three nights at a vineyard cottage and then a few nights at some local B&Bs or boutique lodge. There are some really 'cool places' to stay in New Zealand – sample PurePods – so make the most of it while in NZ!
Helpful New Zealand travel links
Happy travelling throughout New Zealand!