We all know that New Zealand is home to more than its fair share of weekend getaway destinations. Visitors to these shores really are spoiled for choice! But if you are travelling through the South Island, Hanmer Springs is really one to put on the books if you want to get a little pampering and relaxation. If you're wanting to break up your road trip and unwind for a few days, this is one of the best places to do it.
Hanmer Springs – the mountain vista
Hanmer Springs is a small alpine spa town located 133km north of Christchurch in the South Island. With it only being a 90-minute drive from the city, it has long been a popular getaway spot for locals and travellers alike in the region. If you are spending some time in the area, spending a couple of days in Hanmer is a great way to add some variety to your trip!
With its extensive pine forests and fresh mountain air, Hanmer Springs really does have a touch of Western Canada or Colorado about it. In the same way, it also has something to offer during every season of the year. Whether you want to sit in the hot springs surrounded by snow or ski at the nearby club field, or go mountain biking or hiking during the warmer months,  Hanmer caters to both! This makes it a fantastic destination if you are travelling in the off-season, as it's also well-suited to every kind of holiday. If you are wanting the old-fashioned New Zealand adrenaline rush, you will find those activities here in spades. And with the extensive hot springs and pools complex and a wide variety of accommodation options, Hanmer Springs is also fantastic for those travelling with children.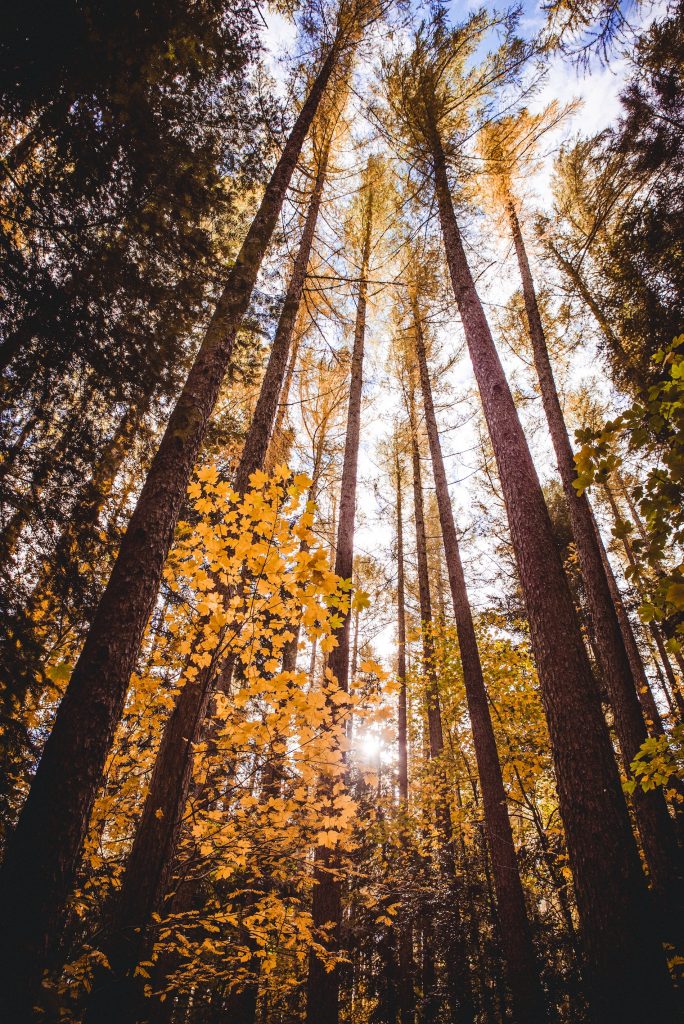 As we've already mentioned, Hanmer Springs has a lot to offer for a town of its size. Not all its attractions and activities can be done in two days, but you can still achieve a lot in that time.
Hanmer Springs – hot pools and spa
The Hanmer Springs Hot Pools has always a big hit with visitors. The town first became a tourist destination right back in the 1870s when the natural hot springs were first discovered, as at the time it was believed that bathing was very good for your health. Back then, only a changing shed and some steps were provided! Today the complex is considerably more developed, with multiple pools of different temperatures, as well as regular swimming pools, a lazy river and waterslides. But we'll be splashing out in a different way at The Spa at Hanmer Springs. Choose a spa treat, make a booking, and sign in for relaxation!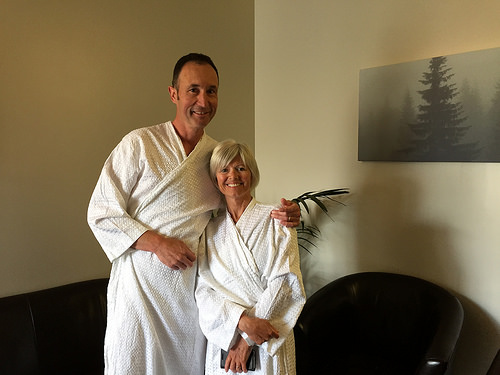 The spa experience is not about resolving complex muscular problems. That sort of treatment requires a specialist massage therapist either at a sports clinic or private Massage clinic. This spa provides a variety of quality luxurious body treatments where you'll be pampered and treated like Kings and Queens. Meet the 'Royal Couple'!
I can totally recommend the Alpine Aqua Body Experience. It involves being scrubbed with a brown sugar solution mixed with lavender and other nourishing oils. Initially it's mildly uncomfortable, but your body soon adjusts.  After a quick shower, it's back on the table for a blissful massage with a hydrating body butter rub! Afterwards, your skin feels oh so soft. The staff are very respectful and whisk the towels around with great skill. Afterwards, I felt like a new woman!
Hanmer Springs – forest walks and mountain biking
The forest walks around Hanmer are beautiful, and very close to most of the accommodations. The wide tracks make it very attractive for walks and bike rides. The forest is home to imported Birch, Oaks, Cypress and Californian Pine trees, which make for a gorgeous setting. If you are in the mood for a real workout, try the Conical Hill walk – it's a steep climb up, but the views at the top over the town and surrounding area are spectacular.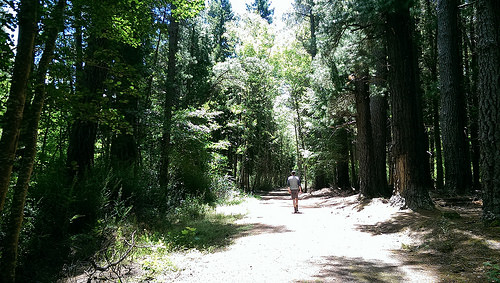 The mountain-bike tracks around here are well-defined and with a variety of grades to suit all fitness levels. Long morning walks breathing in the pure Alpine air is so invigorating. The bellbirds also help to provide nature's sweet music!

Hanmer Springs – Accommodation
We understand that not all of our international travellers want to pay $500 plus per night for accommodation. One of the best things about Hanmer for visitors is that it caters to every budget level, from backpackers right up to fancy hotels. We think that the Settlers Motel in Hanmer Springs is a great mid-level option. The units are scrupulously clean and the interiors have interesting architecture. It's also reassuring to have the owners on-site. Alan and Sally have the local knowledge and we trust their recommendations. On arrival, Alan escorts each guest to their unit – a nice touch!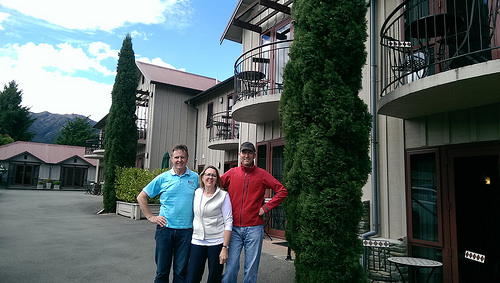 Although centrally located, the Settlers motel is just enough out of the township 'hub' to ensure a quiet night's sleep. The units upstairs have their own balconies, and the large skylight in the bedroom gives a view of the trees by day and romantic stargazing at night!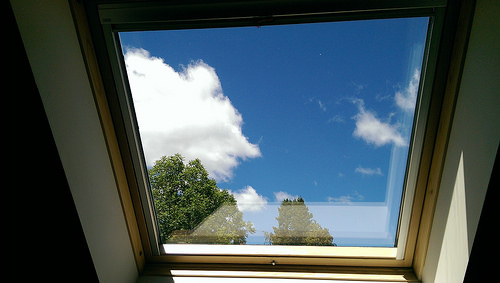 Hanmer Springs – cafes and restaurants
If you're a visitor, finding a good café with great coffee can be a bit of a hit and miss affair. Alan recommended the Powerhouse Café and we'll be eternally grateful to him: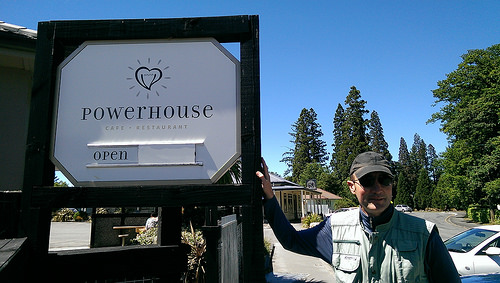 The coffee is hot and flavoursome, the cabinet is full of beautiful artisan baking and there's plenty of gluten-free options for me. I had the Coconut and Lemon Slice – so buttery with a fresh tangy lemon taste. I highly recommend!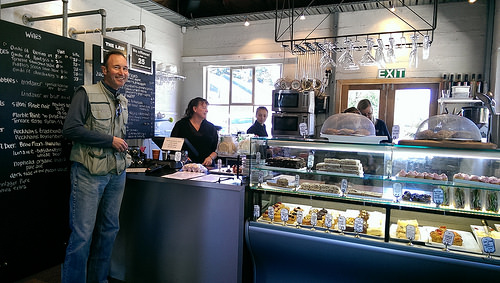 Sometimes, travelling and working on the road has its challenges. We're usually out for a good part of the day, either on tours or meeting operators. Often, we are working on our business until very late at night. When it's time to relax, we really appreciate quality food and good service from wait staff. Restaurant 31 is Hanmer's pride and joy, and a must-visit if you are wanting some fine dining. Time to put the cellphone away, Michael!
The chef at Restaurant 31 is known from his days at The Old Post Office Restaurant. His reputation is solid but his wait staff also deserve the accolades. When our dessert arrived late, the staff apologised profusely and offered complimentary tea and coffees. Speaking of dessert…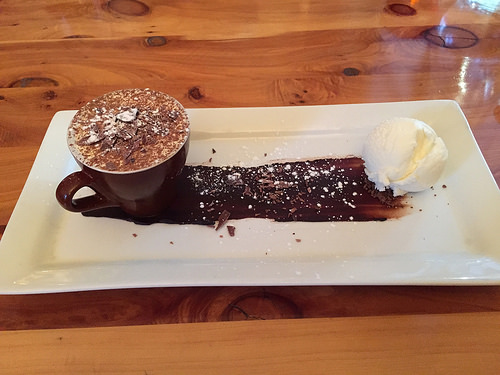 We awoke in the morning to snow on the mountains and hills – the weather's turned crazy! But this beautiful little Alpine town looks good in any weather, and the greens of the forest really 'pop' when it's wet. It's truly magical when you're sitting in the hot pools with gentle snowflakes floating around you! We only had two days here and there's so much more to experience, but what a great taster – another lovely memory to store away!
How to get there
From Christchurch, you can easily reach Hanmer Springs by taking State Highway 1 north, then turning off onto State Highway 7 at Waipara. Hanmer Springs also makes for a great stopover if you are driving east over the Lewis Pass from the West Coast.
Happy travelling!