No matter how many small towns you travel to in NZ, you will never find one quite like Akaroa. There's its stunning location, nestled into a deep harbour on the Banks Peninsula. It has incredible wildlife encounters, where dolphins can be spotted just metres away from the shore. Most of all, there's Akaroa's unique colonial history which is still on display today. Only a 90-minute drive from the city of Christchurch, this is a day or overnight trip you should definitely fit into your itinerary!

The Beauty of the Banks Peninsula
The Banks Peninsula is a region that is packed with natural beauty. The Peninsula was formed from two colossal volcanoes which exploded millions of years ago, forming the sunken mass of bays and harbours. To the local Maori, Banks Peninsula was and still is known as Te Pataka o Rakaihautu (The Storehouse of Rakaihautu) after the chief who bought the first people down from the North Island to colonise the region. This name is also in recognition of its abundance of seafood and birdlife, which made it an extremely plentiful area. Ngai Tahu continues to have extremely strong ties to this area. You will see many traditional Marae (meeting houses) in the different bays.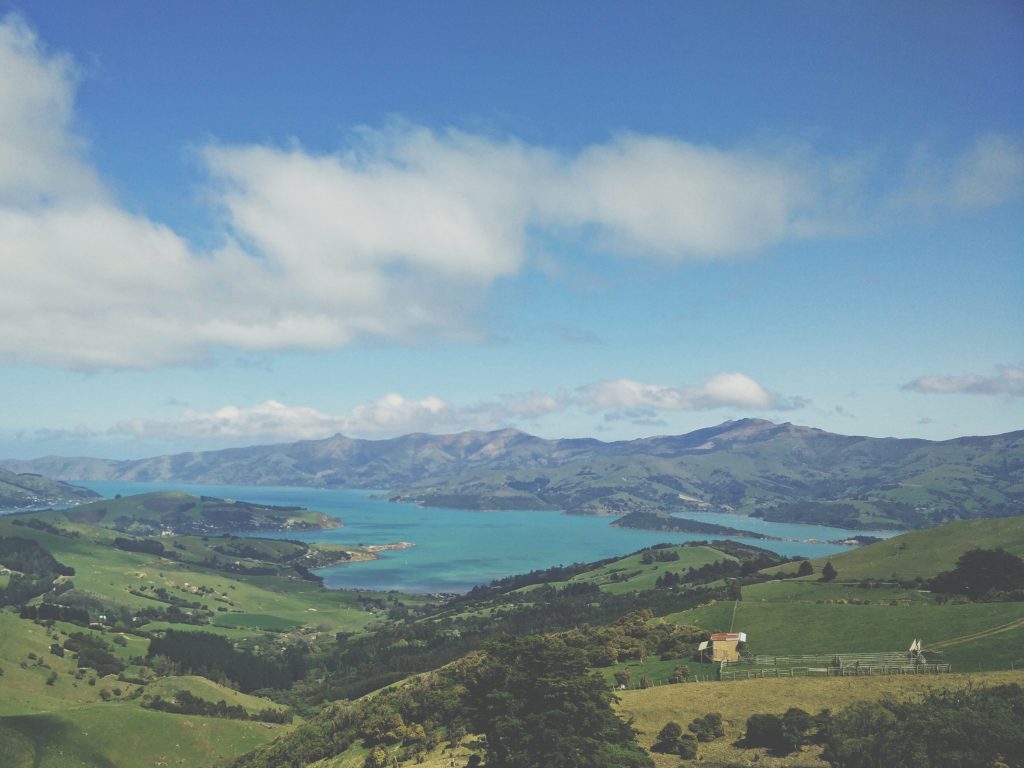 Akaroa – New Zealand's French enclave
This is where French history kicks in! As you probably know, New Zealand was first colonized by the British in the early 19th century. This culminated in the Treaty of Waitangi between the Maori tribes and the British Crown in 1840. But before this, the British had virtually no presence in the South Island and it remained quite literally up for grabs. In 1838, a French Captain named Jean François Langlois bought the area of Akaroa from Ngai Tahu with the goal of setting up a French colony, with the deep harbour being especially desirable for mooring ships.
Langlois and a group of 63 colonists departed for New Zealand in March 1840. This alarmed the British, who believed that their rivals were using the South Island as a platform to invade the North Island. The British hurriedly set up a colony in Akaroa, to the dismay of the French when they arrived!
However, they agreed to settle in Akaroa under British rule, though the town took on a decidedly French flavour which remains to this day. In Akaroa, you shall see French place names, French flags, eating places and architecture across the town. Many residents are even the descendants of those original French settlers! With this history, there is nowhere quite like Akaroa elsewhere in New Zealand.
Visiting Akaroa
Whether you only have a day free or are planning a multi-day trip, Akaroa is a fantastic destination for every occasion. As well as weekend getaways, it has long been a favourite in New Zealand for weddings, Honeymoons and anniversaries due to its picturesque setting and slow pace. With so much to offer, New Zealand holidays can easily become heavily scheduled and about hopping frantically from place to place. If you have been busy on your travels with back-to-back activities, Akaroa offers the perfect place to take a breather and relax. Whether you want to be out hiking the hills or just wandering around the town, you will find plenty to fill your time!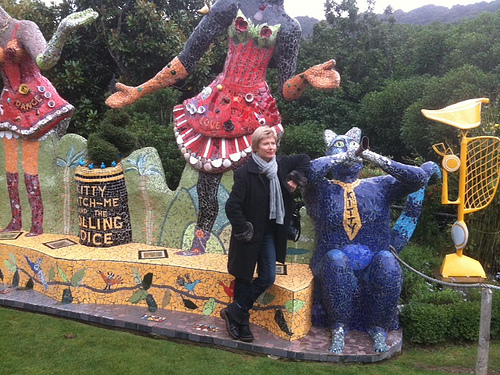 The Giant's House
One place you should absolutely stop by is the Giant's House. It's an achingly gorgeous garden – and a mammoth task for just one person to maintain! Josie Martin, the owner and an Akaroa local, is an accomplished artist and sculptor. Her giant mosaic sculptures are organic with a fantasy element – quirky, colorful and beautiful! Even after walking around the property twice, we still couldn't do it justice. The best part? This is also a Bed & Breakfast, with beautiful, quirky rooms to match! This attraction is well worth the $20 entrance fee and there's nothing else like it in New Zealand. You have to see it – promise me!
Akaroa – Accommodation
We'd finally reached the stage, as we do every year, where we wanted to treat ourselves to a premium experience. We arrived at Maison de la Mer and noted that our names have been written on the 'Welcome' blackboard (isn't it lovely to be expected?) The owners, Bruce & Carol Hyland, are ready to greet us. What a beautiful property! It looks fabulous on the website, but is even more scrumptious in reality. It's elegant, French, with beautiful displays of china and antiques. It was lovely to enter our warm suite and hear soothing music being played on the stereo – with my favourite long-stemmed white roses in a vase by the bedside! Since September 2010 and February 2011. our nerves have been a little jangled. Carol will never know how much those white roses mean to me!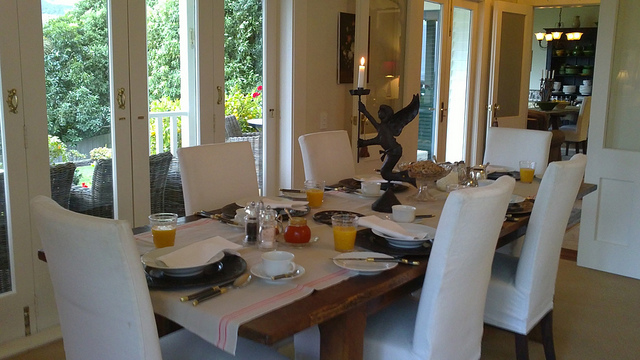 We're really enjoying spending time with the other two couples staying here. It's not exactly a chore to spend an hour in the evening chatting over drinks and nibbles. Well, "nibbles" doesn't exactly describe it. Think weeping blue vein cheese, figs, homemade guacamole dip, and wafer-thin cheese rounds still warm from the oven! The breakfasts here are an event – served on a long French oak table laden with unusual but tasteful cutlery and plates, and a tall candle flickering in the centrepiece. Beautiful!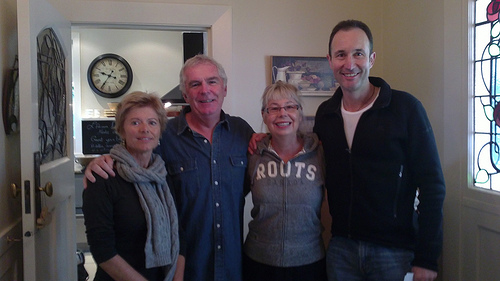 How to get to Akaroa
In driving to Akaroa from Christchurch, you have two options depending on your schedule. The most direct way is to take State Highway 75 south across the middle of the Peninsula. This will only take you 90 minutes, so we highly recommend stopping at the Little River Cafe and Gallery. The food is fantastic, and it's a great place to look for souvenirs by local artists!
If you feel like taking the scenic route as a half-day drive, you also have the option of driving from Lyttleton round the coast to Diamond Harbor, which has some spectacular sea views. You then take the Purau Port Levy Road inland from Purau to Pigeon Bay, and join the Summit Road down to Akaroa. This gives you a fantastic tour of the geography of the Peninsula and its bays. There are plenty of amazing photo opportunities! This will takes you around 3 hours in total.
Driving tips
The road from Purau to Pigeon bay is unpaved and very narrow, and so isn't suitable for most campervans. It's also worth noting that insurance for campervan rentals rarely covers incidents that take place on unpaved roads. It's really not worth the risk, considering that this could put a major dent in your holiday plans!
Be warned. In either route, the roads are extremely windy with many hairpin bends. If you aren't used to this kind of driving, you really need to take your time! The 75 also tends to be very busy during the summer months, and especially at the weekend. It's quite likely that you will end up with an impatient local driving close behind you, as they often get frustrated by 'tourist' drivers. In these cases, the best thing you can do is to not feel pressured to speed up and move into the slow lane when possible.
Akaroa and the Banks Peninsula is a beautiful and unique part of this country- you won't regret visiting!
Happy travelling!