Yes, Christchurch is slowly recovering and yes, it still is the perfect base for visiting Hanmer, Kaikoura and the beautiful fishing town of AKAROA. This blog is about a great small group day tour to Akaroa:
Discovery Day Tours from Christchurch to Akaroa:
Leaving central Christchurch, we travelled the scenic route to Akaroa, over the Port Hills, via Sign of the Kiwi, Governors Bay, through Gebbies Pass, alongside Lake Forsyth. First stop at Little River at the iconic Little River Store, café and gallery.  The abundance of food on display will have you ordering probably more than you need. And even though there's a bit of a queue at times, the service is fast!
The next stop was at a forest reserve area with a giant Mitai (Black Pine) tree. The guide talked about New Zealand unique nature, forest and birdlife- a great way for travellers to be introduced to the delights of New Zealand nature. Then, a relaxing ride down the curvy road into the bays before reaching the village of Akaroa.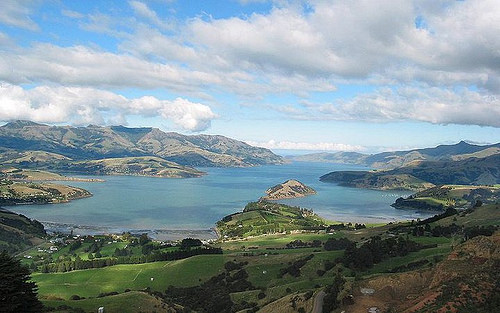 Lots of French history attached to this pretty little village. Akaroa is also the starting point for the Black Cat Wildlife Cruise where you can also opt to swim with the Dolphins. On a calm day it's a pure oxygen experience for nature lovers, especially if your swimming mates have fins!.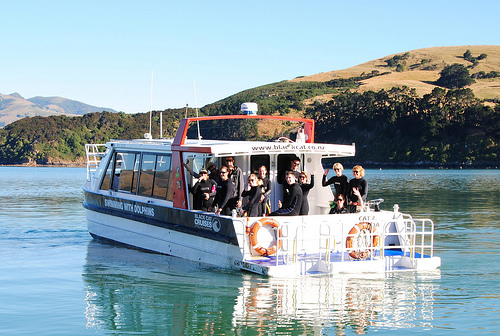 These playful dolphins leap in the air right next to the vessel. You'll pass seals sunbathing on the rocks and view the numerous sea birds cruising the skies. There's also a lot of history in respect of the Maoris and the early explorers of New Zealand in the 1800's.
After the cruise we made our way back towards Christchurch with a stop at Barry's Bay Cheese factory for a cheese tasting and even though some people prefer to keep their wallets firmly in their pockets, I'm not one of them…not when it comes to cheese. This was our choice: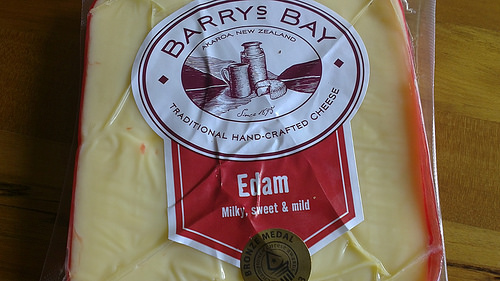 Join day tours from Christchurch to Akaroa with a local operator – with small group numbers – for a great relaxing exploration of Canterbury and Banks Peninsula.