Kerikeri in the Bay of Islands is a place most of us would definitely revisit if given the chance. Today we discovered more Kerikeri accommodation options – Paihia Dolphin Encounter and a challenging walk to Haruru Falls. Some cottage stays we've experienced, set the standard for all others. If you can imagine being immersed in a beautiful rural setting, you can understand why this cottage is called Peace & Tranquility Cottage.
Cottage Stay in Kerikeri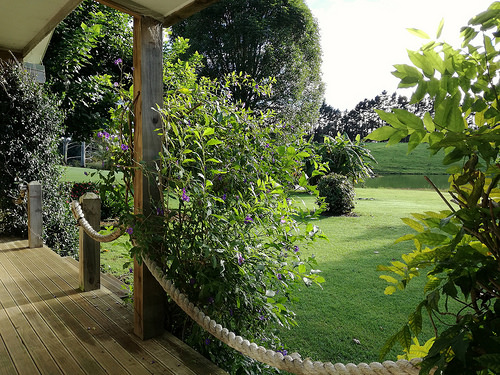 Its a rare thing to have the use of your own private lake and rowboat. The morning activity of Paradise ducks and graceful black swans create quite a spectacle here. We're at the tail end of Autumn, yet there is still plenty of colour in the garden. View some sample New Zealand travel itineraries.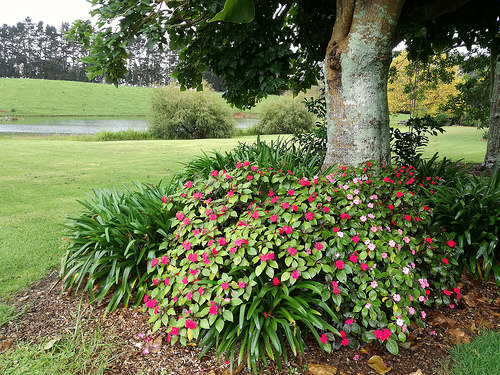 I'm so impressed with the generosity of the Kerikeri locals. These cottage owners supplied us with freshly laid eggs, Kiwi Fruit and mandarins. I'm always touched when accommodations add special touches to their havens of rest.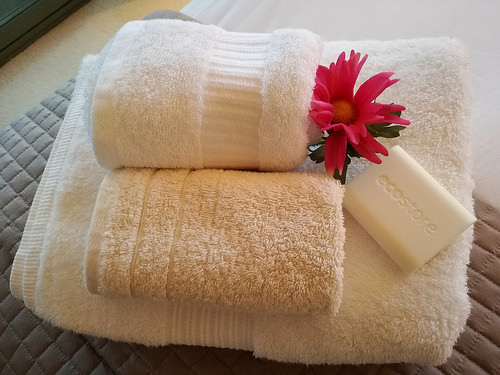 To get a general idea view example holiday itineraries from Guest NZ…

Self-contained Lux Accommodation Kerikeri
We're very excited by our latest find on the peninsula between the Kerikeri Inlet and Te Puna Inlet. Harakeke Gardens Guesthouse is a self-contained luxury villa owned by artist, Jan Stevenson. Best described as a couples retreat, its a great base for exploring the Bay of Islands. And nothing could be finer than coming back to this special level of style and comfort.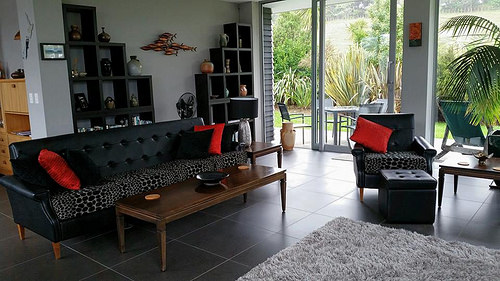 Jan is not afraid of using colour and I think her artwork is very special. What a great base for exploring Kerikeri!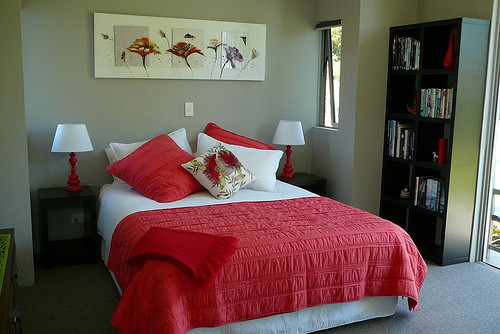 Now just further down the road from Harakeke Gardens Guesthouse is Opito Bay. This is a lovely underpopulated spot to have a picnic lunch and just simply chill for a while.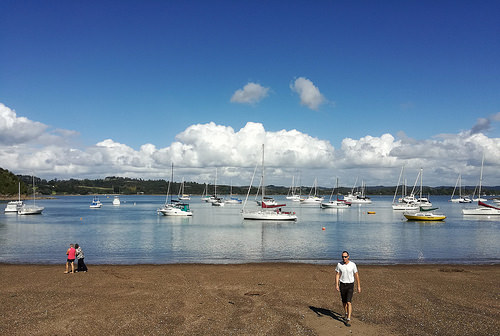 Kerikeri accommodation options – Paihia Dolphin Encounter
But time is marching on and we have an appointment with a couple of friendly bottle-nose dolphins.
The journey from the Paihia wharf is fairly uneventful. It's just simply nice being out on a boat for a while.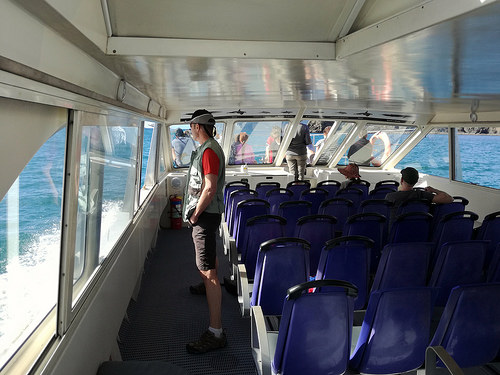 Dolphins work to their own schedule and sometimes you won't get to see any. But when you do, there's a fluttering of hearts – these boys are big and they're curious!
There are a number of things to keep in mind. Do avoid touching the dolphins while you're swimming with them.  Bacteria can be passed from your hands. Once you're in the water, make as much underwater noise as possible.  Flap your arms and legs around. These guys love a good time and are attracted to party animals.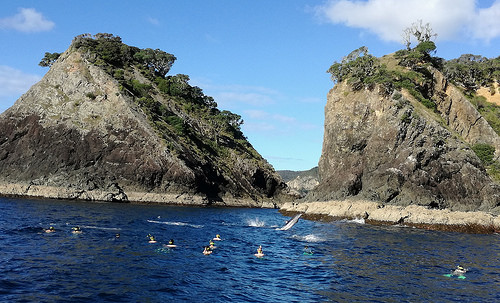 Don't be offended if they don't hang around for long.  We humans can be a boring lot.
Happy Travelling in the Bay of Islands!