Abel Tasman National Park is one of the smallest reserves in New Zealand, but by far one of the most spectacular. Its white sand beaches and rich rainforest take pride of place in New Zealand tourism campaigns. As a result, the park is anchored onto the itinerary of most visitors to these shores. The next task is to work out the best way to plan your visit. Abel Tasman is distinct from New Zealand's other national parks in that you will need to catch internal transportation around the park – in the form of water taxis! This does mean that you will have to plan your Abel Tasman day trips carefully, but we are here to help you with that!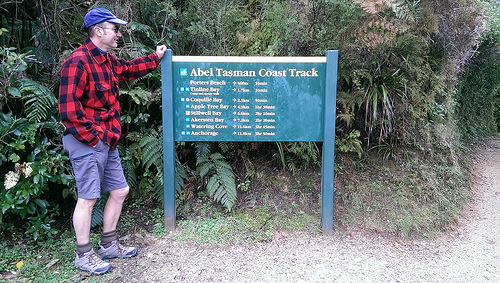 Abel Tasman Day Trips – The National Park
Abel Tasman National Park covers the shores of the north-western tip of the South Island between Nelson and Golden Bay. It might only cover 237 km, but it sure packs a lot in! You have stunning beaches, coastal tracks to suit all fitness levels, and fantastic kayaking tours. It also has a very significant role to play in New Zealand history. The region is named for the famous Dutch explorer Abel Tasman, who become the first European to sight New Zealand in 1642, and moored this ship at Golden Bay. However, they never made landfall due to being scared off by the local Maori. Although the Dutch never actually colonised New Zealand, this interaction made its mark. The very name 'New Zealand' is named for the Dutch province of 'Zeeland' – most travellers aren't aware of this piece of history!
How to get there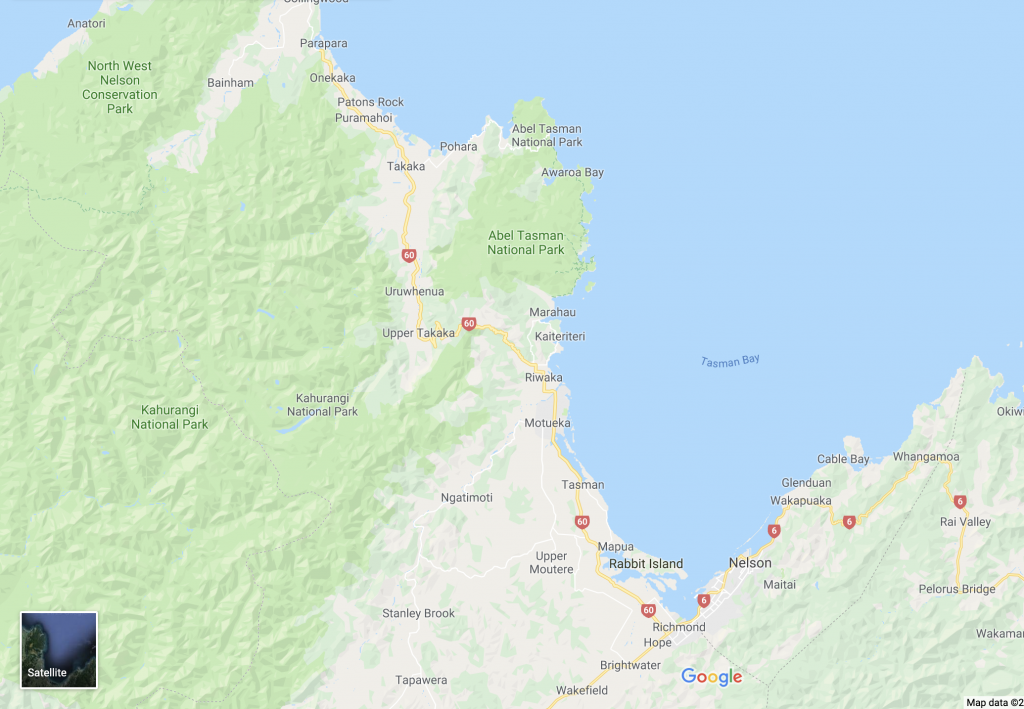 Most visitors to Abel Tasman National Park arrive from Nelson using State Highway 60, which takes around an hour. It is worth taking your time here for two reasons. It's a really stunning road, but also not the highest quality. It's pretty rutted in places, especially around Takaka Hill, so you'll want to drive carefully.
The main starting point for most travellers is Kaiteriteri Beach or Marahau Beach. Both of which are located at the southern end of the park. (There's also the lesser-used access from Totaranui/ Takaka from the northern part.) You can view a location map here.
You can easily reach the Nelson-Tasman region with a domestic flight from the North Island or South Island. For travellers who want to "chill" during their New Zealand holiday, the Abel Tasman region is the perfect spot!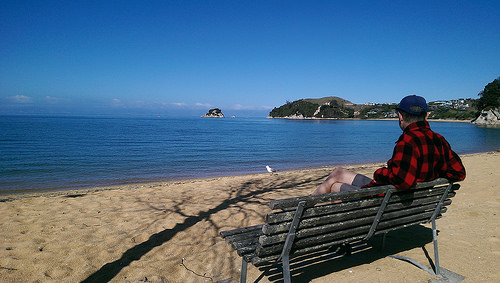 Places to stay whilst visiting Abel Tasman National Park
Nelson
Many travellers will make Nelson their base to explore the Tasman region. Nelson itself has a lot to offer as a destination – a growing food culture, a great arts and crafts culture, and nature offerings in its own right. As one of the sunniest cities in New Zealand, it's a fantastic place to stay all year-round. We definitely recommend checking out the fantastic day walks in the area!
Bronte – Ruby Bay – Motueka
These towns are located between Nelson and the Abel Tasman Park. Vineyards and fruit orchards make this one of the most scenic landscapes of New Zealand! You'll also find lovely waterfront galleries and craft shops, bushwalks and cycling opportunities. Accommodation here is much more unique and varied, with lovely vineyard cottages and B&Bs such as Pine Hill Lodge. It's only a 30 min drive to the Abel Tasman day trips or back to Nelson, so it puts you in a great position to explore.
Kaiteriteri + Marahau
This is just a stone's throw from the Park entrance. Kaiteriteri is a holiday town best known for its spectacular beaches, but be warned: It's a very popular holiday spot during the summer for locals! New Zealanders converge on the area from all over the South Island over the Christmas Holidays, turning it into a bit of a madhouse. To secure accommodation during the summer months, you need to book as much as a year in advance. This is something you need to factor into your holiday plans if you are visiting at this time of year. Travellers do have a pretty good choice of accommodation, including B&B's, apartments and motels. However, there is a very limited choice of restaurants and general facilities.
Abel Tasman Day Trips: How to Choose
Unguided Walks – The best way to manage your own day trip is to take a water taxi to one of the bays along the coastline. A very popular day trip is to go from Kaiteriteri Beach with a water taxi at 9.15am or 10.30am to Bark Bay. From here, you can walk to Anchorage Bay in 4 hours (about 10 kms)  and then take the water taxi back to Kaiteriteri at 3.45pm or 4.45pm. For a longer hike, go further north to Awaroa and walk back to Tonga or Bark Bay. Either way, the water taxi is your best friend! You can find a list of water taxi services here.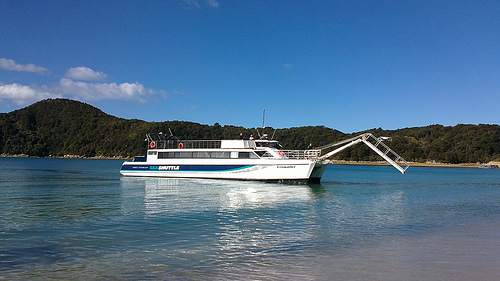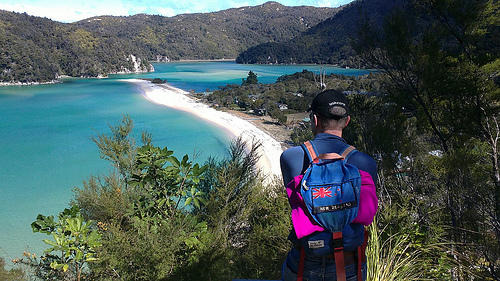 Guided Kayaking and Walks -Kayaking in Abel Tasman National Park really is the stuff of legend. It's an experience that really shouldn't be missed. Start from Kaiteriteri or Marahau with a local sea kayaking company, either for half or a full day. If you have a good level of fitness, I'd recommend a guided kayaking and walking trip. This will provide you with the best of both worlds! The water taxi will take you to Tonga Bay, which is part of a pristine marine reserve. Here you can start paddling in a double kayak.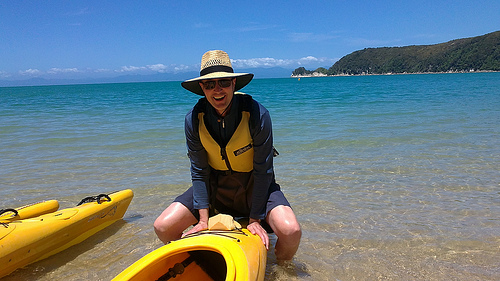 All the equipment is provided by the operator. All you need to bring is a sun hat, sunscreen, sunglasses, a bathing costume, and towel! A guided nature walk on the Abel Tasman Track is included as well as lunch. You'll return to Marahau or Kaiteriteri at 5.30pm.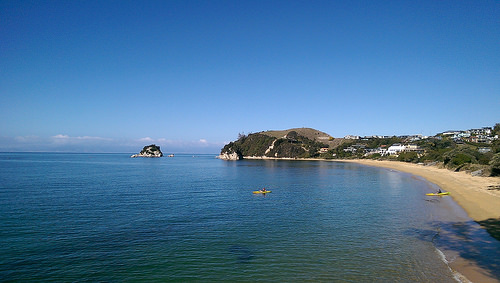 Sailing at Abel Tasman National Park – for those travellers who like a little less physical exertion, a perfect alternative is a sailing excursion with Abel Tasman Charters. It offers you another perspective to view this incredible coastline. You'll explore the little bays and beaches, go for a swim, have a paddle in a kayak, and enjoy local food and wine in style!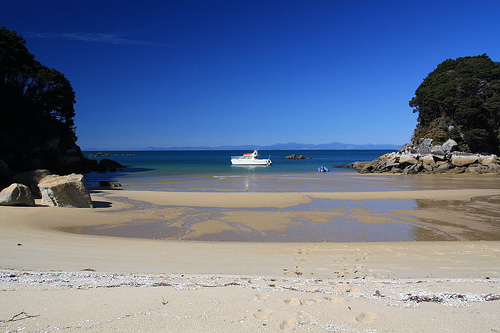 Abel Tasman Day Trips – When is the best time to visit the Abel Tasman National Park?
Given that the region is one of the warmest and sunniest in New Zealand, you can visit throughout the year. There will be less services in winter, but you're likely to have a beach to yourself! As we've already mentioned, this region is incredibly busy in the summer months. If you want fewer crowds and cheaper accommodation, it's worth considering visiting in the off-season. The Autumn in particular is a beautiful time to visit!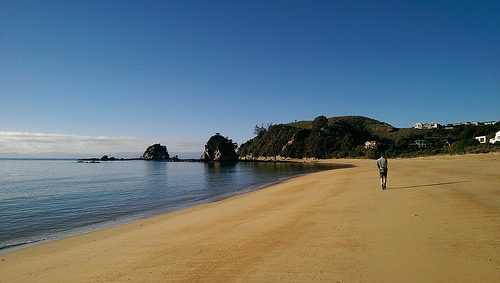 Abel Tasman Day Trips – How long do I stay in the Abel Tasman region?
I'd recommend at least two nights – three is even better! Apart from the Abel Tasman National Park, this area is a classic New Zealand lifestyle destination. There are stunning wines (including tasting tours), local arts and crafts, and other nature and wildlife excursions such as the Golden Bay and Cape Farewell (see previous blog).
For more advice on the Tasman region, check out our nature and lifestyle itineraries.
Happy travelling!