The Abel Tasman National Park is one of the smallest reserves in New Zealand and covers the shores of the north-western tip of the South Island between Nelson and Golden Bay. Some of the key reasons for exploring the park include the golden beaches, sea kayaking and fairly easy-level coastal walks.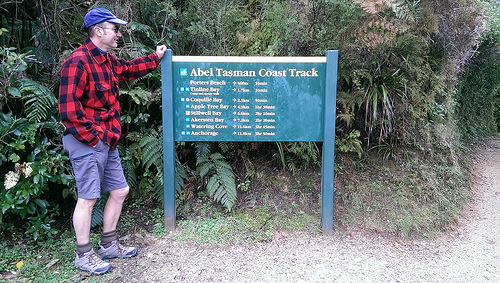 The main starting point for most travellers is Kaiteriteri Beach or Marahau Beach; both of which are located at the southern end of the park. (There's also the lesser used access from Totaranui/ Takaka from the northern part.) View a location map here.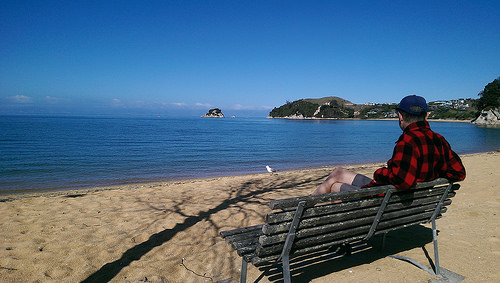 Where do I stay when exploring the Abel Tasman?
Nelson: Many travellers will make Nelson their base to explore the Tasman region. The southern park entrance is only an hour's drive away. There are also shuttle services available with hotel pick-up and drop-off ex Nelson.
Bronte – Ruby Bay – Motueka: These areas are located between Nelson and the Abel Tasman Park. Vineyards and fruit orchards make this one of the most scenic landscapes of New Zealand! If you stay here in a vineyard cottage or B&B lodge, it's only a 30 min drive to the Abel Tasman National Park or back to Nelson.
Kaiteriteri + Marahau – this is just a "stone's throw" from the Park entrance. It's generally very peaceful (except for 6 weeks over Christmas) with stunning views over the ocean. Travellers have a choice of  accommodation, including B&B's, apartments and motels. However there is a very limited choice of restaurants and general facilities (e.g. supermarket).
Abel Tasman National Park Day Trips – how to choose
Unguided Walks – start walking from Marahau Beach or take a water taxi to one of the bays along the coastline.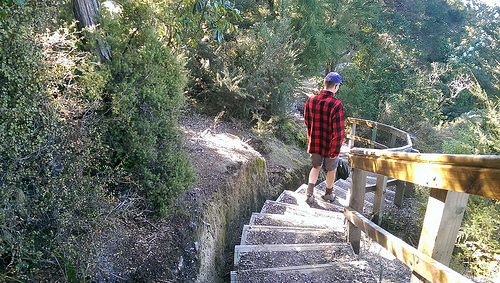 In the peak summer season (mid-October to end of April) you have 3-4 different water taxi companies going up and down the coast 4-5 times a day. In the winter it's less than half that number.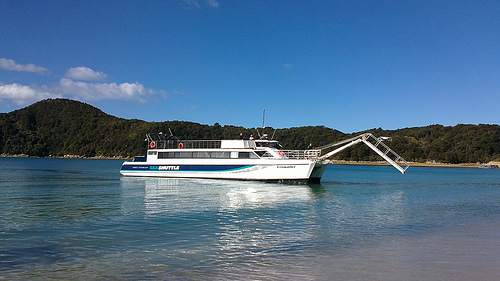 A very popular day trip is to go from Kaiteriteri with a water taxi at 9.15am or 10.30am to Bark Bay – walk to Anchorage Bay in 4 hours (about 10 kms/ 6.6 miles) – then take another water taxi back to Kaiteriteri at 3.45pm or 4.45pm. For a longer hike, go further north to Awaroa and walk to Tonga or Bark Bay. The cool part is that the water taxi is always an option to get back!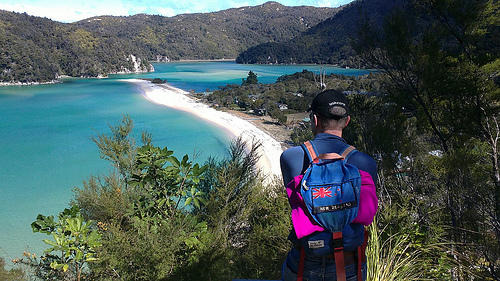 Guided Kayaking and Walks – Again, start from Kaiteriteri or Marahau with a local sea kayaking company either for half or a full day. If you have a good level of fitness, I'd recommend a guided kayaking and walking trip. This will provide you with the best of both worlds. The water taxi will take you to Tonga Bay, which is part of a marine reserve. Here you can start paddling in a double kayak.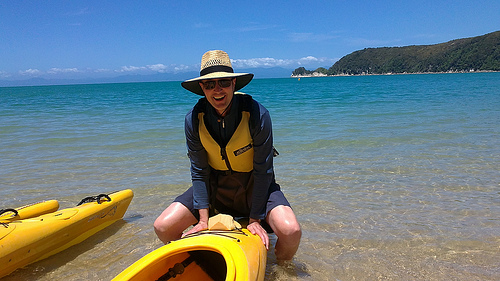 All the equipment is provided by the operator. All you need to bring is a sun head, sun block, sun glasses and a bathing costume and towel! A guided nature walk on the Abel Tasman Track is included as well as a lunch. You'll return to Marahau or Kaiteriteri at 5.30pm.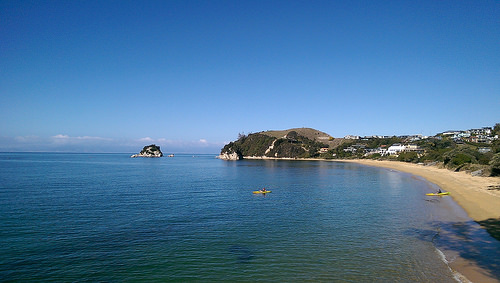 Sailing or Cruising the Abel Tasman National Park – for those travellers who like a little less physical exertion, a perfect alternative is a sailing excursion or a charter boat with Abel Tasman Charters. You'll explore the little bays and beaches, go for a swim, have a paddle in a kayak and enjoy local food and wine in style!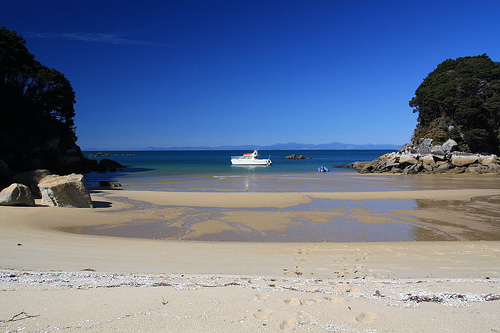 When is the best time to visit the Abel Tasman National Park?
Given that the region is one of the warmest and sunniest in New Zealand, you can visit throughout the year. There will be less services in winter, but you'll probably have a beach to yourself!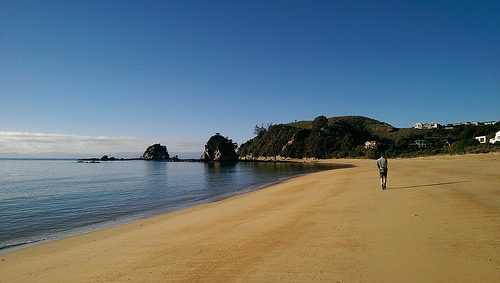 How long do I stay in the Abel Tasman region?
I'd recommend at least two nights – three even better! Apart from the Abel Tasman National Park, this area is a classic New Zealand lifestyle destination with lots of stunning wines (including tasting tours), local arts and crafts and other nature and wildlife excursions such as the Golden Bay and Cape Farewell (see previous blog).
You can easily connect the Nelson-Tasman region with a domestic flight from the North Island or other parts of the South Island. For travellers who want to "chill" during their New Zealand holiday, the Abel Tasman region is the perfect spot!
View other travel blogs on the Abel Tasman region:
Happy travelling!