As a destination, New Zealand has a wide range of offerings to suit every season. So, one of the most common questions we get from clients is this: What season should I visit in? Spoiler: it's probably not what you think. When it comes to tourism, the summer is routinely pushed as being the best time to go on holiday. After all, if there is one thing that we all wish for on vacation, it's great weather! But in the case of New Zealand, we usually recommend against this. Autumn is the ideal season to travel around New Zealand, and this post will explain why.
The Seasonal Calendar in New Zealand
When you are planning a trip to New Zealand, you need to get your head around the seasons. If you haven't visited the Southern hemisphere before, this can really throw you! Generally you can travel New Zealand at any time of the year. As long as you are prepared with the key facts. The easiest way to think about the seasons in New Zealand is that they are the total opposite of the Northern hemisphere:
Spring in NZ: September to November – weather can be changeable, often it's getting windy from October onwards, temperatures are between 15-20 degrees (celsius). Great time to travel in the 'shoulder season'.
Summer: December to February – weather is more stable, temperatures getting summery with 20-25 degrees in average. Great for water sports and outdoor activities. Peak summer season!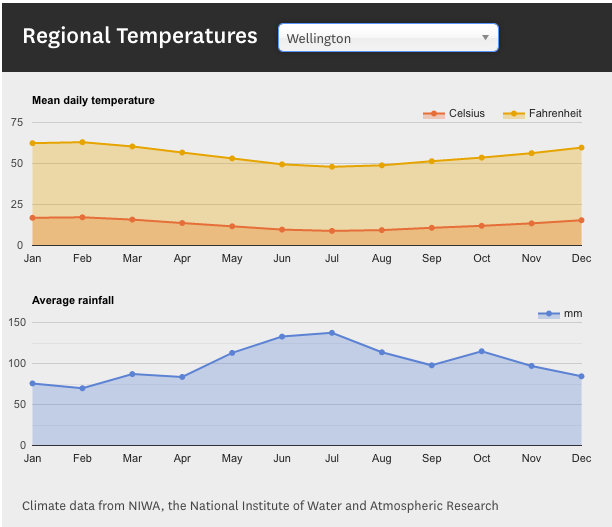 Autumn: March to May – weather is generally most settled, calm sunny days, mornings and evenings starting to get chilly, days getting shorter, temperatures 15-20 degrees. Perfect time for hiking and outdoors!
Winter: June to August – day light hours are shorter and temperatures getting below 15 degrees. This is the low season for New Zealand, unless for skiing holidays. Able to travel, but preparation needed.
The high season of tourism in New Zealand is during the summer months, whilst the winter season sees a sizable influx of skiers and snowboarders in the Queenstown area. Spring and Autumn in New Zealand are the 'shoulder seasons' as they fall in between these main peaks.
For more information on this, you can check out our dedicated seasonal guide.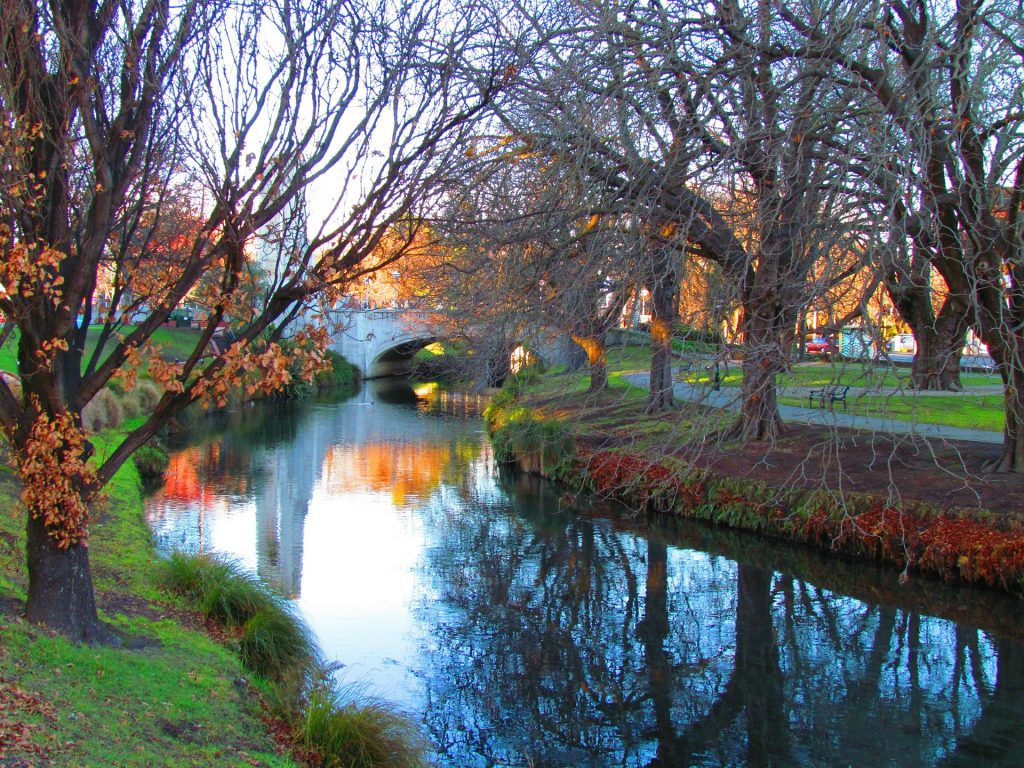 1. The Autumn is much quieter in New Zealand
Most travellers will anticipate the summer season being busy with other travellers. But a lot of people don't realise that summer in New Zealand overlaps with the long school holidays as well as Christmas. (Northern hemisphere visitors are used to associating school holidays with the June – September period, and so often don't make the connection.) This means that a lot of locals will be taking their holidays during this time as well, often with families in tow. In fact, many New Zealand workplaces completely shut from the 16-17th December (when schools usually finish) right up until the middle/end of January! (those lucky kiwis…)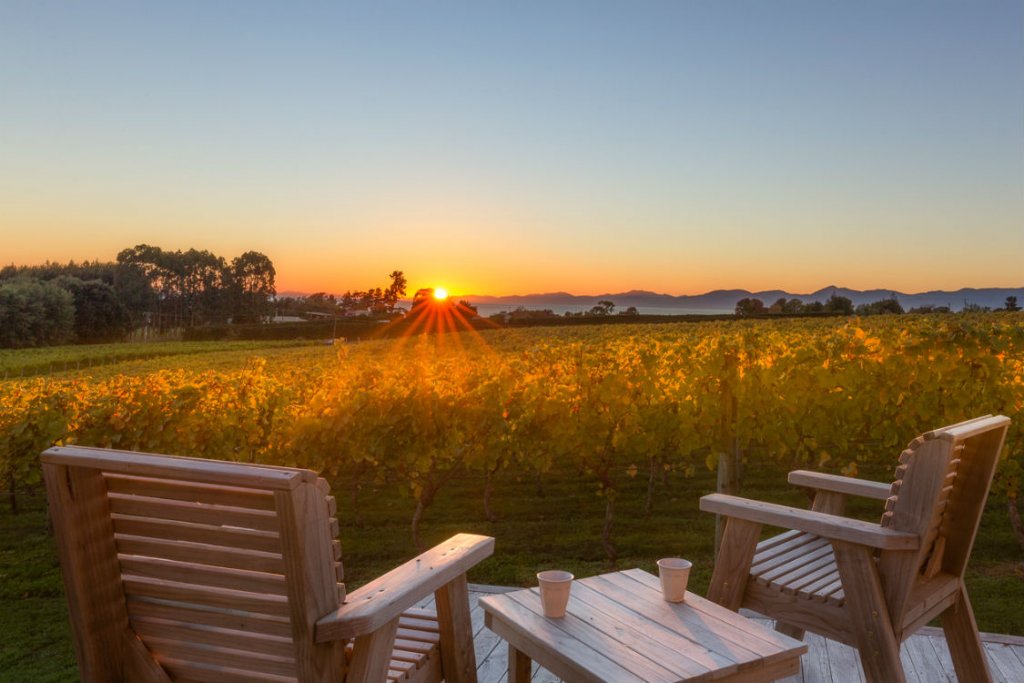 So, key tourist spots will be much more crowded, there will be more traffic on the roads, and accommodation will book up incredibly fast. In fact, for especially busy areas such as Queenstown and Fiordland, you may need to book accommodation up to a year in advance of when you are visiting. For some travellers, this might not be much of a concern. But if you are someone who really likes to get away from hustle and bustle during their travels, this will be much more difficult during the summer.
Visiting New Zealand during the Autumn allows you to skip out on the local traffic of New Zealanders on holiday, and a lot of overseas visitors as well. We experienced this for ourselves on the West Coast – so we can guarantee that it gives you a much more peaceful vacation!
Top tip: It's a really great idea to look up school holiday dates when you plan your trip, as schools also give two-week holidays at the end of each term. This helps you to avoid the times where there's likely to be more local travellers around.
Check out some Off the Beaten travel itineraries – North Island and South Island.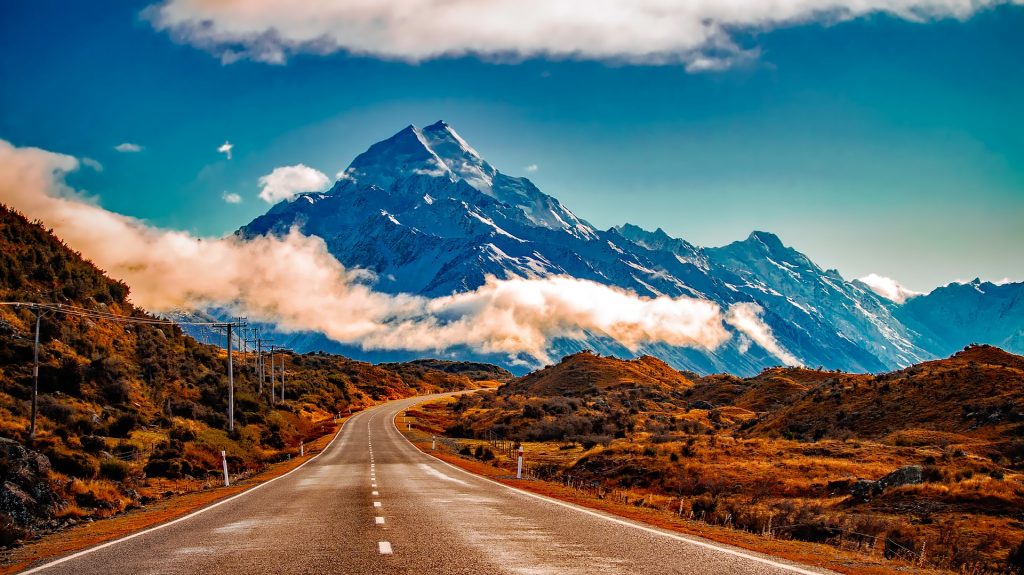 2. The Autumn is much cheaper in New Zealand
Most of us know that peak season equals 'expensive' when it comes to accommodation and flights. We've already mentioned that you'll have to be a lot more organized with booking places to stay in the summer months. However, you're also likely to pay more as well. Remember: prices always get pushed up when demand is higher! This is especially the case with providers such as Airbnb, who have grown in popularity in New Zealand. This means that flights are more expensive (and they usually aren't cheap to begin with).
By comparison, the Autumn is when New Zealand's seasonal price hikes start to drop along with visitor numbers. It's true that the 'shoulder seasons' are more popular than they used to be. A lot of this is due to Tourism New Zealand encouraging people to holiday in these times to take pressure off infrastructure during the summer. However, it's still noticeably cheaper to travel from March onwards.
Check out some some multi-island itineraries for North & South Island.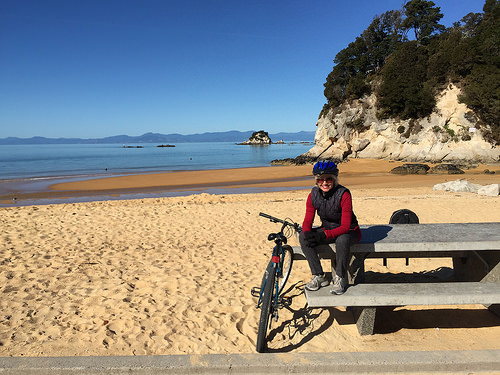 3. The weather in the Autumn is still fantastic
New Zealand could have been a case study for the saying 'four seasons in one day'. Visitors are often surprised by how volatile the weather can be! As a small island nation with mountains and coastline very close to each other, any sort of weather system can be thrown at you at any time. This can mean fierce southerly weather systems which skirt up from Antarctica, bringing massive squalls and temperature drops to the South Island. It's not unheard of for a sunny, 30-degree day to end with lashing rain and 6 degrees! So, travelling in the summer certainly doesn't guarantee you perfect weather.
In many cases, Autumn is actually a more pleasant season in New Zealand. Granted, you will likely experience cooler mornings and evenings at this time of year. But it's also much drier in areas like the West Coast. In the North Island, you'll also avoid the often punishing summer humidity. Best of all, you'll still get those sunny days!
Believe it or not, the photo above was taken in April. The only indication that it's Autumn is the extra layer of clothes I'm wearing! If you are wanting to get into some outdoor recreational activities like hiking or cycling during your visit, it's actually a lot more enjoyable at this time of year. Summer heat definitely makes exercise hard work! The New Zealand sun is strong, and the UV levels here are some of the highest in the world. This relaxes a bit in the Autumn months, so you are far less likely to end up with sunstroke!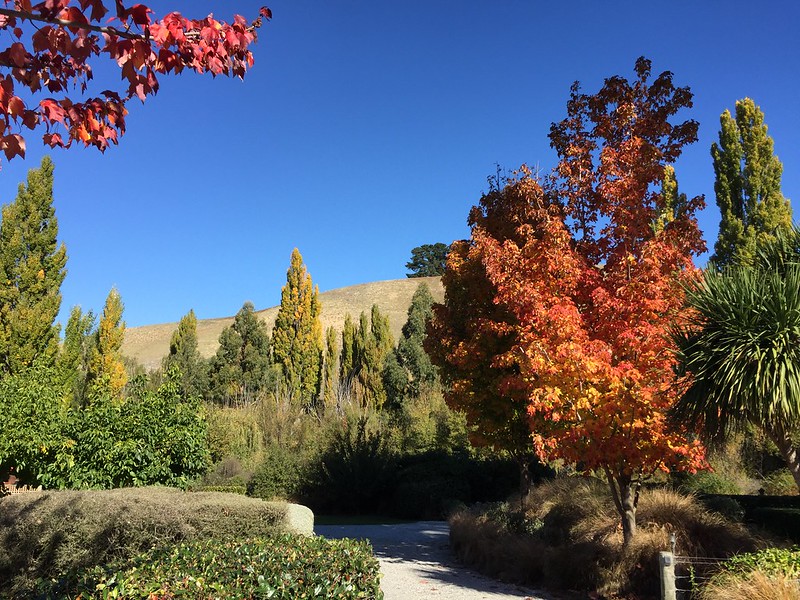 4. You'll get spectacular views in the Autumn months
The turning of the seasons is an incredible sight, and New Zealand is no exception. The sight of the golden and red colours of Autumn make self-driving tours of New Zealand such a pleasure! You'll find the best Autumn scenery throughout Canterbury and Otago, the regions with the most deciduous trees. You'll also be visiting just in time for the first snowfall on the southern alps! This usually happens in late April or May, which makes for some incredible photos. Because New Zealand's mountains aren't especially high, most don't keep any snow during the summer months. If you really want to experience the snowy vistas of the New Zealand tourism ads, Autumn is the perfect time to visit.
Things to do in New Zealand Autumn
The Great Taste Cycle Trail Nelson/Tasman
Besides hiking hopping on a cycle is a great way to explore many parts of New Zealand. With the roads peaceful and virtually empty in places, the bike trails throughout New Zealand are fantastic to ride during the Autumn months. Hiring a touring, mountain and e-bikes is easy at many locations throughout the country.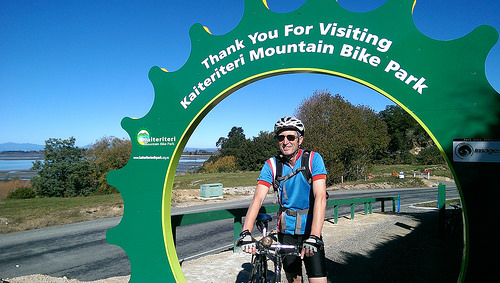 The "Great Taste" cycle trail in Nelson Tasman is a cyclist's dream, and compared to other tourist areas, underpopulated!  We rode the Kaiteriteri Mountain Bike Park from Motueka. It can be challenging with a bit of hill work, but stopping for a 'breather' gives you a chance to absorb views like this: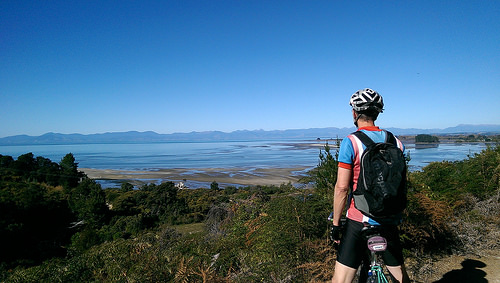 You probably won't meet many cyclists in the Autumn in Nelson/Tasman, or in most parts of New Zealand for that matter! Where else can you get this all to yourself?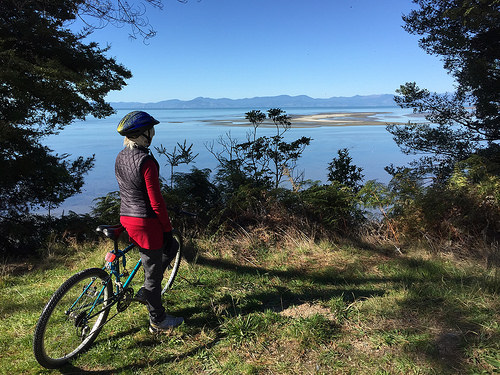 In the summer season, the golden beaches of Kaiteriteri are packed with travellers. In April, they are almost completely deserted! This is something you will see across New Zealand during the Autumn. It's one of the best things about the season!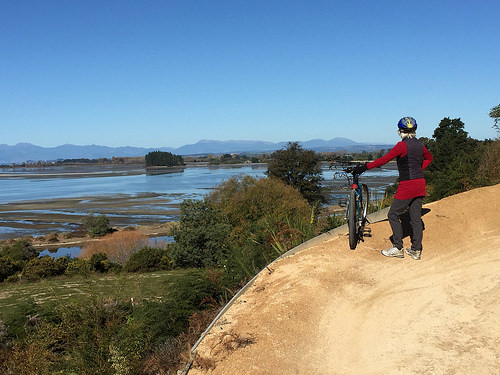 Helpful New Zealand travel links
Happy Travelling New Zealand in the autumn season!