When planning your honeymoon travel, timing is often the most important factor. For honeymooners looking for either Australia and New Zealand honeymoon packages, it can be hard to make a choice. But why not consider combining Australia and New Zealand in just the one trip? Of course, there are key decisions to make before choosing this option. Firstly, you need to look at the vast differences between the two countries – such as climate and the key locations for each.
This blog will go into the details of planning a honeymoon and making the right choices. Think about the fun stuff – exciting outdoor activities and thrills galore.  But also look at combining some down time – a balanced itinerary that allows you to find tranquility and relaxation. After all, don't honeymooners also want to enjoy their intimacy as newly-weds.
You might think that New Zealand and Australia are similar locations. But in many ways, they are quite different. If you want, check out this beautiful sample itinerary before reading further.
Go straight to  Australia + New Zealand honeymoon options.
Key Facts before planning your honeymoon
1. Australia & New Zealand Weather & Climate
The weather for New Zealand and Australia can vary greatly from each other. Sure, both countries have winter and summer seasons. But for example, there are some Australian regions that are best travelled in their winter season! A great example of this is Ayers Rock/ Uluru. Between October and March, temperatures can reach 50+ degrees celsius or 122+ Fahrenheit. Remember, you won't always be near a pool or an aircon room. The best time for the Outback is between April and September. View more when it the best time travelling Australia.
Another example is in the northern parts of Australia, including the Daintree and Great Barrier Reef in the Port Douglas area. You'll definitely want to avoid their stormy season which occurs in their 'summer' (Oct-March). Believe me, the best time to travel in the Cairns and Port Douglas area is in the winter'.
New Zealand Weather Conditions
The best time to travel through New Zealand is between October and April. However, you can go in September and May – these months will be fit very well with your Australia travel seasons. But you really need to be aware that these months are cooler. Autumn in New Zealand is by far the best time.
During the New Zealand 'winter' season (June – August) do expect low temperatures (down south to -5 degrees or 23 Fahrenheit. Of course, you will also have shorter daylight hours (in June/July, it gets dark at 5pm). Therefore, you might want to change your mind about travelling with a motorhome during these months. It can reach freezing point at nights and if you have a low-rent motor home, it won't be much fun heading to the camp ground toilet block at 2am!
Our suggestion: Best times to honeymoon NZ and Australia: March – October.
2. What is the best time allocation for Australia and New Zealand?
Now to the 'nitty gritty'. This is quite possibly the most important part of a New Zealand and Honeymoon combination. How much time should I allocate for both countries. What we usually hear is "two weeks in Australia and one week in New Zealand". But it is that the best time allocation? Not quite.
How much time you spend in each country will largely depend on two things.  The first one involves specific interests and the time of year you are travelling. Say you are keen on hiking and need to travel between November and March. My recommend then, is to spend more time in New Zealand. The reason being, that Australia (excluding Tasmania) would be far too hot for hiking.
You may be keen divers and want to travel between June and September. That being the case, you should definitely spend more time in Australia. The reason being that these months are in fact winter in New Zealand.
Whatever your interests or your travel month, it's most important to get the right mixture. Planning your locations and dates is actually 50% of your overall honeymoon planning – this strategy especially applies for travel for Australia and New Zealand.
3. How do we get around Australia and New Zealand?
Australia is huge continent with 7.7 million square kms (or nearly 3 million square miles). Distances are vast and realistically only achievable by including domestic flights. You're much better off with time and budget to use a 3-hour domestic flight from Sydney to Cairns, rather than a 3-day drive! Read more on transport in Australia.
New Zealand is much smaller (0.28 million square kms or about 0.103 square miles), but distances are often underestimated. It takes longer to drive New Zealand's winding roads. And don't forget that there are so many photo opportunities on the way –  the scenery is magnificent! Travellers visiting the North & South Island will easily "clock-up" 4000 kms. Imagine using up your 2-week holiday with 50 hours of driving! So you really need to think about using 1-2 domestic flights – or visit less regions. Read more on transport in New Zealand.
4. What can you experience on honeymoon New Zealand and Australia?
For many travellers the key Australian highlights can be found in the 'magic triangle' – Sydney (Opera House and Bondi Beach) + Great Barrier Reef (snorkelling or diving plus Daintree Forest, time permitting) + Ayers Rock. But with a 5-7 day Australian visit, there will be a limit to what can be achieved.
In New Zealand most travellers are keen to see the thermal activities on the North Island, Maori culture, the fjords around Milford Sound and the New Zealand 'adventure capital' Queenstown. Visitors usually stay longer in Queenstown as there are so many adventure options. But there are other regions gaining momentum, just as beautiful and far less populated. And remember, just about every region has a stunning wine growing area.
5. What about flights between Australian and New Zealand?
Generally there are good flight connections between New Zealand and Australia. However, since updating this blog in May 2020, we have experienced the global Covid-19 crisis. Therefore, exact procedures and timetables will have changed drastically. However, it looks as though flights will resume at a far lower rate from July/ August 2020.
Key airlines between New Zealand and Australia are Qantas and Air New Zealand. The Key airports for New Zealand are Auckland, Wellington, Christchurch and Queenstown. For Australia, those airports are Sydney, Brisbane, Melbourne, Cairns and Perth – to enable direct flights from New Zealand.
6. Visas for Australia, New Zealand honeymoon packages
With the exception of New Zealand passport holders, all international travellers require an Australia visa (ETA) And that includes being in transit for longer than 4 hours. Check with your airline before you make any reservations into or via Australia
For New Zealand, since October 2020 most European, North American and Asian passport holder will need to apply for a New Zealand ETA (Electronic Travel Authority). This enables visitors to stays up to 90 days in New Zealand. The exception are Australian passport holders, they don't need the ETA. Remember, your passport needs to be valid for at least 6 month after your departure date!
7. Pricing, Accommodation and visa information
Prices between New Zealand and Australia are fairly similar. In respect of accommodation options, Australia definitely has the edge. Some of the most amazing lodges, retreat and island resorts can be found in Australia. However New Zealand does excel in locally owned Bed & Breakfast, Lodges and Self-contained Cottages. These options are perfect for Honeymooners seeking more romantic and private places to stay.
Honeymoon Packages Australia + New Zealand
Based on the above key planning steps, there are a range of honeymoon itinerary options you might like to consider. As mentioned before, so much depends on a) your timing, b) your interests and c) the experiences you are seeking. Here are some additional hints on how to plan a great Australia and New Zealand honeymoon.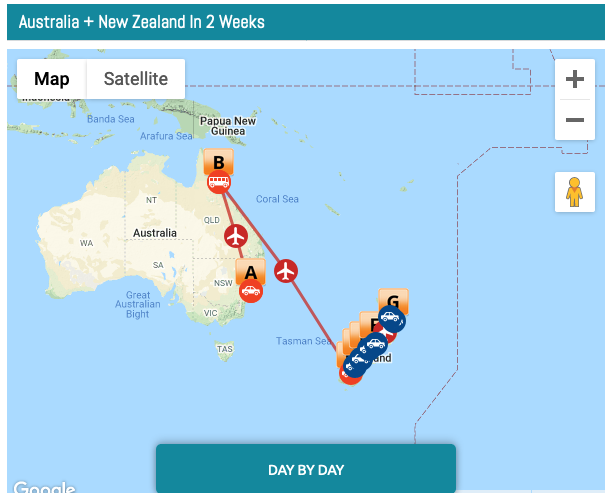 Quick Overview: Australia with Sydney + Great Barrier Reef. South & North Island New Zealand
Focus on: Outdoor and Nature experiences. More self-drive require for NZ.
General Comment: This travel itinerary is designed for honeymooners with limited time. Travellers do need to be aware that they are moving between locations rather quickly. Although you will be staying for 2 nights at key locations.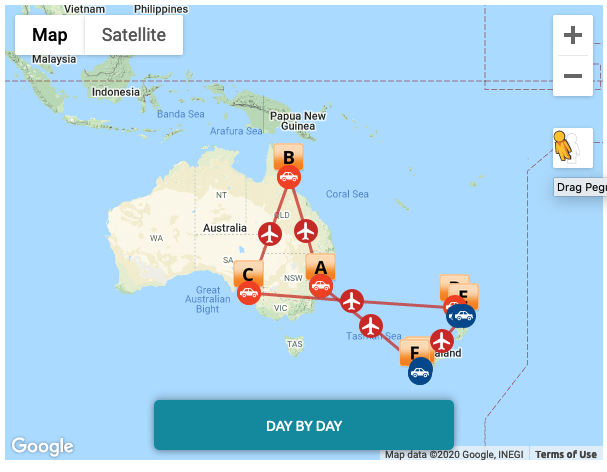 Quick Overview: Australia with Sydney + Great Barrier Reef + Daintree Forest + Kangaroo Island. South & North Island New Zealand
Focus on: Outdoor and Nature experiences. Using domestic flights more and less self-driving. Also, more locally guided tours.
General Comment: By adding on just a few extra days, will make all the difference. You will still be travelling around quite a bit on your honeymoon – however by adding domestic flights between key locations, your overall travel experience will be far more relaxed.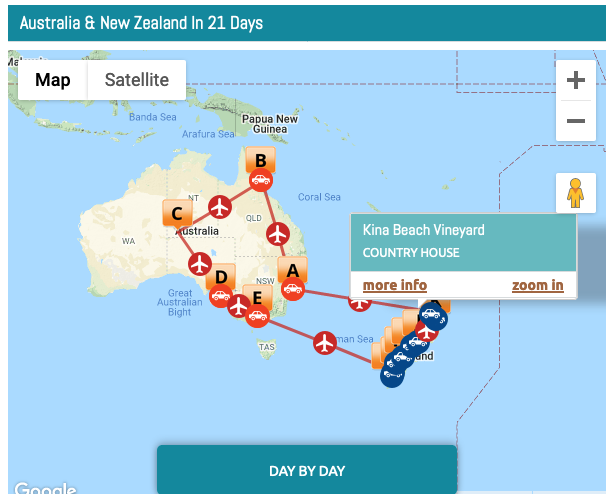 Quick Overview: Australia with Sydney + Great Barrier Reef + Daintree Forest + Ayers Rock + Kangaroo Island + Melbourne. New Zealand South & North Island with a mix of self-drive and domestic flights.
Focus on: Outdoor and Nature experiences. Clearly, you will have far greater time to cover more locations. Note, we do not recommend that you visit Ayers Rock & the Outback of Australia in the summer (December – March). It will be too hot!
General Comment: As the saying goes 'time is everything'. With 3 weeks in Australia and New Zealand, you honeymooners can achieve a lot. Still, some key choices will need to be made. But overall the travel experience will be a beautifully balanced one.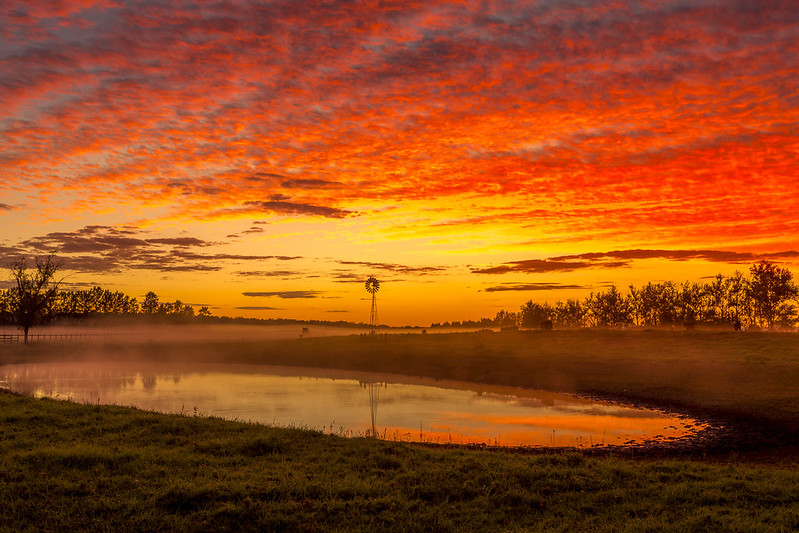 Enjoy your honeymoon in Australia and New Zealand!