Fiordland National Park is New Zealand's largest national park, spanning almost 13,000 square kilometres in the southwest corner of the South Island. Pretty much every visitor to New Zealand will visit here during their travels. As a place of such extraordinary beauty, it's not hard to understand why!
Fiordland could well be known as the 'hiking capital' of New Zealand due to its wide range of world-class walks. The Kepler Track, Hollyford Track, Routeburn Track and Milford Track are all within easy reach, making it paradise for nature enthusiasts. But there's one question which comes up repeatedly from our clients: Should they visit Milford Sound or Doubtful Sound?
HANDY HINT -> Read more on key New Zealand travel experiences.

Milford Sound and Doubtful Sound compared
One of the things that takes visitors by surprise is the scale of Fiordland National Park – it's home to far more sounds and fjords than most realise! Milford Sound New Zealand and Doubtful Sound are the most well-known and accessible. Both will provide travellers with a spectacular visual impact, but very different travelling experiences. As it usually is when it comes to travelling, the decision over which to visit should be decided by what sort of experience you are looking for. Both Sounds have their own unique pros and cons which you definitely need to weigh up as you plan your trip. View day tours ex Te Anau including Milford Track.
Pros on Milford Sound
The entirety of Fiordland National Park has only one main (public) road- from Te Anau via the Eglington Valley to Milford Sound. Given that the park covers 1.3 million hectares, you can imagine how remote and wild this region is. This makes Milford Sound by far the most accessible part of the Park. But you can also stay there. The drive from Te Anau to Milford is about 125 kilometres one-way and takes around 2 1/2 hours. This winding road provides one of the most scenic drives in the world. Trust us, we aren't exaggerating.
As with many places in New Zealand, the journey to Milford Sound is part of the experience; it's what makes it such a spectacular place to visit. But this also comes with another huge advantage; because it's self-directed, you can set your own pace to Milford Sound. This is just as well, because the journey is far more than a means to an end; there are many excursions just off the highway! There is plenty of car-parking for you to pull over and take photos (warning: you'll do this a lot!). If you use the local Trips & Tramps operators you will travel in a small group, get transfers and be a the best places at the right time!
Other options are stopping at The Divide to do the first hour or so off the Routeburn Track. Nature lovers and walkers will also definitely enjoy the Key Summit walk which has stunning views into the Hollyford Valley.
For "off the beaten track walks" we recommend Lake Marian or Lake Catherine, or going a bit further down the road and walking the Hollyford Track until you reach Hidden Falls (a 31-metre waterfall!).  It's important that you watch your time in getting to Milford. If you're not a confident driver or simply want to enjoy a day "off driving", join a tour with a local operator from Te Anau.
Cons on Milford Sound New Zealand
Because it's featured the most heavily in tourism campaigns, Milford Sound is much better known than Doubtful Sound. It's also the mainstay of basically every coach trip in New Zealand and so receives extremely heavy foot traffic, especially during peak tourist season. This can be something of a disappointment for some travellers: Milford Sound isn't the kind of stop in your itinerary where you can 'have it all to yourself'.We often hear dismayed comments about how 'crowded' it is! So, it's important that travellers understand the state of affairs in their trip planning.
In the past decade, New Zealand has become a very popular holiday destination (understandably!) and Milford Sound and Fiordland National Park are where it's most visible. Once the country of choice for intrepid solo travellers, package coach tours now make up a sizeable chunk of tourism dollars in New Zealand. This is something that many travellers aren't aware of before booking their trip; New Zealand can seem like such an 'off the beaten track' destination that people forget that others want to visit for exactly that reason!
If you are taking the world-famous cruise with Real Journeys, it's in your best interest to take the EARLIEST ferry you possibly can. If you are leaving from Te Anau, you need to be on the road by 7am at least if you are to make the 9am ferry. These trips are much quieter and are unlikely to be at capacity even during the summer. If you go later, you'll likely join a long "queue" of coaches, motorhomes and cars!
Doubtful Sound
Although also a fjord, Doubtful Sound offers some quite different scenery. It's three times longer in length than Milford, and has a much larger sea area. The mountains aren't quite as high in this area of Fiordland. But the less sheer cliff faces mean you have far more opportunities to spot native wildlife.
Unlike Milford, it's not possible to travel to Doubtful Sound independently; you need to go as part of an organized tour. You will have to join a tour group going from Manapouri wharf, which is 25 km south of Te Anau. Firstly, you'll board a fast-boat from Manapouri Wharf to West Arm, which takes an hour. From there, you'll board a coach and take the drive over the Wilmot Pass into the Doubtful Sound wharf area. The coastal sailing ship is waiting here for your cruise into the fjord and out to the Tasman Sea (weather dependent). You'll be out for a good 2 hours, and return the same way back via Wilmot Pass and West Arm to Manapouri.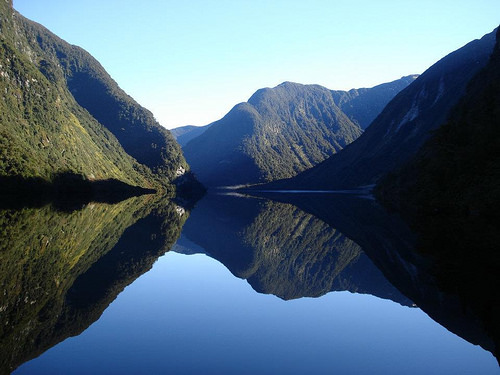 Pros on Doubtful Sound:
Doubtful Sound is definitely a bit more off the beaten track than Milford. Travellers who are shorter on time (which is the majority) tend to stick with the latter because its a lot more accessible, especially to tour groups. This makes Doubtful Sound far less crowded as a place to visit; you don't need to worry anywhere near as much about being up at the crack of dawn! You'll be fighting far less to outpace big tour groups because it's more complex to fit into an itinerary. This generally makes for a much more enjoyable excursion!
Cons on Doubtful Sound:
Because you can only get here by an organized trip, you have much less control over your itinerary. There is quite a bit of to-ing and fro-ing back and forth which easily gobbles up an entire day. This may not suit you if you have limited time in the Park or like being more self-directed. You also don't have any opportunities to tie it in with other activities such as hiking, since this part of Fiordland is very underdeveloped.
Summary of Milford Sound and Doubtful Sound
Milford Sound: You are independent and you can drive at your leisure. However, you must get your times right to avoid heavy traffic.
Doubtful Sound: You will have to join a tour party at Manapouri (or Te Anau with a transfer). It's not everyone's cup of tea to sit all day. But it has the advantage of having no traffic and being more "off the beaten track" than the Milford Road.
Note: Both fjords (Milford and Doubtful Sound) offer overnight cruise experiences on the boats (with your own cabin or bunk-style accommodation). Many people also come on a coach from Queenstown (which is a very long 12 hour day!) or else fly into Milford Sound. Also, keep an eye on the Milford Sound weather forecast and road blocks.
Click here to View some sample itineraries of Milford and Doubtful Sound.
If you have the time, we'd highly recommend doing both Milford and Doubtful Sound. They each have a very different experience to offer, and you certainly won't regret. If time doesn't permit that, then this article will help to guide your decision-making.
Other helpful New Zealand travel links
Happy Travelling!