New Zealand has nine so-called 'Great Walks', a set of premier tramping tracks which are given special recognition by the Department of Conservation. These walks are world-famous for their spectacular scenery and accessibility, designed to suit all fitness levels. The most famous of them all is the majestic Routeburn Track, located near Queenstown in New Zealand's South Island. This is a multi-day tramp which will give you an intimate encounter with this country's incredible landscapes.
The Routeburn Track – the classic New Zealand experience
The Routeburn Track is located between the Aspiring and Fiordland National Parks, and is one of the classics in the Great Walks collection. It's 33km long, starting from the Routeburn River just over an hour from Queenstown in Mount Aspiring National Park and finishing at the Divide in Fiordland National Park. You can do the multi-day option in either direction. The track passes through pristine beech forest, past waterfalls, lakes and stunning views of the southern Alps. In short, it packs a lot into 2-3 days!
It's long been one of the more popular walks due to its accessibility from Queenstown and Milford Sound, and because it's better publicized. It also has multi-day and day walk options, and so is well-suited to people of all fitness levels and trip lengths. And of course, the views are simply stunning: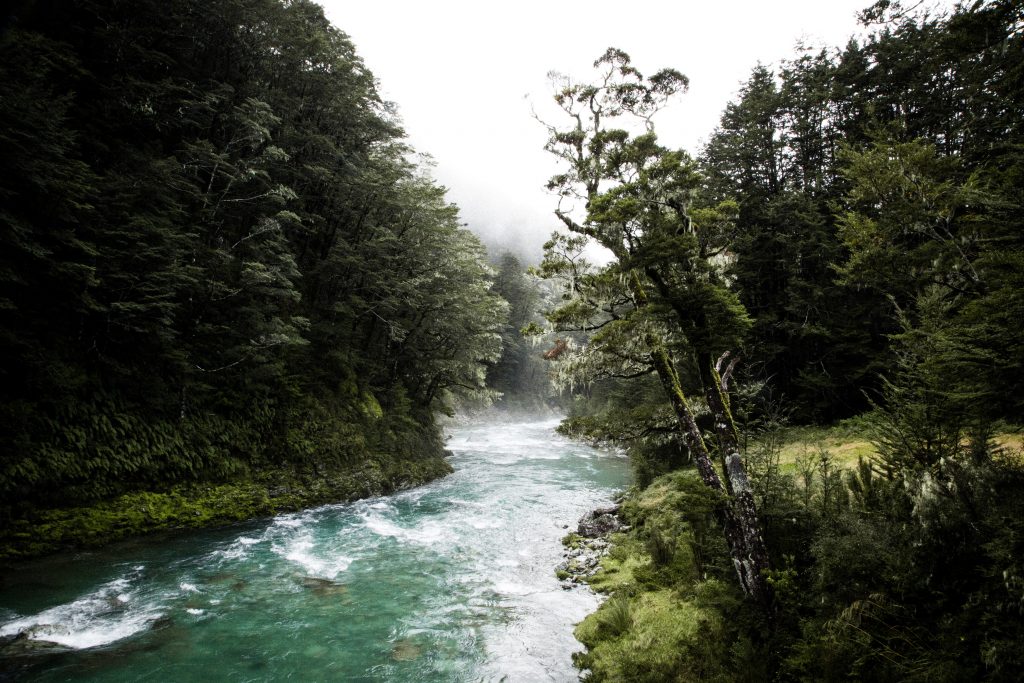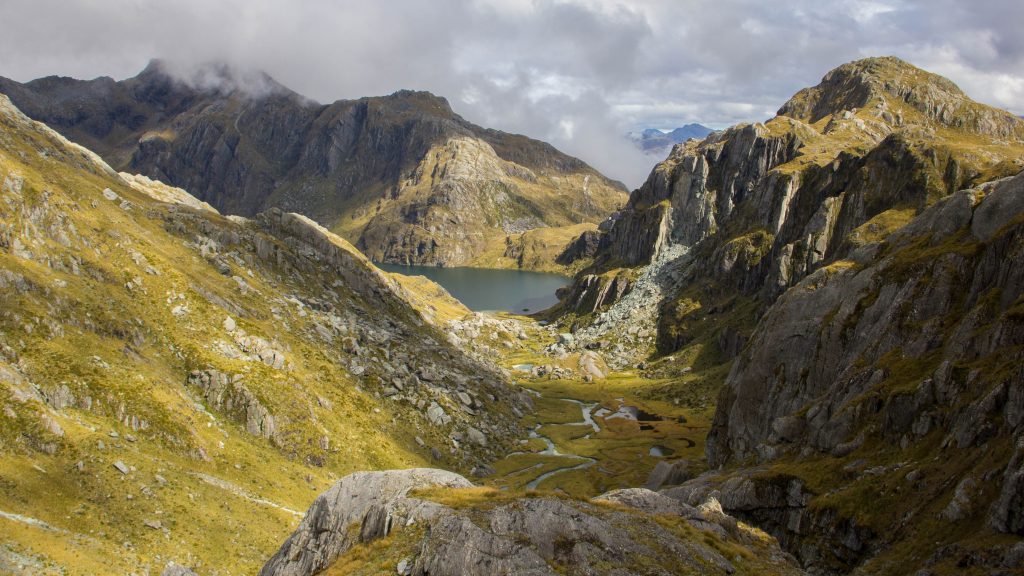 It's hard to beat views like this!
Routeburn Track day options
Owing to time constraints, it's often not possible for travellers to complete the entire walk. However, many still want to get a taste of what it offers (and get some fantastic photos!)
The best way to do this is from the Fiordland side, where you can take the Routeburn Track from the Divide Carpark up to Key Summit. This day option gives you stunning panoramic views over the Darran Mountains and is suitable for travellers with children. It's about an hour's walk from the carpark to the Ket Summit Track, and then a half hour's climb to the peak. For a longer option, you can also do the 3-hour return to the picturesque Lake Howden.
From the Queenstown side, you can do the Routeburn Nature Walk, a short 40-minute loop from the main carpark which takes you through some beautiful red beech forest.
Routeburn Track multi-day options
Most travellers start the multi-day Routeburn Track from the Queenstown end, finishing on the Milford Sound Road at Key Summit. Transport services from downtown Queenstown to the start of the walk are available, and we encourage you to make the most of this service – it will make your life a lot easier! The Routeburn Track takes most people three days and two nights to complete, walking around 4 hours per day. It might not sound like a lot, but you will probably be stopping frequently to take in the incredible scenery! The track is designed so that you aren't rushing frantically from one place to another – it's about enjoying the journey.
As the Routeburn Track involves overnight stays, this will most likely mean staying in the DoC huts overnight (unless you plan to camp). These are equipped with cooking facilities (but not utensils) communal sleeping facilities, and plumbed-in toilets (no showers). During the high season (October to May) when the majority of travellers are using the walk, these huts need to be booked well in advance. As the Routeburn is an especially popular track, it can often book out as much as a year in advance. If you think that you want to do this track, you really need to plan your holiday around it rather than it being an afterthought. Otherwise, you might find it quite difficult to fit in around other travel plans. In the off-season, the huts are first-come-first-served. However, conditions on the track are much more difficult and it's not recommended for the inexperienced tramper.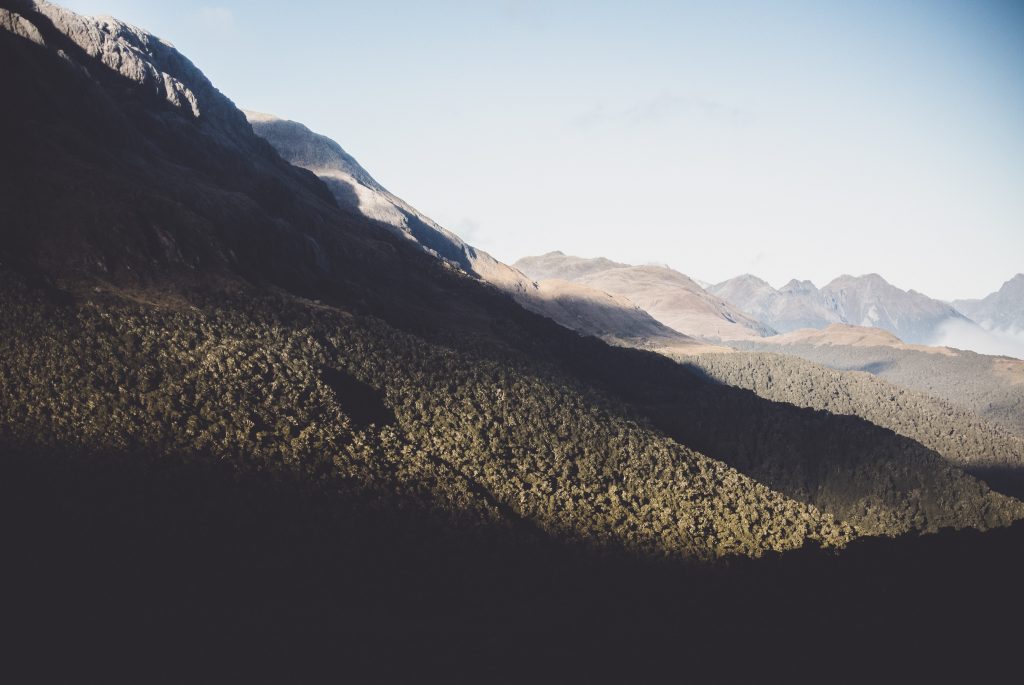 What to Bring:
Be aware of how fast the weather can change in this part of the country. New Zealand's famous "4-seasons-in-one-day" saying is not an exaggeration, and this is especially acute in the alpine regions. A lot of travellers aren't prepared for the extremes that characterise the climate in this country. Even in the summer months, it's entirely possible to get a passing snow flurry! You need to be prepared for anything that the weather might throw at you. As much as it's important to travel light on these multi-day tramps, it's even more important that you are properly equipped.
This means the following:
Sturdy hiking boots (NOT tennis shoes!)
Rainjacket
Warm, lightweight layers
Gloves, beanies
Blister packs (just in case!)
High-energy snacks i.e. protein bars
Plenty of water!
Routeburn Track update: October 2018
International travellers will now pay a higher rate than New Zealand residents to access the Great Walks. This is owing to environmental degradation from high visitor numbers, which DoC is struggling to manage with present funds. The revenue will go towards maintaining the track and the surrounding environment. Before talking about how unfair this is, consider what a privilege it is for you to be able to experience this country's beauty. If this is what you've travelled so far to see, wouldn't you want to contribute towards maintaining it? You can find more information on pricing here.
Building a bigger itinerary
The trick to a successful adventure on the Routeburn Track is knowing how to fit it into your broader trip. Trampers most often continue with transport to Milford Sound to do the world-famous cruise in the fjord. Others choose to continue the walk down the Greenstone/Caples Track and to reconnect to Glenorchy, completing the entire loop. For more ideas, you can see our dedicated South Island Itineraries here.
Walking the Routeburn Track is an alpine New Zealand tramping experience for anyone able to walk 4-6 hours with a backpack. Good equipment and well-used hiking shoes are essential! This is an experience you'll never forget, and that's a promise! My mate John and myself walking the Routeburn Track Fiordland a few years back…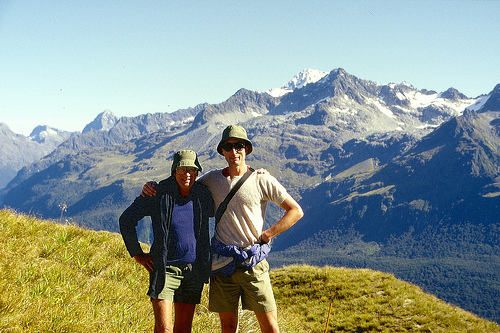 Happy Travelling!