The Routeburn Track is located between the Aspring and Fiordland National park and is one of the "classics" in the collection of "Great Walks". It's possible to walk the trail as a day walk (ex Key Summit on the Fiordland end) or from near Glenorchy (from the Queenstown end). But if you like a multi-day tramp for 2-3 nights, you can either do it independently, using the DoC huts or with guides.
The multi-day walk generally starts at the Queenstown end, finishing on the Milford Sound Road (Key Summit). Transport services from downtown Queenstown are available. Remember that the DoC huts must be pre-booked during the peak summer season (in the old days it was possible just to show up – maybe in the winter months if you're lucky).
The scenery is gobsmackingly stunning with spectacular views from the top ridge down the Hollyford Valley and the Tasman Sea. Be aware of how fast the weather can change in this part of the country. Be prepared for New Zealand's famous "4-seasons-in-one-day" scenario.
Trampers often continue with transport to Milford Sound and do a cruise in the fjord. Others choose to continue the walk down the Greenstone/ Caples Track and reconnect to Glenorchy, to complete the 'loop'. The huts are spacious and some of the most modern in New Zealand. During the summer period a hut warden looks after the trampers and is based in the hut to collect the hut tickets.
Walking the Routeburn Track Fiordland is an alpine New Zealand tramping experience for anyone able to walk 4-6 hours with a backpack. Good equipment and well-used hiking shoes are essential! And take a mate with you.  This is an experience you'll never forget. That's a promise!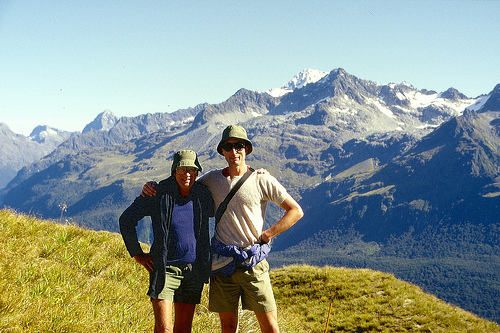 My mate John and myself while walking the Routeburn Track Fiordland a few years back…