We can't help but rave about Abel Tasman National Park on this blog – it's such a jewel with New Zealand's nature offerings! No matter what time of the year you choose to visit, your time in Abel Tasman will create some enduring memories. If you want to see a different side of this paradise, check out Abel Tasman Eco Tours. We guarantee it will be a highlight of your New Zealand adventure!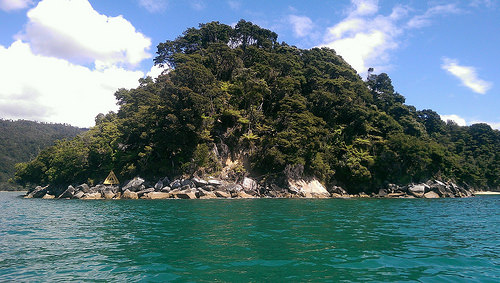 Exploring Abel Tasman National Park
Abel Tasman National Park is the smallest but most-visited of all of New Zealand national parks, and it offers some spectacular day trips. This often surprises travellers, because they expect the record to be held by Fiordland. In comparison however, Abel Tasman is much more accessible and better-connected, being just an hour from Nelson. It also benefits from a mild sunny climate year-round, with stunning beaches and plenty of opportunities for water excursions such as kayaking and boat tours. Needless to say, there is a LOT to do here!
The value of a guided tour
At Guest NZ, we've always been big advocates of guided tours. Why? Because they add so much value to any holiday. New Zealand is a pretty easy destination to get around and explore. But there's only so much you can see in the space of a few weeks. If you really want to get 'under the skin' of somewhere in this timeframe, you will need the help of the locals. They can give you information and 'secrets' that you simply won't find on your own. For this reason, we always suggest that travellers put at least a couple of tours into their itinerary.
And that's before we even mention just what fantastic people New Zealanders are. By and large, people run tours because they are genuinely passionate about showing their country to travellers, not simply to make money. Getting to know the locals is the best part of any holiday, but it's especially rewarding here.
Abel Tasman Eco Tours 
Abel Tasman Eco Tours has a great company slogan "Open your eyes." The owner Stew Robertson has these words written on his boat and t-shirts. It's a great way to show his passion for the Abel Tasman National Park.
Abel Tasman Eco Tours have gained popularity with international travellers who are genuinely interested in eco-tourism. Started in 2013, their mission is simple; to deliver the highest quality eco tours to the Abel Tasman region. Determined to spread the word about the unique ecology of this region, they offer all staff in the national park the opportunity to come on one of their tours. They are also extensively involved in marine conservation, and are the only tour operator in Abel Tasman who are SMART certified by the Department of Conservation. This means that they promote and practice responsible behaviour around marine mammals.
There are three different tour options on offer. We chose the Golden Future Boat day tour. This is a small group tour with a maximum of 14 people, which takes you on a coastal boat tour around the bays and inlets of the park.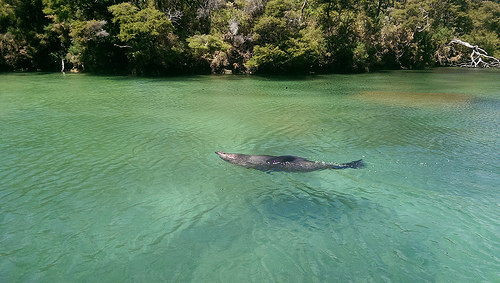 Abel Tasman – A Nature Paradise
The photos in the Abel Tasman Eco Tours brochure are true to life. Heading out to the open sea, the emerald green of the water was striking! We came across a school of curious Dusky Dolphins. What a moment that was!
Larger boats don't have access to the idyllic inlets along the coast – but Abel Tasman Eco Tours do! It was in these areas that we managed to get a close-up view of Eagle Rays gliding elegantly beneath us. There were also a number of very relaxed fur seals chilling out alongside the boat:
There's very little sea traffic in this coastal paradise. And the local operators you occasionally meet on the journey are happy to share the information of the day. This kayaking guide stopped for an interesting chat just before we exited the inlets.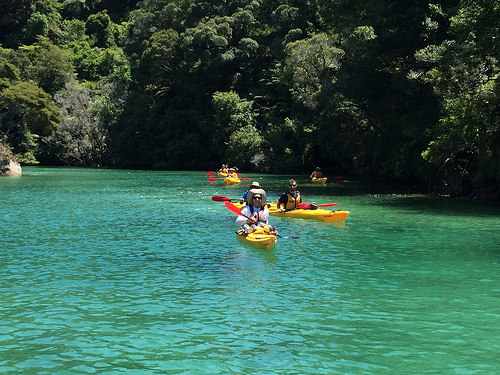 Stew's knowledge is impressive.  Throughout the tour, he was able to answer every question fired at him. This is a sign of a truly exceptional tour guide. On eco-tours especially, you are usually dealing with a group of people who want more in-depth information.
Abel Tasman Eco Tours – Forest Walk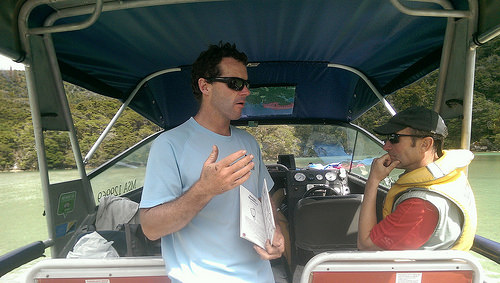 We stopped at Sandfly Bay for lunch and a  peaceful forest walk.  Silver ferns (Pongas) feature all along the track here.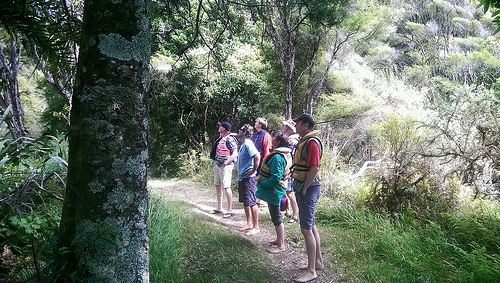 This waterfall provided a welcomed moment of serenity!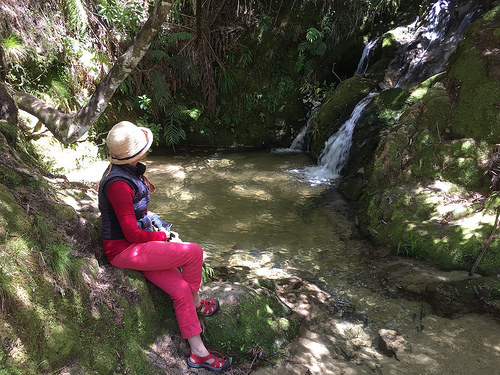 Stew was determined to find some whitebait and after a bit of wading around, he found some of this New Zealand delicacy…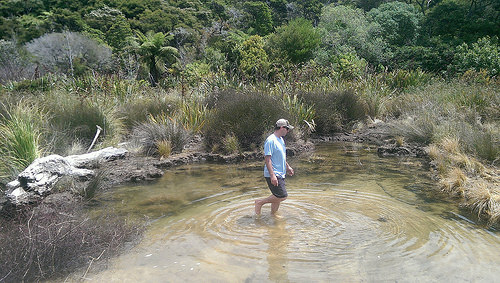 …plus some rather impressive jellyfish!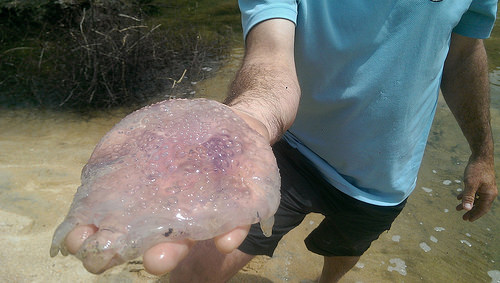 Abel Tasman Eco Tours helps in various conservation projects and pest control programmes all across the park. It's always a great feeling when you support tour operations who are doing such great work. Stew knows where to find those cute little Blue Penguins, gannets and cormorants!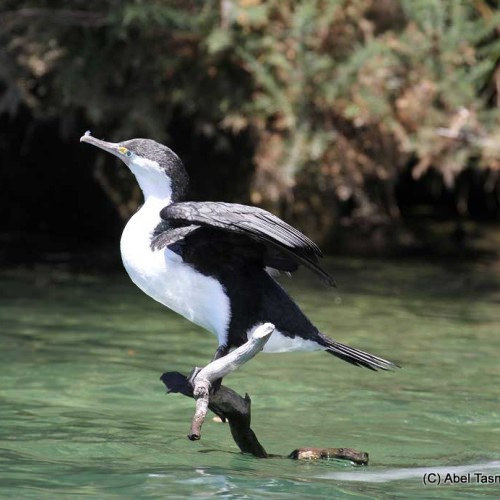 Flexibility is always the key to any good eco-tour.  Stew was able to change the plan at any time to suit a particular request. It truly makes all the difference to have tour guides who are willing to cater to the individual desires of their customers. It's a sign that rather than being on aut0-pilot, guides treat every tour as unique, no matter how many they have taken.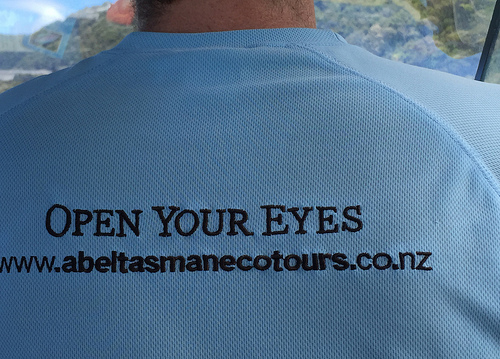 For more information, you can check out Abel Tasman Eco Tour's website here. For more itinerary ideas for the Abel Tasman region, check out our dedicated nature and lifestyle itineraries!
Happy Travelling!