If you decide to take that amazing road trip, travelling New Zealand South Island West Coast, get ready for a unique experience.  Because what makes this travel route so perfect, is that it showcases what New Zealand is all about. By that, I mean the beautiful lush rain forest of the West Coast from Karamea to Haast and Jackson Bay. And, the sheer tranquility of an underpopulated region with stunning sceneries. For nature lovers, you are in for the loveliest bird song where the Tuis reign supreme.  Not only is their song pure and joyful, they are also quite beautiful.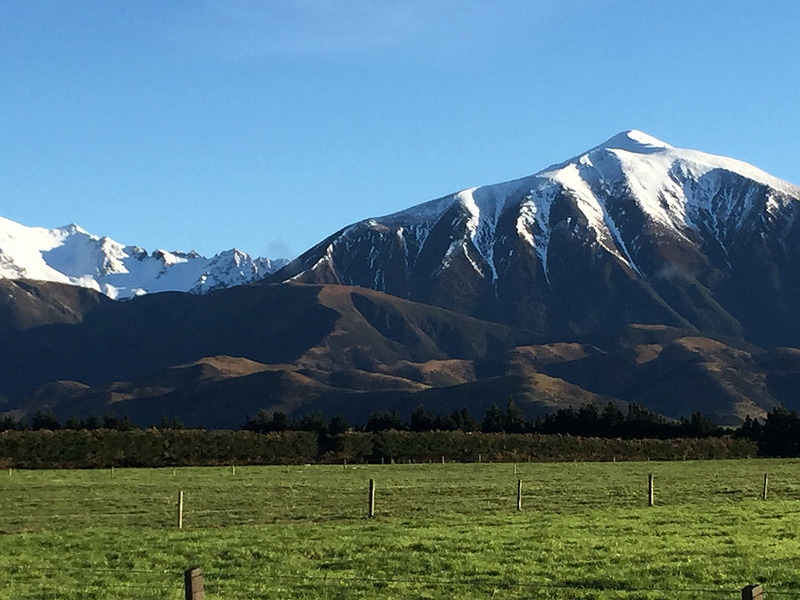 Wilderness Lodge Arthur's Pass – brief detour the West Coast
Maybe Arthur's Pass is not on your travel route for your first visit to New Zealand.  However, it should definitely be on your second!  For something really special, in a hidden location, the Wilderness Eco Lodge would be your perfect choice.  You will find this property on Highway 73 between Christchurch and the West Coast. It is less than 3 hours drive from Christchurch and the towns of Greymouth & Hokitika. It is here that the isolation you crave, will be found.  A mystical vibe is everywhere, especially when the area becomes shrouded in mist. Nothing refreshes your spirit more than the fresh smell of the bush.  Although rated as high end, Wilderness Eco Lodge has a very relaxed and homely style.  The focus of course is on the views through the lodge's massive windows.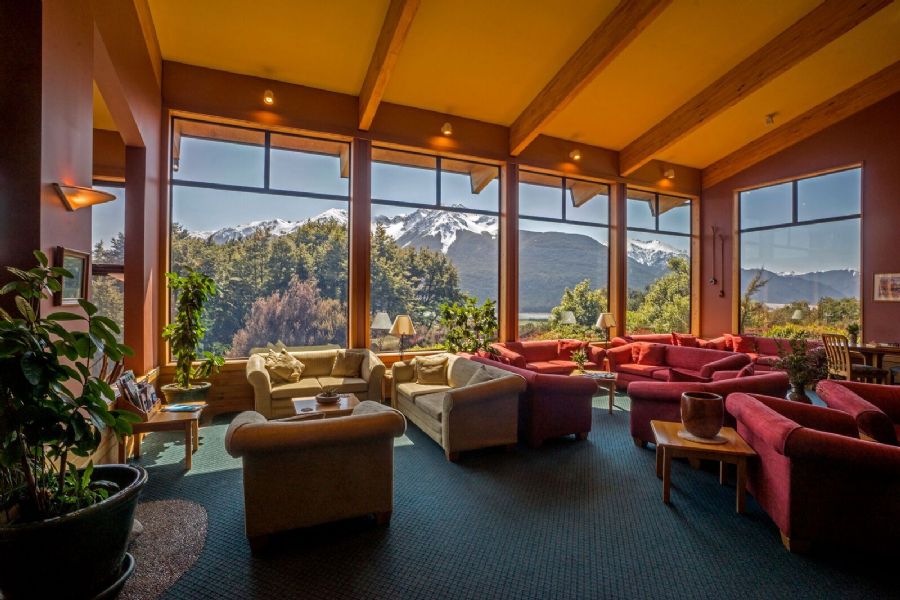 Now there are some travellers that require absolute privacy when it comes to accommodation.  At the Wilderness Lodge, you will get that choice. As an alternative, guests can stay in their gorgeous honeymoon suites which are separate from the main lodge building.  So if being surrounded by bush and mountains is your ultimate getaway, then you'll love it.
Punakaiki – Travelling New Zealand South Island West Coast
Continuing on with your travels, you might like to spend a night or two in the historic town of Hokitika. In fact, don't miss miss the opportunity of taking an awesome helicopter ride over the alps.  Precision Helicopters specialises in personalised tours – it is a life-changing experience! After Hokitika, your next stop for a few nights will be the beautiful coastal area of Punakaiki. The beaches here are not made for sunbathing.  Instead, they dance to the beat of their own drum – a constant changing force of nature.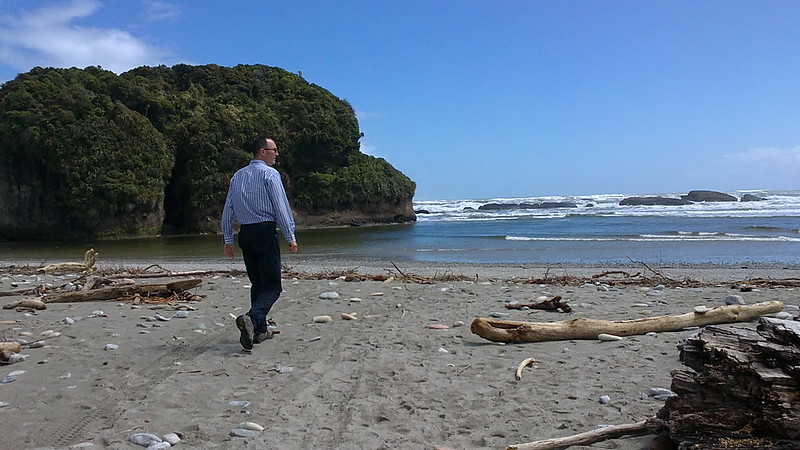 There are a few accommodation choices in Punakaiki, but none more welcoming than Breakers Boutique Lodge. This small lodge must have one of the best views and locations in the whole of New Zealand! I guarantee that you will have no trouble falling asleep to the blissful sound of the sea below. Often travellers rush through the coastal road either north or south. Coming from the glaciers around Fox and Franz Josef. Or, from the Abel Tasman National Park and Nelson. It's well worth considering to have a few more nights on the West Coast. There are a number of exceptional and much lesser known walking tracks to discover.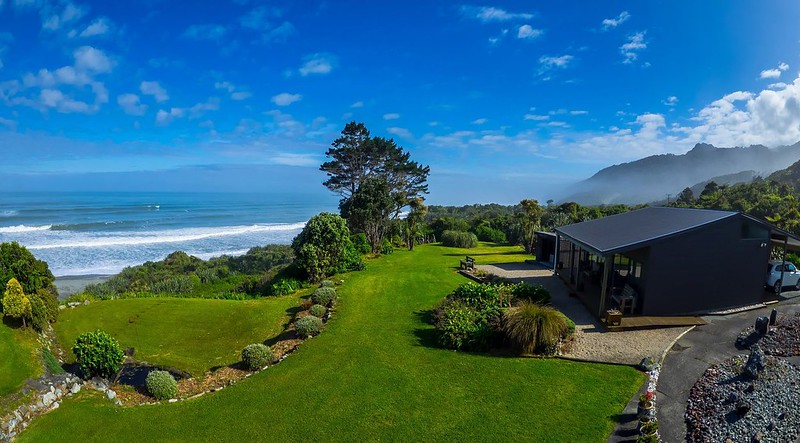 The West Coast is a great place in the off-season
The walking tracks around the West Coast are generally easy and you can pretty much go for as long as you like.  We loved the Pororari  River Track, which is in the Punakaiki area and part of the Paparoa National Park. Especially during the New Zealand off-season (between May and September) the West Coast is an amazing place to visit. The 'crowds' are gone and often you having the place to yourself. The beauty with New Zealand is that you can actually travel throughout the year. Read more about the travel season. Just keep in mind to be prepared and plan ahead for travelling between May and September.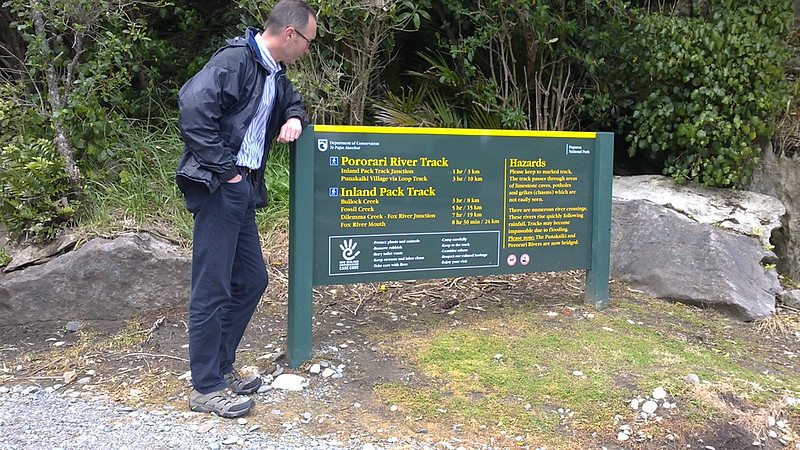 Walking Trails
This is the true New Zealand experience – a great walk surrounded by native bush, where the scenery constantly changes. There is no greater pleasure when you can see nature at its best. Every now and then the track opens up to reveal hidden surprises. These might include beautiful river views, the most magnificent swing bridges and gorgeous waterfalls.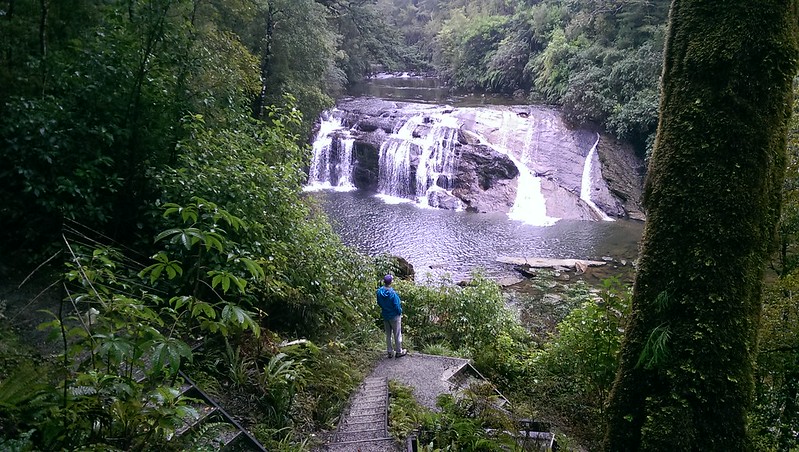 Cycling tracks West Coast
The West Coast is considered fantastic mountain bike country with a choice of local tracks or some real back country adventure. Lonely Planet has already named it as one of the top 10 regions to visit in the World. No surprises there. Just ask the host from wherever you are staying and they will direct you to a cycling trail nearby. Honestly, when you biking or walking through this stunning, lush-green landscape you feel alive. You hear the birds, breath in the fresh air and be part of nature. This is what travelling to New Zealand is all about!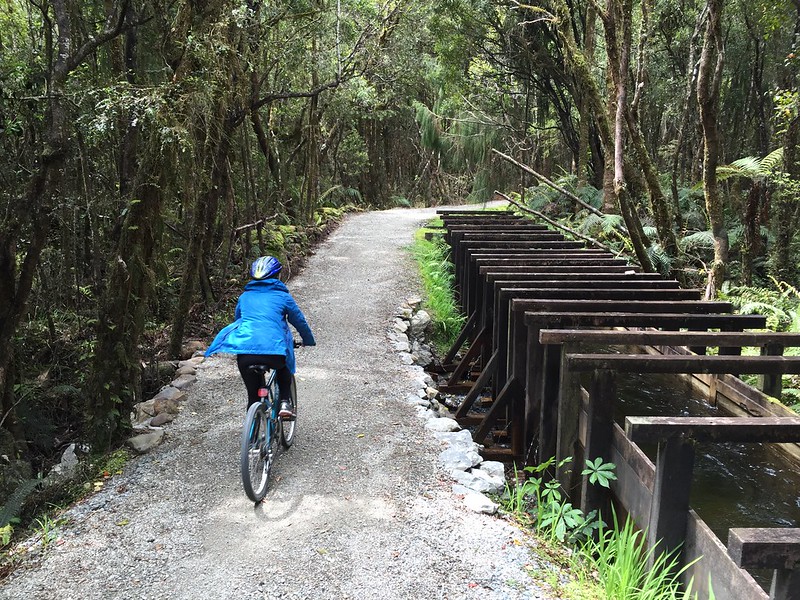 The West Coast Wilderness Trail is famous for its 120km of off-road biking.  In fact, it has been recognised as being the best cycle trail surfaces in the country! You will feel like a local when you leave the area.  It could very well be the best time you have ever spent. There are a number of transfer options, so don't worry not being able to manage the distances. Also, e-bikes are now so popular in New Zealand.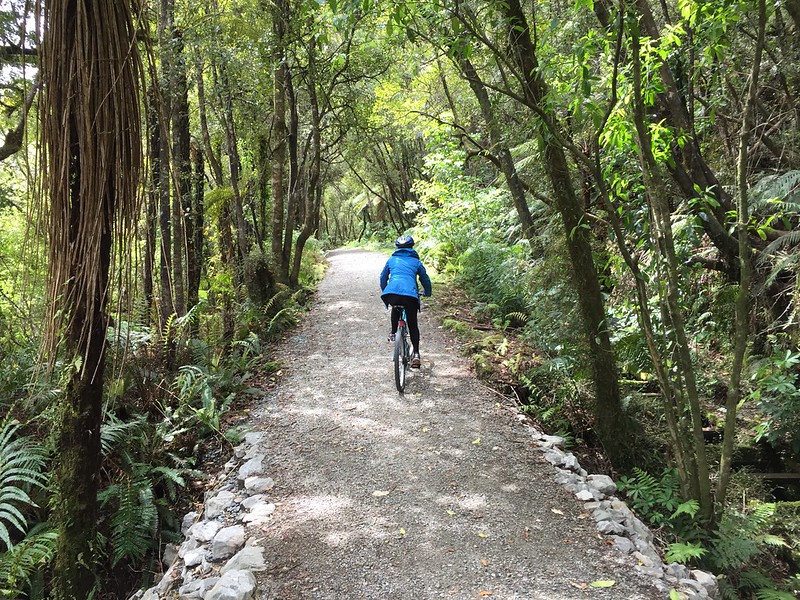 Today these old tracks, together with extensive water races, logging tramways and later short length railway lines, form the West Coast Wilderness Trail. The cycle trail can be ridden either in part as a day ride or in its entirety over four days. It is rated Grade 2 with some Grade 3 on road riding – 'Easy' to 'Intermediate'. It offers a safe option for all ages and fitness levels. Although the incline from Kumara to Milltown is a little more challenging than the rest of the ride, most people with a reasonable level of fitness will find it manageable.
You are bound to come across relics from a bygone era, where life was harder, but somehow simpler. This rustic addition to the landscape blends perfectly with the bush.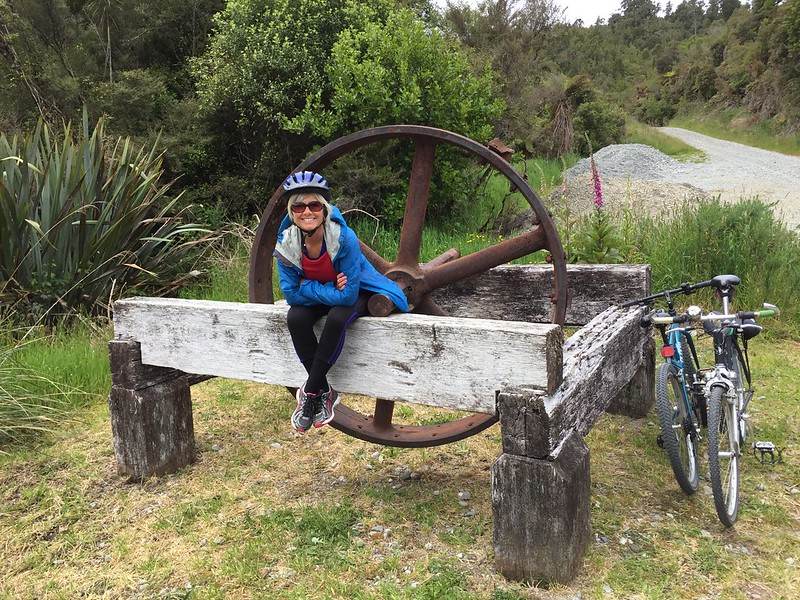 Here are some more helpful travel planning blogs for New Zealand:
Happy travelling from Nelson to the West Coast!