Best Things To Do In Nelson
With the Nelson Region, you will definitely get more bang for your buck!  And the reason for that is simply that the Tasman Region is right next to Nelson.  In fact, because the Tasman Region is only 20 minutes drive away, many visitors prefer to base themselves here. So when we talk about the best things to do in Nelson, we are actually including the Tasman Region.
Top 7 Things To Do In Nelson – Tasman
As with a lot of New Zealand cities, Nelson is a Port City.  Being close to the port, you can hop onto a water taxi and get access to the Abel Tasman National park. Also Nelson does have its fair share of eateries, as does the Tasman Region.  Both these areas have an abundance of artisan food producers and artists. But perhaps the biggest jewel in the crown, would have to be the Abel Tasman National Park. Especially if you are a keen outdoorsy person, you will be in paradise – literally!
1. Visiting the Abel Tasman National Park
Abel Tasman National Park is one of the smallest reserves in New Zealand, but by far one of the most spectacular. Its white sand beaches and rich rainforest take pride of place in New Zealand tourism campaigns. It makes sense that the park is included in the itinerary of most visitors to these shores. The main starting point for most travellers is Kaiteriteri Beach or Marahau Beach. Both of which are located at the southern end of the park. (There's also the lesser-used access from Totaranui/ Takaka from the northern part.) Abel Tasman is distinct from New Zealand's other national parks. You will need to catch a water taxi to get internal access around the park.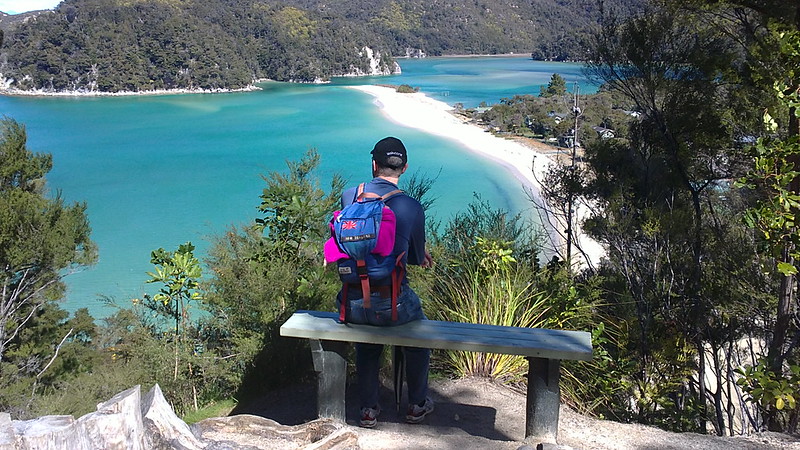 Unguided Walks
The best way to manage your own day trip is to take a water taxi to one of the bays along the coastline. A very popular day trip is to go from Kaiteriteri Beach with a water taxi at 9.15am or 10.30am to Bark Bay. From here, you can walk to Anchorage Bay in 4 hours (about 10 kms). There are some more details when we did that part of the Abel Tasman coastal walk. You can then take the water taxi back to Kaiteriteri at 3.45pm or 4.45pm. For a longer hike, just go further north to Awaroa and walk back to Tonga or Bark Bay. Either way, the water taxi is your best friend! Here is a sample water taxi services – SeaShuttle.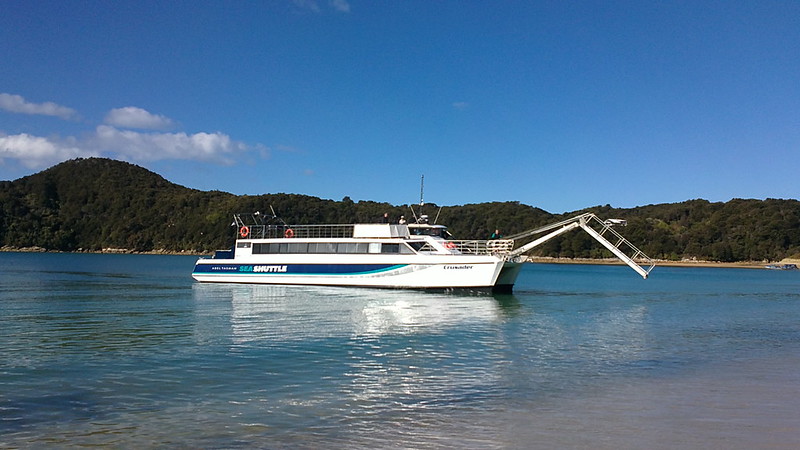 Guided Kayaking and Walks
Kayaking in Abel Tasman National Park really is the stuff of legends. I would recommend that you start from Kaiteriteri or Marahau with a local sea kayaking company You can either go for half or a full day. However, bear in mind that you do need reasonable level of fitness. The guided kayaking and walking trip is a great option. This will provide you with the best of both worlds! The water taxi will take you to Tonga Bay, which is part of a pristine marine reserve. Here you can start paddling in a double kayak.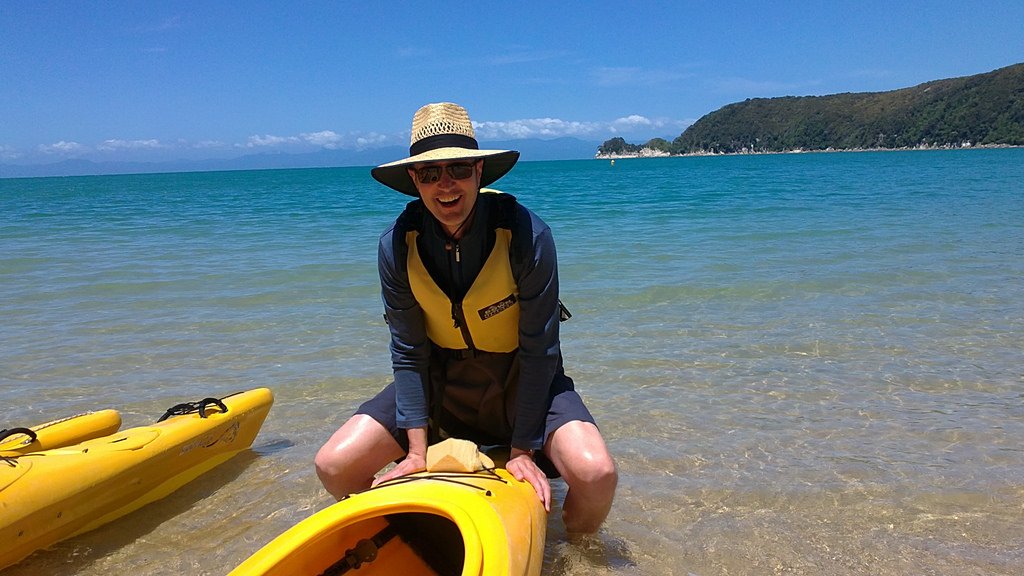 All the equipment is provided by the operator. But you will need to bring your sun hat, sunscreen, sunglasses, a bathing costume, and towel! A guided nature walk on the Abel Tasman Track is included as well as lunch. You'll get to return to Marahau or Kaiteriteri at around 5.30pm.
Sailing at Abel Tasman National Park
For those travellers who like a little less physical activity, a perfect alternative is a sailing excursion with Abel Tasman Charters.  What you'll get is an entirely different perspective of the most incredible coastline. You can explore the little bays and beaches, go for a swim or have a paddle in a kayak. Plus you can kick back and enjoy local food and wine in style!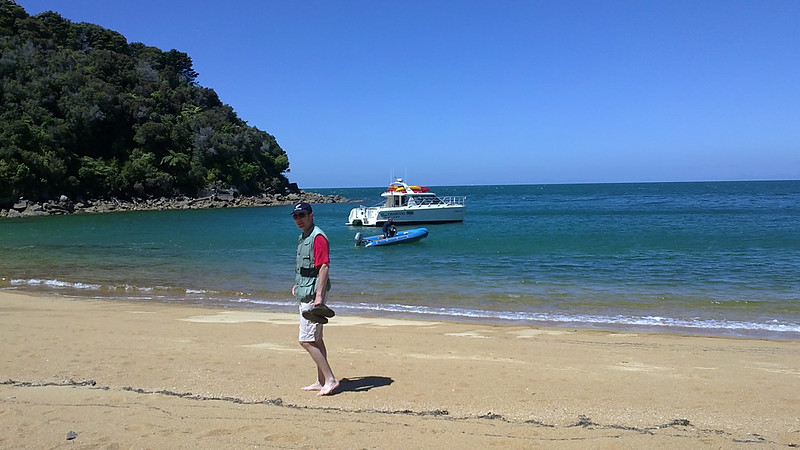 Abel Tasman Eco Tours
More international travellers are now genuinely interested in eco-tourism. This makes Abel Tasman Eco Tours a great choice in which to tour the bays and inlets of the park. The owner of Abel Tasman Eco Tours has a great company slogan "Open your eyes." Stew Robertson has these words written on his boat and t-shirts. It's a great way to show his passion for the Abel Tasman National Park. There are three different tour options on offer. The Golden Future Boat day tour is a very popular small group tour with a maximum of 14 people. See more details on a trip we did with Stew (seen below with a helping hand!)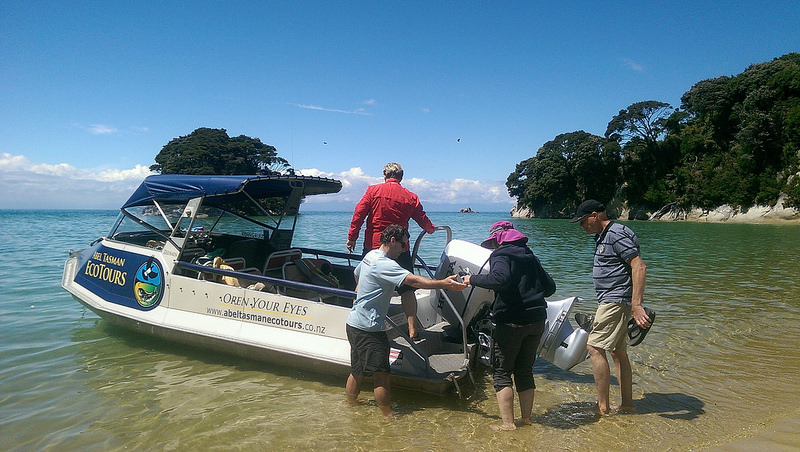 2. Exploring the Tasman region by cycle
The Tasman Great Taste Trail has to be one of the great assets for the Nelson/Tasman region.  This is a well maintained and easy cycling trail. You will be able to enjoy a leisurely tour of some of New Zealand's most beautiful coastal and inland areas. Not only will you ride pass vineyards and orchards, but you'll get to enjoy some great food. As a loop, the trail is 174km long. However, for those travellers on limited time, the trail can be done in sections – so perfect for short morning or afternoon rides!
Independent cycling
You can hire a bike (e-bikes are available) either from Nelson or in the Tasman region.  All the other cycle equipment such as the bike, helmet, maps and cycle packs are provided. Next on the list will be getting the right sized cycle frame for your height.  So armed with your trusty map, you can begin to make your way along the designated trail.
Guided Cycling Tours
With the fully guided cycling option, you will get a whole new level of adventure. Believe me, sometimes just getting a guide book is simply not enough. A great advantage of being on a guided tour, is the indepth knowledge of a local guide. For example, you might come across a farmer who is shifting a mob of sheep. Your guide will probably know the farmer and he will be more than happy to have a chat. Depending on the time of year, you might vineyard workers preparing the next harvest. You might want to find out how things are done on these vineyards. If you are based in the Tasman Region, I would highly recommend that you go with a boutique operator –  one who understands the essence of 'real' travel!
Check out more details on cycling the Nelson-Tasman region.
3. Arts & Crafts in the Nelson Tasman region
Lets just say, that Nelson and Tasman has a wealth of arts and crafts. The Suter Gallery is Nelson City's major gallery and it has a pretty good selection of  nationally significant selections.  The exhibitions that are held here are incredibly diverse.  There is also a beautiful cafe attached to the gallery plus a gallery shop.
However, if you are looking for something with a more boutique edge, the Tula Niles art gallery is awesome.  There are some truly unique and affordable pieces here, mostly by local artists.  This gorgeous little gallery is bigger than what it looks from the outside.  You can meander through a number rooms at your leisure.
The Tasman District is brimming with artists and they all have their specialty – painters to ceramic artists and sculptors,  Speaking of sculptors, one visit that should be on your list, is the Michael MacMillan Sculptor & Country Homeware gallery.  Michael works with a variety of mediums: resins, ceramic, copper, french oak and steel.
4. Food & wine in the Nelson/Tasman region
Nelson City has plenty of eateries. Just for the variety alone, all you need do is head down to the top end of Trafalgar Street. Here you can choose from Gourmet Burgers, to refined dining. In the summer, this part of the Street is blocked off from traffic – great for Alfresco Dining. However, if you want harbour views, just head down to the Port area nearby. More on Nelson-Tasman restaurants and cafe options.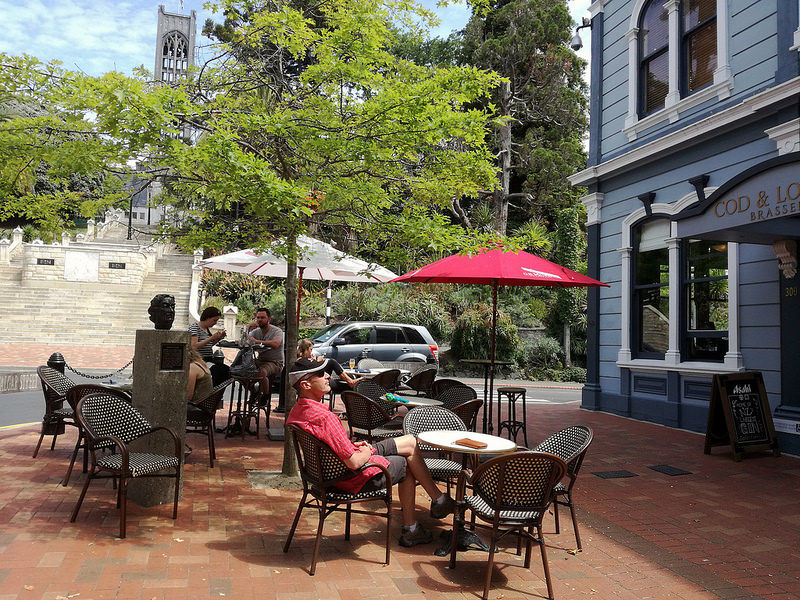 The Tasman Region also has some special cafes and restaurants. In fact, this region has an amazing selection of beautiful vineyards, all producing premium wines. So do include wine-tasting in your itinerary.  For a very special dining experience, check out Forsters Restaurant.  Forsters is actually located at the Moutere Hills Winery just outside the village of Upper Moutere. I guarantee you will find the food here absolutely divine!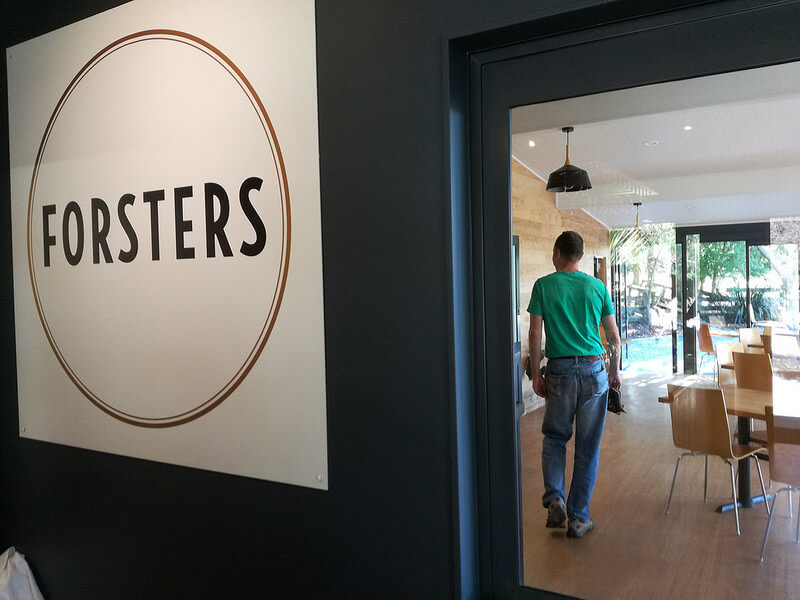 For tasty and more casual dining, Alberta's at Mapua would probably suit most travellers.  Also the Jellyfish Cafe has the perfect location if you want to be on the wharf and relax over lunch or dinner. If you are not that hungry, then kick back at the lovely little Rimu Wine Bar. They do provide pizzas and antipasto platters, so you won't go hungry.
​

5. Favoured Day walks in Nelson area

Some of the most enjoyable walks are located just out of Nelson City.  In fact, the Cable Bay walk is just one of many.  You can either do a circuit walk around the river, or head out further to the Nelson surrounds.  With all these walks, you will get a sense of being away from the maddening crowds.
6. Trip to Golden Bay and Cape Farewell
If time is on your side, then you might want to consider a trip to Golden Bay. There is a more laid-back and alternative vibe at Golden Bay. So if you just want to chill out for a day, this is the perfect spot. They have a great arty township here and there is plenty to do. You can even join a tour out to Farewell Spit or catch your own Salmon at the Anatoki Salmon Farm. Find out more about the Golden Bay tour options.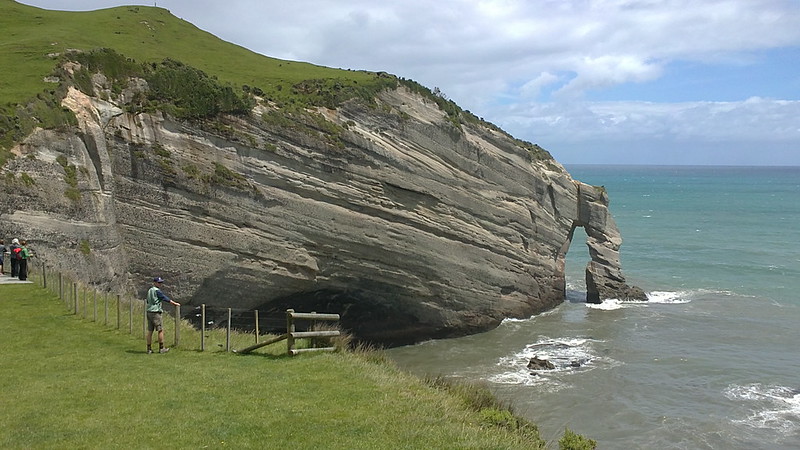 7. Day trip to Nelson Lakes National Park
Once again, if time is on your side, a day trip to the Nelson Lakes National Park is a winner!  The scenery alone, is gorgeous.  Do take insect repellent with you! The area known as St Arnaud is especially popular, as it has great walks and boat rides. Learn more about the Nelson Lakes day tour options.
Important Travel Tips For Nelson
Nelson and Tasman are known as the sunshine city for a very good reason.  That is because, they both are perfect for outdoor activities. Most outdoor enthusiasts know that adventures can be unpredictable.  Therefore it is important to ensure you are well prepared for your trip – and remain safe at all times. Take adequate clothing that you can layer, plus a raincoat and a sunhat. Like most places in New Zealand, it is possible to get 4 seasons in one day!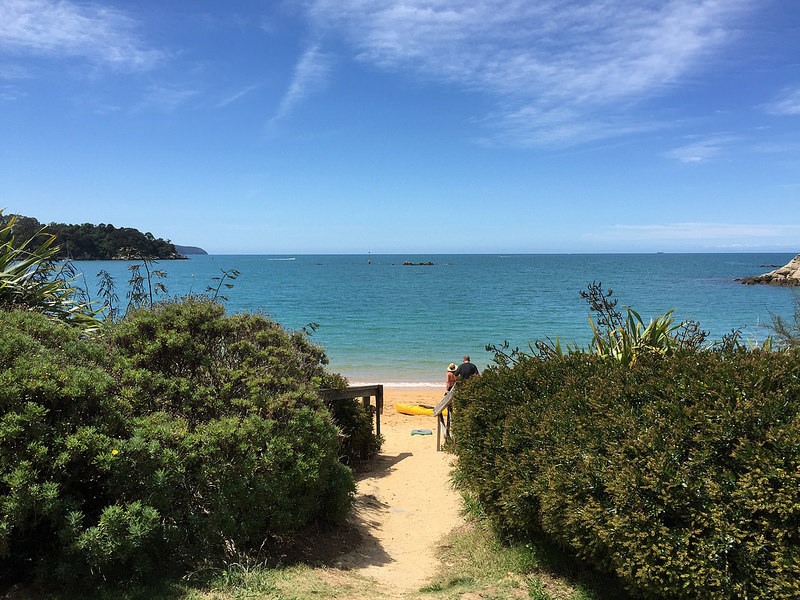 Nelson Tasman Weather Conditions
The Nelson/Tasman Region have a Mediterranean climate.  So in winter, we have some beautiful frosty, yet crisp blue skies.  Our Autumns are very beautiful and although cooler, still quite warm. Our busiest season is summer and these are usually quite dry.  Temperatures don't normally go above 26 or 27 degrees.
Accommodation in the Nelson Tasman region
If you are planning a trip to New Zealand between November and March- book at least six months ahead.  Accommodation in these summer months are pretty booked out in advance.  However, the Nelson/Tasman Region have some great accommodation options. Take for example, a gorgeous little getaway like this vineyard cottage.
Located in the very heart of the Tasman Region is Te Koi The Lodge at Bronte. This prestigious lodge took out the award for the World's Best New Hotel. Pretty amazing for a small country like New Zealand.  You will find a special level of comfort in a property like this one and others of a similar level.
Nelson does not have type resort type hotels. In fact, it tends to favour smaller self-catering apartments – perfect for families. Honeymooners love the private little cottages, and boutique lodges. This makes the area perfect for those who want to be independent or those who want to be pampered.
Other helpful New Zealand travel links
Happy Travelling in the Nelson region!