Some of the best places for stargazing can be found in New Zealand. That's because we have such clear skies and also some very unique stellar 'landscapes'. In fact, New Zealand is up there as one of the top 3 stargazing destinations on Planet Earth! Believe me, a stargazing tour is like no other. Both the North and South Island offer stargazing for travellers in New Zealand. So let's start with the South Island…
South Island Stargazing:
Aoraki Mount Cook
This Alpine area of New Zealand is actually protected as an International Dark Sky Reserve  With virtually no light pollution, it has obtained 'gold' status, one of the best places for stargazing New Zealand has to offer. It is also the largest reserve of its kind to be found on the earth!
Stargazing at Pukaki Wine Cellar Observatory
This unique dark sky experience is located at the Mt. Cook Lakeside Retreat en-route to Mt. Cook Village. Your tour begins in Pukaki's wine cellar where you will be treated to nibbles and a glass of wine from their curated collection. Then you will be introduced to the Dark Sky Reserve features.
Once you move through to the Observatory, you can take a closer look the planets and stars through a beautiful 6″ refractor telescope. If you care to bring your DSLR Canon or Nikon camera, you'll get some amazing astrophotography opportunities.
Big Sky Stargazing
This is a fully guided stargazing tour and operates from the Mount Cook Village. First of all, you will need to check-in at the Activities Desk. You'll find this inside the lobby of The Hermitage Hotel on Terrace Road. You will be given a full hour to see the beautiful southern night sky through state of the art 14″ and 11″ astronomy telescopes.
There is so much celestial beauty to be seen in these skies – from the Southern Cross, to planets star clusters and moons. You will even get to view New Zealand's very own galaxy, the spectacular Milky Way.
All this magic can be experienced from an outdoor viewing platform at the stargazing building. But if the weather is poor, you can seethe southern night sky indoors. The added bonus of this particular option, is that you get to recline in comfortable seats in a 360-degree digital Dome Planetarium theatre. Each night will bring a different unique experience – stars, planets, the moon and satellites are constantly on the move as our Earth orbits in space.
Lake Tekapo New Zealand Stargazing
Most travellers in New Zealand know about this one – a truly is a world-class research centre! Lake Tekapo is surrounded by mountains and is included within the South Island's International Dark Sky Reserve. There is no great diamond-studded display for stargazers. I would recommend that you spend a night here, at least – especially if you want a tour of the Dark Sky Observatory.
Perched right at the peak of Mount John, is New Zealand's most powerful telescope. But further down at the ground level, you can also enjoy Tekapo's dramatic mountain scenery. Such a landscape provides a stunning backdrop for those twinkling stars. And what a lot of travellers know, is that this part of the South Island comes alive with the Southern Lights.
Dark Sky Project (formerly known as Mount John Observatory)
The Dark Sky Project offers 3 tours: the Crater, the Summit and the Dark Sky Experience. There is no question that the Dark Sky Project is the ultimate in mountaintop stargazing.
The actual tour takes place at the world-renowned astronomical centre: UC Mt John Observatory. And it is here that you can immerse yourself in the stunning surrounds.
But if you look up, you'll see the purest of night skies. Plus you'll be able to enjoy the sophisticated viewing technologies and the expertise of some very knowledgeable guides. With magical tours like this one, you will need to book well in advance.
Queenstown Skyline Stargazing
With plenty of mountains and a pristine sky, Queenstown is yet another perfect spot for stargazing. So why not go on one of Skyline Stargazing's tours. Start with a thrilling gondola ride high above Queenstown. Once you at the top, you can inspect the night sky through a high-powered telescope. Just to add to the romance of the occasion, you can even include dinner for two. And if you're a keen skier, you could also consider watching watch the sparkling skies as you zoom down the slopes.
Stewart Island Stargazing
Rakiura National Park Night Tour
A lot of travellers to New Zealand only get time to visit just a few special places. That is why Stewart Island is often missed. However Stewart Island is another great place to take a night tour. As New Zealand's third island, Stewart Island can be found off the southern tip of the South Island. Such a beautiful island is home to the Rakiura National Park.
And it is also home to a species of native kiwi. You can actually take a night tour into the park see these kiwis. However, a big attraction for a lot of stargazers, is the chance to see the Aurora Australis – the Southern Lights. Now these lights are not nearly as famous as the northern Aurora Borealis, but they are still breathtaking. And what makes this stargazing tour so great, is the absence of pollution.
Stargazing North Island New Zealand
Auckland
Because Auckland is New Zealand's biggest city, you would expect some light pollution. However Auckland has two great vantage points for stargazing. One of these is the Stardome, an observatory and planetarium. The planetarium has some great shows for families – these are especially tailor-made for your children.
The other stargazing spot is the Shakespear Regional Park, which is a 40-minutes drive north of the city. The Shakespear Regional Park is a nature sanctuary –  it provides shelter for some of  NZ's most endangered native wildlife. Usually the park will stay open until 9pm in summer and 7pm in winter. So why not head out to the park after sunset. Yet again, because of Covid-19, you will need to check opening and closing times.
Great Barrier Island
Away from the lights of the big city and as an off-the-grid island, our light pollution is minimal. That makes the Great Barrier Island's dark skies among some of the best places for Stargazing in New Zealand. Great Barrier Island is a Dark Sky Sanctuary, committed to protecting New Zealand's outstanding night sky.
The Milky Way spans our Southern Hemisphere sky and the Magellanic Clouds, not visible in the Northern Hemisphere, are easily seen. Dark sky experiences are suitable for children over 8 and adults and will include guided telescope viewing of the wonders of the universe as well as amazing astronomical facts and figures.
Tongariro National Park
So many fit travellers have experienced the Tongariro Alpine Crossing. After all, it is is one of the world's most scenic hikes – and particularly after dark, it is spectacular. The trail weaves between the dramatic peaks like Ngauruhoe (better known as Mount Doom), Tongariro and Ruapehu. Even though the trail is very busy during the day, it is quite peaceful at night.
On this tour, you will be given a headlamp to see your way. Your guide will take you along an overnight crossing through the Tongariro National Park. It is a magical night where a twinkling night sky gives way to a gorgeous sunrise. It will take your breath away. Once gain, do check to see if this tour is still operating for the particular time you want. We recommend that you stay outside the Ohakune Village at Nightsky Cottage – a very private and peaceful setting.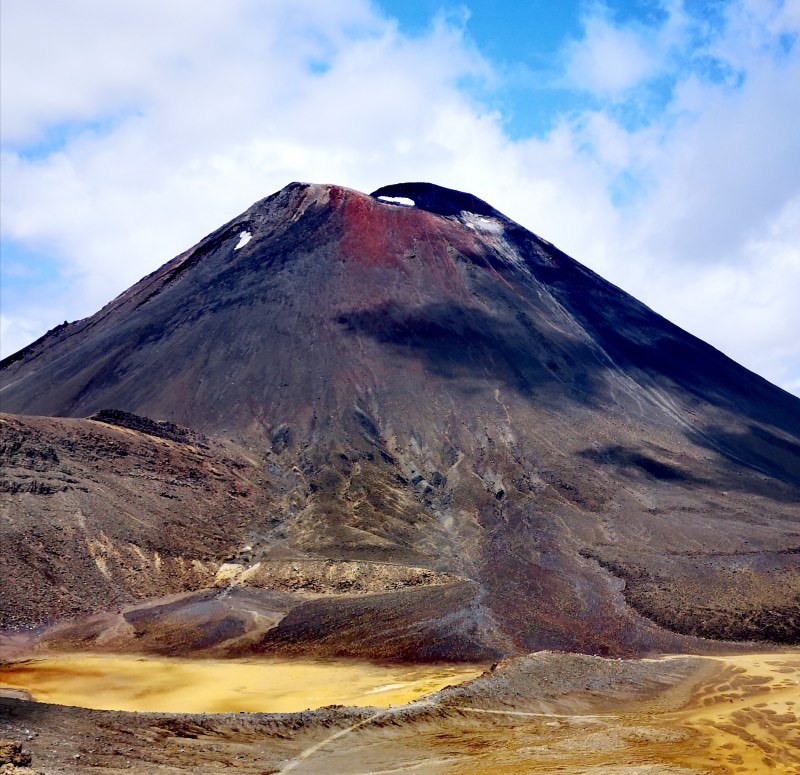 Wellington
Carter Observatory
You can also see a great night sky in Wellington, New Zealand's capital city. What you need to do is to take the cable car up to Carter Observatory — this is New Zealand's national observatory. Not only will you get to view the heavens, but the panoramic views over Wellington as well!
Zealandia Eco-Sanctuary
If you travel outside of Wellington, go and visit Zealandia which is an eco-sanctuary. Zealandis provides an amazing after-dark experience. Do check on the night tours that sometimes operate here. These night tours give you a chance to meet native New Zealand animals in their own habitat. And what is even better, you will can see these lovely creatures under the glow of a beautiful moon. All the while, you can also gaze at the night sky. What an awesome combo!
Southern Lights in Aotearoa
Most stargazing for travellers in New Zealand will know about the Southern Lights. Aurora Australis is the Southern Hemisphere's version of the Northern Lights.
But Did you know that New Zealand actually lies close to the South Pole where the Southern Lights originate? This is why New Zealand is one of the few places on the planet, where you can see this celestial wonder. The shades of purple, green, yellow and blue will leave you spellbound. Simply some of the best places for stargazing New Zealand has to offer.
If you are travelling the winter months, you can see the Southern Lights appearing as strips of light shimmering in the sky. And of course, the further south you go, the more chance you will have of seeing Aurora Australis.
Look for this amazing sight in the more remoter remote areas around Dunedin, Tekapo and Queenstown. The months of July and August are your best chance of catching this stunning light show. But make sure you pick a clear night!
Helpful New Zealand travel links
Enjoy the New Zealand stars at night!