New Zealand is famous for its stunning and diverse nature experiences. It's the reason why so many people come here from all over the globe. But what exactly is the best way to explore these unique offerings? In our view, there is one key answer: go on a New Zealand eco tour!
What is an eco tour?
The International Ecotourism Society defines ecotourism as "responsible travel to natural areas that conserves the environment and improves the well-being of local people." So, an eco tour is an organized tour that pledges to practice eco tourism in how it delivers its experience. This includes, but is not limited to:
To educate tour-goers on conservation and foster environmental awareness

Profits providing direct benefits to the environment and wildlife

Have the lowest impact possible on the surrounding ecosystem

Ensuring that the rights and guardianship of Indigenous Peoples is not infringed
Not surprisingly, New Zealand is a virtual mecca of fantastic eco tours. With such a unique natural environment, this country has so much to offer visitors.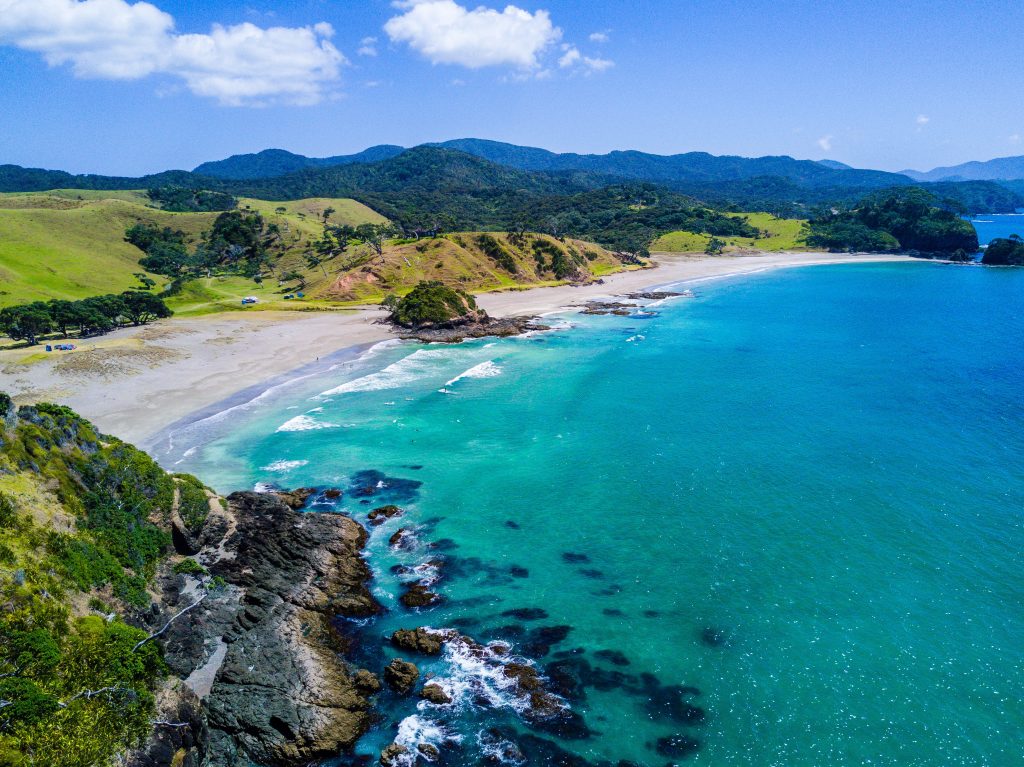 Why should travellers consider an eco tour on their New Zealand holiday?
In recent years, travelling to New Zealand, and all over the world, has become more accessible than ever. The cost of flights has gone down, and we can explore possible destinations and accommodation at a tap of our smartphone. But this democratization also has a dark side. Visitor numbers to New Zealand have skyrocketed to over 5 million a year. This might not sound like a lot compared with some of the most popular cities in Europe, but it is when you consider that NZ's total population hasn't even hit 5 million. This is a country famed for its untouched wilderness, and loved exactly because it isn't as 'touristy' and accessible as other places. But increasing visitor numbers and a lack of infrastructure is putting this environment under increasing strain, causing a lot of worry amongst locals.
Does this mean you shouldn't visit New Zealand? Of course not! But it does mean that you should consider how you can visit without adding to the problem. There are few pristine places left in this world and we all have a responsibility to try and preserve them, whether we live there or not. So, choosing tours which put sustainability at the heart of how they operate is a fantastic way to do your bit!

Why we have chosen these eco tours?
Obviously, New Zealand offers far more eco-tours than what is on this list. Just because we haven't mentioned them doesn't mean we don't think they're worth doing! We've chosen these as our top ten eco tours for a few different reasons:
They are spread out across the country – Giving you a list of eco-tours all within one region would not be a very helpful resource! Everyone plans out their New Zealand holiday slightly differently. Depending on your style of trip and where you are choosing to spend your time, certain places might be better fit for an eco-tour than others.
New Zealand is also a hugely diverse nation in more ways than one! Due to it's long thin shape, the climate differs massively in New Zealand depending on where you are. Within the space of just a few hours, you can go from coastline to rainforest to snow-covered mountains. This means that flora and fauna differ remarkably, even just miles apart. So, an eco-tour offering in Steward Island would be totally different than one in Rotorua. So, we want to give travellers a broad overview of what eco tours are available throughout New Zealand.
We have vetted them ourselves – We would never recommend an eco tour that we haven't tried and tested ourselves! All the tours in this list have their own blog post attached, where you can read in-depth about our experience and find more details. Although they are very rich in variety, they all have a few very important things in common:
They have credible environmental commitments, and work with local authorities to minimize their impact as much as possible.
They prioritize small group sizes to deliver a more authentic experience
Their tour guides are incredibly knowledgeable and experienced
In our opinion, the points above are the key ingredients for any great eco tour. So, we want to ensure that every tour we endorse can deliver on these things.
They offer something unique – For the majority of travellers who visit these shores, New Zealand is a long to way to come to. (You could argue that it is literally at the end of the earth!) So, you most likely want to spend your time doing activities that you could never do it for home country. New Zealand as a reputation as a nature haven (not undeserved!) so this forms the focal point for most people's itineraries. Whilst there is a lot you can do on your own, organised eco tours give you a level of insight into New Zealand life and culture that is hard to find elsewhere. For example, when would you ever get to ride in a vintage tractor across the beach on your own? (Yes, you really can do this! Read on!)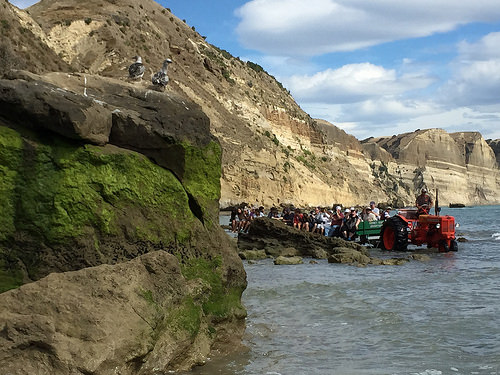 1. Cape Kidnappers Gannet Colony Tractor Tour
As we mentioned above, New Zealand contains every kind of eco tour. If you want a tour which really sums up New Zealand's quirky aesthetic, Gannet Beach Adventures is it! Cape Kidnappers is headland at the southeastern end of Hawkes Bay, and is a beautiful place for coastal walks. It is also home to massive Australasian Gannet breeding colony – over 20,000 birds!
Their four-hour eco tour could've just bussed visitors up to the colony, but where's the fun in that? Departing at high tide, they transport visitors in beautiful vintage tractors and trailers along the beach up to view the birds! The tour also gives people ample time to relax on the beach, take photos, swim and enjoy stunning views over Hawke's Bay.
You can check out our blog post on this eco tour here!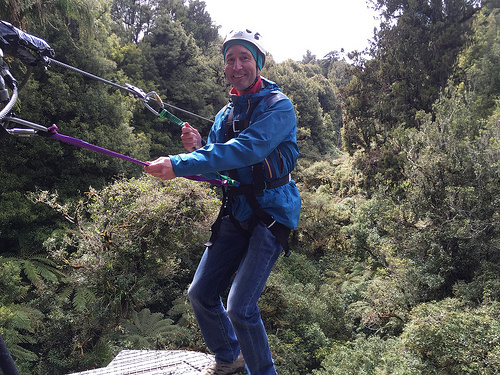 2. Rotorua Canopy Eco Tours
New Zealand has such unique plant and wildlife because it split off from other landmasses at such an early date. The result is the pristine temperate rainforest that visitors and locals love so much. However, introduced plant and animal species since human habitation has put this under threat. Rats, possums, and stoats all wreak havoc on native birdlife. And once Pandora's Box has been opened, it's not so easy putting it back in.
However, Rotorua Canopy Tours have been working diligently since 2013 to change this. Their flying fox eco tour operates within Dansey Scenic Reserve, one of the most pristine reserves in the country. They sponsor an extensive trapping programme, and co-founded the Canopy Conservation Trust with the Department of Conservation for future conservation projects. So, if you want to fly through the forest canopy like a bird, you can do it here with the knowledge that you are helping restore a native ecosystem.
You can read about our experience of Rotorua Canopy Tours here.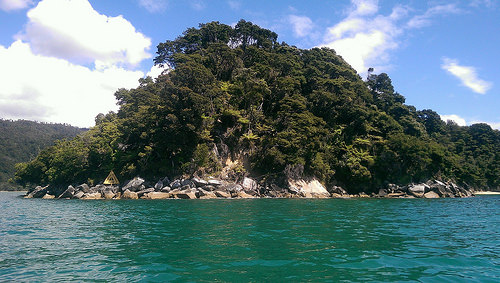 3. Abel Tasman Eco Tours
Abel Tasman National Park is the most-visited national park in the country. Visitors simply can't get enough of its turquoise waters and white beaches – its photos could have been taken in Fiji! There are plenty of fantastic nature opportunities here, from kayaking to hiking to sailing. As a result, several companies have moved into the eco tour space in an effort to appeal to a more environmentally-conscious customer base. The most successful of these has been Abel Tasman Eco Tours, who offer a variety of nature tours across the park.
Abel Tasman is home to hundreds of idyllic bays and inlets, which large boats cannot have access to without a Department of Conservation permit. As the only SMART certified tour provider in the park, Abel Tasman Eco Tours is able to deliver close-up wildlife encounters from an entirely new perspective. Their slogan, "Open your Eyes" is pretty apt here!
You can read about our tour here.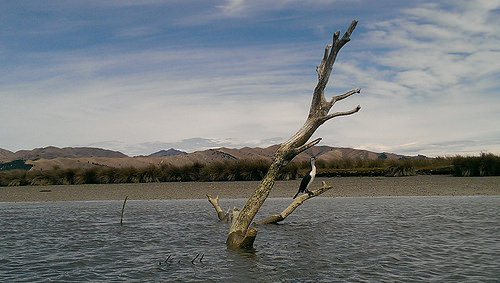 4. Driftwood Eco Tours
The Marlborough region is known best for its fine wines, rather than its nature offering. But we ensure you; both are in plentiful supply here!
Driftwood Eco Tours have been operating in Marlborough since 2003, headed up by Will and Rose Parsons. They are 4th generation kiwis from the Marlborough region, and take pride in showing visitors parts of this area that few get to see. In particular, they specialise in boutique eco tours which publicize different ecosystems to ensure their ongoing protection. The wetlands around Blenheim are a particular area of focus, and they work closely with local iwi to ensure that their tours are respectful of taonga (natural resources).
Their tours range from 2-hour kayaking trips in the wetlands to 5-day tours in the Marlborough Sounds. In this regard, they are a really unique tour provider. For those who are photography enthusiasts, they also arrange specialist photography tours!
You can read more about our adventures here.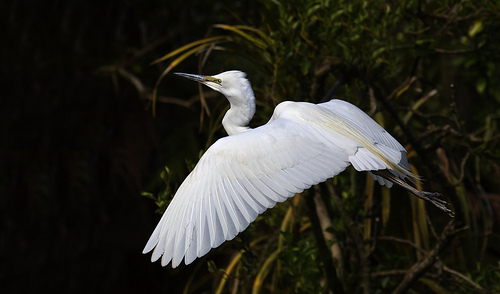 5. Waitangi Roto White Heron Colony eco tours
The West Coast of the South Island is one of New Zealand's wildest and most remote regions. For this reason, it tends to attract travellers who really want to explore a slice of wilderness. Due its lack of development, the West Coast is truly one of the greatest places in the whole country for eco tours! With its rich rainforests and stunning snowcapped mountains in such close proximity, it really looks like a land without civilization.
The White Heron colony at the Waitangi Roto Scenic Reserve is truly one of a kind. These birds are a highly endangered species, and this is currently the only breeding site in New Zealand. Incredibly sacred the Maori people, it is truly breathtaking to watch them in flight.
White Heron Tours is a local, family-run operation, and the only way that people can view these birds up close. It was started in 1987 by the Arnold family, and still remains in their hands today. They have been granted a 30-year permit to run these tours by the Department of Conservation, an incredible testament to their dedication to these birds.
You can read our post on the Waitangi Roto White Heron Colony here.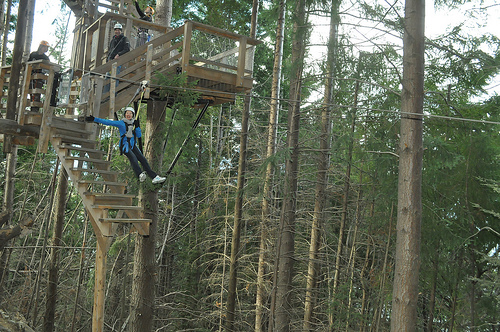 6. Zip trek eco tours
Ah, Queenstown. This township in the mountains offers everything for thrill-seeking travellers. Bungy-bumping, sky-diving, white-water rafting… you name it, it's there. This is what has turned Queenstown into a global destination. It has so many of offerings all in place, along with stunning natural vistas. But it also has its fair share of New Zealand's eco tours too!
Since Queenstown is pretty likely to be on your itinerary for a least a couple of days, this is a great place to seek out an eco tour really get to know this region. Ziptrek Eco Tours is a fantastic option if want a slightly alternative nature experience. It's similar in format to the Forest Canopy Tours, but offers to the additional experience of Queenstown's Skyline Gondola, which gives you incredibles views over the southern alps! They offer four different tour types depending on the adventurousness of the participants, and put sustainability at the center of their operation.
When Ziptrek Eco Tours first set up in 2009, Bob's Peak was covered in Wildling Pines, an invasive introduced species. In years since, they have worked hard to eradicate them and have introduced an extensive nativt tree and shrub-planting programme. The whole operation runs off the basis of the Tiaki Promise, a nationwide pledge to show respect for culture, protect the environment, and educate visitors.
You can read more about Zip Trek Eco Tours here.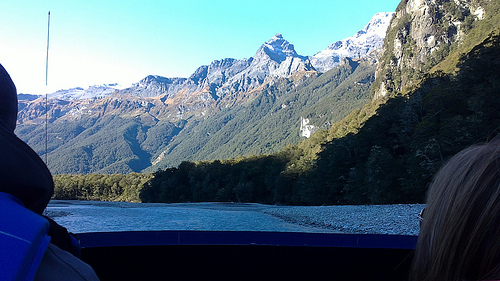 7. Dart River Adventures
Glenorchy one of the most famous regions of New Zealand, owing to it featuring in so many feature films: Lord of the Rings, X-Men and the Narnia movies, just to name a few. With its close proximity to Queenstown, there is no shortage of ways to explore this outstanding place of natural beauty. It's the perfect place for a New Zealand eco tour!
If you want an adventure which is authentically New Zealand, why not consider a jet boat ride? The jetboat is actually a New Zealand invention in the 1950s, to help farmers navigate shallow waterways. Today, it is an adrenaline-filled thrill ride which is well-suited to any traveller!
Dart River Adventures are by no means the only jet boat company in the region, but they are one of the best known for a good reason. They have been operating for over 25 years and are an operation of Ngai Tahu Tourism, the main iwi in the South Island. They are also passionate about conserving their ancestral lands and sharing indigenous history with travellers, so their eco tours offer a side of New Zealand which not all visitors get to encounter. The best part? Their wilderness jet tour makes an effort to include Lord of the Rings shooting locations, for you Tolkien fans out there!
You can check out our post here.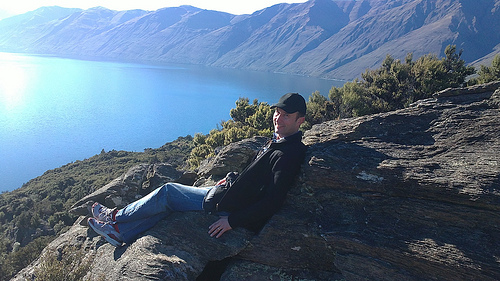 8. Mou Waho Island
Wanaka is right within New Zealand's tourism heartland, but there are still plenty of untouched spots if you are willing to go just a little further – to the islands on the lake! These can be seen from the shore, but most visitors don't realise that they can be visited. It gives you a really unique perspective on the surrounding region – not the mention stunning mountain views!
Because of their isolation, these islands are classed as protected by DoC, meaning you need to be on an organized tour to visit. The best of all is Mou Waho Island. It's the largest, and has a thriving native bird population. Eco Wanaka Adventures offer dedicated tours to the island, where visitors can explore the conservation efforts in a really hands-on way. It's not just a guided walk – you get the opportunity to plant your very own tree on the island and  'give back' to this special place.
You can check out our dedicated post here.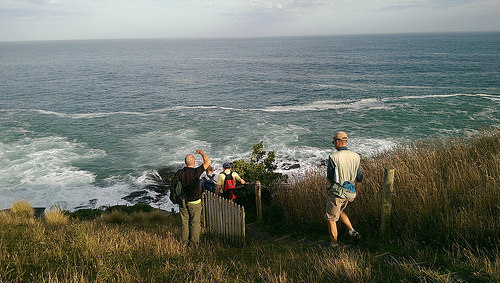 9. Elm Wildlife tours
If you are a real bird lover, the "Peninsula Encounters" Tour with Elm Wildlife Tours down on the Otago Peninsula is a New Zealand eco tour that should definitely be on your list!
As an island nation with a lot of coastline, New Zealand is home to a huge variety of marine life and sea birds. Most famous of all is the Royal Albatross colony on the Otago Peninsula at Taiaroa Head, which is the only mainland breeding colony of Royal Albatross in the world! This eco tour picks you up from Dunedin and drives you over to the headland (about 50 minutes) so you can observe the birds in their natural habitat. There is an enclosed viewing platform which gets you nice and close without disturbing them. This is a truly unique eco tour that you cannot do get elsewhere!
Best of all, Elm Wildlife Tours is totally carbon neutral, and uses its tours as a way to publicize the important of conserving these natural environments for future generations.
You can check out our full post here.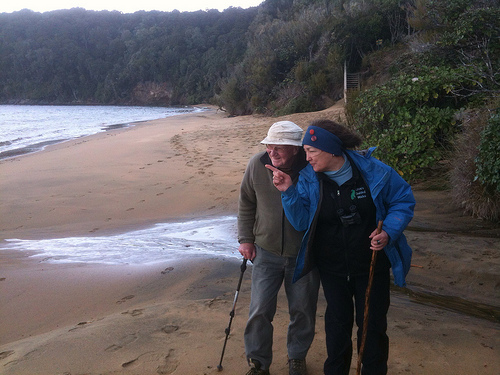 10. (Ulva Island) Steward Island eco tours
When it comes to tourism in New Zealand, Stewart Island is the one place that few visitors ever make it to. Why? Because it's that little bit too far off the beaten track for most. In fact, many aren't even aware that New Zealand has another inhabited island at the bottom! There is a tongue in cheek saying by locals that nothing ever changes in Stewart Island. But this is most definitely a good thing when it comes to its incredible eco tours!
It's exactly because Stewart Island hasn't undergone any significant urbanisation that it has some of the highest levels of pristine rainforest in the country. This makes it a paradise for native wildlife of all kinds. Ulva Island is just a 15 minute boat ride away from Stewart Island, is one of New Zealand's best eco tours. Its isolation has made it a fantastic breeding ground run by the Department of Conservation for many native bird species.
Ulva Goodwillie started her eco tour 'Ulva's Guided Walks' in 2000. A descendant of the local maori iwi of the area, she herself is name after this island! Because visitors to Ulva Island need a guide as per DoC rules, she set about filling this gap with her own unique knowledge. Her eco tour is a half-day walk around the island. Visitors will have the rare opportunity to interact with little-seen native birds. There's the Stewart Island Robin, Albertross – even kiwis! This is a truly unique experience you won't find elsewhere.
You can read our dedicated Ulva Island blog here.
A New Zealand eco tour really is the perfect way to cap off your trip to this incredible country. We guarantee it will be one of the highlights of your holiday. More on sustainable travel read this blog by Beeco.green
Happy Travelling!