This travel blog is about what you can do in the awesome little village of Geraldine. Geraldine is a mere 2-hour drive from Christchurch, and the perfect place to base yourself for at least two nights. If you stay in Geraldine, you will be able to explore the hills, mountains, rivers, forests and beaches of the beautiful Mid Canterbury. In fact, Geraldine has long been regarded as one of New Zealand's most attractive towns, with an incredible variety of scenery. So if you are after the flat Canterbury plains, mountains, spectacular river gorges or native bush, Geraldine is the place to be.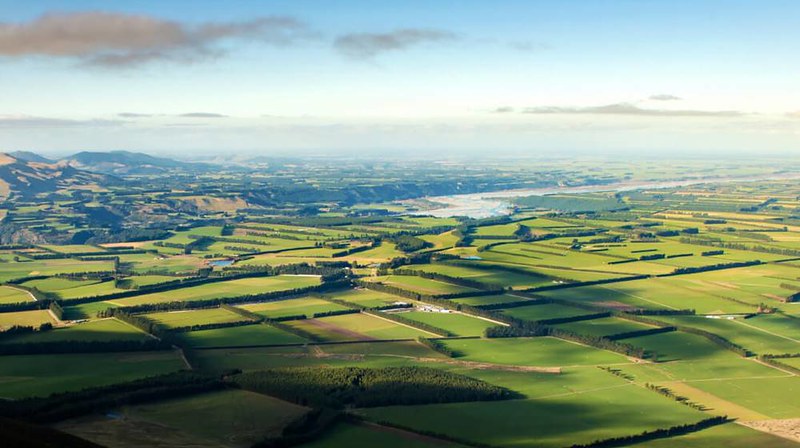 Where is Geraldine located in New Zealand?
Geraldine is very popular with visitors who are travelling the scenic route between Christchurch to Lake Tekapo. Most people stop at Geraldine for a coffee and a browse through the famous Barkers Food Store & Eatery. After that, they usually head on to Lake Tekapo and Mt Cook.
Having stayed in Geraldine for two nights, we believe there is so much more to this charming village than meets the eye!  I have recently rediscovered Geraldine as a destination in itself – a place to explore the high country stations and mighty Southern Alps of South Canterbury. With this travel blog I shall focus on the hidden gems in a very special part of 'heartland' New Zealand. For more details, Geraldine.nz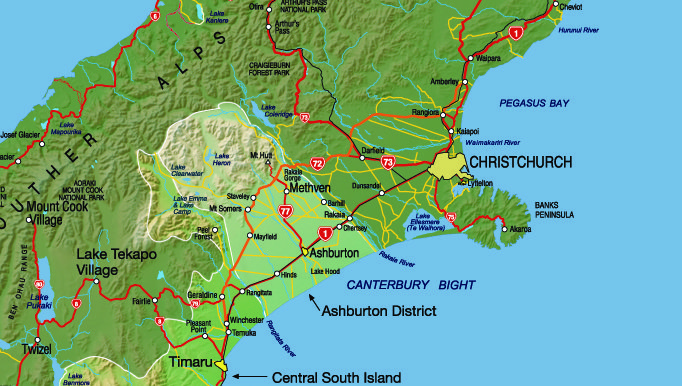 Where do stay in Geraldine?
You will have no trouble in finding accommodation in Geraldine. There are a number of motels and B&B options you can choose from. But if you are after something really special, why not consider a stay at The Vicarage Geraldine. For a start, you will be right in the heart of the village, with access to all facilities.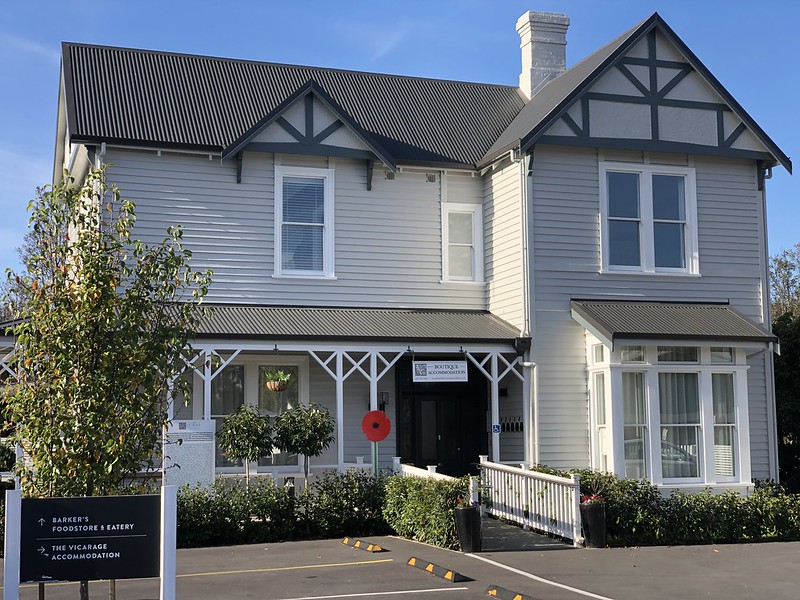 The Vicarage has been a labour of love for the Barker Family who began work on its restoration in 2017. It has been fully refurbished with the most beautiful and tasteful decor. After a few years of painstaking restoration, The Vicarage was re-opened October 2019. The locals were invited to see for themselves, the amazing asset that had just been added to their village.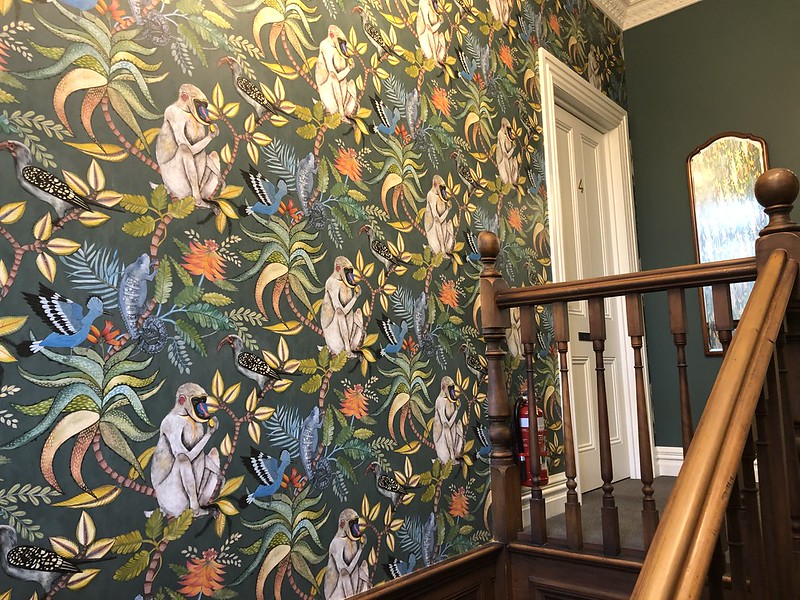 With six beautifully appointed guest rooms, this boutique property provides superking beds, each with an ensuite. For a place to just chill out, you can use the communal sitting room that are located on each floor. After all, some of us enjoy just kicking and enjoying the company of other travellers.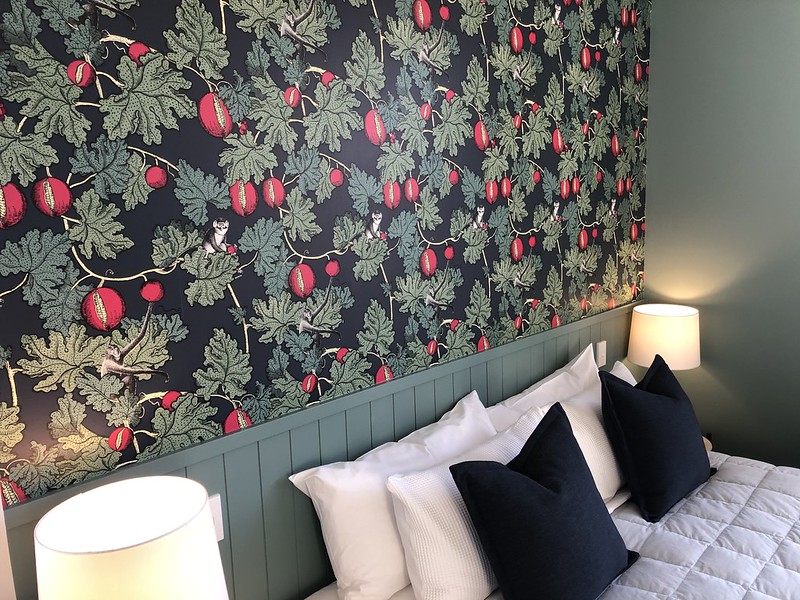 The gorgeous interiors The Vicarage has been carefully thought out and chosen. The wallpaper is definitely a talking point with visitors. Each room is named after one of the vicars that served the community. Yes, there are some wonderful modern twists, but all the renovations have been careful to keep the heritage and history of the building alive. What will really impress you about The Vicarage, is the generosity and quality that has been shown by the owners.  We thought it was a great little find!
>>> View this 360 video below and use your mouse the move around. <<<
What to do in the Geraldine region?
You will find plenty to do in and around Geraldine. You will even find authentic New Zealand art to view or purchase. And although the choice of eateries is not huge, most people will find something to suit their palette and dietary needs.
Peel Forest, Rangitata River Gorge & Mesopotamia
Peel Forest is famous for its native bush and great walking trails. In fact, you will probably find a forest walk to suit most fitness levels. There is nothing quite like that full immersive experience of being in the bush. If you are keen on the outdoors,  go exploring the forests, paddocks and rivers throughout this region. Information on walks in the Peel Forest.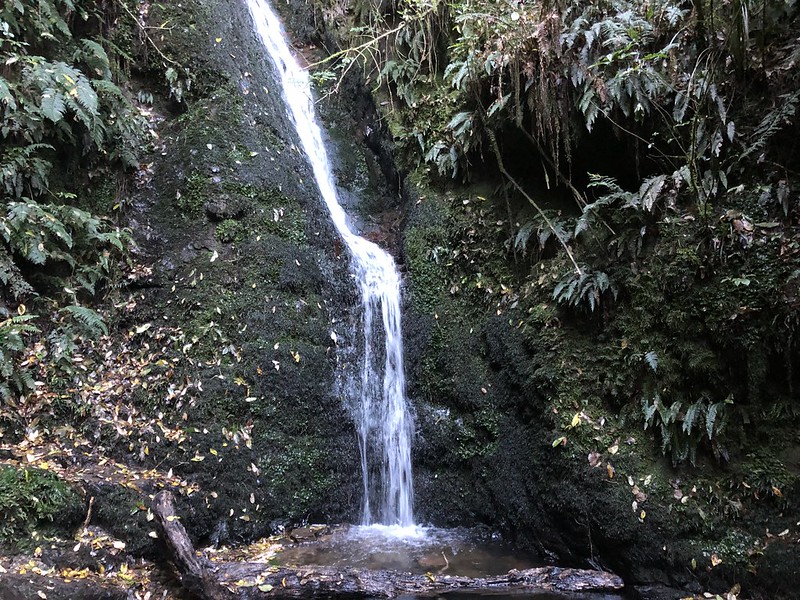 The Rangitata Gorge is located in the Canterbury High Country – it is quite narrow and links the headwaters of the Rangitata River with the fertile Canterbury Plains.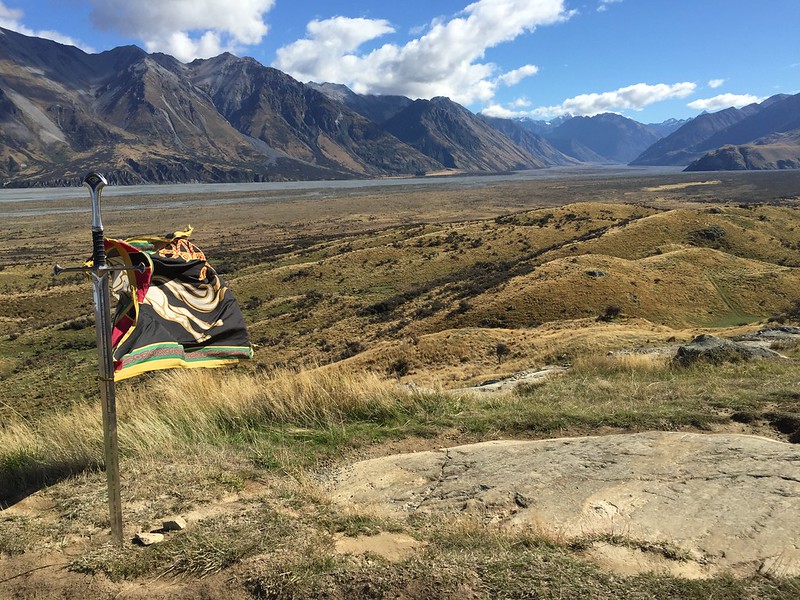 The Mesopotamia region was made famous by the very first owner of the Mesopotamia Station. Samuel Butler was a renowned English writer and author of the brilliant satire Erewhon. He based his satire on the spectacular landscapes found in the area. High country stations have a unique part in the history of New Zealand. If you do this tour, you will have a knowledgeable local –  usually a retired farmer,who knows the history of the families who farmed this land.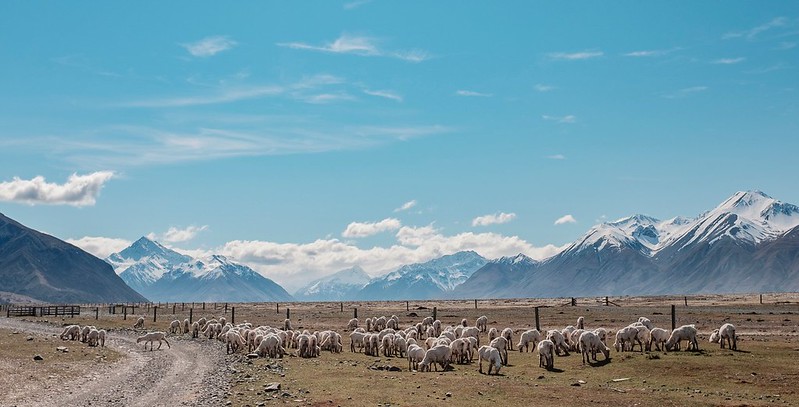 Explore spectacular high country
The term 'High country', is used in New Zealand to describe elevated pastoral land. The High Country of the South Island generally lies within the rain shadow of the country's mountain ranges – it is this land that is extensively farmed. The reason for this, is that this area has a continental climate with low rainfall, cold winters and hot summers. The livestock farmed in these regions include sheep, deer and increasingly alpaca. It is here that you will also find that beautiful ground-covering tussock plant so often featured in media promotions. View tour options.
Authentic Farm Tours
If you join an authentic New Zealand farm tour, you will definitely get a more in-depth in what is regarded as New Zealand's 'backbone'. And I guarantee you will gain a deeper insider view of how farming works in New Zealand. View tour option.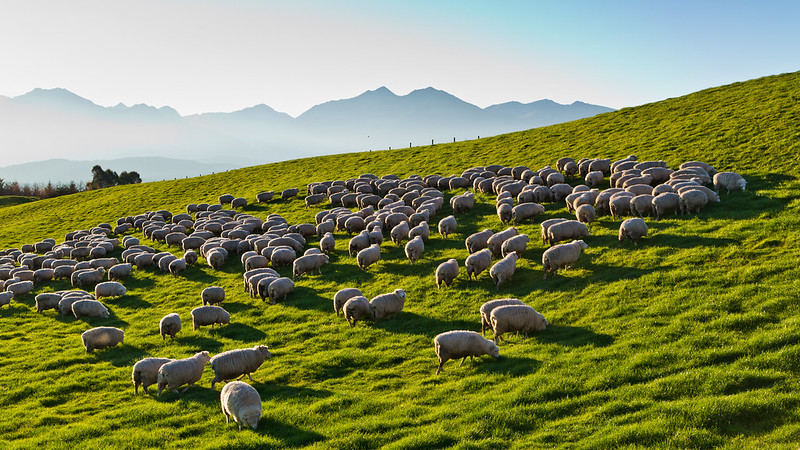 Geraldine Observatory
I have to say that the Geraldine Observatory is still a bit of a hidden find. But currently, it is the best equipped private observatory in the South Island. It is operated by enthusiast, Peter Aldous, from his home observatory in Geraldine. He loves sharing his vast knowledge with small groups –  so don't think that you have to be in Lake Tekapo to see the night sky!
Horse Trekking Tours Geraldine
Because Geraldine is set amid the dense virgin bush of Peel Forest Park, horse treks are a very popular adventure for travellers. They are a great way of getting those breathtaking views of the mountains, the Rangitata River and the Canterbury Plains.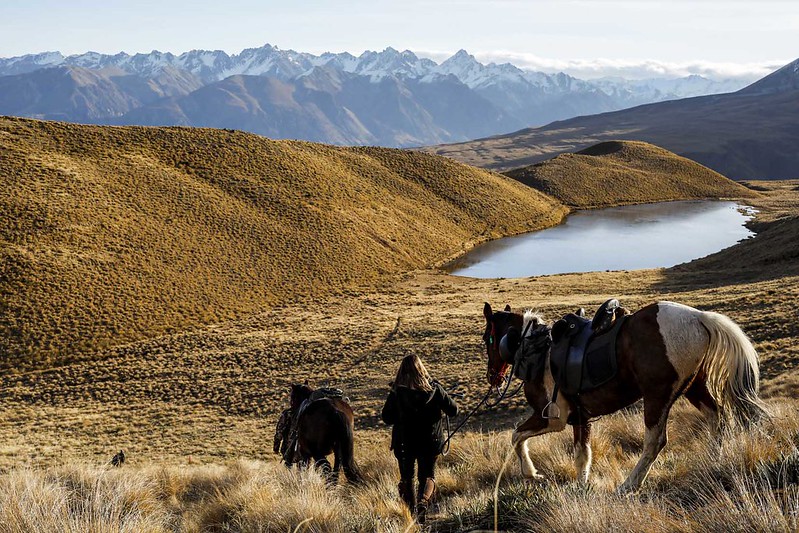 All treks leave from a base at Peel Forest and are suitable for riders of most abilities. Prior to the trek commencing, you will get a full safety talk. Don't worry, if you haven't bought the right footwear with you. There will be a small amount of footwear available to you to ensure a comfortable ride. We do recommend that you wear long trousers to prevent chaffing. It is also essential that you bring a rainproof jacket with you, just in case. Do remember to take plenty of photos during the trek. More information.
Canyoning Tours Geraldine
A canyoning adventure with Big Rock Adventures, will give you a chance to create your very own personal adventure. There are strict safety procedures in place, so if you want to canyon to the edge of a waterfall, you can. Once you make it to the edge, all you need to do is take a deep breath, then abseil, zipline or just jump off! There are three canyoning tours on offer – these last from 5 to 8 hours in length. View details here.
Barker's of Geraldine Drinks and Preserves
Geraldine is famous for many attractions, not the least being the Barker's Foodstore and Cafe. Stopping at the Barker's Foodstore is a must-do for all of us travelling this route! The Barker's shop has been moved from its original site and is now located in the former grounds of the St Mary's Vicarage. The Barker's Foodstore & Eatery is a purpose-built landmark. It has a beautiful artisan product tasting and range viewing section combined. In fact, Barker's is pretty much a one-stop shop – here, you can have a delicious cooked breakfast, lunch, or choose from the cabinet.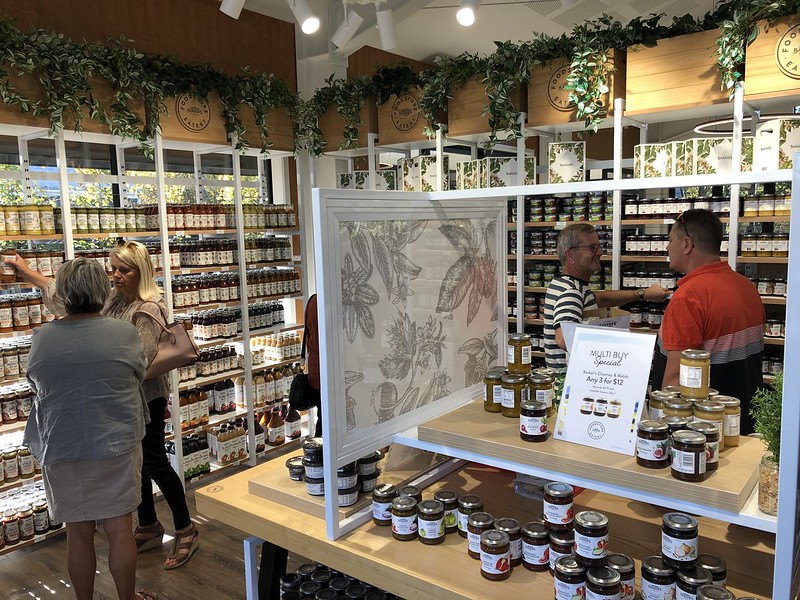 Talbot Forest Cheese
Right at the foothills of the Southern Alps, is Talbot Forest Cheese . This was initially a small enterprise which quickly gained momentum as they began producing 10 tonnes of cheese a year. But as word got out about their cheese, so also did the demand. Yet again, this is another great stop while you are in Geraldine.
Humdinger Gin Distillery
This lovely little business began at a wedding in 2019. A few loose words were thrown around and the seeds of wild imagining grow. What followed, was a copper still being brought in and 'hey presto',  Humdinger was born. Great name don't you think!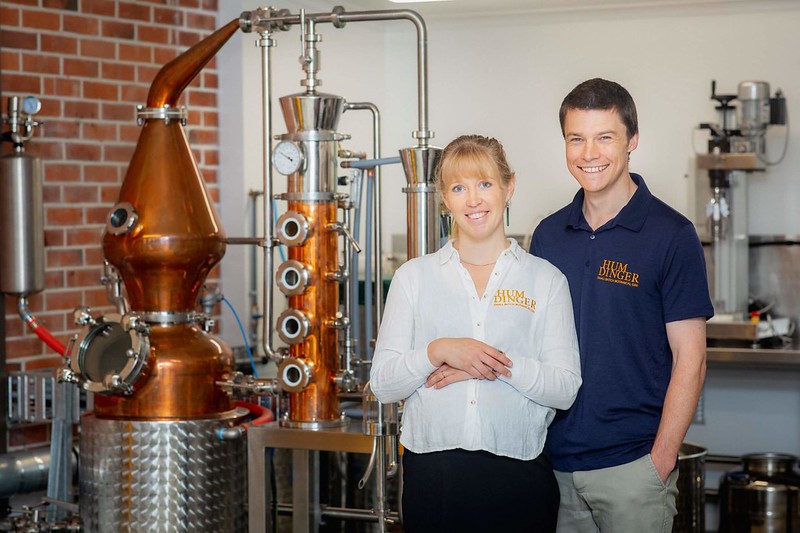 Humdinger's resident tinkerer is Andrew Lewis, who is a professional engineer. Andrew obsesses over making each batch of gin smoother than the last. His better half, Saskia Lewis, is a technologist by trade and a biologist by training. She likes to jazz things up by adding spice to enrich the flavour!
Nearby things to do in Mid & South Canterbury
The Mid Canterbury region stretches between Rakaia River in the north and the Rangitata River in the south on the eastern coast of the South Island to the Southern Alps. Geraldine and Timaru are therefore located in South Canterbury. We collected a small collection on available activity and tour options… See also the official Mid Canterbury Tourism site for more details.
Hot Air Ballooning in Methven
Think about taking an early morning flight at sunrise and glide your way across the Canterbury Plains. With stunning views from the Pacific Ocean to the stunning Southern Alps, it is a magical time. You will asked by your pilot to help inflate the balloon, then he will give you a brief introduction on what you can expect. The actual balloon flight takes approximately 1 hour, so you will have plenty of time to take those breathtaking photos. Also remember, that inflight photos are taken and provided free to all passengers. After your flight you can enjoy a glass of champagne on the paddock where you land.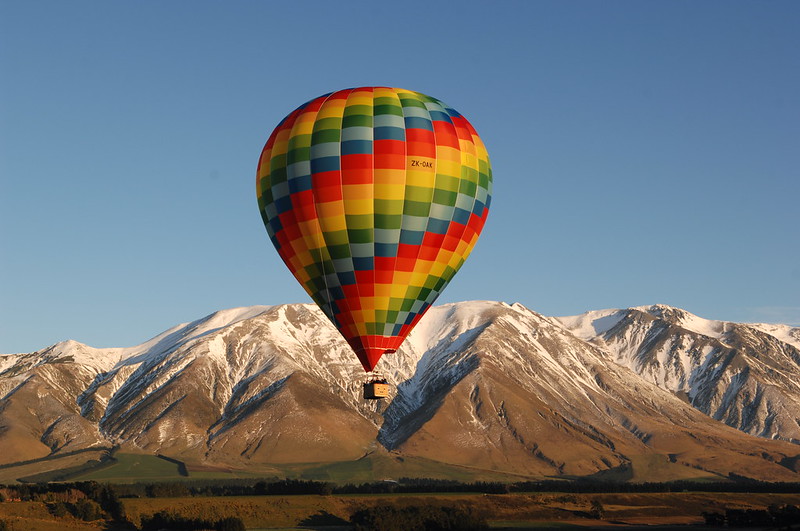 Hot Springs Methven
Ōpuke Thermal Pools & Spa (opening now in winter 2021!) 
We are very excited about this amazing enterprise. These hot pools will be build to a premium-quality. This exciting new complex will house sustainable hot pools and spa right in the heart of mid-Canterbury. In fact, this facility is expected to attract visitors from all over New Zealand and the rest of the world.
Ōpuke will get is water from the Rangitata river. A water-treatment system will ensure that all travellers using it will receive the purest of waters in which to bathe in.
A large array of solar thermal collectors, occupying approximately a quarter of the site, will serve as the primary pool water heating system – even on the shortest day in winter, 100% of the pool heating load will be met by the solar array (when the sun is out!) Pool water will be transferred to insulated holding tanks outside of operating hours to minimise heat losses.
So for those visitors travelling anywhere near the outskirts of Methven, Ōpuke is bound to be a great attraction for both all ages.
Mt Sunday – Lord of the Ring Tours
Mt Sunday is a tranquil and very special mountain. Some years ago, it was transformed into Edoras, city of the Rohan People in the Lord of the Rings Trilogy.  For those who love wide open spaces and a rugged landscape, be sure to include this one in your itinerary. See another travel blog. Make sure you set at least half a day aside to enjoy the sparkling blue rivers, mountains and pure oxygen. This unique tour includes lunch, a selection of movie replicas for photo opportunities and a commentary by local kiwi guides.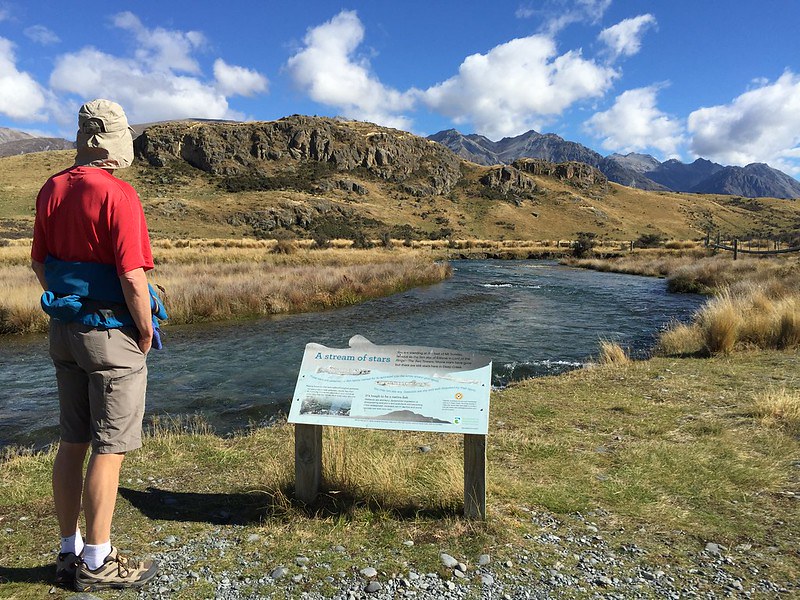 Rakaia Gorge Jet-boating
For an adrenalin-pumping experience you'll never forget, jump aboard the Discovery Jet and blast along the ever-changing Rakaia River. Do remember to hang on tight as your driver weaves through an intricate network of braided river channels. As you journey through the gorge, soak in the dramatic scenery, as the wind whips through your hair. Watch closely, as scrub covered hills give way to towering coal and limestone cliffs.
Keep an eye out for the shags sitting on the cliffs, getting ready for their next dive. Once again, you will get the opportunity to see those spectacular snow-capped Southern Alps. Back in the boat, you can enjoy those unforgettable moments as the driver spins the boats 360 degrees. Those jetboat skippers know the river like the back of their hand and know all the hidden spots. If you want time on you own, just ask to be dropped off at one of the many remote islands or beaches along the river.
Summary on travelling on Geraldine and Mid Canterbury
For a lot of visitors, Geraldine and Mid Canterbury have yet to be discovered.  Many New Zealanders are still not aware of the treasures and magnificent scenery in this part of New Zealand. But the fact that this area has yet to be been explored by the masses, may be a good thing – especially if you are yearning for a personal encounter in a very special part of beautiful Aotearoa.
Helpful New Zealand travel links
Happy Travelling in Geraldine and Mid Canterbury!