Electric cars are becoming more popular in New Zealand. For the travel industry, transportation is an important part of getting visitors from A to B.  Self-drive holidays mainly involve rental cars. Now is the perfect time to start minimising the impact of carbon emissions. With this in mind, in September 22, we seized the opportunity to take an 1800 kms journey around the North Island in an EV (electric vehicle).
Before you are able to make recommendations, nothing beats firsthand knowledge. To find out what our guests would experience by using an EV, we spent 10 days visiting 4 key regions. The intention of this travel blog is to cover the practical details of renting an e-car and most importantly, the recharging process, which could be a concern when you are travelling to new places.
Electric Rental Car Options in New Zealand
As of Oct 22, there are very limited electric rental cars available. One of the 'first movers' in e-car rental space is GO Rentals. Over the past couple of years they have committed to building up their fleet of Tesla Model 3s. This company have depots around New Zealand which makes it so convenient for holiday travellers to pick-up and drop-off at different places. Also, GO Rentals has a very good customer operation and service system. Yet again, they have embraced modern technology with their very own travel app, which is used from the time of registration until the end of your customer journey. We feel that this company are leading the way for New Zealand e-car rentals so we rented and paid for a Tesla 3 to test the journey for ourselves.
Getting started with the Tesla 3
From the Outside
From the outside, the Tesla 3 looks like a very normal car. It is equipped with four doors with a rather unique door handle which does take some getting used to. You have to use a bit of thumb action on one end of the handle to open the door. As with standard cars, the back boot can be opened by a gentle touch of the lid. The fuel tank that you would find in a standard car is replaced by a large plug-in charger.  There will be a more detailed explanation about charging later in this blog.
From the Inside
Once you are inside the car, your whole perception will change and you might get the impression that you are sitting in the cockpit of a plane. The dominant feature appearing in front of you, is the giant screen sitting in the middle of the 'cockpit'. Everything is more or less controlled from this screen – from setting the aircon – to opening the front boot. You can also select music on Spotify and enjoy a very cool GPS navigation system. To be honest, there were many other features that we did not fully utilise. We have  provided some official details found in the videos below.
Challenges to overcome
Our biggest 'hurdle' was 1/ the 'car key', 2/ how the 'car key' works and 3/ how to adjust the seats. All those points were sorted out fast and became second nature once we were on the road. The key point is the 'car key'. Yes, it is actually a card, very like the credit card you swipe when paying for your latte. The seat can be adjusted by handle beside the passenger seats.
We were told by the helpful GO Rentals staff that driving 'electric' is slightly different than with a standard combustion car. Believe me, the acceleration of the Tesla 3 is amazing! If you initially press too hard on the accelerator, you'll take off like a rocket! So, when using your 'gas' peddle, do be mindful of this and maybe drive a few metres in an empty car park just to get the feel of starting, slowing down and stopping.
Travel Range and recharging stations
When we began our journey from Auckland at the GO Rentals depot, the Tesla 3 was already fully charged with a range of 430 kms which showed on the screen. Over the next few days, we found that this could vary, depending on whether you were travelling in hilly areas or needed to use the aircon. We still think this range is pretty good, especially if your maximum milage per day is 300 kms per day (a comfortable and relaxing range for international holiday makers).
On our first leg we travelled into the Waikato region and stayed in Cambridge, a beautiful location where we found our very first charging station! We used a number of charging stations over the next 10 days, so here is a bit of a run down on what we discovered.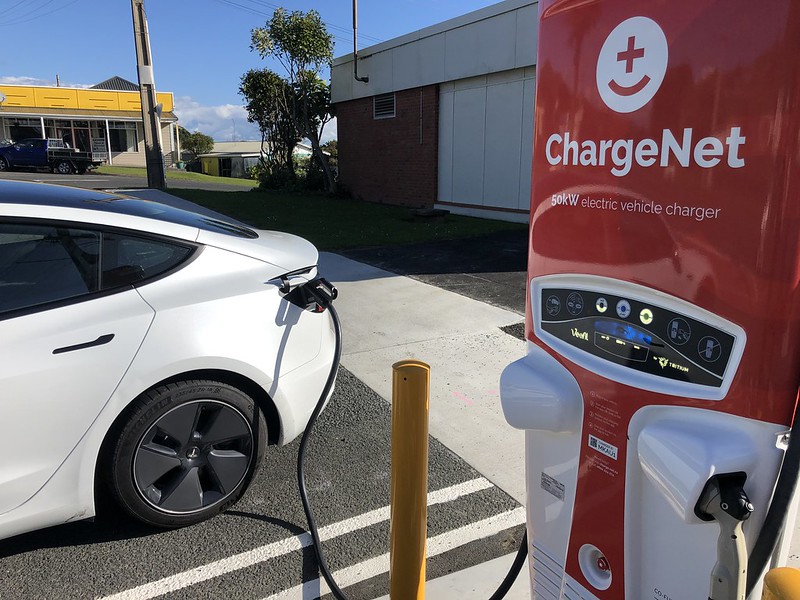 Vehicle Charging Stations
Providers such as ChargeNet have literally hundreds of locations throughout New Zealand. They do this on a commercial basis and are able to make a healthy margin on the service. This means we paid around NZ$8 for 100 kms range, which is still 2.5 x better than filling up the tank with petrol. Those charging stations have two different types (and sizes) of plug-in connectors. One fits the Tesla cars and the other for different models such as the Nissan Leaf.
When using the ChargeNet stations you will need to download their app onto your phone, set-up your details (name, email, phone etc), plus your credit card details. The charging time will depend on the location and the kwh-strength of the connection possible. Generally it took us 15 minutes for 100 kms of recharging.
Good to know: Charging often takes place in public areas. A great security feature is that no one can unplug your cable (at least with a Tesla 3). So, when we came back for our first charge we could not unplug the charger, even after we had opened the car with our magic card. We discovered that in order to release the charger, you should first open the back boot and locate a cord on the left side which you then pull down. By pulling this cord, you will release the power plug cable from the vehicle. Easy peasy, but it would have helped knowing this beforehand.  Luckily there is a 24-hour help service!
Tesla Super Charging Stations
There are a number of Tesla charging station in New Zealand. Much less than with the other commercial operators. We used the one in Taupo next to the fire station. From memory there were 5-6 lined up with the needed carpark allocated. These station and easier to navigate with no app needed. Plus, the charging is 'super' fast. Also, there is only one plug cable (naturally for Tesla's). The charge for Tesla Super Charging Stations will go through to GO Rentals at a similar cost as mentioned above. So, at the end of the journey the renters will receive an invoice and the Tesla charges will go onto the renters credit card.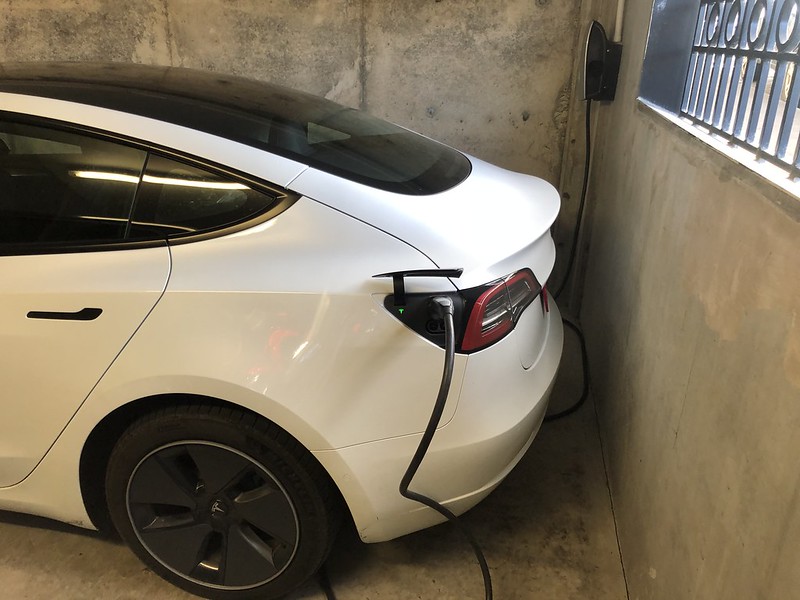 Other Free Charging Stations
There came across a number of free e-car charging stations, that were located in places such as supermarkets, libraries, restaurants and hotels. Check out a comprehensive list. Those options give customers a chance not only to reload their batteries, but spending the time to shop during the charging process. Especially for smaller cars, we see a great potential for rural communities to benefit by having visitors use their businesses. These communities are often great places to stop for a coffee or visit fabulous little museums like Mokau (north of New Plymouth) – this was such a great find!
Charging overnight at accommodations
A number of upmarket lodges and hotels are now providing a charging station as part of their parking service. We took advantage of this at the King & Queen Hotel in New Plymouth. Of course you will pay for the secure parking (currently NZ$20), but you will be able to fully recharge your e-car overnight. From what we are hearing, the cost for a hotel charging station is about NZ$4k, so it's a significant investment by the operators.
Even if your accommodation does not provide a charger, you can still use a standard power plug, BUT it will take ages to load the Tesla battery! In Tongariro we were provided with a standard power plug for about 15 hours just managed to get 150 kms out of it, however we were not charged for this.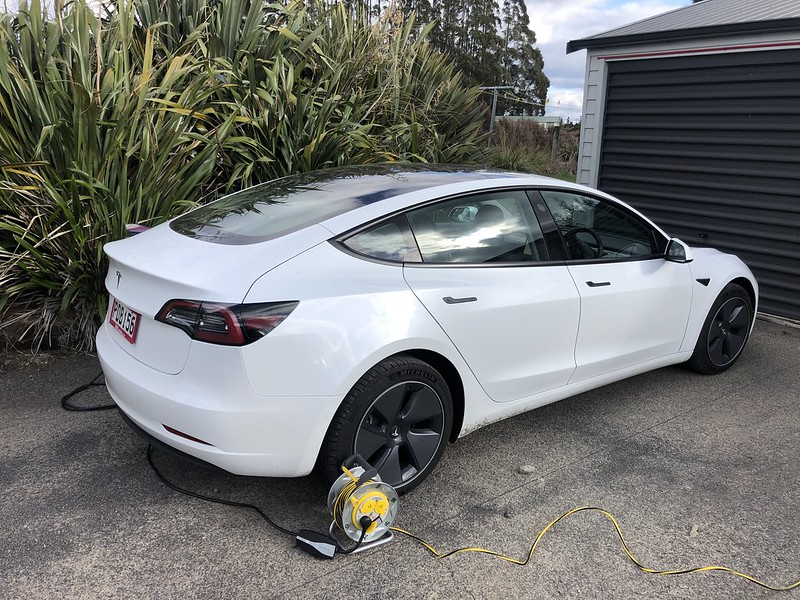 Luggage and Passenger Space
We travelled as a couple with two standard size suitcases and an office bag. They all fitted comfortably in the back boot.  Overall, we see the Tesla 3 model as the perfect car for couples or perhaps a third person. When choosing a rental vehicle, you need to keep the luggage space in mind.  We think the Tesla 3 would not have sufficient luggage space for 4 people on a multi-day journey on New Zealand's roads.
Driving Experience
Once you get used to the 'gas peddle' and the indicators (which are on the left-hand side) we felt very comfortable with driving the Tesla 3. The screen in front is large and you can be tempted to look at it a bit too often, so keep your eyes on the road. The acceleration is fantastic, especially when you are overtaking trucks and other slow-moving objects. Because the battery sits on the bottom of the car, driving into corners is very smooth and stable. Remember, you are driving in a low-lying car and not a 4-WD vehicle. You can easily bump the bottom where the battery sits. Off-road travel is NOT an option!
Electric Rental Car Options in New Zealand
More rental car operators are now buying up EVs. We recently heard that Hertz International has ordered 175,000 e-cars with GM. Others such as Avis are starting to provide e-cars at key locations. Over time, the number of vehicles and the depot locations will dramatically increase.
Overall Feedback on Travelling with a Electric Rental car
We loved the experience of travelling with the Tesla car. And you do feel good about covering 1800 kms without using say 270 kg of carbon emission. In hindsight, we would have planned ahead with locating the charging stations.
The cost for renting an e-car is currently still a little higher (like NZ$30-40 per day). However when you are travelling for 9-10 days averaging 200 kms per day, you are still better off with an e-car. A petrol car  will use 20 litres of in fuel per day (currently NZ$2.60-2.80 per litre). Plus, at the end of the journey you don't need the hassle of filling up your car before you return it. (Note: GO Rental wants you to leave at least 100kms in the batteries). Most important though is how cool is it to be part of a new way of sustainable tourism!
Helpful New Zealand travel links
Enjoy travelling New Zealand with an electric car!